6th Giro della Provincia di Lucca - 2.3
Italy, February 24-27, 2004
Stage 1 - February 24: Viareggio-Capannori, 174km
Let the games begin!
Petacchi strikes first
Petacchi one, Cipo none
Photo ©: Sirotti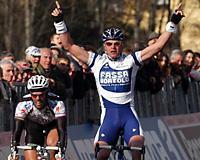 Alessandro Petacchi (Fassa Bortolo) has taken first blood against top sprint rival Mario Cipollini, winning the first stage of the Giro della Provincia di Lucca ahead of the former world champion and comptatriot Angelo Furlan (Alessio-Bianchi). After a tame opening stage, where the peloton opted to play it piano, the leadout trains went to work and in the end it was Petacchi who had the fastest kick, taking his first win of the season.
Taking advantage of the day's slow start, Slovenian Dean Podgornik (Tenax) took off on a solo escape. Podgornick steadily built a substantial lead as Miche's Massimiliano Martella gave chase in an effort to join the move. With an average speed of just 33 km/h in the first hour, it was clear the sprinters' teams were just biding their time before the frantic charge to the line.
By the 60 kilometre mark Podgornik had over ten minutes in hand over the peloton, with Martella stuck in no-man's land four minutes behind the leader. The lead peaked after 100 kilometres of racing, when Petacchi's Fassa Bortolo team decided 12 minutes was enough fun for one breakaway.
Podgornik goes alone
Photo ©: Sirotti

What took Podgornik 100 kilometres to establish evaporated in just 35 as the peloton whipped itself into shape and reeled in the two escapees. Over the first of two finishing circuits in Capannori the field was already charging at a pace of 46 km/h, primarily led by Cipollini's Domina Vacanze team. The speed would only increase as the field bore down on the finish at an average of nearly 55 km/h on the second circuit.
Lorenzo Bernucci (Landbouwkrediet-Colnago) somehow escaped the bunch in an effort to surprise the sprinters, but his attack was short-lived with 8km to go. Meanwhile, a crash took out Marco Zanotti (Vini Caldirola) and Simone Cadamuro (De Nardi), but both finished within a few minutes of the winner. As the field hit the final straight, the expected showdown between Petacchi and Cipollini came to a head. Super Mario had no answer for Petacchi, the top sprinter of 2003, as the Fassa Bortolo leader opened his account against his top rival.
Photography
Images by Fotoreporter Sirotti
Images by Olympia Photo
Results
1 Alessandro Petacchi (Ita) Fassa Bortolo                          4.24.14 (39.510 km/h)
2 Mario Cipollini (Ita) Domina Vacanze
3 Angelo Furlan (Ita) Alessio-Bianchi                                 0.01
4 Gabriele Balducci (Ita) Saeco Macchine per Caffe
5 Danilo Hondo (Ger) Gerolsteiner
6 Zoran Klemencic (Slo) Tenax
7 Fabrizio Guidi (Ita) Team CSC
8 Crescenzo D'Amore (Ita) Acqua & Sapone
9 Philippe Gilbert (Bel) FDJeux.com
10 Gian Matteo Fagnini (Ita) Domina Vacanze
11 Nicola Gavazzi (Ita) Saeco Macchine per Caffe
12 Christophe Detilloux (Bel) Lotto-Domo
13 Ivan Fanelli (Ita) Amore & Vita-Berretta
14 Bostjan Mervar (Slo) Formaggi Pinzolo Fiave
15 Jan Svorada (Cze) Lampre
16 Guillermo Bongiorno (Arg) Ceramiche Panaria-Margres
17 Mirco Lorenzetto (Ita) De Nardi
18 Maxim Rudenko (Ukr) Chocolade Jacques-Wincor Nixdorf
19 Elio Aggiano (Ita) Team LPR
20 Fabio Borghesi (Ita) Miche
21 Giuseppe Palumbo (Ita) Acqua & Sapone
22 Dmitri Konyshev (Rus) Team LPR
23 Sergiy Matveyev (Ukr) Ceramiche Panaria-Margres
24 Raffaele Illiano (Ita) Colombia-Selle Italia
25 Mark Renshaw (Aus) FDJeux.com
26 Marek Wesoly (Pol) Amore & Vita-Berretta
27 Claudio Bartoli (Ita) Team CSC
28 Nicola Loda (Ita) Tenax
29 Bo Hamburger (Den) Acqua & Sapone
30 Freddy Gonzalez Martinez (Col) Colombia-Selle Italia
31 Balazs Rohtmer (Hun) Miche
32 Ief Verbrugghe (Bel) Lotto-Domo
33 Sergiy Adyeyev (Ukr) Landbouwkrediet-Colnago
34 Giuseppe Di Grande (Ita) Formaggi Pinzolo Fiave
35 Alessandro Bertolini (Ita) Alessio-Bianchi
36 Radoslav Rogina (Cro) Tenax
37 Simone Masciarelli (Ita) Vini Caldirola-Nobili Rubinetterie
38 Mateusz Mroz (Pol) Amore & Vita-Berretta
39 Daniele Righi (Ita) Lampre
40 Kjell Carlstrom (Fin) Amore & Vita-Berretta
41 Andrea Noe' (Ita) Alessio-Bianchi
42 Daniele Pietropolli (Ita) Tenax
43 Serhiy Honchar (Ukr) De Nardi
44 Frank Schleck (Lux) Team CSC
45 Gerhard Trampusch (Aut) Acqua & Sapone
46 Robert Forster (Ger) Gerolsteiner
47 Manuel Calvente Gorbas (Spa) Team CSC
48 Francisco Vila Errandonea (Spa) Lampre
49 Dario Frigo (Ita) Fassa Bortolo
50 Davide Rebellin (Ita) Gerolsteiner
51 Franco Pellizotti (Ita) Alessio-Bianchi
52 Pietro Caucchioli (Ita) Alessio-Bianchi
53 Brian Vandborg (Den) Team CSC
54 Lorenzo Bernucci (Ita) Landbouwkrediet-Colnago
55 Nick Gates (Aus) Lotto-Domo
56 Yuri Mitlushenko (Ukr) Landbouwkrediet-Colnago
57 Rinaldo Nocentini (Ita) Acqua & Sapone
58 Kyrylo Pospyeyev (Ukr) Acqua & Sapone
59 Carlos Dacruz (Fra) FDJeux.com
60 Thomas Ziegler (Ger) Gerolsteiner
61 Ruggero Marzoli (Ita) Acqua & Sapone
62 Paolo Fornaciari (Ita) Saeco Macchine per Caffe
63 Andrea Tafi (Ita) Alessio-Bianchi
64 Danilo Di Luca (Ita) Saeco Macchine per Caffe
65 Marco Milesi (Ita) Vini Caldirola-Nobili Rubinetterie
66 Andrea Ferrigato (Ita) Acqua & Sapone
67 Marcus Fothen (Ger) Gerolsteiner
68 Nicki Sorensen (Den) Team CSC
69 Leonardo Giordani (Ita) De Nardi
70 Michele Gobbi (Ita) De Nardi
71 Igor Pugaci (Mda) De Nardi
72 Bekim Christensen (Den) Team CSC
73 Zbigniew Piatek (Pol) Chocolade Jacques-Wincor Nixdorf
74 Marco Velo (Ita) Fassa Bortolo
75 Volodymyr Bileka (Ukr) Landbouwkrediet-Colnago
76 Christophe Brandt (Bel) Lotto-Domo
77 Alessandro Spezialetti (Ita) Saeco Macchine per Caffe
78 Jurgen Van De Walle (Bel) Chocolade Jacques-Wincor Nixdorf
79 Mariano Piccoli (Ita) Lampre
80 Andrea Peron (Ita) Team CSC
81 Angelo Lopeboselli (Ita) Team LPR
82 Dario David Cioni (Ita) Fassa Bortolo
83 Wladimir Belli (Ita) Lampre
84 Vladimir Miholjevic (Cro) Alessio-Bianchi
85 Andrei Karpatchev (Rus) Team LPR
86 Jamie Burrow (GBr) Amore & Vita-Berretta
87 Paolo Tiralongo (Ita) Ceramiche Panaria-Margres
88 Sandy Casar (Fra) FDJeux.com
89 Luca Mazzanti (Ita) Ceramiche Panaria-Margres
90 Aitor Hernandez Gutierrez (Spa) Team LPR
91 Stefano Garzelli (Ita) Vini Caldirola-Nobili Rubinetterie
92 Przemyslaw Niemec (Pol) Miche
93 Georg Totschnig (Aut) Gerolsteiner
94 Dmitri Semov (Rus) Miche
95 Jonas Ljungblad (Swe) Amore & Vita-Berretta
96 Paolo Lanfranchi (Ita) Ceramiche Panaria-Margres
97 Ellis Rastelli (Ita) Alessio-Bianchi
98 Florent Brard (Fra) Chocolade Jacques-Wincor Nixdorf
99 Dario Pieri (Ita) Saeco Macchine per Caffe
100 Gabriele Colombo (Ita) Domina Vacanze
101 Stefano Ciuffi (Ita) Amore & Vita-Berretta
102 Santo Anza (Ita) Landbouwkrediet-Colnago
103 Massimiliano Mori (Ita) Domina Vacanze
104 Emanuele Sella (Ita) Ceramiche Panaria-Margres
105 Piotr Wadecki (Pol) Lotto-Domo
106 Fabio Sacchi (Ita) Fassa Bortolo
107 Matteo Tosatto (Ita) Fassa Bortolo
108 Axel Merckx (Bel) Lotto-Domo
109 Koos Moerenhout NED Lotto-Domo
110 Rik Verbrugghe (Bel) Lotto-Domo
111 Giuliano Sulpizi (Ita) Formaggi Pinzolo Fiave
112 Juan Manuel Garate (Spa) Lampre
113 Graziano Gasparre (Ita) De Nardi
114 Ruslan Gryschenko (Ukr) Landbouwkrediet-Colnago
115 Devis Miorin (Ita) De Nardi
116 Mario Scirea (Ita) Domina Vacanze
117 Nicolas Vogondy (Fra) FDJeux.com
118 Antonio D'aniello (Ita) Miche
119 Jean-Cyril Robin (Fra) FDJeux.com
120 Dave Bruylandts (Bel) Chocolade Jacques-Wincor Nixdorf
121 Oscar Pozzi (Ita) Tenax
122 Russel Van Hout (Aus) Colombia-Selle Italia
123 Filippo Pozzato (Ita) Fassa Bortolo
124 Andoni Aranga Azkune (Spa) Chocolade Jacques-Wincor Nixdorf
125 Oscar Mason (Ita) Vini Caldirola-Nobili Rubinetterie
126 Cristian Gasperoni (Ita) Landbouwkrediet-Colnago
127 Sven Montgomery (Swi) Gerolsteiner
128 Danilo Andreacci (Ita) Formaggi Pinzolo Fiave
129 Nicolas Fritsch (Fra) FDJeux.com
130 Massimo Codol (Ita) Fassa Bortolo
131 Pavel Tonkov (Rus) Vini Caldirola-Nobili Rubinetterie
132 Daniele Contrini (Ita) Team LPR
133 Andrea Masciarelli (Ita) Vini Caldirola-Nobili Rubinetterie
134 Marlon Alirio Perez Arango (Col) Colombia-Selle Italia
135 Leonardo Scarselli (Ita) Colombia-Selle Italia
136 Andrea Tonti (Ita) Saeco Macchine per Caffe
137 Sereiy Lagutin (Uzb) Landbouwkrediet-Colnago
138 Ruber Alveiro Marin (Col) Colombia-Selle Italia
139 Eddy Mazzoleni (Ita) Saeco Macchine per Caffe
140 Marco Pinotti (Ita) Lampre
141 Huberlino Mesa Estepa (Col) Colombia-Selle Italia
142 Francesco Secchiari (Ita) Domina Vacanze
143 Mauricio Alberto Ardila Cano (Col) Chocolade Jacques-Wincor Nixdorf
144 Daniele Masolino (Ita) Team LPR
145 Alessio Galletti (Ita) Domina Vacanze                             0.30
146 Renzo Mazzoleni (Ita) Tenax                                       0.40
147 Kristjan Fajt (Slo) Tenax                                         0.47
148 Uwe Hardter (Ger) Gerolsteiner                                    0.49
149 Trent Wilson (Aus) Colombia-Selle Italia
150 Jure Golcer (Slo) Formaggi Pinzolo Fiave
151 Dario Andriotto (Ita) Vini Caldirola-Nobili Rubinetterie
152 Serguei Lelekin (Rus) Formaggi Pinzolo Fiave                      0.54
153 Simone Bertoletti (Ita) Lampre                                    0.57
154 Leonardo Caneschi (Ita) Miche                                     1.00
155 Giuliano Figueras (Ita) Ceramiche Panaria-Margres                 1.07
156 Massimo Boglia (Ita) Team LPR
157 Martin Derganc (Slo) Domina Vacanze                               1.32
158 Scott Davis (Aus) Ceramiche Panaria-Margres
159 Dean Podgornik (Slo) Tenax                                        2.09
160 Raivis Belohvosciks (Lat) Chocolade Jacques-Wincor Nixdorf        2.42
161 Maurizio Varini (Ita) Miche                                       2.47
162 Massimiliano Martella (Ita) Miche
163 Simone Cadamuro (Ita) De Nardi                                    4.38
164 Marco Zanotti (Ita) Vini Caldirola-Nobili Rubinetterie
DNS Marco Cedroni (Ita) Formaggi Pinzolo Fiave
DNF Tom Southam (GBr) Amore & Vita-Berretta
DNF Bradley McGee (Aus) FDJeux.com
 
General classification after stage 1
 
1 Alessandro Petacchi (Ita) Fassa Bortolo                          4.24.14
2 Mario Cipollini (Ita) Domina Vacanze
3 Angelo Furlan (Ita) Alessio-Bianchi                                 0.01
4 Gabriele Balducci (Ita) Saeco Macchine per Caffe
5 Danilo Hondo (Ger) Gerolsteiner
6 Zoran Klemencic (Slo) Tenax
7 Fabrizio Guidi (Ita) Team CSC
8 Crescenzo D'Amore (Ita) Acqua & Sapone
9 Philippe Gilbert (Bel) FDJeux.com
10 Gian Matteo Fagnini (Ita) Domina Vacanze
11 Nicola Gavazzi (Ita) Saeco Macchine per Caffe
12 Christophe Detilloux (Bel) Lotto-Domo
13 Ivan Fanelli (Ita) Amore & Vita-Berretta
14 Bostjan Mervar (Slo) Formaggi Pinzolo Fiave
15 Jan Svorada (Cze) Lampre
16 Guillermo Bongiorno (Arg) Ceramiche Panaria-Margres
17 Mirco Lorenzetto (Ita) De Nardi
18 Maxim Rudenko (Ukr) Chocolade Jacques-Wincor Nixdorf
19 Elio Aggiano (Ita) Team LPR
20 Fabio Borghesi (Ita) Miche
21 Giuseppe Palumbo (Ita) Acqua & Sapone
22 Dmitri Konyshev (Rus) Team LPR
23 Sergiy Matveyev (Ukr) Ceramiche Panaria-Margres
24 Raffaele Illiano (Ita) Colombia-Selle Italia
25 Mark Renshaw (Aus) FDJeux.com
26 Marek Wesoly (Pol) Amore & Vita-Berretta
27 Claudio Bartoli (Ita) Team CSC
28 Nicola Loda (Ita) Tenax
29 Bo Hamburger (Den) Acqua & Sapone
30 Freddy Gonzalez Martinez (Col) Colombia-Selle Italia
31 Balazs Rohtmer (Hun) Miche
32 Ief Verbrugghe (Bel) Lotto-Domo
33 Sergiy Adyeyev (Ukr) Landbouwkrediet-Colnago
34 Giuseppe Di Grande (Ita) Formaggi Pinzolo Fiave
35 Alessandro Bertolini (Ita) Alessio-Bianchi
36 Radoslav Rogina (Cro) Tenax
37 Simone Masciarelli (Ita) Vini Caldirola-Nobili Rubinetterie
38 Mateusz Mroz (Pol) Amore & Vita-Berretta
39 Daniele Righi (Ita) Lampre
40 Kjell Carlstrom (Fin) Amore & Vita-Berretta
41 Andrea Noe' (Ita) Alessio-Bianchi
42 Daniele Pietropolli (Ita) Tenax
43 Serhiy Honchar (Ukr) De Nardi
44 Frank Schleck (Lux) Team CSC
45 Gerhard Trampusch (Aut) Acqua & Sapone
46 Robert Forster (Ger) Gerolsteiner
47 Manuel Calvente Gorbas (Spa) Team CSC
48 Francisco Vila Errandonea (Spa) Lampre
49 Dario Frigo (Ita) Fassa Bortolo
50 Davide Rebellin (Ita) Gerolsteiner
51 Franco Pellizotti (Ita) Alessio-Bianchi
52 Pietro Caucchioli (Ita) Alessio-Bianchi
53 Brian Vandborg (Den) Team CSC
54 Lorenzo Bernucci (Ita) Landbouwkrediet-Colnago
55 Nick Gates (Aus) Lotto-Domo
56 Yuri Mitlushenko (Ukr) Landbouwkrediet-Colnago
57 Rinaldo Nocentini (Ita) Acqua & Sapone
58 Kyrylo Pospyeyev (Ukr) Acqua & Sapone
59 Carlos Dacruz (Fra) FDJeux.com
60 Thomas Ziegler (Ger) Gerolsteiner
61 Ruggero Marzoli (Ita) Acqua & Sapone
62 Paolo Fornaciari (Ita) Saeco Macchine per Caffe
63 Andrea Tafi (Ita) Alessio-Bianchi
64 Danilo Di Luca (Ita) Saeco Macchine per Caffe
65 Marco Milesi (Ita) Vini Caldirola-Nobili Rubinetterie
66 Andrea Ferrigato (Ita) Acqua & Sapone
67 Marcus Fothen (Ger) Gerolsteiner
68 Nicki Sorensen (Den) Team CSC
69 Leonardo Giordani (Ita) De Nardi
70 Michele Gobbi (Ita) De Nardi
71 Igor Pugaci (Mda) De Nardi
72 Bekim Christensen (Den) Team CSC
73 Zbigniew Piatek (Pol) Chocolade Jacques-Wincor Nixdorf
74 Marco Velo (Ita) Fassa Bortolo
75 Volodymyr Bileka (Ukr) Landbouwkrediet-Colnago
76 Christophe Brandt (Bel) Lotto-Domo
77 Alessandro Spezialetti (Ita) Saeco Macchine per Caffe
78 Jurgen Van De Walle (Bel) Chocolade Jacques-Wincor Nixdorf
79 Mariano Piccoli (Ita) Lampre
80 Andrea Peron (Ita) Team CSC
81 Angelo Lopeboselli (Ita) Team LPR
82 Dario David Cioni (Ita) Fassa Bortolo
83 Wladimir Belli (Ita) Lampre
84 Vladimir Miholjevic (Cro) Alessio-Bianchi
85 Andrei Karpatchev (Rus) Team LPR
86 Jamie Burrow (GBr) Amore & Vita-Berretta
87 Paolo Tiralongo (Ita) Ceramiche Panaria-Margres
88 Sandy Casar (Fra) FDJeux.com
89 Luca Mazzanti (Ita) Ceramiche Panaria-Margres
90 Aitor Hernandez Gutierrez (Spa) Team LPR
91 Stefano Garzelli (Ita) Vini Caldirola-Nobili Rubinetterie
92 Przemyslaw Niemec (Pol) Miche
93 Georg Totschnig (Aut) Gerolsteiner
94 Dmitri Semov (Rus) Miche
95 Jonas Ljungblad (Swe) Amore & Vita-Berretta
96 Paolo Lanfranchi (Ita) Ceramiche Panaria-Margres
97 Ellis Rastelli (Ita) Alessio-Bianchi
98 Florent Brard (Fra) Chocolade Jacques-Wincor Nixdorf
99 Dario Pieri (Ita) Saeco Macchine per Caffe
100 Gabriele Colombo (Ita) Domina Vacanze
101 Stefano Ciuffi (Ita) Amore & Vita-Berretta
102 Santo Anza (Ita) Landbouwkrediet-Colnago
103 Massimiliano Mori (Ita) Domina Vacanze
104 Emanuele Sella (Ita) Ceramiche Panaria-Margres
105 Piotr Wadecki (Pol) Lotto-Domo
106 Fabio Sacchi (Ita) Fassa Bortolo
107 Matteo Tosatto (Ita) Fassa Bortolo
108 Axel Merckx (Bel) Lotto-Domo
109 Koos Moerenhout NED Lotto-Domo
110 Rik Verbrugghe (Bel) Lotto-Domo
111 Giuliano Sulpizi (Ita) Formaggi Pinzolo Fiave
112 Juan Manuel Garate (Spa) Lampre
113 Graziano Gasparre (Ita) De Nardi
114 Ruslan Gryschenko (Ukr) Landbouwkrediet-Colnago
115 Devis Miorin (Ita) De Nardi
116 Mario Scirea (Ita) Domina Vacanze
117 Nicolas Vogondy (Fra) FDJeux.com
118 Antonio D'aniello (Ita) Miche
119 Jean-Cyril Robin (Fra) FDJeux.com
120 Dave Bruylandts (Bel) Chocolade Jacques-Wincor Nixdorf
121 Oscar Pozzi (Ita) Tenax
122 Russel Van Hout (Aus) Colombia-Selle Italia
123 Filippo Pozzato (Ita) Fassa Bortolo
124 Andoni Aranga Azkune (Spa) Chocolade Jacques-Wincor Nixdorf
125 Oscar Mason (Ita) Vini Caldirola-Nobili Rubinetterie
126 Cristian Gasperoni (Ita) Landbouwkrediet-Colnago
127 Sven Montgomery (Swi) Gerolsteiner
128 Danilo Andreacci (Ita) Formaggi Pinzolo Fiave
129 Nicolas Fritsch (Fra) FDJeux.com
130 Massimo Codol (Ita) Fassa Bortolo
131 Pavel Tonkov (Rus) Vini Caldirola-Nobili Rubinetterie
132 Daniele Contrini (Ita) Team LPR
133 Andrea Masciarelli (Ita) Vini Caldirola-Nobili Rubinetterie
134 Marlon Alirio Perez Arango (Col) Colombia-Selle Italia
135 Leonardo Scarselli (Ita) Colombia-Selle Italia
136 Andrea Tonti (Ita) Saeco Macchine per Caffe
137 Sereiy Lagutin (Uzb) Landbouwkrediet-Colnago
138 Ruber Alveiro Marin (Col) Colombia-Selle Italia
139 Eddy Mazzoleni (Ita) Saeco Macchine per Caffe
140 Marco Pinotti (Ita) Lampre
141 Huberlino Mesa Estepa (Col) Colombia-Selle Italia
142 Francesco Secchiari (Ita) Domina Vacanze
143 Mauricio Alberto Ardila Cano (Col) Chocolade Jacques-Wincor Nixdorf
144 Daniele Masolino (Ita) Team LPR
145 Alessio Galletti (Ita) Domina Vacanze                             0.30
146 Renzo Mazzoleni (Ita) Tenax                                       0.40
147 Kristjan Fajt (Slo) Tenax                                         0.47
148 Uwe Hardter (Ger) Gerolsteiner                                    0.49
149 Trent Wilson (Aus) Colombia-Selle Italia
150 Jure Golcer (Slo) Formaggi Pinzolo Fiave
151 Dario Andriotto (Ita) Vini Caldirola-Nobili Rubinetterie
152 Serguei Lelekin (Rus) Formaggi Pinzolo Fiave                      0.54
153 Simone Bertoletti (Ita) Lampre                                    0.57
154 Leonardo Caneschi (Ita) Miche                                     1.00
155 Giuliano Figueras (Ita) Ceramiche Panaria-Margres                 1.07
156 Massimo Boglia (Ita) Team LPR
157 Martin Derganc (Slo) Domina Vacanze                               1.32
158 Scott Davis (Aus) Ceramiche Panaria-Margres
159 Dean Podgornik (Slo) Tenax                                        2.09
160 Raivis Belohvosciks (Lat) Chocolade Jacques-Wincor Nixdorf        2.42
161 Maurizio Varini (Ita) Miche                                       2.47
162 Massimiliano Martella (Ita) Miche
163 Simone Cadamuro (Ita) De Nardi                                    4.38
164 Marco Zanotti (Ita) Vini Caldirola-Nobili Rubinetterie