Recently on Cyclingnews.com
30th Volta ao Algarve - 2.3
Portugal, February 18-22, 2004
Main Page Results Previous Stage
Stage 5 - February 22: Parque Das Cidades-Malhão, 178.5 km
Landis climbs to the top
Armstrong and Landis
Photo ©: AFP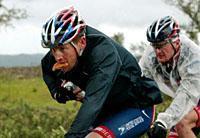 American Floyd Landis (US Postal-Berry Floor) has claimed arguably the biggest win in his career by taking the fifth stage and the final general classification of the Volta ao Algarve, which finished in Malhão. Landis, who placed second behind his teammate Lance Armstrong in the crucial time trial yesterday, was certainly one of the favourites in today's stage, especially as Armstrong had previously indicated he wasn't here to win. True to his word, Armstrong finished in 34th position in the final stage, losing over a minute on the final climb. Belgian veteran Peter Farazijn (Cofidis) took second in the stage, five seconds behind Landis, while the surprising Candido Barbosa (LA Pecol) placed third in the same time and moved up to third overall.
The final stage from Parque Das Cidades to Malhão was held over a hilly 178 km parcours, once more in wet conditions. The key points were two ascensions of the Cat. 2 Alto do Malhão, which had to be climbed at the 80 km mark and the finish. The first attack was made after only 6 km by Preben Van Hecke (Relax-Bodysol), and he was subsequently joined by teammate Wim De Vocht, Pedro M. Martins (Barbot-Gaia), Pedro Soeiro (Carvalhelhos-Boavista), Yon Bru (L.A. Pecol), Gonçalo Amorim (Milaneza-Maia), Vidal Fitas (Wurth/BOM Petisto), Sergio Ribeiro (Asc-Vila Do Conde), Fernando Fernandez (Beppi-Ovarense), Joseba Zubeldia and Inaki Isasi (Euskaltel-Euskadi). This 11 man group gradually built up a lead over the U.S. Postal controlled peloton, but was never allowed more than three minutes grace.
George Hincapie
Photo ©: AFP

The first time up the Alto De Malhão, Gonçalo Amorim (Milaneza-Maia) and Yon Bru (L.A. Pecol) rode over the top in first and second place with the rest of the break fragmented on the short, but steep climb. The pair were joined by Pedro M. Martins (Barbot-Gaia), Pedro Soeiro (Carvalhelhos) and Joseba Zubeldia (Euskaltel-Euskadi), while the remainder of the break was absorbed by the U.S. Postal led peloton.
Coming into the final 10 km, the break's lead was just 29 seconds and the quintet did not survive for long. The peloton charged up the Alto De Malhão for the last time, with Floyd Landis putting in an excellent ride to win the stage and claim the overall victory in the race. U.S. Postal's Victor Peña finished fourth, thus securing his second place overall, while Lance Armstrong dropped to seventh overall.
Photography
Images by AFP Photo
Images by David Wrolstad
Results
1 Floyd Landis (USA) U.S. Postal Service           4.40.18
2 Peter Farazijn (Bel) Cofidis                        0.05
3 Candido Barbosa (Por) L.A. Pecol                        
4 Victor Hugo Peña (Col) U.S. Postal Service              
5 Ezequiel Mosquera (Spa) Carvalhelhos-Boavista       0.09
6 David Bernabeu (Spa) Milaneza-Maia                  0.14
7 Bruno Castanheira (Por) Milaneza-Maia               0.21
8 Thomas Dekker (Ned) Rabobank                        0.24
9 Martin Garrido (Arg) Barbot-Gaia                        
10 Juan Olmo (Spa) Barbot-Gaia                        0.25
11 Jukka Vastaranta (Fin) Rabobank                    0.34
12 Stuart O'grady (Aus) Cofidis                           
13 David Garcia (Spa) L.A. Pecol                          
14 José Azevedo (Por) U.S. Postal Service             0.37
15 Pedro Lopes (Por) L.A. Pecol                       0.39
16 Ruben Oarbeascoa (Spa) L.A. Pecol                      
17 Andre Vital (Por) Carvalhelhos-Boavista            0.45
18 Adrian Palomares (Spa) Carvalhelhos-Boavista           
19 Victor Gamito (Por) Milaneza-Maia                      
20 Iker Camano (Spa) Euskaltel-Euskadi                    
21 Joost Posthuma (Ned) Rabobank                          
22 Staf Scheirlinckx (Bel) Cofidis                    0.56
23 Michiel Elijzen (Ned) Rabobank                         
24 Celio Sousa (Por) Carvalhelhos-Boavista                
25 Jose Rodrigues (Por) Carvalhelhos-Boavista             
26 Aketza Peña (Spa) Euskaltel-Euskadi                    
27 Jimmy Engoulvent (Fra) Cofidis                         
28 Gorka Verdugo (Spa) Euskaltel-Euskadi                  
29 Nuno Alves (Por) Barbot-Gaia                           
30 Hugo Sabido (Por) Milaneza-Maia                        
31 Michael Barry (Can) U.S. Postal Service            1.02
32 Daniel Rincon (Col) U.S. Postal Service                
33 Danail Petrov (Bul) Carvalhelhos-Boavista              
34 Lance Armstrong (USA) U.S. Postal Service              
35 Bas Giling (Ned) Rabobank                          1.07
36 Nelson Vitorino (Por) Wurth/BOM Petisto                
37 Joaquim Andrade (Por) Wurth/BOM Petisto                
38 Francisco Garcia (Spa) Antarte-Rota Dos Moveis     1.10
39 Serge Pauwels (Bel) Rabobank                       1.13
40 Enrique Salgueiro (Spa) Beppi-Ovarense             1.23
41 Marc De Maar (Ned) Rabobank                        1.27
42 James Vanlandschoot (Bel) Relax-Bodysol            1.31
43 Gerardo Fernandes (Arg) Antarte-Rota Dos Moveis    1.35
44 Luis Pinheiro (Por) L.A. Pecol                         
45 Geert Steurs (Bel) Jong Vlaanderen 2016            1.38
46 Joaquim Sampaio (Por) Carvalhelhos-Boavista        1.53
47 Klaus Mutschler (Ger) Ragt Semences-MG Rover       2.05
48 Gustavo Dominguez (Spa) Relax-Bodysol                  
49 Jose M. Hernandez (Spa) Antarte-Rota Dos Moveis        
50 Sven Renders (Bel) Jong Vlaanderen 2016            2.15
51 Jacek Morajko (Pol) Antarte-Rota Dos Moveis        2.20
52 Rui Roque (Por) Beppi-Ovarense                         
53 Angel Edo (Spa) Milaneza-Maia                          
54 Israel Nuñez (Spa) Asc-Vila Do Conde                   
55 Eric Berthou (Fra) Ragt Semences-MG Rover              
56 Ricardo Costa (Por) Wurth/BOM Petisto              2.27
57 Kurt Hoevelinck (Bel) Jong Vlaanderen 2016             
58 Janek Tombak (Est) Cofidis                         2.46
59 Nuno Ribeiro (Por) L.A. Pecol                          
60 Virgilio Santos (Por) Antarte-Rota Dos Moveis          
61 Carlos Pinho (Por) Barbot-Gaia                         
62 Bruno Neves (Por) Asc-Vila Do Conde                3.03
63 Daniel Cabrita (Por) Imoholding/Loule J.H          3.05
64 Guillaume Auger (Fra) Ragt Semences-MG Rover           
65 Gonçalo Amorim (Por) Milaneza-Maia                 3.47
66 Pedro Soeiro (Por) Carvalhelhos-Boavista               
67 Renato Silva (Por) Milaneza-Maia                       
68 Paulo Barroso (Por) Milaneza-Maia                      
69 Jordi Berenguer (Spa) Beppi-Ovarense               4.26
70 Elio Sousa (Por) Imoholding/Loule J.H              5.12
71 Marco Silvestre (Por) Imoholding/Loule J.H         5.22
72 Yon Bru (Spa) L.A. Pecol                           5.27
73 Inaki Isasi (Spa) Euskaltel-Euskadi                    
74 Joseba Zubeldia (Spa) Euskaltel-Euskadi            5.30
75 Koldo Fernandez (Spa) Euskaltel-Euskadi            5.32
76 Pedro M. Martins (Por) Barbot-Gaia                 6.57
77 Sjef De Wilde (Bel) Jong Vlaanderen 2016          16.34
78 Stefan Wijnands (Bel) Jong Vlaanderen 2016             
79 Hermano Vieira (Por) Asc-Vila Do Conde            18.27
80 Juan Manuel Jimenez (Spa) Imoholding/Loule J.H    22.25
81 Pieter Uytterhoeven (Bel) Jong Vlaanderen 2016    24.05
 
Points
 
1 Floyd Landis (USA) U.S. Postal Service                25 pts
2 Peter Farazijn (Bel) Cofidis                          20
3 Candido Barbosa (Por) L.A. Pecol                      16
4 Victor Hugo Peña (Col) U.S. Postal Service            13
5 Ezequiel Mosquera (Spa) Carvalhelhos-Boavista         10
6 David Bernabeu (Spa) Milaneza-Maia                     8
7 Bruno Castanheira (Por) Milaneza-Maia                  6
8 Thomas Dekker (Ned) Rabobank                           4
9 Martin Garrido (Arg) Barbot-Gaia                       2
10 Juan Olmo (Spa) Barbot-Gaia                           1
 
Mountains
 
Climb - Cat. 3, km 57,00
 
1 Gonçalo Amorim (Por) Milaneza-Maia                     5 pts
2 Pedro M. Martins (Por) Barbot-Gaia                     3
3 Yon Bru (Spa) L.A. Pecol                               1
 
Alto De Malhao - Cat. 2, km 80,50
 
1 Gonçalo Amorim (Por) Milaneza-Maia                     9 pts
2 Yon Bru (Spa) L.A. Pecol                               7
3 Pedro M. Martins (Por) Barbot-Gaia                     5
4 Pedro Soeiro (Por) Carvalhelhos-Boavista               3
5 Joseba Zubeldia (Spa) Euskaltel-Euskadi                1
 
Alto De Malhao - Cat. 2, km 178,50
 
1 Floyd Landis (USA) U.S. Postal Service                 9 pts
2 Peter Farazijn (Bel) Cofidis                           7
3 Candido Barbosa (Por) L.A. Pecol                       5
4 Victor Hugo Peña (Col) U.S. Postal Service             3
5 Ezequiel Mosquera (Spa) Carvalhelhos-Boavista          1
 
Metas Volantes
 
Olhao, km 17,80
 
1 Yon Bru (Spa) L.A. Pecol                               3 pts
2 Joseba Zubeldia (Spa) Euskaltel-Euskadi                2
3 Inaki Isasi (Spa) Euskaltel-Euskadi                    1
 
Almodovar, km 111,20
 
1 Yon Bru (Spa) L.A. Pecol                               3 pts
2 Gonçalo Amorim (Por) Milaneza-Maia                     2
3 Pedro Soeiro (Por) Carvalhelhos-Boavista               1
 
Teams
 
1 U.S. Postal Service                             14.01.36
2 L.A. Pecol                                          0.36
3 Milaneza-Maia                                       0.38
4 Cofidis                                             0.53
5 Carvalhelhos-Boavista                               0.57
6 Rabobank                                            1.01
7 Barbot-Gaia                                         1.03
8 Euskaltel-Euskadi                                   1.55
9 Würth/Bom Petisto                                   3.59
10 Antarte-Rota Dos Moveis                            4.08
11 Jong Vlaanderen 2016                               5.38
12 Ragt Semences-MG Rover                             6.48
13 Beppi-Ovarense                                     7.27
14 Imoholding/Loule J.Hotel                          12.57
15 Asc-Vila Do Conde                                 23.08
 
Final general classification
 
1 Floyd Landis (USA) U.S. Postal Service          18.03.04
2 Victor Hugo Peña (Col) U.S. Postal Service          0.26
3 Candido Barbosa (Por) L.A. Pecol                    0.45
4 Thomas Dekker (Ned) Rabobank                        0.52
5 Lance Armstrong (USA) U.S. Postal Service           1.11
6 Pedro Lopes (Por) L.A. Pecol                        1.32
7 Joost Posthuma (Ned) Rabobank                       1.34
8 Jimmy Engoulvent (Fra) Cofidis                      1.35
9 David Bernabeu (Spa) Milaneza-Maia                  1.41
10 Martin Garrido (Arg) Barbot-Gaia                   1.43
11 Joaquim Andrade (Por) Wurth/BOM Petisto            1.46
12 Michael Barry (Can) U.S. Postal Service            1.51
13 Stuart O'grady (Aus) Cofidis                       1.53
14 Victor Gamito (Por) Milaneza-Maia                  1.54
15 Ezequiel Mosquera (Spa) Carvalhelhos-Boavista      2.29
16 David Garcia (Spa) L.A. Pecol                      2.30
17 Michiel Elijzen (Ned) Rabobank                     2.32
18 Bruno Castanheira (Por) Milaneza-Maia              2.39
19 Iker Camano (Spa) Euskaltel-Euskadi                2.43
20 José Azevedo (Por) U.S. Postal Service             2.50
21 Juan Olmo (Spa) Barbot-Gaia                            
22 Hugo Sabido (Por) Milaneza-Maia                    3.05
23 Bas Giling (Ned) Rabobank                          3.10
24 Jukka Vastaranta (Fin) Rabobank                    3.18
25 Daniel Rincon (Col) U.S. Postal Service                
26 Nelson Vitorino (Por) Wurth/BOM Petisto            3.21
27 Peter Farazijn (Bel) Cofidis                       3.25
28 Joaquim Sampaio (Por) Carvalhelhos-Boavista        3.42
29 Adrian Palomares (Spa) Carvalhelhos-Boavista       3.47
30 Staf Scheirlinckx (Bel) Cofidis                    3.53
31 Gorka Verdugo (Spa) Euskaltel-Euskadi              4.09
32 Marc De Maar (Ned) Rabobank                        4.12
33 Enrique Salgueiro (Spa) Beppi-Ovarense             4.15
34 Francisco Garcia (Spa) Antarte-Rota Dos Moveis     4.16
35 Geert Steurs (Bel) Jong Vlaanderen 2016            4.29
36 Gerardo Fernandes (Arg) Antarte-Rota Dos Moveis        
37 Danail Petrov (Bul) Carvalhelhos-Boavista          4.42
38 Ruben Oarbeascoa (Spa) L.A. Pecol                  4.46
39 Celio Sousa (Por) Carvalhelhos-Boavista            4.47
40 Serge Pauwels (Bel) Rabobank                           
41 Guillaume Auger (Fra) Ragt Semences-MG Rover       4.48
42 Nuno Alves (Por) Barbot-Gaia                       4.49
43 James Vanlandschoot (Bel) Relax-Bodysol            4.52
44 Kurt Hoevelinck (Bel) Jong Vlaanderen 2016         4.54
45 Eric Berthou (Fra) Ragt Semences-MG Rover          5.08
46 Luis Pinheiro (Por) L.A. Pecol                     5.13
47 Aketza Peña (Spa) Euskaltel-Euskadi                5.50
48 Jose Rodrigues (Por) Carvalhelhos-Boavista         5.56
49 Jacek Morajko (Pol) Antarte-Rota Dos Moveis        6.06
50 Ricardo Costa (Por) Wurth/BOM Petisto              6.08
51 Angel Edo (Spa) Milaneza-Maia                      6.11
52 Nuno Ribeiro (Por) L.A. Pecol                      6.33
53 Sven Renders (Bel) Jong Vlaanderen 2016            6.34
54 Janek Tombak (Est) Cofidis                         6.45
55 Virgilio Santos (Por) Antarte-Rota Dos Moveis          
56 Rui Roque (Por) Beppi-Ovarense                     6.50
57 Gustavo Dominguez (Spa) Relax-Bodysol              7.02
58 Carlos Pinho (Por) Barbot-Gaia                     7.16
59 Israel Nuñez (Spa) Asc-Vila Do Conde               8.02
60 Daniel Cabrita (Por) Imoholding/Loule J.H          8.09
61 Renato Silva (Por) Milaneza-Maia                   8.11
62 Bruno Neves (Por) Asc-Vila Do Conde                8.16
63 Jose M. Hernandez (Spa) Antarte-Rota Dos Moveis    8.19
64 Pedro Soeiro (Por) Carvalhelhos-Boavista           8.29
65 Koldo Fernandez (Spa) Euskaltel-Euskadi            8.31
66 Gonçalo Amorim (Por) Milaneza-Maia                     
67 Jordi Berenguer (Spa) Beppi-Ovarense               8.40
68 Inaki Isasi (Spa) Euskaltel-Euskadi                8.44
69 Joseba Zubeldia (Spa) Euskaltel-Euskadi            8.55
70 Klaus Mutschler (Ger) Ragt Semences-MG Rover       9.02
71 Paulo Barroso (Por) Milaneza-Maia                  9.37
72 Pedro M. Martins (Por) Barbot-Gaia                 9.46
73 Elio Sousa (Por) Imoholding/Loule J.H             10.20
74 Andre Vital (Por) Carvalhelhos-Boavista           10.26
75 Yon Bru (Spa) L.A. Pecol                          10.52
76 Marco Silvestre (Por) Imoholding/Loule J.H        12.22
77 Stefan Wijnands (Bel) Jong Vlaanderen 2016        19.35
78 Hermano Vieira (Por) Asc-Vila Do Conde            24.00
79 Sjef De Wilde (Bel) Jong Vlaanderen 2016          25.13
80 Juan Manuel Jimenez (Spa) Imoholding/Loule J.H    29.30
81 Pieter Uytterhoeven (Bel) Jong Vlaanderen 2016    29.47
 
Points classification
 
1 Candido Barbosa (Por) L.A. Pecol                      82 pts
2 Stuart O'grady (Aus) Cofidis                          51
3 Martin Garrido (Arg) Barbot-Gaia                      45
4 Floyd Landis (USA) U.S. Postal Service                25
5 Angel Edo (Spa) Milaneza-Maia                         22
6 Peter Farazijn (Bel) Cofidis                          20
7 James Vanlandschoot (Bel) Relax-Bodysol               15
8 Jukka Vastaranta (Fin) Rabobank                       14
9 Victor Hugo Peña (Col) U.S. Postal Service            13
10 Marc De Maar (Ned) Rabobank                          13
11 Pedro Soeiro (Por) Carvalhelhos-Boavista             11
12 Michael Barry (Can) U.S. Postal Service              10
13 Ezequiel Mosquera (Spa) Carvalhelhos-Boavista        10
14 Pedro Lopes (Por) L.A. Pecol                          8
15 Jimmy Engoulvent (Fra) Cofidis                        8
16 David Bernabeu (Spa) Milaneza-Maia                    8
17 Jacek Morajko (Pol) Antarte-Rota Dos Moveis           8
18 Jordi Berenguer (Spa) Beppi-Ovarense                  7
19 Joost Posthuma (Ned) Rabobank                         6
20 Bruno Castanheira (Por) Milaneza-Maia                 6
21 Yon Bru (Spa) L.A. Pecol                              6
22 Bas Giling (Ned) Rabobank                             5
23 Thomas Dekker (Ned) Rabobank                          4
24 Staf Scheirlinckx (Bel) Cofidis                       3
25 Eric Berthou (Fra) Ragt Semences-MG Rover             3
 
Mountains classification
 
1 Gonçalo Amorim (Por) Milaneza-Maia                    19 pts
2 Pedro M. Martins (Por) Barbot-Gaia                    12
3 Joost Posthuma (Ned) Rabobank                         10
4 Floyd Landis (USA) U.S. Postal Service                 9
5 Ricardo Costa (Por) Wurth/BOM Petisto                  9
6 Staf Scheirlinckx (Bel) Cofidis                        8
7 Yon Bru (Spa) L.A. Pecol                               8
8 Peter Farazijn (Bel) Cofidis                           7
9 Eric Berthou (Fra) Ragt Semences-MG Rover              5
10 Candido Barbosa (Por) L.A. Pecol                      5
11 Adrian Palomares (Spa) Carvalhelhos-Boavista          4
 
Metas Volantes classification
 
1 Jordi Berenguer (Spa) Beppi-Ovarense                   7 pts
2 Joost Posthuma (Ned) Rabobank                          6
3 Yon Bru (Spa) L.A. Pecol                               6
4 Candido Barbosa (Por) L.A. Pecol                       5
5 Eric Berthou (Fra) Ragt Semences-MG Rover              3
6 Staf Scheirlinckx (Bel) Cofidis                        3
7 Stuart O'grady (Aus) Cofidis                           2
8 Kurt Hoevelinck (Bel) Jong Vlaanderen 2016             2
9 Gonçalo Amorim (Por) Milaneza-Maia                     2
10 Joseba Zubeldia (Spa) Euskaltel-Euskadi               2
11 Pedro Lopes (Por) L.A. Pecol                          2
 
Teams classification
 
1 U.S. Postal Service                             54.10.34
2 Rabobank                                            3.20
3 L.A. Pecol                                          3.56
4 Milaneza-Maia                                       4.43
5 Cofidis                                             5.23
6 Barbot-Gaia                                         7.06
7 Carvalhelhos-Boavista                               7.29
8 Würth/Bom Petisto                                   9.17
9 Euskaltel-Euskadi                                   9.25
10 Antarte-Rota Dos Moveis                           10.52
11 Jong Vlaanderen 2016                              12.22
12 Ragt Semences-MG Rover                            12.35
13 Beppi-Ovarense                                    18.30
14 Imoholding/Loule J.Hotel                          28.09
15 Asc-Vila Do Conde                                 36.59