Recently on Cyclingnews.com
30th Volta ao Algarve - 2.3
Portugal, February 18-22, 2004
Main Page Results Previous Stage Next Stage
Stage 2 - February 19: Castro Marim-Portimao, 182.0 km
Barbosa takes over
Candido Barbosa (LA Pecol)
Photo ©: AFP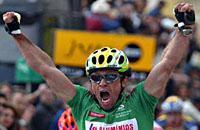 Portuguese rider Candido Barbosa (L.A. Pecol) has taken over the lead in the 30th Volta ao Algarve after winning the second stage between Castro Marim and Portimao. Barbosa reversed positions with yesterday's winner Alberto Benito (Antarte) to win the stage, with Stuart O'Grady (Cofidis) finishing in third place.
The 182 kilometre stage was expected to suit the sprinters, containing only two Cat. 3 climbs en route. Frenchman Eric Berthou (RAGT Semences) was the most persistent attacker, getting away in a small group with Kurt Hoevelinck (Jong Vlaanderen 2016), Israel Nuñez (Asc-Vila Do Conde) and Iñaki Isasi (Euskaltel-Euskadi). Berthou was the last rider to be caught, lasting until after the final intermediate sprint in Lagoa with 12 km to go.
The break
Photo ©: João Dias

With Milanez-Maia, Antarte and LA Pecol doing most of the chasing, it was inevitable that the bunch would regroup before the finish. This time, Barbosa repaid the efforts of his team by winning the stage and taking the lead. Lance Armstrong (USPS) spent much of the day in the company of his teammates towards the front of the peloton, and eventually finished 71st, in the main peloton.
Tomorrow's third stage is from Lagoa to Lagos, passing via the southwestern tip of Portugal and featuring the Cat. 2 climb of Fóia (940m).
Photography
Images by AFP Photo
Images by João Dias
Results
1 Candido Barbosa (Por) L.A. Pecol                  4.46.13
2 Alberto Benito (Spa) Antarte-Rota Dos Moveis             
3 Stuart O'grady (Aus) Cofidis                             
4 James Vanlandschoot (Bel) Relax-Bodysol                  
5 Jukka Vastaranta (Fin) Rabobank                          
6 Martin Garrido (Arg) Barbot-Gaia                         
7 Angel Edo (Spa) Milaneza-Maia                            
8 Bas Giling (Ned) Rabobank                                
9 Sven Renders (Bel) Jong Vlaanderen 2016                  
10 Geert Steurs (Bel) Jong Vlaanderen 2016                 
11 Bruno Neves (Por) Asc-Vila Do Conde                     
12 Pedro Soeiro (Por) Carvalhelhos-Boavista                
13 Pedro Lopes (Por) L.A. Pecol                            
14 Fernando Fernandez (Spa) Beppi-Ovarense                 
15 Roman Luhovyy (Ukr) Ragt Semences-MG Rover              
16 Nuno Marta (Por) Wurth/BOM Petisto                      
17 Nuno Alves (Por) Barbot-Gaia                            
18 Wim De Vocht (Bel) Relax-Bodysol                        
19 Bart Dockx (Bel) Relax-Bodysol                          
20 Jordi Berenguer (Spa) Beppi-Ovarense                    
21 Michiel Elijzen (Ned) Rabobank                          
22 Serge Pauwels (Bel) Rabobank                            
23 Jimmy Engoulvent (Fra) Cofidis                          
24 Ricardo Costa (Por) Wurth/BOM Petisto                   
25 Juan Manuel Jimenez (Spa) Imoholding/Loule J.H          
26 George Hincapie (USA) U.S. Postal Service               
27 David Garcia (Spa) L.A. Pecol                           
28 Iker Camano (Spa) Euskaltel-Euskadi                     
29 Juan Olmo (Spa) Barbot-Gaia                             
30 Sébastien Rosseler (Bel) Relax-Bodysol                  
31 Ictor Hugo Peña (Col) U.S. Postal Service               
32 David Bernabeu (Spa) Milaneza-Maia                      
33 Klaus Mutschler (Ger) Ragt Semences-MG Rover            
34 Guillaume Auger (Fra) Ragt Semences-MG Rover            
35 Benjamin Noval (Spa) U.S. Postal Service                
36 Kurt Hoevelinck (Bel) Jong Vlaanderen 2016              
37 Bruno Castanheira (Por) Milaneza-Maia                   
38 Victor Gamito (Por) Milaneza-Maia                       
39 Michael Barry (Can) U.S. Postal Service                 
40 Jose Rodrigues (Por) Carvalhelhos-Boavista              
41 Adrian Palomares (Spa) Carvalhelhos-Boavista            
42 Nelson Vitorino (Por) Wurth/BOM Petisto                 
43 Marc De Maar (Ned) Rabobank                             
44 Bernhard Kohl (Aut) Rabobank                            
45 Hugo Sabido (Por) Milaneza-Maia                         
46 Joaquim Andrade (Por) Wurth/BOM Petisto                 
47 Peter Farazijn (Bel) Cofidis                            
48 Daniel Cabrita (Por) Imoholding/Loule J.H               
49 Pieter Uytterhoeven (Bel) Jong Vlaanderen 2016          
50 Tommy V.De Gehuchte (Bel) Jong Vlaanderen 2016          
51 Jacek Morajko (Pol) Antarte-Rota Dos Moveis             
52 Ezequiel Mosquera (Spa) Carvalhelhos-Boavista           
53 Joaquim Sampaio (Por) Carvalhelhos-Boavista             
54 Pedro Ermida (Spa) Beppi-Ovarense                       
55 Cesar Pinto (Por) Asc-Vila Do Conde                     
56 José Azevedo (Por) U.S. Postal Service                  
57 Jose M. Hernandez (Spa) Antarte-Rota Dos Moveis         
58 Celio Sousa (Por) Carvalhelhos-Boavista                 
59 Pedro M. Martins (Por) Barbot-Gaia                      
60 Paulo Ferreira (Por) Antarte-Rota Dos Moveis            
61 Rui Roque (Por) Beppi-Ovarense                          
62 Joseba Zubeldia (Spa) Euskaltel-Euskadi                 
63 Francisco Garcia (Spa) Antarte-Rota Dos Moveis          
64 Janek Tombak (Est) Cofidis                              
65 Bruno Thibout (Fra) Ragt Semences-MG Rover              
66 Marco Morais (Por) Barbot-Gaia                          
67 Carlos Carneiro (Por) Asc-Vila Do Conde                 
68 Carlos Pinho (Por) Barbot-Gaia                          
69 Staf Scheirlinckx (Bel) Cofidis                         
70 Hugo Lucio (Por) Barbot-Gaia                            
71 Lance Armstrong (USA) U.S. Postal Service               
72 Egoi Martinez (Spa) Euskaltel-Euskadi                   
73 Gorka Verdugo (Spa) Euskaltel-Euskadi                   
74 Gerardo Fernandes (Arg) Antarte-Rota Dos Moveis         
75 Koldo Fernandez (Spa) Euskaltel-Euskadi                 
76 Thomas Dekker (Ned) Rabobank                            
77 David Plaza (Spa) Antarte-Rota Dos Moveis               
78 Yon Bru (Spa) L.A. Pecol                                
79 Daniel Rincon (Col) U.S. Postal Service                 
80 Enrique Salgueiro (Spa) Beppi-Ovarense                  
81 Helder Miranda (Por) Wurth/BOM Petisto                  
82 Ruben Oarbeascoa (Spa) L.A. Pecol                       
83 Sergio Ribeiro (Por) Asc-Vila Do Conde                  
84 Hugo Vitor (Por) Wurth/BOM Petisto                      
85 Luis Pinheiro (Por) L.A. Pecol                          
86 Pedro Andrade (Por) L.A. Pecol                          
87 Frédéric Finot (Fra) Ragt Semences-MG Rover             
88 Hermano Vieira (Por) Asc-Vila Do Conde                  
89 Marco Silvestre (Por) Imoholding/Loule J.H              
90 Danail Petrov (Bul) Carvalhelhos-Boavista               
91 Victoriano Fernandez (Spa) Asc-Vila Do Conde            
92 Inaki Isasi (Spa) Euskaltel-Euskadi                     
93 Renato Silva (Por) Milaneza-Maia                        
94 Eric Berthou (Fra) Ragt Semences-MG Rover               
95 Gonçalo Amorim (Por) Milaneza-Maia                      
96 Rui Madeira (Por) Imoholding/Loule J.H                  
97 Paulo Barroso (Por) Milaneza-Maia                       
98 Nuno Ribeiro (Por) L.A. Pecol                           
99 Fernando Rodriguez (Spa) Imoholding/Loule J.H           
100 Virgilio Santos (Por) Antarte-Rota Dos Moveis          
101 Alber Lopez De Munain (Spa) Euskaltel-Euskadi          
102 Preben Van Hecke (Bel) Relax-Bodysol                   
103 Rui Pinto (Por) Barbot-Gaia                            
104 Israel Nuñez (Spa) Asc-Vila Do Conde                   
105 Luis Bartolomeu (Por) Wurth/BOM Petisto                
106 Oscar Serrano (Spa) Asc-Vila Do Conde                  
107 Elio Sousa (Por) Imoholding/Loule J.H                  
108 Jérôme Bernard (Fra) Ragt Semences-MG Rover            
109 Joost Posthuma (Ned) Rabobank                          
110 Stefan Wijnands (Bel) Jong Vlaanderen 2016         0.57
111 Gustavo Dominguez (Spa) Relax-Bodysol                  
112 Ramon Troncoso (Spa) Imoholding/Loule J.H          1.04
113 Floyd Landis (USA) U.S. Postal Service                 
114 Aketza Peña (Spa) Euskaltel-Euskadi                1.38
115 Sjef De Wilde (Bel) Jong Vlaanderen 2016           3.31
116 Oscar Romero (Spa) Beppi-Ovarense                  4.20
117 Vidal Fitas (Por) Wurth/BOM Petisto                5.40
118 Andre Vital (Por) Carvalhelhos-Boavista                
119 Alexandre Pinho (Por) Beppi-Ovarense              10.16
120 Jorge Costa (Por) Imoholding/Loule J.H            15.50
121 Aron Huysmans (Bel) Jong Vlaanderen 2016          27.02
 
Points
 
1 Candido Barbosa (Por) L.A. Pecol                       25 pts
2 Alberto Benito (Spa) Antarte-Rota Dos Moveis           20
3 Stuart O'grady (Aus) Cofidis                           16
4 James Vanlandschoot (Bel) Relax-Bodysol                13
5 Jukka Vastaranta (Fin) Rabobank                        10
6 Martin Garrido (Arg) Barbot-Gaia                        8
7 Angel Edo (Spa) Milaneza-Maia                           6
8 Bas Giling (Ned) Rabobank                               4
9 Sven Renders (Bel) Jong Vlaanderen 2016                 2
10 Geert Steurs (Bel) Jong Vlaanderen 2016                1
 
Mountains
 
Climb - Cat. 3, km 30,60
 
1 Gonçalo Amorim (Por) Milaneza-Maia                      5 pts
2 Staf Scheirlinckx (Bel) Cofidis                         3
3 Nelson Vitorino (Por) Wurth/BOM Petisto                 1
 
Climb - Cat. 3, km 136,80
 
1 Eric Berthou (Fra) Ragt Semences-MG Rover               5 pts
2 Israel Nuñez (Spa) Asc-Vila Do Conde                    3
3 Kurt Hoevelinck (Bel) Jong Vlaanderen 2016              1
 
Metas Volantes 
 
Sprint, km 26,80
 
1 Candido Barbosa (Por) L.A. Pecol                        3 pts
2 Stuart O'grady (Aus) Cofidis                            2
3 Pedro Lopes (Por) L.A. Pecol                            1
 
Lagoa, km 170,50
 
1 Eric Berthou (Fra) Ragt Semences-MG Rover               3 pts
2 Kurt Hoevelinck (Bel) Jong Vlaanderen 2016              2
3 Inaki Isasi (Spa) Euskaltel-Euskadi                     1
 
Teams
 
1 Rabobank                                         14.18.39
2 L.A. Pecol                                               
3 Relax-Bodysol                                            
4 Barbot-Gaia                                              
5 Jong Vlaanderen 2016                                     
6 Cofidis                                                  
7 Milaneza-Maia                                            
8 Ragt Semences-MG Rover                                   
9 Würth/Bom Petisto                                        
10 Beppi-Ovarense                                          
11 U.S. Postal Service                                     
12 Carvalhelhos-Boavista                                   
13 Antarte-Rota Dos Moveis                                 
14 Asc-Vila Do Conde                                       
15 Imoholding/Loule J.Hotel                                
16 Euskaltel-Euskadi                                       
 
General classification after stage 2
 
1 Candido Barbosa (Por) L.A. Pecol                  8.13.44
2 Alberto Benito (Spa) Antarte-Rota Dos Moveis         0.03
3 Stuart O'grady (Aus) Cofidis                         0.13
4 Jordi Berenguer (Spa) Beppi-Ovarense                 0.14
5 Angel Edo (Spa) Milaneza-Maia                        0.15
6 Wim De Vocht (Bel) Relax-Bodysol                         
7 Staf Scheirlinckx (Bel) Cofidis                      0.16
8 Eric Berthou (Fra) Ragt Semences-MG Rover                
9 Kurt Hoevelinck (Bel) Jong Vlaanderen 2016           0.17
10 Pedro Lopes (Por) L.A. Pecol                        0.18
11 Inaki Isasi (Spa) Euskaltel-Euskadi                     
12 Martin Garrido (Arg) Barbot-Gaia                    0.19
13 James Vanlandschoot (Bel) Relax-Bodysol                 
14 Bas Giling (Ned) Rabobank                               
15 Pedro Soeiro (Por) Carvalhelhos-Boavista                
16 Nuno Marta (Por) Wurth/BOM Petisto                      
17 Jukka Vastaranta (Fin) Rabobank                         
18 Jimmy Engoulvent (Fra) Cofidis                          
19 Nuno Alves (Por) Barbot-Gaia                            
20 Bruno Neves (Por) Asc-Vila Do Conde                     
21 Michiel Elijzen (Ned) Rabobank                          
22 Fernando Fernandez (Spa) Beppi-Ovarense                 
23 Sébastien Rosseler (Bel) Relax-Bodysol                  
24 Geert Steurs (Bel) Jong Vlaanderen 2016                 
25 Victor Gamito (Por) Milaneza-Maia                       
26 Klaus Mutschler (Ger) Ragt Semences-MG Rover            
27 David Bernabeu (Spa) Milaneza-Maia                      
28 Juan Manuel Jimenez (Spa) Imoholding/Loule J.H          
29 Peter Farazijn (Bel) Cofidis                            
30 George Hincapie (USA) U.S. Postal Service               
31 Ictor Hugo Peña (Col) U.S. Postal Service               
32 Serge Pauwels (Bel) Rabobank                            
33 Sven Renders (Bel) Jong Vlaanderen 2016                 
34 David Garcia (Spa) L.A. Pecol                           
35 Bruno Castanheira (Por) Milaneza-Maia                   
36 Guillaume Auger (Fra) Ragt Semences-MG Rover            
37 Hugo Sabido (Por) Milaneza-Maia                         
38 Iker Camano (Spa) Euskaltel-Euskadi                     
39 Michael Barry (Can) U.S. Postal Service                 
40 Bruno Thibout (Fra) Ragt Semences-MG Rover              
41 Nelson Vitorino (Por) Wurth/BOM Petisto                 
42 Pedro M. Martins (Por) Barbot-Gaia                      
43 Juan Olmo (Spa) Barbot-Gaia                             
44 Roman Luhovyy (Ukr) Ragt Semences-MG Rover              
45 Marc De Maar (Ned) Rabobank                             
46 Pedro Ermida (Spa) Beppi-Ovarense                       
47 Adrian Palomares (Spa) Carvalhelhos-Boavista            
48 Jose Rodrigues (Por) Carvalhelhos-Boavista              
49 Joaquim Andrade (Por) Wurth/BOM Petisto                 
50 Ezequiel Mosquera (Spa) Carvalhelhos-Boavista           
51 José Azevedo (Por) U.S. Postal Service                  
52 Bernhard Kohl (Aut) Rabobank                            
53 Danail Petrov (Bul) Carvalhelhos-Boavista               
54 Celio Sousa (Por) Carvalhelhos-Boavista                 
55 Daniel Cabrita (Por) Imoholding/Loule J.H               
56 Francisco Garcia (Spa) Antarte-Rota Dos Moveis          
57 Thomas Dekker (Ned) Rabobank                            
58 Joaquim Sampaio (Por) Carvalhelhos-Boavista             
59 Benjamin Noval (Spa) U.S. Postal Service                
60 Cesar Pinto (Por) Asc-Vila Do Conde                     
61 Gorka Verdugo (Spa) Euskaltel-Euskadi                   
62 Gustavo Dominguez (Spa) Relax-Bodysol                   
63 Joseba Zubeldia (Spa) Euskaltel-Euskadi                 
64 Bart Dockx (Bel) Relax-Bodysol                          
65 Tommy V.De Gehuchte (Bel) Jong Vlaanderen 2016          
66 Enrique Salgueiro (Spa) Beppi-Ovarense                  
67 Ricardo Costa (Por) Wurth/BOM Petisto                   
68 Joost Posthuma (Ned) Rabobank                           
69 Janek Tombak (Est) Cofidis                              
70 Daniel Rincon (Col) U.S. Postal Service                 
71 Egoi Martinez (Spa) Euskaltel-Euskadi                   
72 Koldo Fernandez (Spa) Euskaltel-Euskadi                 
73 Preben Van Hecke (Bel) Relax-Bodysol                    
74 Carlos Pinho (Por) Barbot-Gaia                          
75 Sergio Ribeiro (Por) Asc-Vila Do Conde                  
76 Rui Roque (Por) Beppi-Ovarense                          
77 Floyd Landis (USA) U.S. Postal Service                  
78 Jacek Morajko (Pol) Antarte-Rota Dos Moveis             
79 Pieter Uytterhoeven (Bel) Jong Vlaanderen 2016          
80 David Plaza (Spa) Antarte-Rota Dos Moveis               
81 Yon Bru (Spa) L.A. Pecol                                
82 Israel Nuñez (Spa) Asc-Vila Do Conde                    
83 Hugo Vitor (Por) Wurth/BOM Petisto                      
84 Lance Armstrong (USA) U.S. Postal Service               
85 Gerardo Fernandes (Arg) Antarte-Rota Dos Moveis         
86 Carlos Carneiro (Por) Asc-Vila Do Conde                 
87 Paulo Ferreira (Por) Antarte-Rota Dos Moveis            
88 Marco Morais (Por) Barbot-Gaia                          
89 Marco Silvestre (Por) Imoholding/Loule J.H              
90 Hermano Vieira (Por) Asc-Vila Do Conde                  
91 Rui Pinto (Por) Barbot-Gaia                             
92 Elio Sousa (Por) Imoholding/Loule J.H                   
93 Alber Lopez De Munain (Spa) Euskaltel-Euskadi           
94 Ruben Oarbeascoa (Spa) L.A. Pecol                       
95 Rui Madeira (Por) Imoholding/Loule J.H                  
96 Fernando Rodriguez (Spa) Imoholding/Loule J.H           
97 Luis Pinheiro (Por) L.A. Pecol                          
98 Virgilio Santos (Por) Antarte-Rota Dos Moveis           
99 Luis Bartolomeu (Por) Wurth/BOM Petisto                 
100 Helder Miranda (Por) Wurth/BOM Petisto                 
101 Jérôme Bernard (Fra) Ragt Semences-MG Rover            
102 Frédéric Finot (Fra) Ragt Semences-MG Rover            
103 Nuno Ribeiro (Por) L.A. Pecol                          
104 Victoriano Fernandez (Spa) Asc-Vila Do Conde           
105 Hugo Lucio (Por) Barbot-Gaia                       0.49
106 Pedro Andrade (Por) L.A. Pecol                         
107 Stefan Wijnands (Bel) Jong Vlaanderen 2016         1.16
108 Renato Silva (Por) Milaneza-Maia                   1.17
109 Gonçalo Amorim (Por) Milaneza-Maia                     
110 Paulo Barroso (Por) Milaneza-Maia                      
111 Oscar Serrano (Spa) Asc-Vila Do Conde                  
112 Aketza Peña (Spa) Euskaltel-Euskadi                1.57
113 Ramon Troncoso (Spa) Imoholding/Loule J.H          2.09
114 Jose M. Hernandez (Spa) Antarte-Rota Dos Moveis    2.11
115 Sjef De Wilde (Bel) Jong Vlaanderen 2016           3.50
116 Oscar Romero (Spa) Beppi-Ovarense                  4.59
117 Andre Vital (Por) Carvalhelhos-Boavista            5.59
118 Vidal Fitas (Por) Wurth/BOM Petisto                    
119 Alexandre Pinho (Por) Beppi-Ovarense              10.55
120 Jorge Costa (Por) Imoholding/Loule J.H            16.29
 
Points classification
 
1 Candido Barbosa (Por) L.A. Pecol                       48 pts
2 Alberto Benito (Spa) Antarte-Rota Dos Moveis           45
3 Stuart O'grady (Aus) Cofidis                           31
4 Angel Edo (Spa) Milaneza-Maia                          22
5 Martin Garrido (Arg) Barbot-Gaia                       18
6 James Vanlandschoot (Bel) Relax-Bodysol                13
7 Jukka Vastaranta (Fin) Rabobank                        10
8 Jimmy Engoulvent (Fra) Cofidis                          8
9 Pedro Lopes (Por) L.A. Pecol                            7
10 Jordi Berenguer (Spa) Beppi-Ovarense                   5
11 Bas Giling (Ned) Rabobank                              5
12 Wim De Vocht (Bel) Relax-Bodysol                       4
13 Pedro Soeiro (Por) Carvalhelhos-Boavista               4
14 Staf Scheirlinckx (Bel) Cofidis                        3
15 Eric Berthou (Fra) Ragt Semences-MG Rover              3
16 Kurt Hoevelinck (Bel) Jong Vlaanderen 2016             2
17 Nuno Marta (Por) Wurth/BOM Petisto                     2
18 Sven Renders (Bel) Jong Vlaanderen 2016                2
19 Inaki Isasi (Spa) Euskaltel-Euskadi                    1
20 Geert Steurs (Bel) Jong Vlaanderen 2016                1
 
Mountains classification
 
1 Staf Scheirlinckx (Bel) Cofidis                         8 pts
2 Eric Berthou (Fra) Ragt Semences-MG Rover               5
3 Gonçalo Amorim (Por) Milaneza-Maia                      5
4 Jordi Berenguer (Spa) Beppi-Ovarense                    3
5 Israel Nuñez (Spa) Asc-Vila Do Conde                    3
6 Kurt Hoevelinck (Bel) Jong Vlaanderen 2016              1
7 Nelson Vitorino (Por) Wurth/BOM Petisto                 1
8 Hugo Lucio (Por) Barbot-Gaia                            1
 
Metas Volantes classification
 
1 Jordi Berenguer (Spa) Beppi-Ovarense                    5 pts
2 Wim De Vocht (Bel) Relax-Bodysol                        4
3 Candido Barbosa (Por) L.A. Pecol                        3
4 Eric Berthou (Fra) Ragt Semences-MG Rover               3
5 Staf Scheirlinckx (Bel) Cofidis                         3
6 Stuart O'grady (Aus) Cofidis                            2
7 Kurt Hoevelinck (Bel) Jong Vlaanderen 2016              2
8 Pedro Lopes (Por) L.A. Pecol                            1
9 Inaki Isasi (Spa) Euskaltel-Euskadi                     1
 
Teams classification
 
1 Cofidis                                          24.42.09
2 Rabobank                                                 
3 L.A. Pecol                                               
4 Milaneza-Maia                                            
5 Relax-Bodysol                                            
6 Barbot-Gaia                                              
7 Jong Vlaanderen 2016                                     
8 Carvalhelhos-Boavista                                    
9 Ragt Semences-MG Rover                                   
10 Würth/Bom Petisto                                       
11 U.S. Postal Service                                     
12 Beppi-Ovarense                                          
13 Euskaltel-Euskadi                                       
14 Antarte-Rota Dos Moveis                                 
15 Asc-Vila Do Conde                                       
16 Imoholding/Loule J.Hotel