33rd Tour de Vendée - 1.3
France, April 18, 2004
2003 Results Results Past winners
Thor the god of thunder lightens the bakers
By Jean-François Quénet in La Roche-sur-Yon
Another trophy for Thor
Photo ©: Jean-François Quénet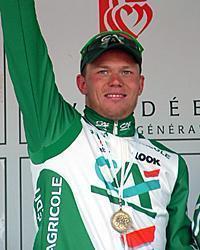 There were thousands new fans of Joseba Beloki waiting for the Spaniard's first appearance on the soil of his French team but they hardly had a chance to see him. Just before passing through Les Herbiers in front of the industrial bakery of Brioches La Boulangère, he got dropped from the bunch after 40km into the race and found his way back to La Roche-sur-Yon.
A man who wasn't afraid of the fast start, nor of the bad weather (the Tour de Vendée was held under the rain, hail and very strong winds) was Crédit Agricole's Thor Hushovd. Hushovd is enjoying the best shape of his life and plenty of confidence after winning a stage in Etoile de Bessèges, the Classic Haribo and the GP of Denain last Thursday. He's leading the Coupe de France by too far to be afraid of anyone beating him now, even if he should be riding the World Cup and not the French cup.
Hushovd's Crédit Agricole team didn't qualify for the Amstel Gold Race after missing also Milan-San Remo and getting a last minute entry to the Tour of Flanders. More than a year ago, he publicly asked for his team to be reinforced for the classics but at the time of the recruitment the French bank gave credit to Tour de France riders instead.
"With the condition I have now I would have survived the climbs of Amstel Gold Race," Thor commented. "But I wouldn't have won it, that's why I'm still happy to win the Tour de Vendée because of the way I did it. For the first time since I turned professional, I've had the same feeling as when I was an amateur and I was able to do almost what I wanted."
In the Coupe de France, Crédit Agricole is very competitive. The team had two men in the first move with Christophe Le Mével and Pierrick FÈdrigo riding hard for almost 100km with local boys Thomas Voeckler and Anthony Charteau as well as FDJeux.com's Freddy Bichot. When Voeckler and FÈdrigo took off from that group, it became clear that the race would be a Crédit Agricole vs La Boulangère match. Franck Bouyer gave a superiority to La Boulangère coming across by himself, while again Ag2r had to do most of the work in the chase with defending champion Jaan Kirsipuu himself looking the most active.
It was the same teams in the front within 40km to go when the new leaders became Sylvain Chavanel and Benoît Poilvet. And again, Kirsipuu chased behind. Four La Boulangère riders sat on his wheel: Bouyer, Charteau, Jérôme Pineau and Didier Rous, also with Eric Berthou of RAGT Semences-MG Rover and the Crédit Agricole duo of Hushovd and FÈdrigo More riders came across and another duo attacked with 30km to go: Voeckler and Hinault. Sylvain Calzati of Oktos was in between for a while but it came all together, Hushovd decided "This is the moment for me."
At 18km left, with a final circuit of 4.5km to be covered 3 times, the Norwegian whose first name is inspired by a Scandinavian God of Thunder thought it was the right time to go solo.
"La Boulangère had attacked a lot and Kirsipuu had worked a lot, I knew it was the perfect timing for me," Hushovd explained. It was a fabulous race to watch with four times winner of the Tour of Vendée Kirsipuu going solo for a second place and all the riders exhausted at the end. It looked like a baton being passed by Kirsipuu to Hushovd, although the old Estonian is still very competitive.
"I may be faster than Thor in a sprint but he is more powerful than me and when he goes away it's extremely hard to bring him back," Kirsipuu said. He was full of praise for the winner and Hushovd also had a good word of fair-play towards La Boulangère, who did a great race again at home despite Beloki's mediocre showing, although the team couldn't win this time. You can't go against God of Thunder's will...
Photography
Images by Jean-François Quénet
Results - 193 km
1 Thor Hushovd (Nor) Credit Agricole              4.55.27 (39.255 km/h) 
2 Jaan Kirsipuu (Est) Ag2r-Prevoyance                1.07 
3 Sebastien Hinault (Fra) Credit Agricole            1.20 
4 Franck Bouyer (Fra) Brioches La Boulangere         1.31 
5 Jérôme Pineau (Fra) Brioches La Boulangere
6 Pierrick Fedrigo (Fra) Credit Agricole             2.00
7 Thomas Voeckler (Fra) Brioches La Boulangere       2.02
8 Edouard Vorganov (Rus) Russian national team       2.03
9 Jean Michel Tessier (Fra) Oktos-Saint Quentin      2.06
10 Ludovic Martin (Fra) RAGT Semences-MG Rover       2.11 
11 Yannick Talabardon (Fra) Auber 93                 4.30
12 Christophe Agnolutto (Fra) Ag2r Prévoyance
13 Ludovic Auger (Fra) Auber 93
14 Anthony Charteau (Fra) Brioches La Boulangère
15 Eric Berthou (Fra) RAGT Semences-MG Rover
16 Jean-Cyril Robin (Fra) Fdjeux.com
17 Alexei Sivakov (Rus) Hoop CCC Polsat TV
18 Andy Flickinger (Fra) Ag2r Prévoyance
19 Guillaume Auger (Fra) RAGT Semences-MG Rover
20 José Carlos Silva (Por) Carvalhelos-Boavista
21 Patrice Halgand (Fra) Crédit Agricole             4.12
22 Walter Bénéteau (Fra) Brioches La Boulangère      4.21
23 Sylvain Chavanel (Fra) Brioches La Boulangère
24 Pedro Soeiro (Por) Carvalhelos-Boavista           4.36
25 Saulius Ruskys (Ltu) Oktos
26 Ivan Terenin (Rus) Russian national team
27 Alonso Oscar Serrano (Esp) ASC Vila do Conde      4.39
28 Pavel Brutt (Rus) Lokomotiv                       4.41
29 Franck Pencolé (Fra) Oktos
30 Joaquim Andrade (Por) Wurth Bom Petisco
31 Didier Rous (Fra) Brioches La Boulangère
32 Mads Kaggestad (Nor) Crédit Agricole
33 Nicolas Vogondy (Fra) Fdjeux.com
34 Yoann Le Boulanger (Fra) RAGT Semences-MG Rover
35 Joaquim Sampaio (Por) Carvalhelos-Boavista        
36 Christophe Le Mével (Fra) Crédit Agricole
37 Nicolas Fritsch (Fra) Fdjeux.com
38 Sylvain Calzati (Fra) Oktos
39 Nicolas Inaudi (Fra) Ag2r Prévoyance
40 Lenaïc Olivier (Fra) Auber 93                     7.15
41 John Nilsson (Swe) Auber 93                       9.38
42 Andre Vital (Por) Carvalhelos-Boavista            
 
Coupe de France standings after 8 races 
 
1 Thor Hushovd (Nor) Credit Agricole               175 Pts
2 Franck Bouyer (Fra) Brioches La Boulangere        79 
3 Pierrick Fedrigo (Fra) Credit Agricole            63 
4 Anthony Geslin (Fra) Brioches La Boulangere       60 
5 Sebastien Hinault (Fra) Credit Agricole           50 
Past winners
2003 Jaan Kirsipuu (Est) AG2R Prevoyance
2002 Franck Bouyer (Fra) Bonjour 201.4km in 4.54.24 (41.046 km/h)
2001 Didier Rous (Fra) Bonjour 206 kms in 4.51.32 (42.479 km/h)
2000 Jaan Kirsipuu (Est) Ag2R-Prevoyance 200.2 kms in 4.45.16
1999 Jaan Kirsipuu (Est) Casino 204 kms in 4.52.05
1998 Marco di Renzo (Ita) Cantina-Tollo 204 kms in 4.56.54
1997 Jaan Kirsipuu (Est)
1996 Laurent Desbiens (Fra)
1995 Mario De Clercq (Bel)
1994 Patrick Van Roosbroeck (Bel)
1993 Dimitry Zhdanov (Rus)
1992 Bruno Cornillet (Fra)
1991 Fabrice Naessens (Bel)
1990 Francois Lemarchand (Fra)
1989 Laurent Bezault (Fra)
1988 Alberto Leanizbarrutia (Spa)
1987 Jean-Claude Colotti (Fra)
1986 Francis Castaing (Fra)
1985 Michel Bibillet (Fra)
1984 Claude Moreau (Fra)
1983 Pierre Bazzo (Fra)
1982 Serge Beucherie (Fra)
1981 Bernard Bourreau (Fra)
1980 Jean-René Bernaudeau (Fra)


Past winners by Mario Stiehl, www.world-of-cycling.com