38th Ruban Granitier Breton - 2.6
France, April 26-May 2, 2004
Main Page Results Previous Stage Next Stage
Stage 3 - April 29: Port Manech (En Nevez) - Saint Gildas De Rhuys, 167.7 km
Ravard's revenge in a sprinters' day
By Jean-François Quénet in St-Gildas-de-Rhuys
Anthony Ravard
Photo ©: JF Quenet
At the end of stage 2, Vendée U's little sprinter Anthony Ravard, 21, was annoyed because he lost 20 minutes. "I initially came here with the aim of a top 10 overall," he said "but I missed the split in the bunch while I was busy fixing my radio." He wanted revenge and it came just 24 hours later.
For 125 kilometres, there was a breakaway up the road. After 40km, 12 men broke clear: Sébastien Talabardon (VC Roubaix) who is a team-mate of current race leader Jussi Veikkanen, Olivier Kaisen (Beveren 2000), Kees Jeurissen (Van Hemert), Thijs Zonneveld (AVC Aix), Pierre Drancourt (Vendée U), Bert Heirewegh (Deschacht), Romain Mary (SCO Dijon), Dimitri Kozontchuk (St-Petersburg), Michael Schweizer (ComNet), Alberto Ceralli (GS Brunero), Luis Bartolomeu (Würth) and Rodolphe Parent (VC Rouen). Four stayed away near the end (Kaisen, Drancourt, Heirewegh and Mary) but got caught with 2 km to go.
The bunch was led for most of the race by Simon Gerrans' team-mates of U Nantes-Atlantique who had missed the break and had no choice but assume the responsibilities for the chase. The runner-up might have lost a lot of energy in this move. Reduced to four men, the local Jean Floc'h team took over near the end to favour their sprinter Jean-Luc Delpech, but Ravard was the fastest on the line.
Jussi Veikkanen
Photo ©: JF Quenet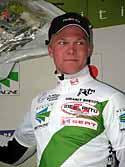 "It was very difficult because of the rain," Ravard explained. "My fingers were frozen. I wouldn't have sprinted if it wasn't for my team who had faith in me."
Vendée U is the reserve of La Boulangère and that is very likely Ravard's next destination, especially because Jean-René Bernaudeau's pro team suffers the lack of a true sprinter since Damien Nazon's departure to Crédit Agricole. French cycling in general would be happy with a new great sprinter and Ravard looks like being the next one to join the pro ranks for this job.
Photography
Images by Jean-Francois Quenet
Results
1 Anthony Ravard (Fra) Vendee U-Pays De La Loire                  4.02.58
2 Jean Luc Delpech (Fra) Jean Floc'h Moreac 56                           
3 Kenny Lisabeth (Bel) Wielergroep Beveren 2000                          
4 Kenny Van Hummel (Ned) Van Hemert Eurogifts                            
5 Nic Ingels (Bel) Wielergroep Beveren 2000                              
6 Julien Gonnet (Fra) Bretagne Espoirs                                   
7 Marco Giani (Swi) V.C Mendrisio Pl Valli / Team Fidibc.Com             
8 Alexandre Cabrera (Fra) A.V.C Aix En Provence                          
9 David Vitoria (Swi) V.C Mendrisio Pl Valli / Team Fidibc.Com           
10 Vincent Jerome (Fra) Vendee U-Pays De La Loire                        
11 Roy Curvers (Ned) Van Hemert Eurogifts                                
12 David Boucher (Fra) Team Deschacht Eddy Merckx                        
13 Stefan Loffler (Ger) Die Hofbrau Radler Stuttgart                     
14 Adriaan Helmantel (Ned) Noordelijke Wielervereniging Groningen        
15 Olivier Grammaire (Fra) S.C.O Dijon                                   
16 Sergey Kondrashkov (Rus) Angel Travel Ro St Petersburg                
17 Steven De Decker (Bel) Team Deschacht Eddy Merckx                     
18 Roger Cren (Fra) Bretagne Espoirs                                     
19 Léonardo Pappalardo (Ger) Die Hofbrau Radler Stuttgart                
20 Nicolas Boulenger (Fra) A.V.C Aix En Provence                         
21 Folkert De Haan (Ned) Noordelijke Wielervereniging Groningen          
22 Guillaume Blot (Fra) V.C Roubaix                                      
23 Nico Graf (Ger) Die Hofbrau Radler Stuttgart                          
24 Sergey Lazarev (Rus) Angel Travel Ro St Petersburg                    
25 Remo Spirgi (Swi) V.C Mendrisio Pl Valli / Team Fidibc.Com            
26 Numo Marta (Por) Wurth Bom Petico Tavira                              
27 Neirynck Kevin (Bel) Wielergroep Beveren 2000                         
28 Stijn Ennekens (Bel) Team Deschacht Eddy Merckx                       
29 Christopher Esch (RSA) Team H.S.B.C                                   
30 Anthony Malaczyk (GBr) Wales                                          
31 Sergey Firzanov (Rus) Angel Travel Ro St Petersburg                   
32 Ben Johnson (Aus) S.C.O Dijon                                         
33 Charles Guilbert (Fra) V.C Rouen 76                                   
34 Nico Van Dijk (Ned) Noordelijke Wielervereniging Groningen            
35 Johnny Hoogerland (Ned) Van Hemert Eurogifts                          
36 Simon Gerrans (Aus) U Nantes Atlantique                               
37 Clemente Cavaliere (Ita) G.S Camel Brunero Boeris Cirie               
38 Laurent Chotard (Fra) V.C Rouen 76                                    
39 Stéphane Belot (Fra) V.C Rouen 76                                     
40 Cyrille Monnerais (Fra) Jean Floc'h Moreac 56                         
41 Jonathan Dayus (GBr) U Nantes Atlantique                              
42 Francesco Giulani (Ita) G.S Camel Brunero Boeris Cirie                
43 Ian Mcleod (RSA) Team H.S.B.C                                         
44 Thimothée Lefrancois (Fra) U Nantes Atlantique                        
45 Ricardo Costa (Por) Wurth Bom Petico Tavira                           
46 Jelle Van Groezen (Ned) Van Hemert Eurogifts                          
47 Jussi Veikkanen (Fin) V.C Roubaix                                     
48 Huw Pritchard (GBr) Wales                                             
49 Pablo Pico (Swi) V.C Mendrisio Pl Valli / Team Fidibc.Com             
50 Jeremy Yates (NZl) Team Deschacht Eddy Merckx                         
51 Helder Miranda (Spa) Wurth Bom Petico Tavira                          
52 Andreas Welsh (Ger) Die Hofbrau Radler Stuttgart                      
53 David Tandart (Fra) V.C Roubaix                                       
54 Bart Heirewegh (Bel) Team Deschacht Eddy Merckx                       
55 Maint Berkenbosh (Ned) Noordelijke Wielervereniging Groningen         
56 Samuel Gicquel (Fra) Jean Floc'h Moreac 56                            
57 Martial Locatelli (Fra) S.C.O Dijon                                   
58 Jamie Norfolk (GBr) Wales                                             
59 Sébastien Talabardon (Fra) V.C Roubaix                                
60 Laurent Mangel (Fra) S.C.O Dijon                                      
61 David Heine (Ger) Die Hofbrau Radler Stuttgart                        
62 Régis Lhuillier (Fra) A.V.C Aix En Provence                           
63 Jonas Leib (Swi) V.C Mendrisio Pl Valli / Team Fidibc.Com             
64 Vincent Van Rijn (Ned) Van Hemert Eurogifts                           
65 Yannick Rebouilleau (Fra) U Nantes Atlantique                         
66 Rolan Mittendorf (Ger) Team Comnet Senges                             
67 Philippe Gascon (Fra) A.V.C Aix En Provence                           
68 Yohann Gene (Fra) Vendee U-Pays De La Loire                           
69 Stephen Roach (GBr) Wales                                             
70 Alexandre Bousseau (Fra) Vendee U-Pays De La Loire                    
71 Ben Thaens (Bel) Wielergroep Beveren 2000                             
72 Aloys Van Duuren (Ned) Noordelijke Wielervereniging Groningen         
73 Stéphane Petilleau (Fra) V.C Roubaix                                  
74 Nicholas White (RSA) Team H.S.B.C                                     
75 Hervé Arcade (Fra) Vendee U-Pays De La Loire                          
76 Sébastian Frey (Ger) Die Hofbrau Radler Stuttgart                     
77 Herman Conan (Fra) Bretagne Espoirs                                   
78 Christophe Thebault (Fra) Jean Floc'h Moreac 56                       
79 Romain Mary (Fra) S.C.O Dijon                                         
80 Neil Macdonald (RSA) Team H.S.B.C                                     
81 Heath Blackgrove (NZl) Wielergroep Beveren 2000                       
82 Szymon Kurynowsik (Ita) G.S Camel Brunero Boeris Cirie                
83 David Migne (Fra) U Nantes Atlantique                                 
84 Kees Jeurissen (Ned) Van Hemert Eurogifts                             
85 Stanislav Belov (Rus) Angel Travel Ro St Petersburg                   
86 Samuel Boudard (Fra) Bretagne Espoirs                                 
87 David Lelay (Fra) V.C Roubaix                                         
88 Tom Stubbe (Bel) Team Deschacht Eddy Merckx                       0.45
89 Ilya Chernetskiv (Rus) Angel Travel Ro St Petersburg                  
90 Dmitri Kozontchouk (Rus) Angel Travel Ro St Petersburg                
91 Daniel Spence (RSA) Team H.S.B.C                                      
92 Paul Sheppard (GBr) Wales                                             
93 Alberto Ceralli (Ita) G.S Camel Brunero Boeris Cirie                  
94 Benoit Geoffroy (Fra) S.C.O Dijon                                 1.22
95 Pierre Drancourt (Fra) Vendee U-Pays De La Loire                  1.30
96 Rodolphe Parent (Fra) V.C Rouen 76                                    
97 Jean Yon (Fra) Philippe V.C Rouen 76                                  
98 Tarno Raudsepp (Est) U Nantes Atlantique                              
99 Daniel Petrov (Rus) Wurth Bom Petico Tavira                           
100 Olivier Kaisen (Bel) Wielergroep Beveren 2000                    1.44
101 Uwe Sengewald (Ger) Team Comnet Senges                           1.56
102 Luis Bartolomeu (Por) Wurth Bom Petico Tavira                    2.03
103 Ivan Buoso (Ita) G.S Camel Brunero Boeris Cirie                  2.48
104 Julien Sauve (Fra) Bretagne Espoirs                                  
105 Michael Schweizer (Ger) Team Comnet Senges                       6.24
106 Rob Partridge (GBr) Wales                                            
107 Thijs Zonneveld (Ned) A.V.C Aix En Provence                      8.43
108 Alex Pavlov (RSA) Team H.S.B.C                                   9.23
109 Jean Avril (Fra) Christophe V.C Rouen 76                        10.58
DNF Mickael Buckers (Ger) Team Comnet Senges                             
DNF Dominique Rault (Fra) Jean Floc'h Moreac 56                          
DNF Colin Menc Molina (Fra) A.V.C Aix En Provence                        
 
General classification after stage 3
 
1 Jussi Veikkanen (Fin) V.C Roubaix                              11.54.26
2 Simon Gerrans (Aus) U Nantes Atlantique                            0.03
3 Laurent Mangel (Fra) S.C.O Dijon                                   0.05
4 Martial Locatelli (Fra) S.C.O Dijon                                0.22
5 Stijn Ennekens (Bel) Team Deschacht Eddy Merckx                    0.25
6 Cyrille Monnerais (Fra) Jean Floc'h Moreac 56                      0.27
7 David Boucher (Fra) Team Deschacht Eddy Merckx                     0.29
8 Charles Guilbert (Fra) V.C Rouen 76                                0.30
9 Stéphane Petilleau (Fra) V.C Roubaix                               0.33
10 Jonathan Dayus (GBr) U Nantes Atlantique                              
11 Christophe Thebault (Fra) Jean Floc'h Moreac 56                       
12 Jean Luc Delpech (Fra) Jean Floc'h Moreac 56                      0.34
13 David Tandart (Fra) V.C Roubaix                                   0.35
14 Ricardo Costa (Por) Wurth Bom Petico Tavira                       0.38
15 Ian Mcleod (RSA) Team H.S.B.C                                     0.40
16 Kees Jeurissen (Ned) Van Hemert Eurogifts                             
17 Jeremy Yates (NZl) Team Deschacht Eddy Merckx                     0.43
18 Vincent Van Rijn (Ned) Van Hemert Eurogifts                       0.45
19 Samuel Gicquel (Fra) Jean Floc'h Moreac 56                        0.47
20 Heath Blackgrove (NZl) Wielergroep Beveren 2000                       
21 Kenny Lisabeth (Bel) Wielergroep Beveren 2000                         
22 Sergey Lazarev (Rus) Angel Travel Ro St Petersburg                0.49
23 Sébastien Talabardon (Fra) V.C Roubaix                            0.50
24 Bart Heirewegh (Bel) Team Deschacht Eddy Merckx                       
25 Julien Gonnet (Fra) Bretagne Espoirs                              0.52
26 Jelle Van Groezen (Ned) Van Hemert Eurogifts                      0.54
27 Johnny Hoogerland (Ned) Van Hemert Eurogifts                      0.55
28 Vincent Jerome (Fra) Vendee U-Pays De La Loire                        
29 Sergey Kondrashkov (Rus) Angel Travel Ro St Petersburg                
30 Marco Giani (Swi) V.C Mendrisio Pl Valli / Team Fidibc.Com        0.56
31 Régis Lhuillier (Fra) A.V.C Aix En Provence                           
32 Andreas Welsh (Ger) Die Hofbrau Radler Stuttgart                      
33 Sébastian Frey (Ger) Die Hofbrau Radler Stuttgart                 0.57
34 Nic Ingels (Bel) Wielergroep Beveren 2000                         0.58
35 Numo Marta (Por) Wurth Bom Petico Tavira                              
36 Laurent Chotard (Fra) V.C Rouen 76                                0.59
37 Jamie Norfolk (GBr) Wales                                             
38 Helder Miranda (Spa) Wurth Bom Petico Tavira                          
39 Alexandre Cabrera (Fra) A.V.C Aix En Provence                         
40 Roger Cren (Fra) Bretagne Espoirs                                     
41 Olivier Grammaire (Fra) S.C.O Dijon                               1.01
42 Thimothée Lefrancois (Fra) U Nantes Atlantique                        
43 Clemente Cavaliere (Ita) G.S Camel Brunero Boeris Cirie           1.02
44 David Vitoria (Swi) V.C Mendrisio Pl Valli / Team Fidibc.Com          
45 Yannick Rebouilleau (Fra) U Nantes Atlantique                         
46 Nico Graf (Ger) Die Hofbrau Radler Stuttgart                          
47 Stefan Loffler (Ger) Die Hofbrau Radler Stuttgart                 1.04
48 David Migne (Fra) U Nantes Atlantique                             1.06
49 Sergey Firzanov (Rus) Angel Travel Ro St Petersburg               1.07
50 Szymon Kurynowsik (Ita) G.S Camel Brunero Boeris Cirie                
51 Jonas Leib (Swi) V.C Mendrisio Pl Valli / Team Fidibc.Com         1.12
52 Nicholas White (RSA) Team H.S.B.C                                 1.16
53 Aloys Van Duuren (Ned) Noordelijke Wielervereniging Groningen     1.24
54 David Heine (Ger) Die Hofbrau Radler Stuttgart                    1.25
55 Neil Macdonald (RSA) Team H.S.B.C                                 1.26
56 Philippe Gascon (Fra) A.V.C Aix En Provence                       1.36
57 Nico Van Dijk (Ned) Noordelijke Wielervereniging Groningen        1.38
58 Romain Mary (Fra) S.C.O Dijon                                     1.41
59 Léonardo Pappalardo (Ger) Die Hofbrau Radler Stuttgart            1.45
60 Yohann Gene (Fra) Vendee U-Pays De La Loire                       1.46
61 David Lelay (Fra) V.C Roubaix                                     1.48
62 Hervé Arcade (Fra) Vendee U-Pays De La Loire                          
63 Ben Thaens (Bel) Wielergroep Beveren 2000                         1.57
64 Neirynck Kevin (Bel) Wielergroep Beveren 2000                     2.01
65 Huw Pritchard (GBr) Wales                                         2.10
66 Remo Spirgi (Swi) V.C Mendrisio Pl Valli / Team Fidibc.Com        2.14
67 Pierre Drancourt (Fra) Vendee U-Pays De La Loire                  2.19
68 Ben Johnson (Aus) S.C.O Dijon                                         
69 Dmitri Kozontchouk (Rus) Angel Travel Ro St Petersburg            2.30
70 Jean Yon (Fra) Philippe V.C Rouen 76                              2.35
71 Luis Bartolomeu (Por) Wurth Bom Petico Tavira                     2.54
72 Alexandre Bousseau (Fra) Vendee U-Pays De La Loire                3.10
73 Herman Conan (Fra) Bretagne Espoirs                               3.21
74 Tarno Raudsepp (Est) U Nantes Atlantique                          3.51
75 Nicolas Boulenger (Fra) A.V.C Aix En Provence                     4.06
76 Rodolphe Parent (Fra) V.C Rouen 76                                4.41
77 Roy Curvers (Ned) Van Hemert Eurogifts                            4.43
78 Ivan Buoso (Ita) G.S Camel Brunero Boeris Cirie                   5.03
79 Maint Berkenbosh (Ned) Noordelijke Wielervereniging Groningen     5.50
80 Folkert De Haan (Ned) Noordelijke Wielervereniging Groningen      5.59
81 Stanislav Belov (Rus) Angel Travel Ro St Petersburg               6.02
82 Stephen Roach (GBr) Wales                                         6.05
83 Ilya Chernetskiv (Rus) Angel Travel Ro St Petersburg              6.22
84 Steven De Decker (Bel) Team Deschacht Eddy Merckx                 6.39
85 Olivier Kaisen (Bel) Wielergroep Beveren 2000                     8.10
86 Francesco Giulani (Ita) G.S Camel Brunero Boeris Cirie            8.38
87 Daniel Spence (RSA) Team H.S.B.C                                  8.49
88 Julien Sauve (Fra) Bretagne Espoirs                               9.40
89 Adriaan Helmantel (Ned) Noordelijke Wielervereniging Groningen    9.43
90 Thijs Zonneveld (Ned) A.V.C Aix En Provence                      10.31
91 Pablo Pico (Swi) V.C Mendrisio Pl Valli / Team Fidibc.Com        11.01
92 Michael Schweizer (Ger) Team Comnet Senges                       11.13
93 Rob Partridge (GBr) Wales                                        11.19
94 Tom Stubbe (Bel) Team Deschacht Eddy Merckx                      13.41
95 Daniel Petrov (Rus) Wurth Bom Petico Tavira                      14.22
96 Guillaume Blot (Fra) V.C Roubaix                                 19.55
97 Anthony Ravard (Fra) Vendee U-Pays De La Loire                   20.03
98 Samuel Boudard (Fra) Bretagne Espoirs                            20.21
99 Stéphane Belot (Fra) V.C Rouen 76                                20.36
100 Anthony Malaczyk (GBr) Wales                                    20.37
101 Kenny Van Hummel (Ned) Van Hemert Eurogifts                     20.46
102 Christopher Esch (RSA) Team H.S.B.C                             20.47
103 Alberto Ceralli (Ita) G.S Camel Brunero Boeris Cirie            22.22
104 Uwe Sengewald (Ger) Team Comnet Senges                          22.56
105 Paul Sheppard (GBr) Wales                                       23.56
106 Rolan Mittendorf (Ger) Team Comnet Senges                       24.30
107 Benoit Geoffroy (Fra) S.C.O Dijon                               25.03
108 Jean Avril (Fra) Christophe V.C Rouen 76                        31.44
109 Alex Pavlov (RSA) Team H.S.B.C                                  36.39
 
Points classification
 
1 Jean Luc Delpech (Fra) Jean Floc'h Moreac 56                         42 pts
2 Simon Gerrans (Aus) U Nantes Atlantique                              34
3 Anthony Ravard (Fra) Vendee U-Pays De La Loire                       30
4 David Boucher (Fra) Team Deschacht Eddy Merckx                       28
5 Johnny Hoogerland (Ned) Van Hemert Eurogifts                         28
6 Laurent Mangel (Fra) S.C.O Dijon                                     26
7 Kenny Lisabeth (Bel) Wielergroep Beveren 2000                        26
8 Christophe Thebault (Fra) Jean Floc'h Moreac 56                      25
9 Jussi Veikkanen (Fin) V.C Roubaix                                    24
10 Julien Gonnet (Fra) Bretagne Espoirs                                20
11 Roy Curvers (Ned) Van Hemert Eurogifts                              17
12 Romain Mary (Fra) S.C.O Dijon                                       16
13 Kenny Van Hummel (Ned) Van Hemert Eurogifts                         16
14 Martial Locatelli (Fra) S.C.O Dijon                                 15
15 Charles Guilbert (Fra) V.C Rouen 76                                 14
16 Nic Ingels (Bel) Wielergroep Beveren 2000                           14
17 Stefan Loffler (Ger) Die Hofbrau Radler Stuttgart                   13
18 Stéphane Petilleau (Fra) V.C Roubaix                                12
19 Bart Heirewegh (Bel) Team Deschacht Eddy Merckx                     11
20 Stijn Ennekens (Bel) Team Deschacht Eddy Merckx                     11
21 Jonathan Dayus (GBr) U Nantes Atlantique                            10
22 Kees Jeurissen (Ned) Van Hemert Eurogifts                           10
23 Vincent Jerome (Fra) Vendee U-Pays De La Loire                      10
24 Adriaan Helmantel (Ned) Noordelijke Wielervereniging Groningen      10
25 Marco Giani (Swi) V.C Mendrisio Pl Valli / Team Fidibc.Com           9
26 Alexandre Cabrera (Fra) A.V.C Aix En Provence                        8
27 David Vitoria (Swi) V.C Mendrisio Pl Valli / Team Fidibc.Com         7
28 Philippe Gascon (Fra) A.V.C Aix En Provence                          7
29 Thijs Zonneveld (Ned) A.V.C Aix En Provence                          7
30 Ian Mcleod (RSA) Team H.S.B.C                                        6
31 Michael Schweizer (Ger) Team Comnet Senges                           6
32 Samuel Gicquel (Fra) Jean Floc'h Moreac 56                           5
33 Ricardo Costa (Por) Wurth Bom Petico Tavira                          5
34 Jeremy Yates (NZl) Team Deschacht Eddy Merckx                        5
35 Cyrille Monnerais (Fra) Jean Floc'h Moreac 56                        4
36 Sébastien Talabardon (Fra) V.C Roubaix                               3
37 Nico Graf (Ger) Die Hofbrau Radler Stuttgart                         3
38 Neil Macdonald (RSA) Team H.S.B.C                                    3
39 Ben Johnson (Aus) S.C.O Dijon                                        3
40 Rodolphe Parent (Fra) V.C Rouen 76                                   3
41 David Tandart (Fra) V.C Roubaix                                      2
42 Pierre Drancourt (Fra) Vendee U-Pays De La Loire                     2
43 Luis Bartolomeu (Por) Wurth Bom Petico Tavira                        2
44 Tom Stubbe (Bel) Team Deschacht Eddy Merckx                          2
45 Vincent Van Rijn (Ned) Van Hemert Eurogifts                          1
46 Heath Blackgrove (NZl) Wielergroep Beveren 2000                      1
47 Olivier Grammaire (Fra) S.C.O Dijon                                  1
48 Olivier Kaisen (Bel) Wielergroep Beveren 2000                        1
 
Mountains classification
 
1 Ricardo Costa (Por) Wurth Bom Petico Tavira                          41 pts
2 Dmitri Kozontchouk (Rus) Angel Travel Ro St Petersburg               34
3 Maint Berkenbosh (Ned) Noordelijke Wielervereniging Groningen        26
4 Luis Bartolomeu (Por) Wurth Bom Petico Tavira                        22
5 Thijs Zonneveld (Ned) A.V.C Aix En Provence                          22
6 Olivier Kaisen (Bel) Wielergroep Beveren 2000                        19
7 Stéphane Petilleau (Fra) V.C Roubaix                                 14
8 Jussi Veikkanen (Fin) V.C Roubaix                                    14
9 Rodolphe Parent (Fra) V.C Rouen 76                                   12
10 Ben Johnson (Aus) S.C.O Dijon                                       10
11 Laurent Mangel (Fra) S.C.O Dijon                                     8
12 Samuel Gicquel (Fra) Jean Floc'h Moreac 56                           8
13 Nicholas White (RSA) Team H.S.B.C                                    8
14 Jonathan Dayus (GBr) U Nantes Atlantique                             6
15 Régis Lhuillier (Fra) A.V.C Aix En Provence                          6
16 Yohann Gene (Fra) Vendee U-Pays De La Loire                          6
17 Daniel Petrov (Rus) Wurth Bom Petico Tavira                          6
18 Charles Guilbert (Fra) V.C Rouen 76                                  5
19 Jean Yon (Fra) Philippe V.C Rouen 76                                 5
20 Simon Gerrans (Aus) U Nantes Atlantique                              4
21 Sébastien Talabardon (Fra) V.C Roubaix                               4
22 Jelle Van Groezen (Ned) Van Hemert Eurogifts                         4
23 Johnny Hoogerland (Ned) Van Hemert Eurogifts                         4
24 Alexandre Cabrera (Fra) A.V.C Aix En Provence                        4
25 Anthony Malaczyk (GBr) Wales                                         4
26 David Boucher (Fra) Team Deschacht Eddy Merckx                       3
27 Stijn Ennekens (Bel) Team Deschacht Eddy Merckx                      2
28 Ian Mcleod (RSA) Team H.S.B.C                                        2
29 Vincent Van Rijn (Ned) Van Hemert Eurogifts                          2
30 Kenny Lisabeth (Bel) Wielergroep Beveren 2000                        2
31 Bart Heirewegh (Bel) Team Deschacht Eddy Merckx                      2
32 Jamie Norfolk (GBr) Wales                                            2
33 Jean Luc Delpech (Fra) Jean Floc'h Moreac 56                         1
34 Sergey Kondrashkov (Rus) Angel Travel Ro St Petersburg               1
35 Tom Stubbe (Bel) Team Deschacht Eddy Merckx                          1
 
Young rider classification
 
1 Stijn Ennekens (Bel) Team Deschacht Eddy Merckx                11.54.51
2 Cyrille Monnerais (Fra) Jean Floc'h Moreac 56                      0.02
3 David Tandart (Fra) V.C Roubaix                                    0.10
4 Jeremy Yates (NZl) Team Deschacht Eddy Merckx                      0.18
5 Sergey Lazarev (Rus) Angel Travel Ro St Petersburg                 0.24
6 Johnny Hoogerland (Ned) Van Hemert Eurogifts                       0.30
7 Vincent Jerome (Fra) Vendee U-Pays De La Loire                         
8 Sergey Kondrashkov (Rus) Angel Travel Ro St Petersburg                 
9 Marco Giani (Swi) V.C Mendrisio Pl Valli / Team Fidibc.Com         0.31
10 Andreas Welsh (Ger) Die Hofbrau Radler Stuttgart                      
11 Sébastian Frey (Ger) Die Hofbrau Radler Stuttgart                 0.32
12 Nic Ingels (Bel) Wielergroep Beveren 2000                         0.33
13 Alexandre Cabrera (Fra) A.V.C Aix En Provence                     0.34
14 David Vitoria (Swi) V.C Mendrisio Pl Valli / Team Fidibc.Com      0.37
15 Yannick Rebouilleau (Fra) U Nantes Atlantique                         
16 Nico Graf (Ger) Die Hofbrau Radler Stuttgart                          
17 Stefan Loffler (Ger) Die Hofbrau Radler Stuttgart                 0.39
18 David Migne (Fra) U Nantes Atlantique                             0.41
19 Sergey Firzanov (Rus) Angel Travel Ro St Petersburg               0.42
20 Jonas Leib (Swi) V.C Mendrisio Pl Valli / Team Fidibc.Com         0.47
21 Aloys Van Duuren (Ned) Noordelijke Wielervereniging Groningen     0.59
22 David Heine (Ger) Die Hofbrau Radler Stuttgart                    1.00
23 Léonardo Pappalardo (Ger) Die Hofbrau Radler Stuttgart            1.20
24 Neirynck Kevin (Bel) Wielergroep Beveren 2000                     1.36
25 Remo Spirgi (Swi) V.C Mendrisio Pl Valli / Team Fidibc.Com        1.49
26 Pierre Drancourt (Fra) Vendee U-Pays De La Loire                  1.54
27 Ben Johnson (Aus) S.C.O Dijon                                         
28 Dmitri Kozontchouk (Rus) Angel Travel Ro St Petersburg            2.05
29 Alexandre Bousseau (Fra) Vendee U-Pays De La Loire                2.45
30 Herman Conan (Fra) Bretagne Espoirs                               2.56
31 Ivan Buoso (Ita) G.S Camel Brunero Boeris Cirie                   4.38
32 Stanislav Belov (Rus) Angel Travel Ro St Petersburg               5.37
33 Stephen Roach (GBr) Wales                                         5.40
34 Ilya Chernetskiv (Rus) Angel Travel Ro St Petersburg              5.57
35 Steven De Decker (Bel) Team Deschacht Eddy Merckx                 6.14
36 Olivier Kaisen (Bel) Wielergroep Beveren 2000                     7.45
37 Francesco Giulani (Ita) G.S Camel Brunero Boeris Cirie            8.13
38 Julien Sauve (Fra) Bretagne Espoirs                               9.15
39 Michael Schweizer (Ger) Team Comnet Senges                       10.48
40 Rob Partridge (GBr) Wales                                        10.54
41 Daniel Petrov (Rus) Wurth Bom Petico Tavira                      13.57
42 Guillaume Blot (Fra) V.C Roubaix                                 19.30
43 Anthony Ravard (Fra) Vendee U-Pays De La Loire                   19.38
44 Samuel Boudard (Fra) Bretagne Espoirs                            19.56
45 Stéphane Belot (Fra) V.C Rouen 76                                20.11
46 Kenny Van Hummel (Ned) Van Hemert Eurogifts                      20.21
47 Christopher Esch (RSA) Team H.S.B.C                              20.22
48 Alberto Ceralli (Ita) G.S Camel Brunero Boeris Cirie             21.57
49 Benoit Geoffroy (Fra) S.C.O Dijon                                24.38
50 Jean Avril (Fra) Christophe V.C Rouen 76                         31.19
51 Alex Pavlov (RSA) Team H.S.B.C                                   36.14
 
Most combative classification
 
1 Romain Mary (Fra) S.C.O Dijon                                        16 pts
2 Bart Heirewegh (Bel) Team Deschacht Eddy Merckx                      11
3 David Boucher (Fra) Team Deschacht Eddy Merckx                        7
4 Christophe Thebault (Fra) Jean Floc'h Moreac 56                       5
5 Samuel Gicquel (Fra) Jean Floc'h Moreac 56                            5
6 Kenny Lisabeth (Bel) Wielergroep Beveren 2000                         5
7 Anthony Ravard (Fra) Vendee U-Pays De La Loire                        5
8 Rodolphe Parent (Fra) V.C Rouen 76                                    3
9 Johnny Hoogerland (Ned) Van Hemert Eurogifts                          3
10 Ben Johnson (Aus) S.C.O Dijon                                        3
11 Sébastien Talabardon (Fra) V.C Roubaix                               3
12 Pierre Drancourt (Fra) Vendee U-Pays De La Loire                     2
13 Luis Bartolomeu (Por) Wurth Bom Petico Tavira                        2
14 Jean Luc Delpech (Fra) Jean Floc'h Moreac 56                         2
15 Kenny Van Hummel (Ned) Van Hemert Eurogifts                          2
16 Kees Jeurissen (Ned) Van Hemert Eurogifts                            1
17 Olivier Kaisen (Bel) Wielergroep Beveren 2000                        1
18 Julien Gonnet (Fra) Bretagne Espoirs                                 1