Tour of the Gila - NE
New Mexico, USA, April 28-May 2, 2004
Main Page Results Previous Stage Next Stage
Stage 4 - May 1: Downtown Silver City Criterium, 40/25 miles
Sayers and Holden take wins for the team
By Steve Medcroft in Silver City, New Mexico
Mike Sayers (Health Net)
Photo ©: Jason Elhardt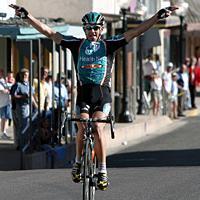 Mike Sayers (Health Net/Maxxis) and Mari Holden (T-Mobile) won the Downtown Criterium in Saturday's stage of the tour of the Gila in dominating fashion. On the 1.08-mile, four-corner course that included an elevation change of 110 feet per lap, Sayers went off the front with only one companion and five laps to go and left no doubt that he is the strongest sprinter in the pro men's field.
Under glaring mid-afternoon sun, T-Mobile used mature and perfectly executed tactics to place Holden in a break of seven women with eight laps to go then shut the peloton down to let Holden and her group run. In a bold maneuver on the final turn, in which she almost collided with the tire-pile barriers, former Individual Time Trial World Champion Holden powered off the front and held all the way to the finish.
Mari holds them off
Mari Holden (T-Mobile)
Photo ©: Jason Elhardt

T-Mobile's GC leader, Amber Neben, is not known as a sprinter. The team's stated goal for the day was to give one of their sprinters a chance for a stage win and keep Neben safe and un-stressed for tomorrow's big finale. "We figured that if we got into a break, we'd take it," Holden said at the finish.
Racing started aggressively at about 2:35pm local time, with Dara Marks (Fort Outfitters) and Melanie McQuaid (Ford Outfitters) prominent in early moves. The break that stuck came with about 10 of the 25 laps to go. "Three girls got off the front and I was able to bridge up," Holden said. Three other girls came with her. With a lead group of now seven and one of their own represented, T-Mobile made a noticeable shift in pace, shutting down the tempo of the main group.
Also in the break was Kate Maher (Basis). "Mari worked hard to keep it together," she said about the lead group's effort.
"I pressed a little bit to make sure it would stick," Holden said and drove the pace from the final five laps until the group had gained a comfortable gap. From there, the race came down to positioning for the final sprint. "I knew it would come down to who was willing to take the final corner the fastest," Holden said.
Maher was looking for her place in the final push as well. "I was trying to pick out where I needed to be," she said. She decided fourth wheel was just right and slipped into place. Holden moved to the front on the backstretch of the course - a road that climbed 75-feet above the start. Which left a long descent leading down to the final turn. Holden took the corner so fast she almost put herself into a barrier. Maher found herself boxed out and had to brake for a moment before finding the strength to come around and follow Holden across the finish line and in second place on the day.
For Holden and T-Mobile, the win was further evidence of their strength and domination of the women's peloton. It preserved their position on top of GC, and pulled Holden a little further up in the standings. "We have first place to protect but having me a little further up the GC just gives us more options." After Gila, Holden will return to her home in Colorado to "recover from these races and get on the track a bit." To qualify to compete in the Olympics she will need to win either the road or time-trial Olympic qualifying race in June at Redlands.
For Kate Maher, her second-place was a fun and rewarding victory. The U.C. Berkeley student and PhD candidate in Geochemistry has been racing above the college-team level for only her second year. She's taking this year to gain general experience and hopes to translate it into further success in the pro peloton.
Mike Sayers is the man
Wherry, Jones and Lokkesmoe
Photo ©: Jason Elhardt

The men's race, 40 laps long, evolved slowly. Several short-lived attacks went away early but were neutralized by the pack. Health Net sat near, if not on, the front most of the day. Until about 12 laps to go when a small group broke off and Sayers jumped across the gap.
"The plan all day was for me to try and get in a group like that," Sayers said. He was looking for personal glory. And maybe a little payback. "The Tecos riders really screwed us up last year," he says referring to stages in the 2003 Gila where Tecos riders attacked the field in odd places and seemed to refuse to work to the benefit of the breaks they were in, forcing Health Net, who were protecting their second-place in GC, to expend too much needless energy to cover the moves. Once Sayers had his breakaway group, his Health Net teammates sat at the front of the main pack, locking the pace just as T-Mobile had in the women's race.
Also in the breakaway group sat Landis Trek/VW rider Jake Rubelt. The Arizona regional team had lost their GC leader and former Gila winner Drew Miller to food poisoning and Rubelt was free to pursue whatever goals he wanted in Saturday's race.
"One of the Tecos guys attacked," Sayers said. The move came with five laps to go. Sayers took the opportunity to counter and only Rubelt was able to grab the wheel. Sayers extended the lead to 8 seconds. "I knew Jake was willing to work and that we could make it," he said.
"Mike Sayers is an Ox," Rubelt said at the finish. "He was letting me basically sit in. He turned to me and said 'let's do it, we can make it.' And I think he was paying us back for helping to keep the race under control yesterday (Landis riders, protecting Miller's second place in GC, worked with Health Net to chase and cancel out breaks in Saturday's windy Inner Loop Road Race)."
Coming through the straight for the final lap, Rubelt was still stuck to Sayers' wheel and the gap to the chasing group was holding at eight seconds. "Jake did what he could," Sayers said but he knew there we be no trouble from the younger rider in the sprint. Just to be sure though, Sayers kicked into his highest gear and wound his power up into the final straight, surging 30 meters ahead before zipping up his jersey and pounding the air in excitement for the win.
"It felt so good. Not just today, but all of it. To have Scott (Moninger) in the lead and knowing that we're working for a strong guy, it's perfect." Sayers said the success at Gila was 18 months in coming, since Moninger lost a season of domestic racing to a USADA sanction. "I knew we had the right guy," Sayers said. "I worked hard to get him on our team and I really appreciate our sponsor for putting aside whatever concerns they may have had and taking a chance. This race is a chance for us to pay them back."
Bring on the Gila Monster
Both Health Net/Maxxis and T-Mobile continue to demonstrate that depth and experience can give you a decided edge in controlling a race such as the Tour of the Gila. Each team has determined the outcome of every stage in their respective races. Sunday's stage, the Gila Monster Road Race, leaves a tiny window of opportunity open for a bold move against the GC though.
The women's event is 71.8 miles and covers one Category 2 and two Category 4 climbs (for almost 5.500 feet of climbing), the final of which is the finish up Pinos Altos. Brooke Ourada (Victory Brewing) and Christine Thorburn (Webcor Builders) sit 01:52 and 0:51 back in GC respectively. As the Gila has seen in past years, a strong break on an early climb has the potential to stick. With enough climbing stamina and boldness on some of the mind-bending descents, should one of the contenders stick their nose out, it will be left ultimately to Neben herself to see that it doesn't succeed.
The men's event is significantly tougher. At 106.4 miles, the men's route takes them over the Continental Divide three times for 9,300 feet of climbing over a Category 1, two Category 2 and two Category 4 climbs. The major climb of the day runs from 5,600 to 7,600 feet in only 3 miles and was the site of last year's breakaway to the finish by Drew Miller and Ubaldo Estapa (Tecos).
If anyone is going to threaten Health Net's grip on the 2004 Tour of the Gila the attack will have to come on one the major climbs. With the loss of Drew Miller from the peloton; the number of riders who have the climbing pedigree to hurt Moninger has dwindled. Davide Frattini (Team Monex - 02:32 behind in GC) and Burke Swindlehurst (Navigators - 03:43 behind in GC) are chief among the challengers. And, of course, Albuquerque, New Mexico resident Ryan Blickem is still in the hunt at 02:18 back after his fantastic stage 1 time trial. It should be a vitally exciting and interesting day of racing.
Race Notes
One moment of drama in the women's race came after the main group crossed the line with five laps to go. Yukie Nakamura (Webcor Builders) touched the back wheel of Lynn Gaggioli (T-Mobile), sending both riders to the ground. The women were treated for road rash and, with sore bones to show for the crash, should be at tomorrow's start line to work hard for their leaders (who just happen to be the top two women in GC).
Shimano's Neutral Support
Numerous times during Saturday's racing, a rider with a flat or some other mechanical problem would wheel himself over to the Shimano neutral support area. There'd they'd get a wheel, a bike or just a quick fix-up of some kind. Even racers in the children's event got in on the action (one junior needed a few links to fix a chain on his training-wheeled Trek). For riders without full professional team support, the Shimano Nuetral Support Program (and others like it) are a Godsend.
The neutral support crew at Gila is run by Irvine, California-based Andy Stone and is providing race-time assistance to anyone who asks for it. "My personal goal, my philosophy," he says, "is to give riders the chance to just race their bikes. To have the same resources as everyone else."
The Shimano-funded program, along with its mountain bike and fun-rides counterparts, can be seen at events all across the country. Stone and his crew of four full-time employees and a cadre of part-timers and volunteers, offers neutral support at about 20 road-racing events in North America. "We did the Hamilton Worlds," he says. "Most national races. We'll be doing support for the junior track worlds in L.A."
It's quite a logistical challenge to meet the anticipated needs of a 700-rider strong field. For the Tour of the Gila, Stone packed the following in his suitcase:
Two vehicles
Two motos
10 Litespeed titanium bikes in a variety of sizes
Full set of every kind of pedal seen in the peloton
30 rear wheels including 9 and 10 speed
20 front wheels
A full mechanic's shop of tools
As many unusual and rarely need parts as he can fit (like a short length of spare chain in just the right size for the citizen-race junior - a length that had been sitting in Stone's toolbox for 18 months).
Photography
Images by Jason Elhardt/www.jasonelhardt.com
Results

Men Pro 1
 
1 Mike Sayers (USA) Healthnet/Maxxis                1.37.09
2 Jacob Rubelt (USA) Landis/Trek/VW                    0.03
3 Domingo Ramirez (Mex) Tecos                          0.12
4 Lawrence Perea (USA)                                     
5 Jon Tarkington (USA) Vitamin Cottage                     
6 Fausto Munoz (Mex) Tecos                             0.16
7 Jason Lokkesmoe (USA) Healthnet/Maxxis               0.28
8 Mike Jones (USA) Healthnet/Maxxis                        
9 Chris Gruber (Can)                                       
10 Aaron Norman (USA) Owens Healthcare                     
11 Davide Frattini (Ita) Team Monex                        
12 Robbie King (USA) Louis Garneau Racing                  
13 Scott Moninger (USA) Healthnet/Maxxis                   
14 Mike Barton (USA) Century Tel                           
15 Kevin Nicol (USA)                                       
16 Karl Bordine (USA) Team Monex                           
17 Peter Baker (USA) Team Snow Valley                      
18 Josh Goodwin (Can) Team Monex                           
19 Rolano Green (Can) Canadian National Team               
20 Mark Schwab (USA) Excel Sports                          
21 Enrique Ospinoa (USA) Team Monex                        
22 Michael Lange (USA) Sharper Image/Mathis Bros.          
23 Trent Hornus (USA) U.S. Armed Forces                    
24 Chuck Coyle (USA) Vitamin Cottage                       
25 John Hunt (USA) Village Peddler                         
26 Brian Ellis (USA) Jamba Juice/Fuji                      
27 Patrick Dunaway (USA) McGuire Pro Cycling               
28 Billy Masterson (USA) Excel Sports                      
29 Drew Miller (USA) Landis/Trek/VW                        
30 Jesus Estrada (Mex) Tecos                               
31 Ben Duke (USA)                                          
32 Erik Van den Akker (USA) Reno Wheelmen                  
33 Noel Mendoza (Ven) Tecos                                
34 David Wenger (USA)                                      
35 Todd Hageman (USA)                                      
36 Pat Carro (USA) Team Monex                              
37 Zach Coolman (USA) Aida's Bail Bonds                    
38 Matt Shriver (USA) A.S.T.                               
39 Ryan Yee (USA) Bicyles of Ojai                          
40 Andrew Pinfold (USA)                                    
41 Daniel Doornbos (USA) Aida's Bail Bonds                 
42 Carter Hovey (Can) Canadian National Team               
43 Omar Diaz (Mex) Tecos                                   
44 Marsh Cooper (USA)                                      
45 Will Routely (USA)                                      
46 Carl Decker (USA) Broadmark Capital                     
47 Evan Elkan (USA) Broadmark Capital                      
48 Nathan Miller (USA) McGuire Pro Cycling                 
49 Jay Henry (USA) Specialized                             
50 Shawn Olin (USA) U.S. Armed Forces                      
51 Ryan DeWald (USA) Team Snow Valley                      
52 Peter Penzell (USA) U.S. Armed Forces                   
53 Michael Gallagher (USA) U.S. Armed Forces               
54 Burke Swindlehurst (USA) Navigators                     
55 Jimi Mortenson (USA) VAIL                               
56 Steve Mlujeak (USA) U.S. Armed Forces                   
57 Lyon Torsten (USA) Jamba Juice/Fuji                     
58 Owen Jeffries (USA) Rocknasium/CBE                      
59 Chris Wherry (USA) Healthnet/Maxxis                     
60 Andy McCauley-Applegate (USA) Jamba Juice/Fuji          
61 Kurt Hackler (USA) Century Tel                          
62 Stefano Barberi (USA) Mapei Team Diabetic               
63 Scott Romero (USA) Crazy Cat Cyclery                    
64 Mike Taylor (USA) McGuire Pro Cycling                   
65 Mark Southard (USA) Excel Sports                        
66 Cory Lange (Can) Canadian National Team                 
67 Bartek Fidelus (USA) Team Ranchos                       
68 Frank Mapel (USA)                                       
69 Jonathan Baker (USA) Excel Sports                       
70 John Osguthorpe (USA) Vitamin Cottage                   
71 Jason Sager (USA)                                       
72 Steven Cate (USA) Sharper Image/Mathis Bros.            
73 Max Plaxton (Can)                                       
74 Andrew Edwards (USA) SOMA                               
75 Ryan McNamara (Can) Canadian National Team              
76 Derek McMaster (Can) Canadian National Team             
77 Carl Swenson (USA)                                      
78 Mitch Moreman (USA) Hassle Free Sports                  
79 Shane Peltonen (USA) Eclipse Racing                     
80 Axel Santiago (USA) CenturyTel                          
81 Hugh Moran (USA) Atlas Mining                           
82 Tim Carolan (USA) Landis/Trek/VW                        
83 Todd Bauer (USA) Aida's Bail Bonds                      
84 Jesus Jrageda (Mex) Rica-Burguer                        
85 Ryan Blickem (USA) Aida's Bail Bonds                    
86 Yeison Ortega (Ven) Tecos                               
87 Brian Lemke (USA) Landis/Trek/VW                        
88 Aron Huerta (USA) Village Peddler                       
89 Chris Brennan (USA) Jimmy D Racing                      
90 Eduardo Vicencio (USA) Aida's Bail Bonds                
91 Tom Crawford (USA) Broadmark Capital                0.48
92 Matt Lorenz (USA) U.S. Armed Forces                     
93 James Seaman (USA) Aida's Bail Bonds                    
94 Ron Jensen (USA) Aida's Bail Bonds                      
95 Nick Kiernan (USA)                                  0.52
96 Aaron Smathers (USA) Sharper Image/Mathis Bros.         
97 Jose Quintero (Ven) Ranchos-Venezuela               1.00
98 Matt Gilbert (NZl) Team Monex                       2.19
99 Sean Cahill (USA) Reno Wheelmen                     2.33
100 George Ganoung (USA) U.S. Armed Forces                 
101 Eric Reber (USA) Jamba Juice/Fuji                  2.53
 
Women Pro 1,2,3
 
1 Mari Holden (USA) T-Mobile                        1.08.36
2 Kate Maher (USA) Basis                               0.01
3 Anna Milkowski (USA) Team Rona                           
4 Alisha Little (USA) ABD Cycling Team                     
5 Melanie McQuaid (Can) Ford Cycling                       
6 Maria Molina (Gua) Ortho-Evra                            
7 Candice Blicken (USA) Genesis Scuba/FFCC                 
8 Maria Castaneda (Gua) Ortho-Evra                     0.28
9 Erinne Willock (Can) Team Rona                           
10 Chrissy Ruiter (USA) Basis                              
11 Sima Trapp (USA) ICO                                    
12 Sandy Espeseth (Can) Victory Brewing                    
13 Andrea Hannos (Hun) Team Rona                           
14 Susan Haywood (USA) T-Mobile                            
15 Kori Seehafer (USA) Genesis Scuba/FFCC                  
16 Alex Robinette (USA) Team Hotel San Jose                
17 Johanna Buick (NZl) Victory Brewing                     
18 Kimberly Anderson (USA) T-Mobile                        
19 Amber Meben (USA) T-Mobile                              
20 Michelle Beltran (USA) Red5racing                       
21 Shannon Tupa (USA) Tokyo Joes                           
22 Brooke Ourada (Can) Victory Brewing                     
23 Christine Thorburn (USA) Webcor Builders                
24 Shannon Gibson (USA) Crazy Cat Cyclery                  
25 Gabriela Gonzalez-Ferrat (USA) Velo Bella               
26 Dara Marks-Marino (USA) Ford Cycling Team               
27 Lisa Matlock (USA)                                      
28 Maggie Shirley (USA) Genesis Scuba/FFCC                 
29 Rook Campbell (USA) Genesis Scuba/FFCC                  
30 Kristen Robbins (Can) Victory Brewing                   
31 Betina Hold (Can) Webcor Builders                   2.31
32 Felicia Greer (Can) Webcor Builders                 2.57
33 Lynn Gaggioli (USA)                                 3.17
34 Kele Hulser (USA) Basis                             3.23
35 Jeanne McFall (USA) ICO                                 
36 Mary Rudy (USA) U.S. Armed Forces                       
37 Mindy Ziffren-Hall (USA) ICO                            
38 Erin Alders (USA)                                       
39 Jennifer Martin (USA) La Forza                      3.32
40 Carla Flores (USA)                                      
41 Lauren Heilig (USA) Denver Spoke                        
42 Christina Briante (Can) --                              
43 Heather Szabo (USA) Tokoyo Joe's                    5.01
44 Jennifer Chapman (USA) Velo Bella                   5.06
45 Kelly Crawford (USA) ICO                                
46 Darcia Murphy (USA) Utah State University           5.20
47 Irene Ilundain (USA) Team Ochsner                   6.46
 
Men 2
 
1 Lee Rosenthal (CRCA/Sakonnet Technology)          1.02.31
2 Scott Kasin (Team Lucky Lounge)                          
3 Caleb Thompson (P.C.W.)                                  
4 Kevin Kirkwood (Atlas Mining)                            
5 Erik Kuhlman                                             
6 Neil Flock (Jamba Juice)                                 
7 Anthony Colby (AST)                                      
8 Jason Karew (Eclipse Racing)                             
9 John Reed (Team Lucky Lounge)                            
10 Link King                                               
11 Eugene Dougherty (New Mexico Velo Sport)                
12 Jeff Smith (Jamba Juice/Fuji)                           
13 Derrick Brown (Flag Velo)                               
14 Mike Wilk (Jamba Juice/Fuji)                            
15 Chad Moore (GS Ciao)                                    
16 Ian Stanford (Nature Valley/Trek)                       
17 Michael Nunez                                           
18 Kyle Colavito                                           
19 Pete Dahle                                              
20 Peter Horne (GS Ciao)                                   
21 Scott Daubert                                           
22 Nathan Kuehl (Chick's Harley-Davidson)                  
23 Robbie Robinette (Team Hotel San Jose)                  
24 Shawn Harshman                                          
25 Justin Morgan (Broad Mark)                              
26 Alex Williamson                                         
27 Joe Cooper (Colorado Velo Denver Spoke)                 
28 Mitch Westall (Jamba Juice/Fuji)                        
29 Mark Cunningham (Symmetrics)                            
30 Thomas Hallock (Northwest Cycling Club)                 
31 Logan Garey                                             
32 Glenn Murray (Tri StateVelo)                            
33 S. Schulhofer (NMBRA)                                   
34 Omer Kem (Broadmark Capital)                            
35 Andrew Guptill (CRCA/Sakonnet Technology)               
36 Nick Traggis (Jamba Juice/Fuji)                         
37 Chris Kuhl (CRCA/Sakonnet Technology)                   
38 Mark Wald-Hopkins                                       
39 John Benson (Flag Velo)                                 
40 Miroslav Novak (SCCC)                                   
41 David Robinson (Broadmark Capital)                      
42 Nathan Phillips (Solar Eclips)                          
43 Jeff Hoppert (Eclipse Racing)                           
44 Darian Founds (NMBRA)                                   
45 Christian Reidys (Team Ochsner)                         
46 Corcoran Randy (Heart Hospital of NM)                   
47 Nat Ross                                                
48 Stephen Shepherd (Flag Velo)                            
49 Jason Spencer                                           
50 Adam Cornette (CZ Racing)                               
51 Michael Cragun (Team X Cycling)                         
52 Kenton Watts (Team Revolution Racing)                   
53 Reid,Dave (Landis/Trek/VW)                              
54 Jeff Wardell (Xybix Systems, Inc.)                      
55 John Hackman (Velo Club LaGrange)                       
56 Daniel DePaemelaere                                     
57 Benjamin Peters (GS Ciao/Al's Barbershop)               
58 Jacob Hunter (Team Revolution Racing)                   
59 Grant Dunstan (Flag Velo)                               
60 Jamie Ryan-White                                        
61 John Nowak (Team Revolution Racing)                     
62 Emmaneul Suarez (Monex)                                 
63 Ryan Hamity (RMCEF)                                     
64 Damon Wiseman (Permian Basin Bicycle Assoc.)            
65 Gustavo Gomez Gomez (Art's Cyclery)                 0.13
66 Clayton Barrows (RMCEF)                             0.33
67 Nathan Lowrie (Atlas Mining)                        1.52
68 Stephen Wasmund                                     3.53
69 Peter Schuster                                      5.04
 
Men 3
 
1 Roberto Rodriguez (Rica-Burguer)                    50.36
2 Brian Bruggeman (Ft. Collins Cycling Club)               
3 Richard Moore (Team Revolution Racing)                   
4 Victor Trijillo (Kamikaza)                               
5 Mark Hall                                                
6 Michael Carroll (Durango Wheel Club)                     
7 Courtney Guck (FCCC)                                     
8 Joshua Liberles (Colavita-Bolla Taos)                    
9 Chase Renick (Team Swift)                                
10 Ernesto Ramirez (Landis/Trek/VW)                        
11 Robert Dolman (ProCon)                                  
12 Gabriel Mendez (Top Pro)                                
13 Chris Crawford                                          
14 John Bernardin (Velo Del Norte)                         
15 Nathan Shay (BICI club)                                 
16 Stephen Fullmer (MiDuole 9th & 9th)                     
17 Daniel Parobek                                          
18 Steve Elmer (GRC)                                       
19 Keith Ashmore (Durango Wheel Club)                      
20 Stephen Ferretti (SC Velo)                              
21 Aaron Potts (3D Racing)                                 
22 Hal Clark                                               
23 Andrew Riemenschneider (Velo Del Norte)                 
24 Rene Cano (Rica-Burguer)                                
25 Andrew Peterson                                         
26 Paul Hewes (SC Velo)                                    
27 Tim Pikaart (NMBRA)                                     
28 Jarett Kennedy                                          
29 Bo French (Moritz Chevrolet Cycling)                    
30 Mike Margraf (Team Swift)                               
31 Tom Zerbel (SOMA)                                       
32 Todd Jones                                              
33 Devin BodonyJohnson (Classic Cycle)                     
34 Marty Moriarty (Chicks Harley Davidson)                 
35 Brad Seaman (Swift Cycling)                             
36 Robert Lofgran                                          
37 Chris Barton (Bicycles of Ojai)                         
38 Nicholas Gould                                          
39 Chad Black (NMBRA)                                      
40 Antonio Valazquez (Rica Burguer)                        
41 Cale Redpath                                            
42 Art MacFarland                                          
43 Randy Flores                                            
44 Matt Seagrave (Mapei/Team Diabetic)                     
45 Thane Wright (Arapaho Warriors)                         
46 John Langston (FCCC)                                    
47 Brian Janezic (Team Revolution Racing)                  
48 Stephen Knight-Williamson (NMBRA/OCHSNER)               
49 Scott Nydam (Totally Wired/Rocky Mtn. Roastery)         
50 Ethan Passant (Real Balance)                            
51 Troy Wells (Specialiezed-Hillenbrand)                   
52 Miles Venzara                                           
53 Todd Johnson                                            
54 Eric Forte (Fastrack/BDC)                               
55 Brian Murphey                                           
56 R.B. Bathje (Real Balance)                              
57 Neal Henderson (GS Ciao/Al's Barbershop)                
58 Brian Palen                                             
59 Trey Harrison (RCRC)                                    
60 Brett Morgan (Arapaho Warriors)                         
61 Axel Scholz (Ranchos Cycling Club)                      
62 David Oliver (Peachtree Bikes)                          
63 Paul DesRosiers (Swift Cycling)                         
64 Tim Godby (Louisville Velo)                             
65 Pete Sedunor (Real Balance)                             
66 Joel Trinity (Mapei/Team Diabetic)                      
67 Andrew Ferguson                                         
68 Patrick Ramirez (Crazy Cat Cyclery)                     
69 Yanio Davila                                            
70 John Parker (NM Velo Sport/Heart Hospital)              
71 Greg McCreless                                          
72 John Stadick (Team Ochsner)                             
73 Jesse Rients                                            
74 John Shippey (GS Ciao)                                  
75 Fred Hankinson (Gulf Coast Cycling Association)         
76 Brian Barrett                                           
77 J. Carl Williams                                        
78 Joseph Saperstein                                       
79 David James (Texas Lone Star Racing)                    
80 Charles Knoll (NoHair.com)                              
81 Patrick Sheehan                                         
82 Adam Snyder                                         0.18
83 Torin Priem (GS-CIAO)                                   
84 Travis Enmom (Team Ochsner)                             
85 Jamie Kilcoyne (GS Ciao)                                
86 Jesus Ilundain (Team Ochsner)                       2.07
87 David Harris (SOS Trek/Honey Stinger)               2.43
88 Corey Whalen                                            
89 Trevor Bushnell (ProCon)                            3.12
90 Mark Adams                                          3.27
91 Hans Bielat (Amgen Cycling)                         3.31
92 David Ochs (Team Real Balance)                      3.37
93 Craig Long (ProCon)                                 4.14
94 Adam Plummer (Pedal Power Marmot)                   5.06
95 Richard Albrow (SC Velo)                            5.35
96 Michael Brown                                       5.46
97 Terry Ritter (City Bike Shop)                       6.11
98 Eric Lavigne (Pedal Power Marmot)                   6.36
 
Master 45+
 
1 Mark Blaser                                         51.51
2 Curt Shelman (River Coty Cycling)                    0.05
3 David Lepell (New Mexico Racing)                         
4 J Slattery (Mike)                                        
5 Gary Porter                                              
6 Larry Hampson                                            
7 Lindsay Crawford (GS Strada)                             
8 Randall Bradford (NM Bicycle Racing Assoc.)              
9 Peter Marshall (Cycles Veloco)                           
10 Lindsay Blount (Simply Fit)                             
11 Neal Stoughton (Cycles Veloce)                          
12 Kim Bleth (Simply Fit)                                  
13 Zan Treasure (Autoliv)                                  
14 Bill Heob (Landis/Trek/VW)                          0.27
15 Edward Eades (Team Revolution Racing)               0.31
16 Dan Pate                                                
17 Keck Hartman (Cleo's Bike Shop)                         
18 Scott White (Chicks Harley Davi)                        
19 Steve Grusis (Palace Indian Gaming Cycling)             
20 Timothy Schoeny (NM Sports & Wellness)                  
21 Olin Krenek                                         0.35
22 Mike Crystal (Simply Fit)                               
23 Paul Cooke (Landis/Trek/VW)                         0.51
24 Bruce Hodgkins (Excel Sports Racing)                    
25 Gerardo Ayala (Aguila Dorada)                       1.33
26 George Heagerty (NMVS)                              1.56
27 Jeffrey Usher (River City Racing Club)                  
28 Don Williams (Landis/Trek/VW)                       3.02
29 Larry DeWitt (Pikes Peak Velo/Pro Cycling)              
30 Frank Kurzawa (Violet Crown)                        3.16
31 Nathaniel Cobb (Team Ochsner)                           
32 John Price                                          4.31
33 John Boland (Team Ochsner)                              
34 Larry Smith (GS JBOFO)                                  
35 Frank Pabian (Team Ochsner)                             
36 Ken Pittaway (Team Bicycles, Inc.)                  4.36
37 Tom Murphy                                              
38 Michael Sparks (Abilene Cycle Club)                 5.22
39 Donald Haywood                                      7.49
40 John Daily                                         19.49
 
Men 4-5 (Stage 2)
 
1 Jessel Valenzuela                                   38.12
2 Corey Carlson (Rocky Mounts)                             
3 Scott Virtue (Team Ochsner)                              
4 Scott Bartel (Century Tel)                               
5 Tane Hunter                                              
6 Bryce Glovatsky                                          
7 David Wilson                                             
8 Brian Rawlins                                            
9 Revere Greist                                            
10 Donald Ward (Team El Paso)                              
11 Charles Kimball                                         
12 Gregory Krasue                                          
13 Roberto Mancilla (Crazy Cat Cyclery)                    
14 Jim Hebert                                              
15 Andrew Phillips                                         
16 Jeff Cospolich (Breckenridge Brewery)                   
17 Tony Pomo (Chick's Harley Davaidson)                    
18 Edward Sullivan                                         
19 Pete Lawrence                                           
20 Steven Deroma (SW Velodrome Ass.)                       
21 Michael Green (Landis/Trek/VW)                          
22 Peter Rehn                                              
23 Dan Fredrickson                                         
24 Edward Sewell (Velo Del Norte)                          
25 Andres Leal (Aida's Bail Bonds)                         
26 Toby Schmidt                                            
27 Juan Zaragoza (Aid-s Bail Bonds)                        
28 Michael Elmer (New Mexico Velo Sports)                  
29 Kenmar Smith                                            
30 Richard Verderame (NMVS/NMBRA)                          
31 Kurt Kroese                                             
32 Randy Sutton                                            
33 Silvio Menezes (New Mexico Velo Sports)                 
34 Michael Hagden (Pikes Peak Velo Racing)                 
35 Ian Burnett (Durango Cyclery)                           
36 Lloyd Ellis (NMVS/NMBRA)                                
37 Ken Golden (Durango Wheel Club)                     1.08
38 Ryan Ives                                           1.10
39 Tom Anderson (Dean/Land of Oz)                      1.19
40 David Grant                                         1.50
41 Greg Thomas                                         2.30
42 Charles Whitney                                     2.31
43 Matthew Clark                                           
44 Santiago Chavez                                         
45 John Friesen (Owens Healthcare)                         
46 Christopher White (FCCC)                                
47 Michael Wahoff                                      2.47
48 Peter Tempest                                       2.53
49 Greg Brown (Carmichael Training Systems)            3.03
50 Ryan Fonkert (Pikes Peak Velo Racing)               3.08
51 Tony Gagliardo (Center Arkasas Velo/Carve)              
52 Gregg Sciabica                                          
53 Scott Kembac-Cook (Lakewood Racing Team)                
54 Charles Van Drunen                                      
55 Jackson Lowery (Team Revolution Racing)                 
56 Greg Reed                                           3.21
57 Parker Macy (Ionic Cycles)                          3.33
58 James Bittel                                        3.47
59 Danny Teodoru                                       4.23
60 Kevin Smith                                             
61 Thomas Cunico                                           
62 Warren Hire                                             
63 Roberto Barrio                                          
64 Ron Ciano (Team Revolution Racing)                      
65 Marc Carpenter (San Diego Bicycle Club)                 
66 Charlie Drysdale (Velo Del Norte)                       
67 Justin Koppa                                            
68 Mike Steckbeck (Team Ochsner)                           
69 Haroldo Camacho                                     4.35
70 Howard Passell (Aero Velo)                          4.43
71 Terry Jennings (Colorado Velo/Denver Spoke)             
72 Sean Borris (FLCC)                                  4.58
73 David Rutledge (Zia Velo)                               
74 Ryan Kimbrell                                       5.26
75 John Peach                                          7.24
76 Jose Jimenez                                        7.36
77 Tony Geller (NM Velo Sports)                        8.40
78 Patrick McCarthy                                    8.41
79 Donald Whaley                                       9.10
 
Women 3,4 (Stage 2)
 
1 Marielle Aunava                                     34.21
2 Michelle Montoya                                         
3 Irene Mercer (FLCC)                                  0.02
4 Merrill Sapp (Aidas Bail Bonds)                          
5 Marisa Asplund (FLCC)                                    
6 Deanna Huff (LaForza)                                    
7 Stephanie Swan                                           
8 Miriam Hill (NMBRA)                                      
9 Sharon McDowell-Larson (Cody Racing)                     
10 Sheila Hall (NMBRA)                                     
11 Gretchen Johnson (Colorado Velo-Denver Spoke)           
12 Amber Shay (BICI Club)                                  
13 Bollinger                                           1.15
14 Joan Orgeldinger (Red Hook)                             
15 Lauren Dorsh (Goldy's/Tamarack)                     3.24
16 Jull Adelstein (Cody Racing)                        3.47
17 Stacey Heim                                         4.53
18 Alicia Voss                                         5.42
19 Linda Paris (Durango Wheel Club)                    6.51
 
General classification after stage 4
 
Men Pro 1
 
1 Scott Moninger (USA) Healthnet/Maxxis             9.25.44
2 Drew Miller (USA) Landis/Trek/VW                     1.45
3 Mike Jones (USA) Healthnet/Maxxis                    1.48
4 Ryan Blickem (USA) Aida's Bail Bonds                 2.18
5 Davide Frattini (Ita) Team Monex                     2.32
6 John Hunt (USA) Village Peddler                      2.52
7 Carl Decker (USA) Broadmark Capital                  2.59
8 Burke Swindlehurst (USA) Navigators                  3.43
9 Jonathan Baker (USA) Excel Sports                    4.17
10 Mike Sayers (USA) Healthnet/Maxxis                  5.15
11 Marsh Cooper (USA)                                      
12 Noel Mendoza (Ven) Tecos                            5.17
13 Tim Carolan (USA) Landis/Trek/VW                    5.38
14 Michael Lange (USA) Sharper Image/Mathis Bros.      5.40
15 Peter Baker (USA) Team Snow Valley                  5.44
16 Jay Henry (USA) Specialized                         6.01
17 Jesus Estrada (Mex) Tecos                           6.20
18 Evan Elkan (USA) Broadmark Capital                  6.32
19 Stefano Barberi (USA) Mapei Team Diabetic           6.38
20 Chris Gruber (Can)                                  6.39
21 Steven Cate (USA) Sharper Image/Mathis Bros.        6.41
22 Chris Wherry (USA) Healthnet/Maxxis                 6.49
23 Fausto Munoz (Mex) Tecos                            7.05
24 Omar Diaz (Mex) Tecos                               7.10
25 Aron Huerta (USA) Village Peddler                   7.13
26 Cory Lange (Can) Canadian National Team             7.20
27 Rolano Green (Can) Canadian National Team           7.24
28 Robbie King (USA) Louis Garneau Racing              7.55
29 Mike Taylor (USA) McGuire Pro Cycling               8.02
30 Carter Hovey (Can) Canadian National Team           8.12
31 Andy McCauley-Applegate (USA) Jamba Juice/Fuji      8.18
32 Ben Duke (USA)                                      8.21
33 Brian Ellis (USA) Jamba Juice/Fuji                  8.24
34 Carl Swenson (USA)                                  8.28
35 Andrew Edwards (USA) SOMA                           8.41
36 Karl Bordine (USA) Team Monex                       8.50
37 Frank Mapel (USA)                                   8.56
38 Matt Shriver (USA) A.S.T.                           9.01
39 Hugh Moran (USA) Atlas Mining                           
40 Ryan DeWald (USA) Team Snow Valley                  9.10
41 Todd Hageman (USA)                                  9.15
42 Daniel Doornbos (USA) Aida's Bail Bonds             9.21
43 Bartek Fidelus (USA) Team Ranchos                   9.37
44 David Wenger (USA)                                  9.54
45 Jon Tarkington (USA) Vitamin Cottage                    
46 John Osguthorpe (USA) Vitamin Cottage              10.43
47 Jesus Jrageda (Mex) Rica-Burguer                   11.01
48 Billy Masterson (USA) Excel Sports                 11.18
49 Jason Lokkesmoe (USA) Healthnet/Maxxis             11.22
50 Will Routely (USA)                                 11.41
51 George Ganoung (USA) U.S. Armed Forces             12.37
52 Jimi Mortenson (USA) VAIL                          12.39
53 Nathan Miller (USA) McGuire Pro Cycling            12.48
54 Kevin Nicol (USA)                                  13.10
55 Tom Crawford (USA) Broadmark Capital               13.14
56 Domingo Ramirez (Mex) Tecos                        13.18
57 Kurt Hackler (USA) Century Tel                     13.24
58 Todd Bauer (USA) Aida's Bail Bonds                 13.25
59 Mitch Moreman (USA) Hassle Free Sports             13.48
60 Peter Penzell (USA) U.S. Armed Forces              13.52
61 Lawrence Perea (USA)                               14.01
62 Matt Gilbert (NZl) Team Monex                      14.10
63 Erik Van den Akker (USA) Reno Wheelmen             14.38
64 Mark Schwab (USA) Excel Sports                     14.39
65 Aaron Norman (USA) Owens Healthcare                14.46
66 Derek McMaster (Can) Canadian National Team        15.35
67 Max Plaxton (Can)                                  15.51
68 Ryan Yee (USA) Bicyles of Ojai                     16.15
69 Michael Gallagher (USA) U.S. Armed Forces          16.55
70 Enrique Ospinoa (USA) Team Monex                   17.19
71 Shane Peltonen (USA) Eclipse Racing                17.24
72 Andrew Pinfold (USA)                               17.27
73 Patrick Dunaway (USA) McGuire Pro Cycling          17.55
74 Jacob Rubelt (USA) Landis/Trek/VW                  17.59
75 Lyon Torsten (USA) Jamba Juice/Fuji                18.09
76 Yeison Ortega (Ven) Tecos                          18.29
77 Mark Southard (USA) Excel Sports                   18.40
78 Owen Jeffries (USA) Rocknasium/CBE                 19.00
79 Mike Barton (USA) Century Tel                      19.33
80 Brian Lemke (USA) Landis/Trek/VW                   21.38
81 Pat Carro (USA) Team Monex                         22.12
82 Eduardo Vicencio (USA) Aida's Bail Bonds           22.54
83 Chuck Coyle (USA) Vitamin Cottage                  23.17
84 Ryan McNamara (Can) Canadian National Team         23.31
85 Trent Hornus (USA) U.S. Armed Forces               25.48
86 Josh Goodwin (Can) Team Monex                      26.49
87 Chris Brennan (USA) Jimmy D Racing                 28.05
88 Shawn Olin (USA) U.S. Armed Forces                 28.59
89 James Seaman (USA) Aida's Bail Bonds               30.21
90 Matt Lorenz (USA) U.S. Armed Forces                30.53
91 Jason Sager (USA)                                  32.35
92 Nick Kiernan (USA)                                 37.23
93 Axel Santiago (USA) CenturyTel                     39.34
94 Steve Mlujeak (USA) U.S. Armed Forces              40.20
95 Ron Jensen (USA) Aida's Bail Bonds                 41.51
96 Aaron Smathers (USA) Sharper Image/Mathis Bros.    47.32
97 Sean Cahill (USA) Reno Wheelmen                    55.38
98 Zach Coolman (USA) Aida's Bail Bonds               55.51
99 Jose Quintero (Ven) Ranchos-Venezuela            1.01.22
100 Eric Reber (USA) Jamba Juice/Fuji               1.01.51
101 Scott Romero (USA) Crazy Cat Cyclery            1.15.44
 
Men Pro 1 Team classification
 
1 Health Net / Maxxis                              28.25.06
2 Tecos                                                7.55
3 Team Monex                                          11.20
4 Symmetrics                                          11.35
5 Aida's Bail Bonds                                   13.47
6 Sharper Image / Mathis Bros.                        14.05
7 Canadian National Team                              14.22
8 Broadmark Capital Cycling                           14.51
9 Landis / Trek / Vw                                       
10 Excel Sports                                       22.20
11 Jamba Juice / Fuji                                 26.57
12 U.S. Armed Forces                                  27.59
13 Mcguire Pro Cycling                                30.51
14 Vitamin Cottage                                    36.10
15 Century Tel                                      1.00.46
 
Women 1,2,3
 
1 Amber Meben (USA) T-Mobile                        9.03.44
2 Christine Thorburn (USA) Webcor Builders             0.51
3 Brooke Ourada (Can) Victory Brewing                  1.52
4 Mari Holden (USA) T-Mobile                           2.34
5 Kori Seehafer (USA) Genesis Scuba/FFCC               3.44
6 Erinne Willock (Can) Team Rona                       3.48
7 Lynn Gaggioli (USA)                                  4.25
8 Sandy Espeseth (Can) Victory Brewing                 4.29
9 Anna Milkowski (USA) Team Rona                       5.40
10 Johanna Buick (NZl) Victory Brewing                 6.08
11 Kimberly Anderson (USA) T-Mobile                    6.32
12 Kate Maher (USA) Basis                              8.14
13 Felicia Greer (Can) Webcor Builders                 8.34
14 Susan Haywood (USA) T-Mobile                        9.01
15 Andrea Hannos (Hun) Team Rona                       9.11
16 Dara Marks-Marino (USA) Ford Cycling Team           9.16
17 Michelle Beltran (USA) Red5racing                  10.05
18 Gabriela Gonzalez-Ferrat (USA) Velo Bella          11.02
19 Kristen Robbins (Can) Victory Brewing              12.49
20 Alisha Little (USA) ABD Cycling Team               13.18
21 Sima Trapp (USA) ICO                               13.20
22 Melanie McQuaid (Can) Ford Cycling                 13.40
23 Lisa Matlock (USA)                                 15.19
24 Maria Molina (Gua) Ortho-Evra                      16.56
25 Alex Robinette (USA) Team Hotel San Jose           17.51
26 Betina Hold (Can) Webcor Builders                  19.29
27 Maggie Shirley (USA) Genesis Scuba/FFCC            19.33
28 Shannon Tupa (USA) Tokyo Joes                      23.49
29 Chrissy Ruiter (USA) Basis                         25.23
30 Candice Blicken (USA) Genesis Scuba/FFCC           29.41
31 Maria Castaneda (Gua) Ortho-Evra                   30.03
32 Jennifer Martin (USA) La Forza                     31.48
33 Rook Campbell (USA) Genesis Scuba/FFCC             32.22
34 Shannon Gibson (USA) Crazy Cat Cyclery             34.24
35 Carla Flores (USA)                                 34.57
36 Darcia Murphy (USA) Utah State University          38.01
37 Erin Alders (USA)                                  42.58
38 Kele Hulser (USA) Basis                            43.16
39 Lauren Heilig (USA) Denver Spoke                   43.29
40 Mary Rudy (USA) U.S. Armed Forces                  43.39
41 Christina Briante (Can) --                         44.39
42 Mindy Ziffren-Hall (USA) ICO                       45.58
43 Irene Ilundain (USA) Team Ochsner                  48.18
44 Jennifer Chapman (USA) Velo Bella                  52.55
45 Jeanne McFall (USA) ICO                            59.23
46 Heather Szabo (USA) Tokoyo Joe's                 1.01.23
47 Kelly Crawford (USA) ICO                         1.14.26
 
Women 1,2,3 Team classification
 
1 T-Mobile                                         27.16.17
2 Victory Brewing                                      7.34
3 Team Rona                                           13.59
4 Webcor Builders                                     17.56
5 Ford Cycling                                        33.10
6 Genesis Scuba/FFCC                                  47.01
7 Basis                                               52.37
8 Velo Bella                                        1.41.39
9 Tokyo Joe's                                       1.48.44
10 ICO                                              1.53.36
 
Men 2
 
1 Justin Morgan (Broad Mark)                        9.15.36
2 Anthony Colby (AST)                                  1.34
3 David Robinson (Broadmark Capital)                   2.13
4 Clayton Barrows (RMCEF)                              2.27
5 Omer Kem (Broadmark Capital)                         2.38
6 Mike Wilk (Jamba Juice/Fuji)                         3.06
7 Ian Stanford (Nature Valley/Trek)                    3.35
8 John Benson (Flag Velo)                              4.00
9 Jason Karew (Eclipse Racing)                         5.10
10 Christian Reidys (Team Ochsner)                     5.28
11 Ryan Hamity (RMCEF)                                 5.44
12 Andrew Guptill (CRCA/Sakonnet Technology)           6.02
13 Jeff Wardell (Xybix Systems, Inc.)                  6.13
14 Alex Williamson                                     6.30
15 Gustavo Gomez Gomez (Art's Cyclery)                 6.46
16 Thomas Hallock (Northwest Cycling Club)             7.07
17 Link King                                           7.11
18 Kyle Colavito                                       7.32
19 Peter Horne (GS Ciao)                               7.52
20 Nathan Phillips (Solar Eclips)                      7.53
21 Robbie Robinette (Team Hotel San Jose)              7.54
22 Lee Rosenthal (CRCA/Sakonnet Technology)            8.23
23 Stephen Shepherd (Flag Velo)                        8.29
24 Logan Garey                                         8.34
25 Darian Founds (NMBRA)                               8.44
26 Eugene Dougherty (New Mexico Velo Sport)            9.00
27 Michael Nunez                                       9.33
28 Jacob Hunter (Team Revolution Racing)               9.34
29 Nick Traggis (Jamba Juice/Fuji)                    10.21
30 Jeff Smith (Jamba Juice/Fuji)                           
31 Joe Cooper (Colorado Velo Denver Spoke)                 
32 Mitch Westall (Jamba Juice/Fuji)                        
33 Scott Daubert                                      10.57
34 S. Schulhofer (NMBRA)                              10.58
35 Kevin Kirkwood (Atlas Mining)                      11.24
36 Chad Moore (GS Ciao)                               13.27
37 Caleb Thompson (P.C.W.)                            16.43
38 Corcoran Randy (Heart Hospital of NM)              16.54
39 Nathan Kuehl (Chick's Harley-Davidson)             17.20
40 Reid,Dave (Landis/Trek/VW)                         17.33
41 John Hackman (Velo Club LaGrange)                  18.08
42 Jeff Hoppert (Eclipse Racing)                      19.01
43 John Reed (Team Lucky Lounge)                      19.55
44 Jason Spencer                                      20.39
45 Chris Kuhl (CRCA/Sakonnet Technology)              22.20
46 Pete Dahle                                         23.09
47 Miroslav Novak (SCCC)                              24.42
48 Nat Ross                                           26.29
49 Mark Wald-Hopkins                                  27.16
50 Derrick Brown (Flag Velo)                          28.12
51 Erik Kuhlman                                       31.12
52 Peter Schuster                                     33.36
53 Neil Flock (Jamba Juice)                           34.23
54 Kenton Watts (Team Revolution Racing)              35.44
55 Mark Cunningham (Symmetrics)                       36.32
56 Glenn Murray (Tri StateVelo)                       38.45
57 Damon Wiseman (Permian Basin Bicycle Assoc.)            
58 Grant Dunstan (Flag Velo)                          39.42
59 Scott Kasin (Team Lucky Lounge)                    40.05
60 Jamie Ryan-White                                   40.09
61 Adam Cornette (CZ Racing)                          41.15
62 Michael Cragun (Team X Cycling)                    46.14
63 Stephen Wasmund                                    46.46
64 Daniel DePaemelaere                                51.11
65 Emmaneul Suarez (Monex)                            55.56
66 Nathan Lowrie (Atlas Mining)                     1.02.49
67 Shawn Harshman                                   1.13.05
68 Benjamin Peters (GS Ciao/Al's Barbershop)        1.13.08
69 John Nowak (Team Revolution Racing)              1.17.43
 
Men 3
 
1 Tom Zerbel (SOMA)                                 8.12.45
2 Nicholas Gould                                       3.21
3 Matt Seagrave (Mapei/Team Diabetic)                  3.31
4 Daniel Parobek                                       3.51
5 Jesse Rients                                         4.22
6 David James (Texas Lone Star Racing)                 4.42
7 Richard Moore (Team Revolution Racing)               4.57
8 Chad Black (NMBRA)                                   5.11
9 Cale Redpath                                         5.35
10 Mike Margraf (Team Swift)                           5.53
11 Ernesto Ramirez (Landis/Trek/VW)                    5.57
12 Jarett Kennedy                                      6.02
13 Scott Nydam (Totally Wired/Rocky Mtn. Roastery)     6.05
14 Joshua Liberles (Colavita-Bolla Taos)               6.07
15 Robert Lofgran                                      6.08
16 Chris Crawford                                      6.14
17 Brian Janezic (Team Revolution Racing)              6.28
18 John Bernardin (Velo Del Norte)                     6.32
19 John Langston (FCCC)                                6.37
20 Miles Venzara                                       6.46
21 Fred Hankinson (Gulf Coast Cycling Association)         
22 Michael Carroll (Durango Wheel Club)                7.03
23 Paul Hewes (SC Velo)                                7.31
24 John Stadick (Team Ochsner)                         8.04
25 Keith Ashmore (Durango Wheel Club)                  8.17
26 Tim Godby (Louisville Velo)                         8.30
27 Torin Priem (GS-CIAO)                               8.32
28 Charles Knoll (NoHair.com)                          8.33
29 Courtney Guck (FCCC)                                8.41
30 Aaron Potts (3D Racing)                             8.42
31 Rene Cano (Rica-Burguer)                            8.57
32 Victor Trijillo (Kamikaza)                          9.03
33 Joel Trinity (Mapei/Team Diabetic)                  9.09
34 Nathan Shay (BICI club)                             9.24
35 Eric Forte (Fastrack/BDC)                           9.35
36 Todd Jones                                          9.36
37 Andrew Riemenschneider (Velo Del Norte)             9.52
38 Roberto Rodriguez (Rica-Burguer)                    9.58
39 Greg McCreless                                     10.00
40 Ethan Passant (Real Balance)                       10.10
41 Joseph Saperstein                                  10.14
42 Brian Barrett                                      10.15
43 Jesus Ilundain (Team Ochsner)                      10.41
44 R.B. Bathje (Real Balance)                         10.47
45 Steve Elmer (GRC)                                  10.58
46 Craig Long (ProCon)                                11.08
47 Chase Renick (Team Swift)                          11.16
48 Tim Pikaart (NMBRA)                                11.29
49 Adam Snyder                                        11.39
50 Brian Bruggeman (Ft. Collins Cycling Club)         12.02
51 Andrew Peterson                                    12.15
52 Brett Morgan (Arapaho Warriors)                    12.39
53 David Oliver (Peachtree Bikes)                     12.43
54 Stephen Ferretti (SC Velo)                         13.45
55 Thane Wright (Arapaho Warriors)                    14.14
56 Chris Barton (Bicycles of Ojai)                    14.22
57 Marty Moriarty (Chicks Harley Davidson)            14.32
58 Robert Dolman (ProCon)                             14.35
59 Pete Sedunor (Real Balance)                        15.41
60 Stephen Fullmer (MiDuole 9th & 9th)                16.01
61 Hans Bielat (Amgen Cycling)                        16.49
62 Paul DesRosiers (Swift Cycling)                    17.47
63 Mark Hall                                          17.51
64 John Shippey (GS Ciao)                             18.38
65 John Parker (NM Velo Sport/Heart Hospital)         19.32
66 Trey Harrison (RCRC)                               20.55
67 Brian Palen                                        21.04
68 Hal Clark                                          22.00
69 David Harris (SOS Trek/Honey Stinger)              22.36
70 Antonio Valazquez (Rica Burguer)                   23.10
71 Patrick Ramirez (Crazy Cat Cyclery)                23.14
72 Devin BodonyJohnson (Classic Cycle)                24.09
73 Yanio Davila                                            
74 Randy Flores                                       24.11
75 Brad Seaman (Swift Cycling)                        26.23
76 Michael Brown                                      27.50
77 Andrew Ferguson                                    28.23
78 Art MacFarland                                     28.56
79 Bo French (Moritz Chevrolet Cycling)               29.00
80 J. Carl Williams                                   29.02
81 Trevor Bushnell (ProCon)                           31.30
82 Corey Whalen                                       33.49
83 Patrick Sheehan                                    34.10
84 Mark Adams                                         34.34
85 Brian Murphey                                      36.14
86 Todd Johnson                                       37.07
87 Troy Wells (Specialiezed-Hillenbrand)              38.28
88 Jamie Kilcoyne (GS Ciao)                           39.40
89 Gabriel Mendez (Top Pro)                           39.58
90 Adam Plummer (Pedal Power Marmot)                  41.04
91 Travis Enmom (Team Ochsner)                        45.11
92 David Ochs (Team Real Balance)                     47.43
93 Stephen Knight-Williamson (NMBRA/OCHSNER)          48.44
94 Richard Albrow (SC Velo)                           50.40
95 Neal Henderson (GS Ciao/Al's Barbershop)           51.39
96 Axel Scholz (Ranchos Cycling Club)                 52.38
97 Terry Ritter (City Bike Shop)                    1.11.24
98 Eric Lavigne (Pedal Power Marmot)                1.14.08
 
Master 45+
 
1 Mark Blaser                                       8.26.00
2 Peter Marshall (Cycles Veloco)                       0.03
3 Curt Shelman (River Coty Cycling)                    0.04
4 Gary Porter                                          0.08
5 J Slattery (Mike)                                    0.35
6 Randall Bradford (NM Bicycle Racing Assoc.)          2.03
7 Neal Stoughton (Cycles Veloce)                       2.44
8 Lindsay Blount (Simply Fit)                          2.48
9 Lindsay Crawford (GS Strada)                         3.09
10 Kim Bleth (Simply Fit)                              3.48
11 Zan Treasure (Autoliv)                              6.02
12 Bill Heob (Landis/Trek/VW)                          6.38
13 David Lepell (New Mexico Racing)                    7.27
14 Mike Crystal (Simply Fit)                           7.52
15 Larry Hampson                                      11.58
16 Olin Krenek                                        14.22
17 Keck Hartman (Cleo's Bike Shop)                    15.34
18 Larry DeWitt (Pikes Peak Velo/Pro Cycling)         17.26
19 Scott White (Chicks Harley Davi)                   23.16
20 Don Williams (Landis/Trek/VW)                      23.30
21 Paul Cooke (Landis/Trek/VW)                        28.08
22 Steve Grusis (Palace Indian Gaming Cycling)        30.51
23 Dan Pate                                           32.21
24 Bruce Hodgkins (Excel Sports Racing)               32.48
25 Frank Kurzawa (Violet Crown)                       35.00
26 Gerardo Ayala (Aguila Dorada)                      38.33
27 Nathaniel Cobb (Team Ochsner)                      38.38
28 Timothy Schoeny (NM Sports & Wellness)             39.45
29 Tom Murphy                                         42.47
30 Jeffrey Usher (River City Racing Club)             47.51
31 Edward Eades (Team Revolution Racing)              53.07
32 Larry Smith (GS JBOFO)                             56.21
33 Ken Pittaway (Team Bicycles, Inc.)                 56.35
34 John Price                                         57.53
35 George Heagerty (NMVS)                           1.06.53
36 Frank Pabian (Team Ochsner)                      1.08.52
37 John Boland (Team Ochsner)                       1.22.44
38 Michael Sparks (Abilene Cycle Club)              1.24.41
39 Donald Haywood                                   2.04.13
40 John Daily                                       3.11.05
 
Men 4,5
 
1 Revere Greist                                     3.29.22
2 Scott Bartel (Century Tel)                           0.43
3 Pete Lawrence                                        0.57
4 Michael Hagden (Pikes Peak Velo Racing)              1.49
5 Andrew Phillips                                      2.28
6 Ian Burnett (Durango Cyclery)                        3.00
7 Charles Kimball                                      3.27
8 Kenmar Smith                                         3.34
9 Dan Fredrickson                                      3.45
10 David Wilson                                        5.04
11 Jessel Valenzuela                                   6.17
12 Andres Leal (Aida's Bail Bonds)                     8.01
13 Toby Schmidt                                            
14 Corey Carlson (Rocky Mounts)                        9.37
15 Bryce Glovatsky                                     9.47
16 Richard Verderame (NMVS/NMBRA)                          
17 Tane Hunter                                        10.03
18 Scott Virtue (Team Ochsner)                        10.04
19 Peter Rehn                                         10.09
20 Michael Green (Landis/Trek/VW)                          
21 Steven Deroma (SW Velodrome Ass.)                       
22 Michael Elmer (New Mexico Velo Sports)                  
23 Kurt Kroese                                             
24 Lloyd Ellis (NMVS/NMBRA)                                
25 Jeff Cospolich (Breckenridge Brewery)              12.51
26 Brian Rawlins                                      13.22
27 Edward Sewell (Velo Del Norte)                     13.58
28 Donald Ward (Team El Paso)                         14.33
29 Gregory Krasue                                          
30 Jim Hebert                                              
31 Silvio Menezes (New Mexico Velo Sports)                 
32 Matthew Clark                                      14.45
33 Ryan Ives                                          15.43
34 Ken Golden (Durango Wheel Club)                    15.47
35 David Grant                                        16.23
36 Santiago Chavez                                    17.04
37 Greg Thomas                                        17.09
38 Charles Whitney                                    17.10
39 John Friesen (Owens Healthcare)                         
40 Gregg Sciabica                                     17.41
41 Greg Brown (Carmichael Training Systems)           17.51
42 Thomas Cunico                                      18.56
43 Danny Teodoru                                      19.02
44 Charlie Drysdale (Velo Del Norte)                  20.53
45 Tony Pomo (Chick's Harley Davaidson)               20.57
46 Edward Sullivan                                    21.06
47 Randy Sutton                                            
48 Juan Zaragoza (Aid-s Bail Bonds)                   21.43
49 Tom Anderson (Dean/Land of Oz)                     22.25
50 Warren Hire                                        23.34
51 Christopher White (FCCC)                           23.37
52 Peter Tempest                                      24.57
53 Charles Van Drunen                                 25.12
54 Sean Borris (FLCC)                                 26.04
55 Ron Ciano (Team Revolution Racing)                 26.06
56 Marc Carpenter (San Diego Bicycle Club)            26.13
57 Terry Jennings (Colorado Velo/Denver Spoke)        26.38
58 Howard Passell (Aero Velo)                         26.42
59 Roberto Mancilla (Crazy Cat Cyclery)               27.18
60 Michael Wahoff                                     27.54
61 Tony Gagliardo (Center Arkasas Velo/Carve)         28.37
62 Scott Kembac-Cook (Lakewood Racing Team)           28.38
63 Justin Koppa                                       30.27
64 David Rutledge (Zia Velo)                          30.34
65 Jackson Lowery (Team Revolution Racing)            35.23
66 Roberto Barrio                                     36.09
67 Mike Steckbeck (Team Ochsner)                      38.41
68 John Peach                                         40.27
69 Haroldo Camacho                                    49.26
70 Greg Reed                                          49.35
71 Patrick McCarthy                                   50.51
72 Ryan Fonkert (Pikes Peak Velo Racing)              51.30
73 Ryan Kimbrell                                      54.21
74 Kevin Smith                                        54.43
75 Jose Jimenez                                       57.42
76 James Bittel                                     1.06.13
77 Parker Macy (Ionic Cycles)                       1.11.37
78 Tony Geller (NM Velo Sports)                     1.29.59
79 Donald Whaley                                    1.39.24
 
Women 3,4
 
1 Marisa Asplund (FLCC)                             3.47.30
2 Stephanie Swan                                       1.54
3 Merrill Sapp (Aidas Bail Bonds)                      3.35
4 Irene Mercer (FLCC)                                  5.21
5 Miriam Hill (NMBRA)                                  5.23
6 Marielle Aunava                                      9.52
7 Gretchen Johnson (Colorado Velo-Denver Spoke)       15.25
8 Sharon McDowell-Larson (Cody Racing)                16.34
9 Joan Orgeldinger (Red Hook)                         16.38
10 Sheila Hall (NMBRA)                                16.39
11 Amber Shay (BICI Club)                             20.01
12 Michelle Montoya                                   26.04
13 Deanna Huff (LaForza)                              26.16
14 Jull Adelstein (Cody Racing)                       31.54
15 Bollinger                                          36.34
16 Lauren Dorsh (Goldy's/Tamarack)                    40.00
17 Linda Paris (Durango Wheel Club)                   42.10
18 Stacey Heim                                        42.11
19 Alicia Voss                                        51.26