Athens Twilight Criterium - NE
Athens, GA, USA, April 24, 2004
2003 Results Results Past winners
Jones & Abraham lap field, home win for Pic
Tina Pic
Photo ©: Emory Ball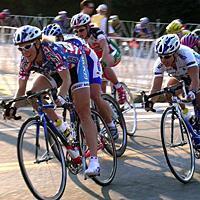 Brice Jones (Health Net) has won this year's Athens Twilight Criterium in front of an estimated 25,000 fans that packed downtown Athens, Georgia on Saturday night. Jones escaped after about 20 laps of the 60-lap event, taking Emile Abraham (Team Aerospace) with him, and the two worked solidly together to lap the field with 12 laps to go. Assisted by team-mate and 2003 winner Dan Schmatz, Jones powered to the front in the finale to take the win.
Jones said the escape and lapping of the field hadn't been planned, but he took advantage when it occurred. "'It just sort of happened,'' he told the Athens Banner-Herald. ''The race started out really fast and it took me a while to find my rhythm. Once we got out front, we just worked really well together and pulled away.''
In the women's race, Tina Mayolo-Pic (Genesis Scuba) scored a long-awaited victory in her home town's big race. Several attempts at breakaways were neutralised by the hard-charging peloton and with two laps to go it was clearly going to be a sprint showdown. Pic's team-mate Laura Van Gilder led her out and the two were able to edge out Gina Grain (Victory Brewing) to take a one-two.
''I had always said that I wasn't going to retire until I won this thing,'' said Pic, who first raced Athens Twilight in 1994. ''It was a great race, Laura did an amazing job and it feels great to finally win here at home.''
Photography
Images by Emory Ball
Images from the men's race by Beth Seliga/www.3catsphoto.com
Results

Men
 
1 Brice Jones (USA) Health Net 
2 Emile Abraham (USA) Team Aerospace
 
Women
 
1 Tina Mayolo-Pic (USA) Genesis Scuba
2 Laura van Gilder (USA) Genesis Scuba
3 Gina Grain (Can) Victory Brewing

Past winners

Men
 
2003 Dan Schmatz (USA) 7UP-Maxxis
2002 Gord Fraser (Can) Mercury
2000 Gord Fraser (Can) Mercury
 
Women
 
2003 Candice Blickem (Genesis Scuba-FFCC)
2002 Ina Teutenberg (Ger) Saturn
2000 Sarah Ulmer (NZl) Elita