Giro della Toscana Internazionale Femminile - 2.9.1
Italy, September 16-21, 2003
Main Page Results Previous Stage Next Stage
Stage 1 - September 17: Lugano Stab. Delca - Altopascio, 109.1 km
Bronzini not too young to wear pink
By Kristy Scrymgeour
Giorgia Bronzini
Photo: © James Victor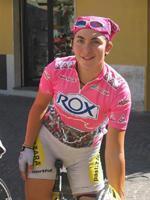 Giorgia Bronzini (G.S. Ausra Guodis-Safi) won today's flat stage of the Giro della Toscana allowing her to replace the white young riders jersey she earned yesterday with the leader's Maglia Rosa going into tomorrow's mountainous stage. Bronzini is no stranger to victory, also becoming European Champion on the track earlier in the year.
The 109.1km stage from Lugnano Stab. Delca to Altopacio was flat except for a 1km mountain sprint (GPM) at the 43km mark. The hill was steep enough to split the field into about four bunches and give a good indicator as to who has their climbing legs for tomorrow's tough stage. The race was fast and aggressive leading up to the hill, but no breaks eventuated. It was Edita Pucinskaite (S.C. Michela Fanini Record Rox ) who put the real hurt on up the climb with only 15 riders able to stay with her. She took the GPM points at the top of the climb in front of Oneone Wood (Australian National Team) and Fabiana Luperini (Team 2002 Aurora-RSM).
Also in the front group were Susanne Ljungskog and Anita Valen (Bik Powerplate), Nicole Cooke (Ausra Grodis-Safi), Zinaida Stahurskaia (U.C. Chirio-Forno Di Asolo), Olivia Gollan (Australian National Team), and seven others. The group kept the pace on over the climb forcing the groups behind to chase hard. After 20km of chasing the four groups came back together and the pace continued to be high until the finish, averaging 42km/h.
Again, no breaks formed due to the high pace of the peloton and the race ended in a 130 person bunch sprint that was marred with a crash on the final corner. The crash caused a gap at about 10th wheel, but all riders were unhurt and all finished with the same time. Bronzini took the victory from renowned sprinter Regina Schleicher (U.C. Chirio-Forno Di Asolo) and now wears the pink leader's jersey that honours Michela Fanini, a great Italian cycling champion who died in 1994 in a car crash.
Historically, tomorrow's stage has been a very decisive stage for the general classification of the race. Starting in Pontedera, it travels 88km taking in a category 3 mountain sprint at 19km, a sprint at 57km (which is also on a climb) until it reaches the Volterra, a 10km, category one climb, in the stomping grounds of Fabiana Luperini. Once reaching the peak of this climb, riders must descend and re-climb this mountain from a different direction to finish at the top after 115km of racing.
Results

1 Giorgia Bronzini (Ita) G.S. Ausra Guodis-Safi                 2.36.38
2 Regina Schleicher (Ger) U.C. Chirio-Forno Di Asolo               0.01
3 Luisa Tamanini (Ita) Team 2002 Aurora-RSM                            
4 Susanne Ljungskog (Swe) Power-Plate-Bik                              
5 Katia Longhin (Ita) Acca Due O Pasta Zara Lorena Camicie             
6 Alessandra Cappellotto (Ita) Conero Team                             
7 Rochelle Gilmore (Aus) G.S. Ausra Guodis-Safi                        
8 Anita Valen (Nor) Power-Plate-Bik                                    
9 Priska Doppmann (Swi) Swiss National Team                            
10 Oenone Wood (Aus) Australian National Team                          
11 Malgorzata Wysocka (Pol) Polish National Team                       
12 Erika Vilunaite (Ltu) G.S. Ausra Guodis-Safi                        
13 Barbara Cazzaniga (Ita) Road Runner-Guerciotti                      
14 Ioulia Martissova (Rus) F.S.D.- Pratom-Bob-Giglio                   
15 Lisbeth Simper (Den) S.C. Michela Fanini Record Rox                 
16 Alessandra D'ettorre (Ita) U.C. Chirio-Forno Di Asolo               
17 Mari Holden (USA) Mix T-Mobile-Rona Esker                           
18 Barbara Heeb (Swi) Swiss National Team                              
19 Sophie Creux (Fra) French National Team                             
20 Zoulfia Zabirova (Rus) Road Runner-Guerciotti                       
21 Karine Dalmais (Fra) French National Team                           
22 Anna Zugno (Ita) Conero Team                                        
23 Francesca Castrucci (Ita) Prato Bike-Aki-Mixed                      
24 Edita Pucinskaite (Ltu) S.C. Michela Fanini Record Rox              
25 Vera Carrara (Ita) F.S.D.- Pratom-Bob-Giglio                        
26 Azucena Sancez (Spa) Team Catalunya-Aliverti                        
27 Olivia Gollan (Aus) Australian National Team                        
28 Rachel Heal (GBr) Farm Frites-Hartol                                
29 Tatiana Stiajkina (Ukr) Team Catalunya-Aliverti                     
30 Sandrine Marcuz (Fra) S.C. Michela Fanini Record Rox                
31 Zinaida Stahurskaia (Blr) U.C. Chirio-Forno Di Asolo                
32 Bazzola Gavlokova (Fra) Team Catalunya-Aliverti                     
33 Magalì Le Floch (Fra) French National Team                          
34 Ghita Beltman (Ned) Acca Due O Pasta Zara Lorena Camicie            
35 Fabiana Luperini (Ita) Team 2002 Aurora-RSM                         
36 Marina Kodtchenkova (Rus) U.C. Chirio-Forno Di Asolo                
37 Liane Bahler (Ger) German National Team                             
38 Katie Mactier (Aus) Australian National Team                        
39 Bettina Kuhn (Swi) Swiss National Team                              
40 Deiedre Barry (USA) Mix T-Mobile-Rona Esker                         
41 Cremilda Fernandez (Bra) U.C. Chirio-Forno Di Asolo                 
42 Margaret Hemsley (Aus) Australian National Team                     
43 Silvia Parietti (Ita) Prato Bike-Aki-Mixed                          
44 Nicole Cooke (GBr) G.S. Ausra Guodis-Safi                           
45 Emma James (Aus) Australian National Team                           
46 Sonia Huguet (Fra) French National Team                             
47 Zita Urbonaite (Ltu) Acca Due O Pasta Zara Lorena Camicie           
48 Nicole Brandli (Swi) Prato Bike-Aki-Mixed                           
49 Ester Van Helm (Ned) Farm Frites-Hartol                             
50 Svetlana Boubnenkova (Rus) U.C. Chirio-Forno Di Asolo               
51 Giovanna Troldi (Ita) F.S.D.- Pratom-Bob-Giglio                     
52 Alison Wright (Aus) Road Runner-Guerciotti                          
53 Irene Hostettler (Swi) Swiss National Team                          
54 Kym Shirley (Aus) Road Runner-Guerciotti                            
55 Vera Koedooder (Ned) Power-Plate-Bik                                
56 Chantal Beltman (Ned) Acca Due O Pasta Zara Lorena Camicie          
57 Loes Gunnewijk (Ned) Power-Plate-Bik                                
58 Kimberly Anderson (USA) Mix T-Mobile-Rona Esker                     
59 Kristin Armstrong (USA) Mix T-Mobile-Rona Esker                     
60 Sarah Grab (Swi) Swiss National Team                                
61 Maryline Salvetat (Fra) French National Team                        
62 Alexandra Nohles (Ger) Conero Team                                  
63 Bogumila Matusiak (Pol) Polish National Team                        
64 Sigrid Corneo (Ita) Road Runner-Guerciotti                          
65 Gabi Buechel (Swi) Swiss National Team                              
66 Irene Puccioni (Ita) Prato Bike-Aki-Mixed                           
67 Catherine Marsal (Fra) Mix T-Mobile-Rona Esker                      
68 Anna Sipurzynska (Pol) Polish National Team                         
69 Seledad Fernandez (Arg) Conero Team                                 
70 Mirjam Melchers (Ned) Farm Frites-Hartol                            
71 Milena Pirola (Ita) Conero Team                                     
72 Noemi Cantele (Ita) Acca Due O Pasta Zara Lorena Camicie            
73 Jolanta Polikeviciute (Ltu) Team 2002 Aurora-RSM                    
74 Juliette Vandekerckhove (Fra) French National Team                  
75 Tanja Hennes (Ger) Prato Bike-Aki-Mixed                             
76 Tania Belvederesi (Ita) Conero Team                                 
77 Dorothy Cowden (USA) Mix T-Mobile-Rona Esker                    0.16
78 Sara Carrigan (Aus) Power-Plate-Bik                                 
79 Luise Keller (Ger) German National Team                             
80 Maria Lucilene Silva (Bra) F.S.D.- Pratom-Bob-Giglio                
81 Diana Rast (Swi) Swiss National Team                                
82 Rasa Polikeviciute (Ltu) Team 2002 Aurora-RSM                       
83 Valentina Alessio (Ita) Team Catalunya-Aliverti                     
84 Naiara Telletxea (Spa) Bizkaia-Panda-Sabeco                     0.31
85 Charlotte Goldsmith (GBr) Farm Frites-Hartol                        
86 Emma Davies (GBr) Power-Plate-Bik                               0.48
87 Diana Elmentaite (Ltu) G.S. Ausra Guodis-Safi                  11.38
88 Julita Papinigjte (Ltu) G.S. Ausra Guodis-Safi                      
89 Elena Chalaeva (Rus) F.S.D.- Pratom-Bob-Giglio                      
90 Veronica Coche (Bel) Team Catalunya-Aliverti                        
91 Sabrina Emmasi (Ita) Prato Bike-Aki-Mixed                           
92 Maria Fanucchi (Ita) S.C. Michela Fanini Record Rox                 
93 Elisabeth Brandau (Ger) German National Team                        
94 Lina Dervaityte (Ltu) Acca Due O Pasta Zara Lorena Camicie          
95 Daniela Porta (Ita) U.C. Chirio-Forno Di Asolo                      
96 Francesca Pellegrini (Ita) G.S. Ausra Guodis-Safi                   
97 Magdalena Zamolska (Pol) Polish National Team                       
98 Delphine Guille' (Fra) French National Team                         
99 Emanuela Azzini (Ita) Road Runner-Guerciotti                        
100 Vania Rossi (Ita) F.S.D.- Pratom-Bob-Giglio                        
101 Claudia Hausler (Ger) German National Team                         
102 Valeria Pintos (Arg) U.C. Chirio-Forno Di Asolo                    
103 Lavinia Tofanelli (Ita) S.C. Michela Fanini Record Rox             
104 Ziortla Jauregui (Spa) Bizkaia-Panda-Sabeco                        
105 Béatrice Thomas (Fra) French National Team                         
106 Edita Kubelskiene (Ltu) F.S.D.- Pratom-Bob-Giglio                  
107 Anna Farina (Ita) Prato Bike-Aki-Mixed                             
108 Anna Gusmini (Ita) Road Runner-Guerciotti                          
109 Ketty Manfrin (Ita) Team 2002 Aurora-RSM                           
110 Daniela Fusar Poli (Aus) Road Runner-Guerciotti                    
111 Hayley Rutherford (Aus) Road Runner-Guerciotti                     
112 Paulina Brzezna (Pol) Polish National Team                         
113 Letizia Giardinelli (Ita) S.C. Michela Fanini Record Rox           
114 Silva Fernandes (Bra) Prato Bike-Aki-Mixed                         
115 Alessandra Borchi (Ita) S.C. Michela Fanini Record Rox             
116 Sandra Missbach (Ger) Farm Frites-Hartol                           
117 Marina Chirio (Ita) U.C. Chirio-Forno Di Asolo                     
118 Andrea Bosman (Ned) Power-Plate-Bik                                
119 Angela Brodtka (Ger) German National Team                          
120 Anna Skawinska (Pol) Polish National Team                          
121 Maitane Telletxea (Spa) Bizkaia-Panda-Sabeco                       
122 Anke Wichmann (Ger) German National Team                           
123 Agurtzane Elorriaga (Spa) Bizkaia-Panda-Sabeco                     
124 Lorna Webb (GBr) Farm Frites-Hartol                           11.48
125 Elke Gebhardt (Ger) German National Team                      13.08
126 Leticia Gil (Spa) Bizkaia-Panda-Sabeco                        14.03
127 Paulina Fijk (Pol) Polish National Team                       14.27
128 Chantzi Helissavet (Gre) Team 2002 Aurora-RSM                      
129 Laura Pisaneschi (Ita) S.C. Michela Fanini Record Rox              
130 Elisa Maggini (Ita) S.C. Michela Fanini Record Rox                 
131 Laura Garavello (Ita) Road Runner-Guerciotti                  14.32
132 Katrin Beilharz (Ger) German National Team                    14.39
133 Karolina Konieczna (Pol) Polish National Team                      
134 Francesca Lotti (Ita) F.S.D.- Pratom-Bob-Giglio                    
135 Yeugenya Tarasenko (Uzb) F.S.D.- Pratom-Bob-Giglio                 
136 Martina Corazza (Ita) Team 2002 Aurora-RSM                         
137 Arantzazu Azpiroz (Spa) Bizkaia-Panda-Sabeco                       
138 Mireia Epelde (Spa) Bizkaia-Panda-Sabeco                           
139 Gema Pascual (Spa) Bizkaia-Panda-Sabeco                            
140 Alberta Baiocchi (Ita) S.C. Michela Fanini Record Rox         14.59
DNF Rasa Mazeikyte (Ltu) F.S.D.- Pratom-Bob-Giglio                     
DNS Tammie Ebert (Aus) Australian National Team                        
DNS Sonia Rocca (Ita) Conero Team                                      
DNS Vanessa Saccomani (Ita) Conero Team                                
DNS Marianna Lorenzoni (Ita) Team Catalunya-Aliverti                   
 
General classification after stage 1
 
1 Giorgia Bronzini (Ita) G.S. Ausra Guodis-Safi                 2.39.00
2 Luisa Tamanini (Ita) Team 2002 Aurora-RSM                        0.04
3 Vera Carrara (Ita) F.S.D.- Pratom-Bob-Giglio                     0.07
4 Juliette Vandekerckhove (Fra) French National Team                   
5 Susanne Ljungskog (Swe) Power-Plate-Bik                              
6 Anita Valen (Nor) Power-Plate-Bik                                0.08
7 Catherine Marsal (Fra) Mix T-Mobile-Rona Esker                   0.10
8 Katie Mactier (Aus) Australian National Team                         
9 Fabiana Luperini (Ita) Team 2002 Aurora-RSM                      0.11
10 Zinaida Stahurskaia (Blr) U.C. Chirio-Forno Di Asolo            0.12
11 Anna Sipurzynska (Pol) Polish National Team                         
12 Tatiana Stiajkina (Ukr) Team Catalunya-Aliverti                     
13 Alessandra Cappellotto (Ita) Conero Team                            
14 Katia Longhin (Ita) Acca Due O Pasta Zara Lorena Camicie            
15 Chantal Beltman (Ned) Acca Due O Pasta Zara Lorena Camicie      0.13
16 Priska Doppmann (Swi) Swiss National Team                           
17 Mirjam Melchers (Ned) Farm Frites-Hartol                            
18 Nicole Cooke (GBr) G.S. Ausra Guodis-Safi                           
19 Edita Pucinskaite (Ltu) S.C. Michela Fanini Record Rox              
20 Bogumila Matusiak (Pol) Polish National Team                        
21 Nicole Brandli (Swi) Prato Bike-Aki-Mixed                           
22 Malgorzata Wysocka (Pol) Polish National Team                       
23 Deiedre Barry (USA) Mix T-Mobile-Rona Esker                     0.14
24 Svetlana Boubnenkova (Rus) U.C. Chirio-Forno Di Asolo               
25 Maryline Salvetat (Fra) French National Team                        
26 Vera Koedooder (Ned) Power-Plate-Bik                            0.15
27 Olivia Gollan (Aus) Australian National Team                        
28 Ghita Beltman (Ned) Acca Due O Pasta Zara Lorena Camicie            
29 Mari Holden (USA) Mix T-Mobile-Rona Esker                           
30 Loes Gunnewijk (Ned) Power-Plate-Bik                            0.16
31 Emma James (Aus) Australian National Team                           
32 Anna Zugno (Ita) Conero Team                                        
33 Oenone Wood (Aus) Australian National Team                      0.17
34 Magalì Le Floch (Fra) French National Team                      0.18
35 Kristin Armstrong (USA) Mix T-Mobile-Rona Esker                     
36 Rochelle Gilmore (Aus) G.S. Ausra Guodis-Safi                       
37 Sarah Grab (Swi) Swiss National Team                                
38 Cremilda Fernandez (Bra) U.C. Chirio-Forno Di Asolo                 
39 Rachel Heal (GBr) Farm Frites-Hartol                                
40 Azucena Sancez (Spa) Team Catalunya-Aliverti                    0.19
41 Francesca Castrucci (Ita) Prato Bike-Aki-Mixed                      
42 Bazzola Gavlokova (Fra) Team Catalunya-Aliverti                     
43 Giovanna Troldi (Ita) F.S.D.- Pratom-Bob-Giglio                     
44 Zoulfia Zabirova (Rus) Road Runner-Guerciotti                       
45 Irene Hostettler (Swi) Swiss National Team                          
46 Sandrine Marcuz (Fra) S.C. Michela Fanini Record Rox                
47 Lisbeth Simper (Den) S.C. Michela Fanini Record Rox             0.20
48 Alexandra Nohles (Ger) Conero Team                                  
49 Barbara Heeb (Swi) Swiss National Team                              
50 Liane Bahler (Ger) German National Team                             
51 Ester Van Helm (Ned) Farm Frites-Hartol                             
52 Silvia Parietti (Ita) Prato Bike-Aki-Mixed                          
53 Erika Vilunaite (Ltu) G.S. Ausra Guodis-Safi                    0.21
54 Tania Belvederesi (Ita) Conero Team                                 
55 Zita Urbonaite (Ltu) Acca Due O Pasta Zara Lorena Camicie           
56 Milena Pirola (Ita) Conero Team                                     
57 Noemi Cantele (Ita) Acca Due O Pasta Zara Lorena Camicie            
58 Ioulia Martissova (Rus) F.S.D.- Pratom-Bob-Giglio                   
59 Alison Wright (Aus) Road Runner-Guerciotti                          
60 Sonia Huguet (Fra) French National Team                             
61 Kym Shirley (Aus) Road Runner-Guerciotti                            
62 Sigrid Corneo (Ita) Road Runner-Guerciotti                          
63 Margaret Hemsley (Aus) Australian National Team                     
64 Sophie Creux (Fra) French National Team                         0.22
65 Regina Schleicher (Ger) U.C. Chirio-Forno Di Asolo                  
66 Kimberly Anderson (USA) Mix T-Mobile-Rona Esker                 0.23
67 Bettina Kuhn (Swi) Swiss National Team                              
68 Tanja Hennes (Ger) Prato Bike-Aki-Mixed                         0.24
69 Karine Dalmais (Fra) French National Team                           
70 Seledad Fernandez (Arg) Conero Team                                 
71 Alessandra D'ettorre (Ita) U.C. Chirio-Forno Di Asolo           0.25
72 Barbara Cazzaniga (Ita) Road Runner-Guerciotti                  0.26
73 Irene Puccioni (Ita) Prato Bike-Aki-Mixed                       0.27
74 Gabi Buechel (Swi) Swiss National Team                              
75 Marina Kodtchenkova (Rus) U.C. Chirio-Forno Di Asolo                
76 Valentina Alessio (Ita) Team Catalunya-Aliverti                 0.29
77 Jolanta Polikeviciute (Ltu) Team 2002 Aurora-RSM                    
78 Sara Carrigan (Aus) Power-Plate-Bik                             0.31
79 Diana Rast (Swi) Swiss National Team                            0.35
80 Luise Keller (Ger) German National Team                             
81 Dorothy Cowden (USA) Mix T-Mobile-Rona Esker                    0.37
82 Rasa Polikeviciute (Ltu) Team 2002 Aurora-RSM                   0.42
83 Maria Lucilene Silva (Bra) F.S.D.- Pratom-Bob-Giglio            0.43
84 Charlotte Goldsmith (GBr) Farm Frites-Hartol                    0.57
85 Naiara Telletxea (Spa) Bizkaia-Panda-Sabeco                         
86 Emma Davies (GBr) Power-Plate-Bik                               1.18
87 Anna Skawinska (Pol) Polish National Team                      11.51
88 Vania Rossi (Ita) F.S.D.- Pratom-Bob-Giglio                    11.52
89 Claudia Hausler (Ger) German National Team                     11.55
90 Angela Brodtka (Ger) German National Team                           
91 Magdalena Zamolska (Pol) Polish National Team                       
92 Sandra Missbach (Ger) Farm Frites-Hartol                       11.56
93 Emanuela Azzini (Ita) Road Runner-Guerciotti                        
94 Edita Kubelskiene (Ltu) F.S.D.- Pratom-Bob-Giglio                   
95 Ketty Manfrin (Ita) Team 2002 Aurora-RSM                       11.57
96 Diana Elmentaite (Ltu) G.S. Ausra Guodis-Safi                       
97 Alessandra Borchi (Ita) S.C. Michela Fanini Record Rox              
98 Elisabeth Brandau (Ger) German National Team                   11.58
99 Hayley Rutherford (Aus) Road Runner-Guerciotti                      
100 Ziortla Jauregui (Spa) Bizkaia-Panda-Sabeco                        
101 Paulina Brzezna (Pol) Polish National Team                    11.59
102 Delphine Guille' (Fra) French National Team                        
103 Veronica Coche (Bel) Team Catalunya-Aliverti                       
104 Daniela Fusar Poli (Aus) Road Runner-Guerciotti               12.00
105 Andrea Bosman (Ned) Power-Plate-Bik                                
106 Valeria Pintos (Arg) U.C. Chirio-Forno Di Asolo                    
107 Marina Chirio (Ita) U.C. Chirio-Forno Di Asolo                     
108 Julita Papinigjte (Ltu) G.S. Ausra Guodis-Safi                12.01
109 Anke Wichmann (Ger) German National Team                           
110 Silva Fernandes (Bra) Prato Bike-Aki-Mixed                         
111 Elena Chalaeva (Rus) F.S.D.- Pratom-Bob-Giglio                12.02
112 Anna Gusmini (Ita) Road Runner-Guerciotti                     12.04
113 Lavinia Tofanelli (Ita) S.C. Michela Fanini Record Rox             
114 Lina Dervaityte (Ltu) Acca Due O Pasta Zara Lorena Camicie    12.06
115 Anna Farina (Ita) Prato Bike-Aki-Mixed                        12.08
116 Francesca Pellegrini (Ita) G.S. Ausra Guodis-Safi                  
117 Béatrice Thomas (Fra) French National Team                         
118 Letizia Giardinelli (Ita) S.C. Michela Fanini Record Rox      12.09
119 Maria Fanucchi (Ita) S.C. Michela Fanini Record Rox           12.11
120 Daniela Porta (Ita) U.C. Chirio-Forno Di Asolo                     
121 Maitane Telletxea (Spa) Bizkaia-Panda-Sabeco                  12.13
122 Lorna Webb (GBr) Farm Frites-Hartol                           12.15
123 Agurtzane Elorriaga (Spa) Bizkaia-Panda-Sabeco                     
124 Sabrina Emmasi (Ita) Prato Bike-Aki-Mixed                     12.35
125 Elke Gebhardt (Ger) German National Team                      13.23
126 Leticia Gil (Spa) Bizkaia-Panda-Sabeco                        14.25
127 Paulina Fijk (Pol) Polish National Team                       14.51
128 Elisa Maggini (Ita) S.C. Michela Fanini Record Rox                 
129 Katrin Beilharz (Ger) German National Team                    14.55
130 Laura Garavello (Ita) Road Runner-Guerciotti                  14.57
131 Laura Pisaneschi (Ita) S.C. Michela Fanini Record Rox              
132 Gema Pascual (Spa) Bizkaia-Panda-Sabeco                       14.58
133 Arantzazu Azpiroz (Spa) Bizkaia-Panda-Sabeco                  14.59
134 Martina Corazza (Ita) Team 2002 Aurora-RSM                    15.00
135 Karolina Konieczna (Pol) Polish National Team                 15.07
136 Mireia Epelde (Spa) Bizkaia-Panda-Sabeco                           
137 Chantzi Helissavet (Gre) Team 2002 Aurora-RSM                 15.10
138 Francesca Lotti (Ita) F.S.D.- Pratom-Bob-Giglio               15.12
139 Yeugenya Tarasenko (Uzb) F.S.D.- Pratom-Bob-Giglio            15.14
140 Alberta Baiocchi (Ita) S.C. Michela Fanini Record Rox         15.31
 
Points classification
 
1 Luisa Tamanini (Ita) Team 2002 Aurora-RSM                          15 pts
2 Susanne Ljungskog (Swe) Power-Plate-Bik                            15
3 Giorgia Bronzini (Ita) G.S. Ausra Guodis-Safi                      13
4 Vera Carrara (Ita) F.S.D.- Pratom-Bob-Giglio                       10
5 Juliette Vandekerckhove (Fra) French National Team                  9
6 Anita Valen (Nor) Power-Plate-Bik                                   9
7 Regina Schleicher (Ger) U.C. Chirio-Forno Di Asolo                  9
8 Katia Longhin (Ita) Acca Due O Pasta Zara Lorena Camicie            6
9 Catherine Marsal (Fra) Mix T-Mobile-Rona Esker                      5
10 Alessandra Cappellotto (Ita) Conero Team                           5
11 Katie Mactier (Aus) Australian National Team                       4
12 Rochelle Gilmore (Aus) G.S. Ausra Guodis-Safi                      4
13 Fabiana Luperini (Ita) Team 2002 Aurora-RSM                        2
14 Priska Doppmann (Swi) Swiss National Team                          2
15 Zinaida Stahurskaia (Blr) U.C. Chirio-Forno Di Asolo               1
16 Oenone Wood (Aus) Australian National Team                         1
 
Mountains classification
 
1 Edita Pucinskaite (Ltu) S.C. Michela Fanini Record Rox              3 pts
2 Oenone Wood (Aus) Australian National Team                          2
3 Fabiana Luperini (Ita) Team 2002 Aurora-RSM                         1
 
Sprints classification
 
1 Silva Fernandes (Bra) Prato Bike-Aki-Mixed                          5 pts
2 Susanne Ljungskog (Swe) Power-Plate-Bik                             5
3 Diana Elmentaite (Ltu) G.S. Ausra Guodis-Safi                       3
4 Priska Doppmann (Swi) Swiss National Team                           3
5 Alison Wright (Aus) Road Runner-Guerciotti                          1
6 Anita Valen (Nor) Power-Plate-Bik                                   1