Recently on Cyclingnews.com
60th Tour of Poland - 2.2
Poland, September 8-14, 2003
Main Page Results Previous Stage
Stage 8 - September 14: Jelenia Góra - Karpacz ITT, 19 km
Zamana in full control in Orlinek
By Daniel Marszalek
Cezary Zamana and son
Photo: © T.Piechal/Wirtualna Polska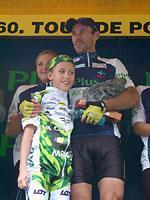 Cezary Zamana (Action nVidia-Mróz) won the 60th edition of the Tour de Pologne (Wyscigu Dookola Polski) after the best performance of his long professional career, Although both Sunday's stages (a 61 km road race and a 19 km time trial, each with an uphill finish in Orlinek above Karpacz) were won by neo-pro's: 22-year old Hayden Roulston (New Zealand, Cofidis) and 21-year old Alberto Contador (ONCE-Eroski), Zamana was in full control during whole day, coming second on both occasions.
In the morning's short road race, all attempts to break away from the peloton failed, including a serious one by three riders: Christophe Agnolutto (France, Ag2R), Slawomir Kohut (CCC-Polsat) and Florent Brard (France, Marlux). In each of the stage's mountain sprints there was an interesting battle between Koldo Gil (Spain, ONCE) and Nuno Ribeiro (Portugal, LA Pecol) for the climber's green jersey, in which the latter emerged victorious.
Hayden Roulston escaped with 7 kms to go on flat terrain in Milków, just before the foot of a 5 km climb through Karpacz to Orlinek. The young newcomer from down under just managed to survive a strong finish from the head of a 30-strong chasing group led by Zamana and Radoslaw Romanik (CCC-Polsat).
Zamana, thanks to his second place across the line, added 0.13 to his advantage over overnight runner-up Laurent Brochard (France, Ag2R) and 0.04 to 3rd placed Andrea Noe' (Italy, Alessio). Before the decisive time trial "Zorro" had 0.48 gap to Noe', 0.55 to last year's overall winner Brochard and 0.58 to Dave Bruylandts (Belgium, Marlux). Also Yon Bru (Spain, LA Pecol), Paolo Valoti (Italy, Domina Vacanze) and even Polish youngster Marek Rutkiewicz (Cofidis) were also not out of contention for the podium places.
The quiet hero of the last stage was time trial specialist from Madrid Alberto Contador (2002 Spanish U23 ITT champion) who had the best split times at the 10 and 15 km mark and finally came home with a time of 30.29 - a full 30 seconds better than set by the winner of exactly the same stage 12 months earlier (Ondrej Sosenka from CCC-Polsat)!
Zamana was better than Noe' and Brochard at both early time checks and eventually finished in a time of 30.48 - 0.24 better than Noe' and 0.56 clear of Brochard. In fact, the former world champion came only 10th in this time trial and was also beaten by Bruylandts. The difference of 8 seconds between the Frenchman and the Belgian in favour of the Marlux man meant that Bruylandts advanced to third overall.
The main honours were for 36-year old Zamana and Action nVidia-Mróz directeur sportif Piotr Kosmala, since their fantastic cooperation led to this surprise result. Kosmala is also a national selector for the World's in Hamilton, so we have no doubt that Zamana will be the leader of the small four man Polish team during next month's World Championships race in Canada.
Photography
Images by Tomek Piechal/Wirtualna Polska
Results
1 Alberto Contador (Spa) ONCE                                30.29
2 Cezary Zamana (Pol) Action Nvidia Mróz                      0.19
3 Andrea Noe (Ita) Alessio                                    0.43
4 Marek Rutkiewicz (Pol) Cofidis, Le Credit Par Telephone     0.55
5 Radoslaw Romanik (Pol) Ccc Polsat                           1.06
6 Dave Bruylandts (Bel) Marlux Wincor Nixdorf                 1.07
7 Jens Voigt (Ger) Credit Agricole                            1.10
8 Tomasz Brozyna (Pol) Ccc Polsat                             1.11
9 Piotr Przydzial (Pol) Ccc Polsat                            1.14
10 Laurent Brochard (Fra) Ag2R Prevoyance                     1.15
11 Zbigniew Piatek (Pol) Action Nvidia Mróz                   1.16
12 Andrei Zintchenko (Rus) L.A. Pecol                         1.24
13 Sergiy Matveyev (Ukr) Ceramiche Panaria-Fiordo             1.26
14 Krzysztof Ciesielski (Pol) Dhl-Servisco-Koop               1.27
15 Florent Brard (Fra) Marlux Wincor Nixdorf                  1.39
16 Dawid Krupa (Pol) Legia Bazyliszek Lux Med                     
17 Pawel Zugaj (Pol) Polish National Team                     2.01
18 Ruben Oarbeascoa (Spa) L.A. Pecol                          2.05
19 Robert Radosz (Pol) Dhl-Servisco-Koop                      2.08
20 Pietro Caucchioli (Ita) Alessio                            2.15
21 Tomasz Kloczko (Pol) Ambra Weltour Katowice                2.24
22 Koldo Gil Perez (Spa) ONCE                                 2.25
23 Yon Bru (Spa) L.A. Pecol                                   2.27
24 Felipe Laverde (Col) Formaggi Pinzolo Fiave                    
25 Giuliano Figueras (Ita) Ceramiche Panaria-Fiordo           2.45
26 Vladimir Miholjevic (Cro) Alessio                          2.52
27 Tomasz Kiendys (Pol) Mikomax Browar Staropolski                
28 Sebastian Skiba (Pol) Legia Bazyliszek Lux Med             2.53
29 Jaroslaw Rebiewski (Pol) Mikomax Browar Staropolski        2.54
30 Nuno Ribeiro (Por) L.A. Pecol                              2.56
31 Marcin Sapa (Pol) Mikomax Browar Staropolski               3.00
32 Thomas Grönqvist (Swe) Team fakta                          3.11
33 Marek Galinski (Pol) Ccc Polsat                            3.15
34 Alexandre Botcharov (Rus) Ag2R Prevoyance                  3.21
35 Mateusz Rybczynski (Pol) Legia Bazyliszek Lux Med          3.22
36 Pedro Lopes (Por) L.A. Pecol                               3.24
37 Slawomir Kohut (Pol) Ccc Polsat                            3.40
38 Christophe Agnolutto (Fra) Ag2R Prevoyance                 3.43
39 Paolo Valoti (Ita) Domina Vacanze Elitron                  3.48
40 Jaroslaw Welniak (Pol) Legia Bazyliszek Lux Med            3.50
41 Sébastien Hinault (Fra) Credit Agricole                    3.51
42 Marek Blazej (Pol) Legia Bazyliszek Lux Med                3.52
43 Mauricio Ardila (Col) Marlux Wincor Nixdorf                3.55
44 Kazimierz Stafiej (Pol) Action Nvidia Mróz                 3.56
45 Rafael Nuritdinov (Uzb) De Nardi-Colpack                   3.57
46 Marek Maciejewski (Pol) Dhl-Servisco-Koop                  4.06
47 Hayden Roulston (NZl) Cofidis, Le Credit Par Telephone     4.13
48 Dariusz Rudnicki (Pol) Legia Bazyliszek Lux Med            4.23
49 Adam Wadecki (Pol) Action Nvidia Mróz                      4.40
50 Ondrej Fadrny (Cze) De Nardi-Colpack                       4.53
51 Geert Verheyen (Bel) Marlux Wincor Nixdorf                 4.59
52 Grzegorz Wajs (Pol) Dhl-Servisco-Koop                      5.01
53 Mariusz Witecki (Pol) Dhl-Servisco-Koop                    5.07
54 Michal Pawlyta (Pol) Polish National Team                  5.31
55 Frederic Bessy (Fra) Cofidis, Le Credit Par Telephone      5.34
56 Robert Sassone (Fra) Cofidis, Le Credit Par Telephone      5.46
57 Krzysztof Miara (Pol) Legia Bazyliszek Lux Med             5.48
58 Massimiliano Gentili (Ita) Domina Vacanze Elitron          5.50
59 Giuliano Sulpizi (Ita) Formaggi Pinzolo Fiave              5.55
60 Daniel Majewski (Pol) Polish National Team                 6.31
61 Krzysztof Jezowski (Pol) Mikomax Browar Staropolski        7.09
62 Mariusz Wiesiak (Pol) Polish National Team                 7.14
63 Grzegorz Kwiatkowski (Pol) Ambra Weltour Katowice          7.19
64 Krzysztof Krzywy (Pol) Action Nvidia Mróz                  7.24
65 Dariusz Wojciechowski (Pol) Ambra Weltour Katowice         8.36
66 Marcin Lewandowski (Pol) Action Nvidia Mróz                8.41
DNS Pierre Bourquenoud (Swi) Jean Delatour                        
DNS Bartosz Huzarski (Pol) Action Nvidia Mróz                     
 
Final general classification
 
1 Cezary Zamana (Pol) Action Nvidia Mróz                  29.46.11
2 Andrea Noe (Ita) Alessio                                    1.12
3 Dave Bruylandts (Bel) Marlux Wincor Nixdorf                 1.46
4 Laurent Brochard (Fra) Ag2R Prevoyance                      1.51
5 Marek Rutkiewicz (Pol) Cofidis, Le Credit Par Telephone     2.00
6 Andrei Zintchenko (Rus) L.A. Pecol                          2.50
7 Yon Bru (Spa) L.A. Pecol                                    3.12
8 Zbigniew Piatek (Pol) Action Nvidia Mróz                    3.19
9 Tomasz Brozyna (Pol) Ccc Polsat                             3.57
10 Piotr Przydzial (Pol) Ccc Polsat                           4.16
11 Ruben Oarbeascoa (Spa) L.A. Pecol                          4.31
12 Paolo Valoti (Ita) Domina Vacanze Elitron                  4.36
13 Giuliano Figueras (Ita) Ceramiche Panaria-Fiordo           4.40
14 Jens Voigt (Ger) Credit Agricole                           5.12
15 Radoslaw Romanik (Pol) Ccc Polsat                          7.18
16 Nuno Ribeiro (Por) L.A. Pecol                              7.36
17 Dawid Krupa (Pol) Legia Bazyliszek Lux Med                 7.44
18 Pietro Caucchioli (Ita) Alessio                            8.48
19 Felipe Laverde (Col) Formaggi Pinzolo Fiave                9.11
20 Pedro Lopes (Por) L.A. Pecol                               9.58
21 Vladimir Miholjevic (Cro) Alessio                         11.57
22 Krzysztof Ciesielski (Pol) Dhl-Servisco-Koop              13.46
23 Thomas Grönqvist (Swe) Team fakta                         16.23
24 Alexandre Botcharov (Rus) Ag2R Prevoyance                 16.50
25 Sébastien Hinault (Fra) Credit Agricole                   20.02
26 Sebastian Skiba (Pol) Legia Bazyliszek Lux Med            20.20
27 Mauricio Ardila (Col) Marlux Wincor Nixdorf               20.42
28 Alberto Contador (Spa) ONCE                               20.44
29 Tomasz Kloczko (Pol) Ambra Weltour Katowice               20.51
30 Christophe Agnolutto (Fra) Ag2R Prevoyance                23.09
31 Adam Wadecki (Pol) Action Nvidia Mróz                     28.15
32 Massimiliano Gentili (Ita) Domina Vacanze Elitron         29.19
33 Robert Radosz (Pol) Dhl-Servisco-Koop                     29.50
34 Marek Galinski (Pol) Ccc Polsat                           30.10
35 Geert Verheyen (Bel) Marlux Wincor Nixdorf                30.29
36 Slawomir Kohut (Pol) Ccc Polsat                           33.31
37 Marcin Sapa (Pol) Mikomax Browar Staropolski              33.45
38 Florent Brard (Fra) Marlux Wincor Nixdorf                 35.11
39 Kazimierz Stafiej (Pol) Action Nvidia Mróz                35.47
40 Sergiy Matveyev (Ukr) Ceramiche Panaria-Fiordo            40.19
41 Hayden Roulston (NZl) Cofidis, Le Credit Par Telephone    40.35
42 Rafael Nuritdinov (Uzb) De Nardi-Colpack                  40.41
43 Tomasz Kiendys (Pol) Mikomax Browar Staropolski           40.58
44 Krzysztof Krzywy (Pol) Action Nvidia Mróz                 41.19
45 Ondrej Fadrny (Cze) De Nardi-Colpack                      42.02
46 Robert Sassone (Fra) Cofidis, Le Credit Par Telephone     43.22
47 Frederic Bessy (Fra) Cofidis, Le Credit Par Telephone     46.28
48 Jaroslaw Rebiewski (Pol) Mikomax Browar Staropolski       47.13
49 Koldo Gil Perez (Spa) ONCE                                48.47
50 Grzegorz Kwiatkowski (Pol) Ambra Weltour Katowice         49.04
51 Jaroslaw Welniak (Pol) Legia Bazyliszek Lux Med           50.00
52 Dariusz Rudnicki (Pol) Legia Bazyliszek Lux Med           50.10
53 Marek Blazej (Pol) Legia Bazyliszek Lux Med               56.10
54 Mateusz Rybczynski (Pol) Legia Bazyliszek Lux Med       1.00.32
55 Marek Maciejewski (Pol) Dhl-Servisco-Koop               1.03.18
56 Grzegorz Wajs (Pol) Dhl-Servisco-Koop                   1.04.09
57 Mariusz Witecki (Pol) Dhl-Servisco-Koop                 1.06.32
58 Marcin Lewandowski (Pol) Action Nvidia Mróz             1.09.02
59 Michal Pawlyta (Pol) Polish National Team               1.16.07
60 Giuliano Sulpizi (Ita) Formaggi Pinzolo Fiave           1.16.18
61 Krzysztof Miara (Pol) Legia Bazyliszek Lux Med          1.20.30
62 Mariusz Wiesiak (Pol) Polish National Team              1.25.55
63 Krzysztof Jezowski (Pol) Mikomax Browar Staropolski     1.26.12
64 Pawel Zugaj (Pol) Polish National Team                  1.30.10
65 Dariusz Wojciechowski (Pol) Ambra Weltour Katowice      1.31.46
66 Daniel Majewski (Pol) Polish National Team              1.40.31
 
Points classification
 
1 Yon Bru (Spa) L.A. Pecol                                      89 pts
2 Laurent Brochard (Fra) Ag2R Prevoyance                        87
3 Cezary Zamana (Pol) Action Nvidia Mróz                        82
4 Andrea Noe (Ita) Alessio                                      74
5 Dave Bruylandts (Bel) Marlux Wincor Nixdorf                   66
6 Marek Rutkiewicz (Pol) Cofidis, Le Credit Par Telephone       65
7 Marcin Lewandowski (Pol) Action Nvidia Mróz                   60
8 Sébastien Hinault (Fra) Credit Agricole                       53
9 Andrei Zintchenko (Rus) L.A. Pecol                            47
10 Jens Voigt (Ger) Credit Agricole                             39
11 Dawid Krupa (Pol) Legia Bazyliszek Lux Med                   37
12 Kazimierz Stafiej (Pol) Action Nvidia Mróz                   36
13 Radoslaw Romanik (Pol) Ccc Polsat                            36
14 Zbigniew Piatek (Pol) Action Nvidia Mróz                     33
15 Hayden Roulston (NZl) Cofidis, Le Credit Par Telephone       32
16 Marcin Sapa (Pol) Mikomax Browar Staropolski                 32
17 Paolo Valoti (Ita) Domina Vacanze Elitron                    32
18 Robert Radosz (Pol) Dhl-Servisco-Koop                        31
19 Tomasz Brozyna (Pol) Ccc Polsat                              30
20 Piotr Przydzial (Pol) Ccc Polsat                             30
21 Mauricio Ardila (Col) Marlux Wincor Nixdorf                  25
22 Ruben Oarbeascoa (Spa) L.A. Pecol                            24
23 Giuliano Figueras (Ita) Ceramiche Panaria-Fiordo             24
24 Alberto Contador (Spa) ONCE                                  20
25 Pedro Lopes (Por) L.A. Pecol                                 20
26 Florent Brard (Fra) Marlux Wincor Nixdorf                    18
27 Dariusz Rudnicki (Pol) Legia Bazyliszek Lux Med              16
28 Adam Wadecki (Pol) Action Nvidia Mróz                        15
29 Pietro Caucchioli (Ita) Alessio                              13
30 Massimiliano Gentili (Ita) Domina Vacanze Elitron            13
31 Geert Verheyen (Bel) Marlux Wincor Nixdorf                   12
32 Christophe Agnolutto (Fra) Ag2R Prevoyance                   11
33 Sergiy Matveyev (Ukr) Ceramiche Panaria-Fiordo                9
34 Krzysztof Jezowski (Pol) Mikomax Browar Staropolski           9
35 Nuno Ribeiro (Por) L.A. Pecol                                 8
36 Sebastian Skiba (Pol) Legia Bazyliszek Lux Med                8
37 Krzysztof Ciesielski (Pol) Dhl-Servisco-Koop                  7
38 Felipe Laverde (Col) Formaggi Pinzolo Fiave                   6
39 Grzegorz Wajs (Pol) Dhl-Servisco-Koop                         6
40 Marek Galinski (Pol) Ccc Polsat                               5
41 Tomasz Kiendys (Pol) Mikomax Browar Staropolski               5
42 Pawel Zugaj (Pol) Polish National Team                        4
43 Jaroslaw Rebiewski (Pol) Mikomax Browar Staropolski           3
44 Slawomir Kohut (Pol) Ccc Polsat                               2
45 Dariusz Wojciechowski (Pol) Ambra Weltour Katowice            2
46 Vladimir Miholjevic (Cro) Alessio                             1
47 Marek Maciejewski (Pol) Dhl-Servisco-Koop                     1
 
Sprints classification
 
1 Kazimierz Stafiej (Pol) Action Nvidia Mróz                    17 pts
2 Marcin Sapa (Pol) Mikomax Browar Staropolski                  14
3 Marek Galinski (Pol) Ccc Polsat                                5
4 Tomasz Kiendys (Pol) Mikomax Browar Staropolski                5
5 Zbigniew Piatek (Pol) Action Nvidia Mróz                       4
6 Jens Voigt (Ger) Credit Agricole                               4
7 Sébastien Hinault (Fra) Credit Agricole                        4
8 Adam Wadecki (Pol) Action Nvidia Mróz                          3
9 Florent Brard (Fra) Marlux Wincor Nixdorf                      3
10 Jaroslaw Rebiewski (Pol) Mikomax Browar Staropolski           3
11 Tomasz Brozyna (Pol) Ccc Polsat                               2
12 Piotr Przydzial (Pol) Ccc Polsat                              2
13 Nuno Ribeiro (Por) L.A. Pecol                                 2
14 Slawomir Kohut (Pol) Ccc Polsat                               2
15 Dariusz Wojciechowski (Pol) Ambra Weltour Katowice            2
16 Pedro Lopes (Por) L.A. Pecol                                  1
17 Christophe Agnolutto (Fra) Ag2R Prevoyance                    1
18 Sergiy Matveyev (Ukr) Ceramiche Panaria-Fiordo                1
19 Dariusz Rudnicki (Pol) Legia Bazyliszek Lux Med               1
 
Mountains classification
 
1 Nuno Ribeiro (Por) L.A. Pecol                                 43 pts
2 Koldo Gil Perez (Spa) ONCE                                    40
3 Piotr Przydzial (Pol) Ccc Polsat                              17
4 Jens Voigt (Ger) Credit Agricole                              15
5 Dave Bruylandts (Bel) Marlux Wincor Nixdorf                   14
6 Zbigniew Piatek (Pol) Action Nvidia Mróz                      14
7 Cezary Zamana (Pol) Action Nvidia Mróz                        12
8 Kazimierz Stafiej (Pol) Action Nvidia Mróz                    11
9 Yon Bru (Spa) L.A. Pecol                                      10
10 Marek Galinski (Pol) Ccc Polsat                               8
11 Andrea Noe (Ita) Alessio                                      7
12 Mauricio Ardila (Col) Marlux Wincor Nixdorf                   6
13 Alberto Contador (Spa) ONCE                                   5
14 Tomasz Brozyna (Pol) Ccc Polsat                               4
15 Adam Wadecki (Pol) Action Nvidia Mróz                         3
16 Ruben Oarbeascoa (Spa) L.A. Pecol                             3
17 Felipe Laverde (Col) Formaggi Pinzolo Fiave                   3
18 Christophe Agnolutto (Fra) Ag2R Prevoyance                    3
19 Laurent Brochard (Fra) Ag2R Prevoyance                        2
20 Paolo Valoti (Ita) Domina Vacanze Elitron                     2
21 Tomasz Kloczko (Pol) Ambra Weltour Katowice                   2
22 Geert Verheyen (Bel) Marlux Wincor Nixdorf                    2
23 Sergiy Matveyev (Ukr) Ceramiche Panaria-Fiordo                2
24 Tomasz Kiendys (Pol) Mikomax Browar Staropolski               2
25 Pietro Caucchioli (Ita) Alessio                               1
26 Pedro Lopes (Por) L.A. Pecol                                  1
27 Vladimir Miholjevic (Cro) Alessio                             1
28 Hayden Roulston (NZl) Cofidis, Le Credit Par Telephone        1
29 Grzegorz Wajs (Pol) Dhl-Servisco-Koop                         1
 
Combination classification
 
1 Nuno Ribeiro (Por) L.A. Pecol                                 45 pts
2 Koldo Gil Perez (Spa) ONCE                                    40
3 Kazimierz Stafiej (Pol) Action Nvidia Mróz                    28
4 Piotr Przydzial (Pol) Ccc Polsat                              19
5 Jens Voigt (Ger) Credit Agricole                              19
6 Zbigniew Piatek (Pol) Action Nvidia Mróz                      18
7 Dave Bruylandts (Bel) Marlux Wincor Nixdorf                   14
8 Marcin Sapa (Pol) Mikomax Browar Staropolski                  14
9 Marek Galinski (Pol) Ccc Polsat                               13
10 Cezary Zamana (Pol) Action Nvidia Mróz                       12
11 Yon Bru (Spa) L.A. Pecol                                     10
12 Andrea Noe (Ita) Alessio                                      7
13 Tomasz Kiendys (Pol) Mikomax Browar Staropolski               7
14 Tomasz Brozyna (Pol) Ccc Polsat                               6
15 Mauricio Ardila (Col) Marlux Wincor Nixdorf                   6
16 Adam Wadecki (Pol) Action Nvidia Mróz                         6
17 Alberto Contador (Spa) ONCE                                   5
18 Sébastien Hinault (Fra) Credit Agricole                       4
19 Christophe Agnolutto (Fra) Ag2R Prevoyance                    4
20 Ruben Oarbeascoa (Spa) L.A. Pecol                             3
21 Felipe Laverde (Col) Formaggi Pinzolo Fiave                   3
22 Florent Brard (Fra) Marlux Wincor Nixdorf                     3
23 Sergiy Matveyev (Ukr) Ceramiche Panaria-Fiordo                3
24 Jaroslaw Rebiewski (Pol) Mikomax Browar Staropolski           3
25 Laurent Brochard (Fra) Ag2R Prevoyance                        2
26 Paolo Valoti (Ita) Domina Vacanze Elitron                     2
27 Pedro Lopes (Por) L.A. Pecol                                  2
28 Tomasz Kloczko (Pol) Ambra Weltour Katowice                   2
29 Geert Verheyen (Bel) Marlux Wincor Nixdorf                    2
30 Slawomir Kohut (Pol) Ccc Polsat                               2
31 Dariusz Wojciechowski (Pol) Ambra Weltour Katowice            2
32 Pietro Caucchioli (Ita) Alessio                               1
33 Vladimir Miholjevic (Cro) Alessio                             1
34 Hayden Roulston (NZl) Cofidis, Le Credit Par Telephone        1
35 Dariusz Rudnicki (Pol) Legia Bazyliszek Lux Med               1
36 Grzegorz Wajs (Pol) Dhl-Servisco-Koop                         1
 
Polish rider classification
 
1 Cezary Zamana (Pol) Action Nvidia Mróz                  29.46.11
2 Marek Rutkiewicz (Pol) Cofidis, Le Credit Par Telephone     2.00
3 Zbigniew Piatek (Pol) Action Nvidia Mróz                    3.19
4 Tomasz Brozyna (Pol) Ccc Polsat                             3.57
5 Piotr Przydzial (Pol) Ccc Polsat                            4.16
6 Radoslaw Romanik (Pol) Ccc Polsat                           7.18
7 Dawid Krupa (Pol) Legia Bazyliszek Lux Med                  7.44
8 Krzysztof Ciesielski (Pol) Dhl-Servisco-Koop               13.46
9 Sebastian Skiba (Pol) Legia Bazyliszek Lux Med             20.20
10 Tomasz Kloczko (Pol) Ambra Weltour Katowice               20.51
11 Adam Wadecki (Pol) Action Nvidia Mróz                     28.15
12 Robert Radosz (Pol) Dhl-Servisco-Koop                     29.50
13 Marek Galinski (Pol) Ccc Polsat                           30.10
14 Slawomir Kohut (Pol) Ccc Polsat                           33.31
15 Marcin Sapa (Pol) Mikomax Browar Staropolski              33.45
16 Kazimierz Stafiej (Pol) Action Nvidia Mróz                35.47
17 Tomasz Kiendys (Pol) Mikomax Browar Staropolski           40.58
18 Krzysztof Krzywy (Pol) Action Nvidia Mróz                 41.19
19 Jaroslaw Rebiewski (Pol) Mikomax Browar Staropolski       47.13
20 Grzegorz Kwiatkowski (Pol) Ambra Weltour Katowice         49.04
21 Jaroslaw Welniak (Pol) Legia Bazyliszek Lux Med           50.00
22 Dariusz Rudnicki (Pol) Legia Bazyliszek Lux Med           50.10
23 Marek Blazej (Pol) Legia Bazyliszek Lux Med               56.10
24 Mateusz Rybczynski (Pol) Legia Bazyliszek Lux Med       1.00.32
25 Marek Maciejewski (Pol) Dhl-Servisco-Koop               1.03.18
26 Grzegorz Wajs (Pol) Dhl-Servisco-Koop                   1.04.09
27 Mariusz Witecki (Pol) Dhl-Servisco-Koop                 1.06.32
28 Marcin Lewandowski (Pol) Action Nvidia Mróz             1.09.02
29 Michal Pawlyta (Pol) Polish National Team               1.16.07
30 Krzysztof Miara (Pol) Legia Bazyliszek Lux Med          1.20.30
31 Mariusz Wiesiak (Pol) Polish National Team              1.25.55
32 Krzysztof Jezowski (Pol) Mikomax Browar Staropolski     1.26.12
33 Pawel Zugaj (Pol) Polish National Team                  1.30.10
34 Dariusz Wojciechowski (Pol) Ambra Weltour Katowice      1.31.46
35 Daniel Majewski (Pol) Polish National Team              1.40.31
 
Teams classification
 
1 L.A-Pecol                                               89.28.41
2 CCC-Polsat                                                  5.29
3 Alessio                                                    11.36
4 Mroz                                                       13.07
5 Marlux-Wincor Nixdorf                                      30.17
6 AG2r Prévoyance                                            31.49
7 Cofidis, Le Crédit par Téléphone                           37.16
8 Legia                                                      37.32
9 Servisco - Koop                                          1.21.17
10 Mikomax - Browar Staropolski                            1.43.06
11 Weltour Radio Katowice                                  2.20.34
12 Polish National Team                                    3.40.44

Courtesy of Daniel Marszalek