Irish World's selection time trial - NE
Ballyboghal, North County Dublin, September 27, 2003
McCann, Jennings For Worlds
By Shane Stokes, irishcycling.com
Destination Hamilton for McCann
Photo: © Shane Stokes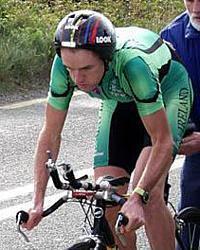 David McCann and Sinead Jennings secured their places at the world championships in Hamilton, Canada, when they won their events at the time trial selection race held in Ballyboghal, North County Dublin. McCann started strongly to lead David O'Loughlin (Ofoto Lombardi) by sixteen seconds at the end of the first of two laps of the tough Noel Hammond memorial circuit, and then accelerated over the second 20 kilometre loop to finish 52 seconds clear. Andy Roche (Maestro Nella) was 22 seconds adrift of McCann at the halfway point and slipped to one minute 13 seconds behind the Team Endurasport rider by the finish.
The women's race saw a highly impressive ride by newcomer Sinead Jennings, who beat Siobhan Jacobs (Usher IRC) by one minute and two seconds and Phoenix CC's Cheryl Fisher by a further eight seconds in their 20 kilometre time trial. Jennings won gold in the world rowing championships two years ago in the lightweight single sculls category, but recently returned to cycling after a long absence because the rowing season was at an end.
'I had a couple of weeks scheduled to take off and decided to get back out on the bike to keep in shape', she said. 'To tell you the truth, I only really started cycling training about ten days ago, and so I am absolutely delighted with today's result.'
'I was hoping to win today but didn't know how it would turn out. It is hard for me to pace myself, as rowing events are seven minutes in length while today's was quite a bit longer. I went out a bit hard but then backed off a bit in the middle section before going for it toward the end. It worked out well and I am very happy.'
As a result of her efforts Jennings has booked her place in Canada, where she will take part in both the time trial and the road race. Although she will have quite a bit less experience than the other women there, her strong showing today proves that she has a very impressive engine and so she is hoping to fare respectably on the tough course in Hamilton. 'My climbing is okay, so that will be a help…I race lightweight in the rowing and so make sure to keep my weight below nine stone for that. It will be interesting to see how I get on.'
Ditto for Jennings
Photo: © Shane Stokes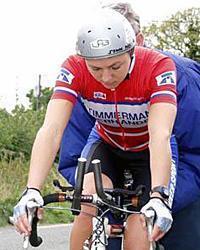 'I am not sure where my cycling will go from here. I will wait and see how I get on in Canada before deciding what my future direction will be. I was actually due to start back training for rowing tomorrow, but that is obviously going to be affected now! My big priority is to try to qualify a boat for the Olympics - I missed out this summer at the world championships but there is another chance next year, if I am in the first or second (fastest) boats at the Olympic qualifying regatta in Lucerne. The thing is, there a quite a few rowers who use the bike to supplement their training, including the German heavyweight world champion from last year. Rowing uses the arms and back but also the thigh muscles, and so the two sports complement each other.'
David McCann's fast ride today also booked his passage to Hamilton, where he will line out in the elite men's time trial. McCann was up against good riders today such as the national TT champion David O'Loughlin and Tommy Evans, who is expected to be named as the new national record holder for ten miles once his 19 minutes 23 seconds effort is ratified by Cycling Ireland.
As it turned out, O'Loughlin raced to second place, 52 seconds in arrears, but Evans failed to shine in the test. He was 4 minutes and 15 seconds off the pace today, his preparation and performance affected by knee trouble.
As expected McCann was delighted with his ride, even if he found the course to be very testing. 'It was a horrible course' he said, with a smile. 'I hope Canada is not going to be like that. It was up and down, twisting and turning throughout and so it was very hard to get into a good rhythm.'
'I was eighteenth in the Championship of Flanders last week so I knew I was in good form coming into today's race, but I didn't know what to expect. I haven't raced against the other guys in a long time so had no idea how I would compare. Tommy (Evans) has been struggling a bit lately with a knee injury, but did do a great ride in the ten-mile time trial earlier this month.'
McCann has been racing this year with the Team Endurasport pro squad. His programme is now finished, so he will concentrate his efforts on honing his form before the worlds time trial. 'I have just finished my season with the team - we were doing a a lot of very hard races in Belgium lately', he said. 'I plan to do my own thing from now as there are no more races left…a lot of time trial training, basically, to get ready. My goal would be to qualify the country for the Olympics at the world championships. The top fifteen nations get to Athens… a few riders from the same countries will be taking part so that means I can be a bit further back in the individual standings, but it will still be very tough. Hopefully it will work out well.'
Photos
Images by Shane Stokes/irishcycling.com
Results
Elite men, 40km
 
1 David McCann (Team Endurasport)                   51.38.97
2 David 0'Loughlin (Ofoto Lombardi Sports)             52.06
3 Andrew Roche (Maestro Nella)                       1.13.52
4 Paul Healion (Usher IRC)                           3.30.28
5 Tommy Evans (TotalCycling.com Lindsay Ford)        4.15.32
6 Simon Coughlan (Dunamond Dynamos)                  7.03.80
7 John Wall (North Kildare)                          8.11.06
 
Elite women, 20km
 
1 Sinead Jennings (Unattached)                      31.29.18
2 Sobhan Jacob (Usher IRC)                           1.02.44
3 Cheryl Fisher (Phoenix CC)                         1.10.65
4 Karen Bothwell (Orwell Wheelers)                   1.22.61
5 Louise Moriarty (Dublin Skip)                      1.44.96
6 Trudy Brown (Northern CC)                          3.23.89
7 Kate Rudd (Orwell Wheelers)                        3.34.19
8 Aileen Roche (unattached)                         12.12.51