6th Holland Ladies Tour - 2.9.1
Netherlands, September 1-6, 2003
Main Page Results Previous Stage Next Stage
Stage 5 - September 5: Heerlen - Heerlen, 129.8 km
Ljungskog takes over
Crafty Ljungskog moves into the lead
Photo ©: Dick Soepenberg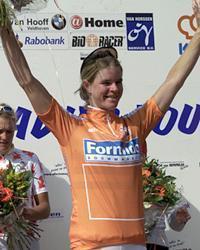 With just one stage to go of the Holland Ladies Tour, World Champion Susanne Ljungskog (Powerplate-Bik) has taken the lead from Sissy van Alebeek (Farm Frites-Hartol). Ljungskog finished third in the stage behind Nicole Cooke (Ausra Gruodis) after being part of a successful five woman breakaway. Van Alebeek lost 9'04 and any chances of holding the leader's jersey.
The fifth stage started and finished in Heerlen, and was run over a tough parcours in the region of Limburg. In the early part of the stage, five women escaped including Ljungskog, Cooke, Zabelinskaia (Velodames), Worrack (Nürnberger) and Jutras (Canada). Notably absent from the break were any Farm Frites-Hartol riders, who had been occupying the top five places on GC.
The peloton started to fragment on the climbs and an organised chase became difficult. Farm Frites-Hartol's strongest rider Mirjam Melchers was left to fend for herself in the next group, and did a lot of the chasing. However her group of 21 still lost 1'14 to the five leaders, who stayed away until the end of the stage. Nicole Cooke won the group sprint in front of Zabelinskaia and Ljungskog, with the latter doing enough to take the orange leader's jersey with just one stage to go.
Photos
Images by Dick Soepenberg/www.wielerfoto.nl
Results
1 Nicole Cooke (GBr) Ausra Gruodis-Safi                             3.23.06
2 Olga Zabelinskaia (Rus) Velodames Colnago                                
3 Susanne Ljungskog (Swe) Bik-Powerplate                                   
4 Trixi Worrack (Ger) Equipe Nürnberger Versicherung                   0.02
5 Manon Jutras (Can) Team Ton Van Bemmelen Sports                          
6 Anita Valen (Nor) Bik-Powerplate                                     1.14
7 Katia Longhin (Ita) Acca Due O Pasta Zara Lorena Camicie                 
8 Madeleine Lindberg (Swe) Equipe Nürnberger Versicherung                  
9 Diana Ziliute (Ltu) Acca Due O Pasta Zara Lorena Camicie                 
10 Ghita Beltman (Ned) Acca Due O Pasta Zara Lorena Camicie                
11 Angela Brodtka (Ger) German National Team                               
12 Priska Doppmann (Swi) Vlaanderen-T-Interim Ladies Team                  
13 Veerle Ingels (Bel) Vlaanderen-T-Interim Ladies Team                    
14 Cindy Pieters (Bel) Vlaanderen-T-Interim Ladies Team                    
15 Loes Gunnewijk (Ned) Ondernemers Van Nature                             
16 Sandra Rombouts (Ned) @Home Cycling Team                                
17 Liane Bahler (Ger) German National Team                                 
18 Mirjam Melchers (Ned) Farm Frites-Hartol Cycling Team                   
19 Valentyna Karpenko (Ukr) Velodames Colnago                              
20 Frances Newstead (GBr) British National Team                            
21 Judith Arndt (Ger) Equipe Nürnberger Versicherung                       
22 Vera Carrara (Ita) Acca Due O Pasta Zara Lorena Camicie                 
23 Theresa Senff (Ger) German National Team                                
24 Tina Liebig (Ger) German National Team                                  
25 Valentina Polkhanova (Rus) Velodames Colnago                            
26 Nicole Freedman (USA) Team Ton Van Bemmelen Sports                  2.32
27 Debby Mansveld (Ned) Vlaanderen-T-Interim Ladies Team                   
28 Minke Van Dongen (Ned) Ondernemers Van Nature                           
29 Anouska Van Der Zee (Ned) Farm Frites-Hartol Cycling Team           2.34
30 Zita Urbonaite (Ltu) Acca Due O Pasta Zara Lorena Camicie               
31 Rachel Heal (GBr) Farm Frites-Hartol Cycling Team                       
32 Areke Hassink (Ned) Dutch National Team                                 
33 Tanja Hennes (Ger) @Home Cycling Team                                   
34 Chantal Beltman (Ned) Acca Due O Pasta Zara Lorena Camicie              
35 Sissy Van Alebeek (Ned) Farm Frites-Hartol Cycling Team             9.04
36 Bogumila Matusiak (Pol) Bonda-Lukowski                                  
37 Jane Knietzsch (Ger) Mixed Team 4                                  17.47
38 Sandra Missbach (Ger) Farm Frites-Hartol Cycling Team                   
39 Erika Vilunaite (Ltu) Ausra Gruodis-Safi                                
40 Joan Boskamp (Ned) Dutch National Team                                  
41 Esther Van Der Helm (Ned) Farm Frites-Hartol Cycling Team               
42 Alessandra D'ettorre (Ita) Acca Due O Pasta Zara Lorena Camicie         
43 Jaccolien Wallaard (Ned) Dutch National Team                            
44 Suzanne De Goede (Ned) Farm Frites-Hartol Cycling Team                  
45 Jolanda Van Dongen-Cools (Ned) Mixed Team 3                             
46 Bertine Spijkerman (Ned) Dutch National Team                            
47 Cornelia Cyrus (Ger) Equipe Nürnberger Versicherung                     
48 Catharina Mulders (Ned) Team Ton Van Bemmelen Sports                    
49 Josephine Groenveld (Ned) Dutch National Team                           
50 Iryna Simonova (Ukr) Velodames Colnago                                  
51 Janneke Brok (Ned) Mixed Team 2                                         
52 Patricia Hempel (Ger) Equipe Nürnberger Versicherung                    
53 Malgorzata Wysocka (Pol) Bonda-Lukowski                                 
54 Francis Linthorst (Ned) Bik-Powerplate                                  
55 Linn Torp (Nor) Norwegian National Team                                 
56 Reza Hormes-Ravenstijn (Ned) Mixed Team 3                               
57 Madeleine Sandig (Ger) German National Team                             
58 Laure Werner (Bel) Vlaanderen-T-Interim Ladies Team                     
59 Veronique Belleter (Bel) Vlaanderen-T-Interim Ladies Team               
60 Charlotte Goldsmith (GBr) British National Team                         
61 Susanne Beyer (Ger) Mixed Team 4                                        
62 Catherine Hare (GBr) British National Team                              
DNF Mirella Van Melis (Ned) Vlaanderen-T-Interim Ladies Team               
DNF Frederika V/D Wiel (Ned) Dutch National Team                           
DNF Adrie Visser (Ned) Dutch National Team                                 
DNF Indre Januleviciute (Ltu) Acca Due O Pasta Zara Lorena Camicie         
DNF Christine Mos (Ned) Bik-Powerplate                                     
DNF Rochelle Gilmore (Aus) Ausra Gruodis-Safi                              
DNF Katrin Beilharz (Ger) Ausra Gruodis-Safi                               
DNF Francesca Pellegrini (Ita) Ausra Gruodis-Safi                          
DNF Olga Van Velzen (Ned) Team Ton Van Bemmelen Sports                     
DNF Marie Hiemstra (Ned) Team Ton Van Bemmelen Sports                      
DNF Wendie Kramp (Ned) Team Ton Van Bemmelen Sports                        
DNF Ina Teutenberg (Ger) German National Team                              
DNF Emma Davies (GBr) British National Team                                
DNF Leda Cox (GBr) British National Team                                   
DNF Lorna Webb (GBr) British National Team                                 
DNF Tone Hatteland (Nor) Norwegian National Team                           
DNF Linda Larsen (Nor) Norwegian National Team                             
DNF Line Rene Ramsrud (Nor) Norwegian National Team                        
DNF Aud Kari Berg (Nor) Norwegian National Team                            
DNF Kirsten Wild (Ned) Mixed Team 1                                        
DNF Mieke Van Der Burg (Ned) Mixed Team 1                                  
DNF Elissavet Chantzi (Gre) Mixed Team 1                                   
DNF Sabrina Raaijmakers (Ned) Mixed Team 1                                 
DNF Corrien Van Haastert (Ned) Ondernemers Van Nature                      
DNF Inge Klep (Ned) Ondernemers Van Nature                                 
DNF Kristy Miggels (Ned) Ondernemers Van Nature                            
DNF Marije Profijt (Ned) Ondernemers Van Nature                            
DNF Aukje De Koning (Ned) Mixed Team 2                                     
DNF Eefje Ottevanger (Ned) Mixed Team 2                                    
DNF Janneke Rotman-Jager (Ned) Mixed Team 2                                
DNF Judith Lambach (Ned) Mixed Team 2                                      
DNF Claudia Witteveen (Ned) Mixed Team 2                                   
DNF Marit Palland (Ned) Mixed Team 3                                       
DNF Marieke Verhoeven (Ned) Mixed Team 3                                   
DNF Paulina Brzezna (Pol) Bonda-Lukowski                                   
DNF Anna Sipurzynska (Pol) Bonda-Lukowski                                  
DNF Daniëlle Bekkering (Ned) @Home Cycling Team                            
DNF Eyelien Bekkering (Ned) @Home Cycling Team                             
DNF Irene Van Der Broek (Ned) @Home Cycling Team                           
DNF Stephanie Kortekaas (Ned) @Home Cycling Team                           
DNF Iris Slappendel (Ned) @Home Cycling Team                               
DNF Marjon Spijkerman (Ned) @Home Cycling Team                             
DNF Christina Becker (Ger) Mixed Team 4                                    
DNF Eva Lutz (Ger) Mixed Team 4                                            
DNF Katharina Blum (Ger) Mixed Team 4                                      
DNF Chantal Groen (Ned) Mixed Team 4                                       
DNF Debby Van Den Berg (Ned) Mixed Team 4                                  
 
General classification after stage 5
 
1 Susanne Ljungskog (Swe) Bik-Powerplate                           15.24.46
2 Trixi Worrack (Ger) Equipe Nürnberger Versicherung                   0.19
3 Olga Zabelinskaia (Rus) Velodames Colnago                            0.26
4 Mirjam Melchers (Ned) Farm Frites-Hartol Cycling Team                1.03
5 Anita Valen (Nor) Bik-Powerplate                                     1.25
6 Madeleine Lindberg (Swe) Equipe Nürnberger Versicherung              1.31
7 Judith Arndt (Ger) Equipe Nürnberger Versicherung                        
8 Loes Gunnewijk (Ned) Ondernemers Van Nature                          1.37
9 Nicole Cooke (GBr) Ausra Gruodis-Safi                                1.41
10 Diana Ziliute (Ltu) Acca Due O Pasta Zara Lorena Camicie            2.00
11 Valentyna Karpenko (Ukr) Velodames Colnago                          2.03
12 Liane Bahler (Ger) German National Team                             2.15
13 Theresa Senff (Ger) German National Team                                
14 Rachel Heal (GBr) Farm Frites-Hartol Cycling Team                   2.32
15 Anouska Van Der Zee (Ned) Farm Frites-Hartol Cycling Team               
16 Katia Longhin (Ita) Acca Due O Pasta Zara Lorena Camicie            2.33
17 Ghita Beltman (Ned) Acca Due O Pasta Zara Lorena Camicie                
18 Minke Van Dongen (Ned) Ondernemers Van Nature                       2.55
19 Frances Newstead (GBr) British National Team                        2.59
20 Areke Hassink (Ned) Dutch National Team                             3.05
21 Priska Doppmann (Swi) Vlaanderen-T-Interim Ladies Team              3.08
22 Veerle Ingels (Bel) Vlaanderen-T-Interim Ladies Team                3.12
23 Sandra Rombouts (Ned) @Home Cycling Team                                
24 Chantal Beltman (Ned) Acca Due O Pasta Zara Lorena Camicie          3.31
25 Zita Urbonaite (Ltu) Acca Due O Pasta Zara Lorena Camicie           3.53
26 Tanja Hennes (Ger) @Home Cycling Team                               4.17
27 Debby Mansveld (Ned) Vlaanderen-T-Interim Ladies Team               4.25
28 Nicole Freedman (USA) Team Ton Van Bemmelen Sports                  4.30
29 Angela Brodtka (Ger) German National Team                           7.58
30 Manon Jutras (Can) Team Ton Van Bemmelen Sports                     8.07
31 Tina Liebig (Ger) German National Team                              8.08
32 Valentina Polkhanova (Rus) Velodames Colnago                        8.14
33 Sissy Van Alebeek (Ned) Farm Frites-Hartol Cycling Team             8.46
34 Cindy Pieters (Bel) Vlaanderen-T-Interim Ladies Team                9.01
35 Vera Carrara (Ita) Acca Due O Pasta Zara Lorena Camicie             9.05
36 Bogumila Matusiak (Pol) Bonda-Lukowski                             15.28
37 Esther Van Der Helm (Ned) Farm Frites-Hartol Cycling Team          17.32
38 Francis Linthorst (Ned) Bik-Powerplate                             17.49
39 Josephine Groenveld (Ned) Dutch National Team                      18.01
40 Bertine Spijkerman (Ned) Dutch National Team                       18.18
41 Jaccolien Wallaard (Ned) Dutch National Team                            
42 Jolanda Van Dongen-Cools (Ned) Mixed Team 3                        19.32
43 Erika Vilunaite (Ltu) Ausra Gruodis-Safi                           19.45
44 Veronique Belleter (Bel) Vlaanderen-T-Interim Ladies Team               
45 Reza Hormes-Ravenstijn (Ned) Mixed Team 3                               
46 Suzanne De Goede (Ned) Farm Frites-Hartol Cycling Team             23.38
47 Cornelia Cyrus (Ger) Equipe Nürnberger Versicherung                23.57
48 Patricia Hempel (Ger) Equipe Nürnberger Versicherung                    
49 Iryna Simonova (Ukr) Velodames Colnago                             24.29
50 Madeleine Sandig (Ger) German National Team                        24.41
51 Joan Boskamp (Ned) Dutch National Team                             25.31
52 Sandra Missbach (Ger) Farm Frites-Hartol Cycling Team              25.32
53 Malgorzata Wysocka (Pol) Bonda-Lukowski                            25.38
54 Charlotte Goldsmith (GBr) British National Team                         
55 Jane Knietzsch (Ger) Mixed Team 4                                       
56 Linn Torp (Nor) Norwegian National Team                                 
57 Laure Werner (Bel) Vlaanderen-T-Interim Ladies Team                     
58 Janneke Brok (Ned) Mixed Team 2                                         
59 Catharina Mulders (Ned) Team Ton Van Bemmelen Sports                    
60 Susanne Beyer (Ger) Mixed Team 4                                        
61 Catherine Hare (GBr) British National Team                         26.05
62 Alessandra D'ettorre (Ita) Acca Due O Pasta Zara Lorena Camicie    37.45
 
Points classification
 
1 Diana Ziliute (Ltu) Acca Due O Pasta Zara Lorena Camicie               72 pts
2 Nicole Cooke (GBr) Ausra Gruodis-Safi                                  71
3 Susanne Ljungskog (Swe) Bik-Powerplate                                 49
4 Angela Brodtka (Ger) German National Team                              46
5 Tanja Hennes (Ger) @Home Cycling Team                                  40
6 Olga Zabelinskaia (Rus) Velodames Colnago                              36
7 Anita Valen (Nor) Bik-Powerplate                                       35
8 Chantal Beltman (Ned) Acca Due O Pasta Zara Lorena Camicie             28
9 Suzanne De Goede (Ned) Farm Frites-Hartol Cycling Team                 22
10 Josephine Groenveld (Ned) Dutch National Team                         21
11 Bertine Spijkerman (Ned) Dutch National Team                          21
12 Katia Longhin (Ita) Acca Due O Pasta Zara Lorena Camicie              19
13 Madeleine Lindberg (Swe) Equipe Nürnberger Versicherung               15
14 Trixi Worrack (Ger) Equipe Nürnberger Versicherung                    14
15 Jolanda Van Dongen-Cools (Ned) Mixed Team 3                           14
16 Manon Jutras (Can) Team Ton Van Bemmelen Sports                       12
17 Frances Newstead (GBr) British National Team                          12
18 Priska Doppmann (Swi) Vlaanderen-T-Interim Ladies Team                11
19 Debby Mansveld (Ned) Vlaanderen-T-Interim Ladies Team                 10
20 Iryna Simonova (Ukr) Velodames Colnago                                 9
21 Francis Linthorst (Ned) Bik-Powerplate                                 8
22 Mirjam Melchers (Ned) Farm Frites-Hartol Cycling Team                  7
23 Ghita Beltman (Ned) Acca Due O Pasta Zara Lorena Camicie               6
24 Nicole Freedman (USA) Team Ton Van Bemmelen Sports                     4
25 Malgorzata Wysocka (Pol) Bonda-Lukowski                                4
26 Veerle Ingels (Bel) Vlaanderen-T-Interim Ladies Team                   3
27 Loes Gunnewijk (Ned) Ondernemers Van Nature                            3
28 Cornelia Cyrus (Ger) Equipe Nürnberger Versicherung                    3
29 Sissy Van Alebeek (Ned) Farm Frites-Hartol Cycling Team                3
30 Cindy Pieters (Bel) Vlaanderen-T-Interim Ladies Team                   2
31 Judith Arndt (Ger) Equipe Nürnberger Versicherung                      1
32 Minke Van Dongen (Ned) Ondernemers Van Nature                          1
 
Climbs classification
 
1 Chantal Beltman (Ned) Acca Due O Pasta Zara Lorena Camicie             25 pts
2 Olga Zabelinskaia (Rus) Velodames Colnago                              23
3 Nicole Cooke (GBr) Ausra Gruodis-Safi                                  16
4 Susanne Ljungskog (Swe) Bik-Powerplate                                 14
5 Veronique Belleter (Bel) Vlaanderen-T-Interim Ladies Team               9
6 Sissy Van Alebeek (Ned) Farm Frites-Hartol Cycling Team                 9
7 Jane Knietzsch (Ger) Mixed Team 4                                       8
8 Trixi Worrack (Ger) Equipe Nürnberger Versicherung                      6
9 Bertine Spijkerman (Ned) Dutch National Team                            3
10 Madeleine Lindberg (Swe) Equipe Nürnberger Versicherung                3
11 Erika Vilunaite (Ltu) Ausra Gruodis-Safi                               2
12 Areke Hassink (Ned) Dutch National Team                                2
 
Sprints classification
 
1 Diana Ziliute (Ltu) Acca Due O Pasta Zara Lorena Camicie               17 pts
2 Mirjam Melchers (Ned) Farm Frites-Hartol Cycling Team                   9
3 Susanne Ljungskog (Swe) Bik-Powerplate                                  7
4 Olga Zabelinskaia (Rus) Velodames Colnago                               4
5 Sissy Van Alebeek (Ned) Farm Frites-Hartol Cycling Team                 3
6 Chantal Beltman (Ned) Acca Due O Pasta Zara Lorena Camicie              3
7 Nicole Cooke (GBr) Ausra Gruodis-Safi                                   1
8 Manon Jutras (Can) Team Ton Van Bemmelen Sports                         1
9 Debby Mansveld (Ned) Vlaanderen-T-Interim Ladies Team                   1
 
Most aggressive rider classification
 
1 Debby Mansveld (Ned) Vlaanderen-T-Interim Ladies Team                   6 pts
2 Susanne Ljungskog (Swe) Bik-Powerplate                                  5
3 Ghita Beltman (Ned) Acca Due O Pasta Zara Lorena Camicie                5
4 Diana Ziliute (Ltu) Acca Due O Pasta Zara Lorena Camicie                5
5 Olga Zabelinskaia (Rus) Velodames Colnago                               3
6 Madeleine Lindberg (Swe) Equipe Nürnberger Versicherung                 3
7 Suzanne De Goede (Ned) Farm Frites-Hartol Cycling Team                  3
8 Chantal Beltman (Ned) Acca Due O Pasta Zara Lorena Camicie              3
9 Nicole Cooke (GBr) Ausra Gruodis-Safi                                   1
10 Sissy Van Alebeek (Ned) Farm Frites-Hartol Cycling Team                1
 
Young rider classification
 
1 Trixi Worrack (Ger) Equipe Nürnberger Versicherung               15.25.05
2 Nicole Cooke (GBr) Ausra Gruodis-Safi                                1.22
3 Liane Bahler (Ger) German National Team                              1.56
4 Theresa Senff (Ger) German National Team                                 
5 Minke Van Dongen (Ned) Ondernemers Van Nature                        2.36
6 Areke Hassink (Ned) Dutch National Team                              2.46
7 Veerle Ingels (Bel) Vlaanderen-T-Interim Ladies Team                 2.53
8 Esther Van Der Helm (Ned) Farm Frites-Hartol Cycling Team           17.13
9 Josephine Groenveld (Ned) Dutch National Team                       17.42
10 Bertine Spijkerman (Ned) Dutch National Team                       17.59
11 Jaccolien Wallaard (Ned) Dutch National Team                            
12 Suzanne De Goede (Ned) Farm Frites-Hartol Cycling Team             23.19
13 Madeleine Sandig (Ger) German National Team                        24.22
14 Joan Boskamp (Ned) Dutch National Team                             25.12
15 Jane Knietzsch (Ger) Mixed Team 4                                  25.19
16 Catharina Mulders (Ned) Team Ton Van Bemmelen Sports                    
17 Catherine Hare (GBr) British National Team                         25.46
 
Teams classification
 
1 Nürnberger Versicherung                                          46.17.40
2 Farm Frites - Hartol                                                 1.08
3 German National Team                                                 3.11
4 Acca Due O Pasta Zara                                                4.05
5 Vlaanderen - T-Interim                                               6.03
6 Velodames Colnago                                                    7.15
7 BIK - Powerplate                                                    16.13
8 Ton van Bemmelen Sports                                             34.41
9 Dutch National Team                                                 36.06
10 Groot-Brittannië                                                   45.02