86th Giro dell'Emilia - 1.1
Italy, September 27, 2003
2002 Results Results Past winners
Spaniard Gutierrez upstages Italians
Jose Ivan Gutierrez
Photo: © Sirotti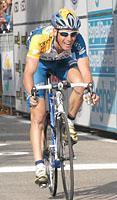 Spanish rider Jose Ivan Gutierrez (iBanesto.com) has beaten the top Italian riders at their own game, winning the 86th Giro dell'Emilia ahead of Alexander Kolobnev (Domina Vacanze) and Davide Rebellin (Gerolsteiner). Gutierrez triumphed in a small group sprint at the top of the Colle di San Luca, a steep 2 km climb that had to be tackled four times during the race. It was the biggest win of the 24 year old's career, although he did win the Spanish road championship in 2001 and the U23 world TT championship in 1999.
Gutierrez was strong on each of the ascents of Colle di San Luca, although Bartoli led the charge on the first lap, Gutierrez and Noe joined forces on Lap 2 to open up a 30 second gap to the next group, which contained the usual suspects: Bartoli, Casagrande, Rebellin, Di Luca, Bettini and Camenzind along with Kolobnev and Popovych. The latter attacked on the third and final lap, but was caught on the descent.
On the final time up the climb, Popovych attacked again, but couldn't get rid of Di Luca, who dragged Gutierrez, Kolobnev and Noč and the others back to the Ukrainian. Gutierrez started his sprint from a long way out, and succeeded in holding off Kolobnev and Rebellin by a clear margin.
Photography
Images by Fotoreporter Sirotti
Images by Olympia Photo/www.olympiaphoto.com
Results - 196.6 km
1 Jose Ivan Gutierrez (Spa) iBanesto.com               4.57.00 (39.717 km/h)
2 Alexander Kolobnev (Rus) Domina Vacanze Elitron
3 Davide Rebellin (Ita) Gerolsteiner
4 Danilo Di Luca (Ita) Saeco
5 Francesco Casagrande (Ita) Lampre
6 Andrea Noč (Ita) Alessio
7 Michele Bartoli (Ita) Fassa Bortolo
8 Paolo Bettini (Ita) Quick Step Davitamona               0.10
9 Oscar Camenzind (Swi) Phonak
10 Yaroslav Popovych (Ukr) Landbouwkrediet
11 Javier Pascual Rodriguez (Spa) iBanesto.com
12 Ruggero Borghi (Ita) Mercatone Uno-Scanavino
13 Markus Zberg (Swi) Gerolsteiner                        0.15
14 Michael Boogerd (Ned) Rabobank
15 Massimo Giunti (Ita) Domina Vacanze-Elitron            0.45
16 Leonardo Giordani (Ita) De Nardi-Colpack               0.50
17 Andrea Masciarelli (Ita) Vini Caldirola-SO.DI
18 Alexandre Botcharov (Rus) Ag2r-Prevoyance
19 Paolo Lanfranchi (Ita) Ceramiche Panaria-Fiordo        1.12
20 Mirko Celestino (Ita) Team Saeco
21 Marcel Strauss (Swi) Gerolsteiner                      1.44
22 Koldo Gil Perez (Spa) O.N.C.E.-Eroski                  1.50
23 Gianni Faresin (Ita) Gerolsteiner                      1.55
24 Remmert Wielinga (Ned) Rabobank                        2.00
25 Luca Mazzanti (Ita) Ceramiche Panaria-Fiordo           2.30
26 Pietro Caucchioli (Ita) Alessio
27 Giuliano Figueras (Ita) Ceramiche Panaria-Fiordo
28 Damiano Cunego (Ita) Team Saeco
29 Tadej Valjavec (Slo) Fassa Bortolo
30 Mario Scirea (Ita) Domina Vacanze-Elitron              3.10
31 Marco Fertonani (Ita) Phonak Hearing Systems
32 Sylvester Szmyd (Pol) Mercatone Uno-Scanavino          5.05
33 Gorazd Stangelj (Slo) Fassa Bortolo
34 Ruben Lobato Elvira (Spa) Domina Vacanze-Elitron
35 Bo Hamburger (Den) Formaggi Pinzolo Fiavé
36 Luis Filip Laverde (Col) Formaggi Trentini
37 Daniel Schnider (Swi) Phonak Hearing Systems
38 Steve Zampieri (Swi) Vini Caldirola-SO.DI
39 Alexandre Moos (Swi) Phonak Hearing Systems
40 Raffaele Ferrara (Ita) Alessio                         5.30
41 David Arroyo Duran (Spa) O.N.C.E.-Eroski
42 Nicolas Portal (Fra) Ag2r-Prevoyance                  10.00

Starters: 167
Classified: 42

Courtesy of Ronald Schipper

Past winners
2002 Michele Bartoli (Ita) Fassa Bortolo 
2001 Jan Ullrich (Ger) Team Deutsche Telekom 
2000 Gilberto Simoni (Ita) Lampre
1999 Michael Boogerd (Ned)
1998 Mirko Celestino (Ita) 
1997 Alexandre Gontschenkov (Rus)
1996 Michele Bartoli (Ita)
1995 Davide Cassani (Ita)
1994 Francesco Casagrande (Ita)
1993 Maurizio Fondriest (Ita)
1992 Gianni Bugno (Ita)
1991 Davide Cassani (Ita)
1990 Davide Cassani (Ita)
1989 Dimitry Konychev (Rus)
1988 Tony Rominger (Swi)
1987 Jean-Francois Bernard (Fra)
1986 Hubert Seiz (Swi)
1985 Acacio Da Silva (Por)
1984 Ezio Moroni (Ita)
1983 Cesare Cipollini (Ita)
1982 Pierino Gavazzi (Ita)
1981 Pierino Gavazzi (Ita) 
1980 Gianbattista Baronchelli (Ita)
1979 Francesco Moser (Ita)
1978 Bernt Johansson (Swe)
1977 Mario Beccia (Ita)
1976 Roger De Vlaeminck (Bel)
1975 Enrico Paolini (Ita)
1974 Francesco Moser (Ita)
1973 Franco Bitossi (Ita)
1972 Eddy Merckx (Bel)
1971 Gianni Motta (Ita)
1970 Franco Bitossi (Ita)
1969 Gianni Motta (Ita)
1968 Gianni Motta (Ita)
1967 Michele Dancelli (Ita)
1966 Carmelo Preziosi (Ita)
1965 Michele Dancelli (Ita)
1963 Italo Zilioli (Ita)
1962 Bruno Mealli (Ita)
1961 Diego Ronchini (Ita)
1960 Pierino Baffi (Ita)
1959 Ercole Baldini (Ita)
1958 Diego Ronchini (Ita)
1957 Bruno Monti (Ita)
1956 Bruno Monti (Ita)
1955 Nino Defilippis (Ita)
1954 Nino Defilippis (Ita)
1953 Gino Bartali (Ita)
1952 Gino Bartali (Ita)
1951 Luciano Maggini (Ita)
1950 Luciano Maggini (Ita)
1949 Virgilio Salimbeni (Ita)
1948 Fausto Coppi (Ita)
1947 Fausto Coppi (Ita)
1946 Adolfo Leoni (Ita)
1943 Nedo Logli (Ita)
1942 Adolfo Leoni (Ita)
1941 Fausto Coppi (Ita)
1940 Osvadlo Bailo (Ita)
1939 Serafino Biagioni (Ita)
1938 Carrado Ardizzoni (Ita)
1937 Cesare Del Cancia (Ita)
1936 Giuseppe Olmo (Ita)
1935 Aldo Bini (Ita)
1934 Marco Cimatti (Ita)
1931 Glauco Servadei (Ita)
1930 Mario Bonetti (Ita)
1929 Allegro Grandi (Ita)
1928 Alfonso Piccin (Ita)
1927 Domenico Piemontesi (Ita)
1925 Constante Girardengo (Ita)
1924 Pietro Linari (Ita)
1923 Michele Gordini (Ita)
1922 Constante Girardengo (Ita)
1921 Constante Girardengo (Ita)
1920 Giovanni Brunero (Ita)
1919 Constante Girardengo (Ita)
1918 Constante Girardengo (Ita)
1917 Angelo Gremo (Ita)
1914 Ezio Corlaita (Ita)
1913 Alfonso Calzolari (Ita)
1912 Ugo Agostoni (Ita)
1911 Clemente Canepari (Ita)
1910 Luigi Ganna (Ita)
1909 Eberardo Pavesi (Ita)


Past winners by Mario Stiehl, www.world-of-cycling.com