Australian Road Cycling Championships - NE
Sunshine Coast, Australia, September 5-15, 2003
Main Page Results Previous Day
Day 8 - September 15: Criterium - Elite Men, Elite Women, Men's U23, U19 Men & Women, Mooloolaba
Sunshine Coast claims National Club Championship
Hilton McMurdo back to his winning ways
Photo: © CJ Liao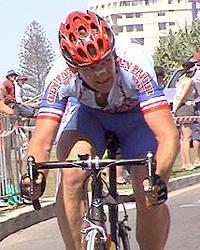 Sunshine Coast today secured the Australian Club Premiership Title at the end of the 2003 National Road Cycling Championships raced on Queensland's Sunshine Coast.
The event is Australia's biggest mass-participation cycling event and incorporated the Oceania Road Championships, Australian Masters Road Championships and Club Premiership.
The locals finished with 1437 points to hold off Midland (WA), 1304 points with Carnegie Caulfield (Vic) claiming third place on 1149 points. The majority of Sunshine Coast's points, 1141, came from the masters division with 14 points from junior events. Midland claimed no masters points but did well in both senior elite and junior categories while Carnegie Caulfield gained 651 points in masters and 498 points in senior elite and junior competition.
The final day of racing saw the cyclists take over the Mooloolaba Esplanade where they contested the criterium events over an 800 metre course in front of around six thousand spectators.
The elite women contested 30 minutes and three laps of the course with Victorian Helen Kelly holding on to a slim lead from an attack in the last 15 minutes to claim gold in 33min01sec. Queensland's Lorianne Graham (Astra Brisbane) won the bunch sprint for second with Victorian Elizabeth Williams (Carnegie Caulfield) close behind in third.
The men's event went to 41 year old West Australian Hilton McMurdo (Northern Districts) in a time of 1hr04min22sec. McMurdo powered away 35 minutes into the race and by the finish had almost lapped the field. Queensland's Ashley Hutchinson (Cairns) won the bunch sprint for second and Sydney's Liam Kelly (Randwick) was third.
Photos
Images by CJ Liao
Images by Rosalie Foster/www.goldcoastphotography.com
Results

U19 Men
 
1 Bradley Payne (C.A.T.S.)                             32.54
2 Warren Scott (St George CC)
3 Adam Tully (C.A.T.S.)
4 Mathew Rex (Norwood CC.)
5 Dean Windsor (Bathurst CC)
6 Casey Munro (Brunswick Cycling Club Inc)
7 Phillip Stokes (Penrith Panthers CC)
8 Andrew Wade (Melville Fremantle CC)
9 Wesley Sulzberger (West Tamar CC)
10 Luke McCarthy (New Zealand Cycling Federation)
11 Jeremy Davis (Broncos)
12 Jason Hegert (Ballarat/Sebastopol CC)
13 William Thompson (New Zealand Cycling Federation)
14 Kai Rothlisberger (Lifecycle Cycling Club)
15 Sean Finning (Castlemaine Cycling Club Inc)
16 Thomas Greathead (Southern Districts CC)
17 Kane Brennan (Bathurst CC)
DNF Brendan Murphy (Leongatha Cycling Club Inc)
DNF Elliott Wells (Bunbury CC)
DNF Josh Murfet (Launceston City CC)
DNF Benjamin Holmes (Broncos)
DNF Christopher Simonelli (Broncos)
DNF Timothy Walker (West Tamar CC)
DNF Aaron Kowald (Canberra Cycling Club)
DNF Andrew Taylor (Dubbo CC)
DNF Peter Neville (Broncos)
DNF Kai Rothlisberger (Lifecycle Cycling Club)
DNF Jason Hegert (Ballarat/Sebastopol CC)
DNF Brett Gillespie (Hedland Cycling Club)
DNF Nathan Wise (Carnegie Caulfield CC)
DNF Michael Teggelove (Echuca/Moama Cycling Club)
DNF Jared Rowney (C.A.T.S.)
DNF Brenton Hetherington (C.A.T.S.)
DNF Luke Anderson (C.A.T.S.)
DNF Matthew Haydock (New Zealand Cycling Federation)
DNF Patrick Shaw (Ballarat/Sebastopol CC)
DNF Chris Pascoe (Dubbo CC)
DNF Dane Macky (New Zealand Cycling Federation)
DNF Miles Olman (Rockhampton Cycle Club)
DNF David Bassett (New Zealand Cycling Federation)
DNF Samuel Ross (New Zealand Cycling Federation)
DNF Nathan Silleto (Canberra Cycling Club)
DNF Brendan Jones (Inverell Wheelers)
DNF Christopher Young (Parramatta CC)
DNF Peter Spencer (C.A.T.S.)
DNF Keith Evans (Midland CC)
DNF Steven Evans (Midland CC)
 
U19 Women
 
1 Karina Wilkinson (New Zealand Cycling Federation)    36.16
2 Amy Kirk (Midland CC)
3 Megan Windsor (Bathurst CC)
4 Victoria Freeland (Stawell-Great Western CC)
5 Hannah Banks (Broncos)
6 Jessie MacLean (Canberra Cycling Club)
7 Sarah Rota (C.A.T.S.)
8 Jessica Armstrong (Canberra Cycling Club)
9 Eve Hood (Parramatta CC)
DNF Melinda Harris (Mudgee CC)
DNF Nicole Hanssen (Caboolture CC)
DNF Tegan Napper (Port Stephens CC)
DNF Genna Crean (Noarlunga South Coast CC.)
DNF Kylie Howlett (Ararat&District Cycling Club)
DNF Erin Downing (Carnegie Caulfield CC)
DNF Amy Phillips (Carnegie Caulfield CC)
 
U23 Men
 
1 Jorge Libonatti (Hinchinbrook Cycling Club)          33.10
2 Bernard Sulzberger (West Tamar CC)
3 Hector Moralas (Hinchinbrook Cycling Club)
4 Timothy Cudsell (New Zealand Cycling Federation)
5 Jono Davis (St. George CC)
6 Joel Pearson (Warragul CC)
7 Robert Lyte (Hinchinbrook Cycling Club)
8 Christopher Sutton (St George CC)
9 James Meadley (Canberra Club)
DNF Luke McCarthy (New Zealand Cycling Federation)
DNF Bradley Simpson (Adelaide CC)
DNF Julian Samios (Uni Cycle Club)
DNF George Bunt (Canberra Club)
DNF David Tanner (Carnegie Caulfield CC)
DNF Jonathan Campbell (Ffast Cycle Club)
DNF Owen MacPhillamy (Cantral Coast CC)
DNF Andrew Small (New Zealand Cycling Federation)
DNF Scott Lyttle (New Zealand Cycling Federation)
DNF Luke Bettany (Noarlunga South Coast CC.)
DNF Ben Nicol (Kangaroo Point CC)
DNF Paul Richards (Warragul CC)
DNF Dane Cheers (Norwood Club)
DNF Brendan Kay (North Brisbane MTB Club)
DNF Brendan Cato (iIllawarra CC)
DNF Jason Patterson (Townsville Cycle Club)
DNF Andrew Kilday (St George CC)
DNF Richard Moffatt (WaggaWagga Club)
DNF Danny Hillary (New Zealand Cycling Federation)
DNF Matthew King (New Zealand Cycling Federation)
DNF Peter Neville (Broncos)
DNF Nathan Seage (Broncos)
DNF Daniel Newnham (Gold Coast Goldstars CC)
DNF James Bondio (Gap Tornadoes)
DNF Tommy Nankervis (Carnegie Caulfield CC)
DNF Cameron Wise (Carnegie Caulfield CC)
DNF Christopher Lee (St Kilda Cycling Club Inc)
DNF Peter Priest (Sunshine Coast CC)
DNS Troy Glennan (St George CC)
DNS Stephen Collins (New Zealand Cycling Federation)
DNS Liam McQueen (Ffast Cycle Club)
DNS Craig Mackie (Lifecycle Cycling Club)
DNS Kharne Hammersley (West Tamar CC)
DNS Lincoln Brown (Carnegie Caulfield CC)
DNS Nash Kent (Clarence St Cycley CC)
DNS Ryan Sullivan (Northern Districts CC)
 
Elite Men
 
1 Hilton McMurdo (Northern Districts)                1.05.26
2 Ashley Hutchinson (Cairns Cycle Club)
3 Liam Kelly (Randwick Botany CC)
4 Nicholas Wood (St George CC)
5 Paul Bishop (New Zealand Cycling Federation)
6 Tyson Lawrence (Midland CC)
7 Kurt Dutton (Lifecycle CC)
8 Chris Bradford (Carnegie Caulfield CC)
9 Stuart Cowin (Astra Cycling Club)
10 Adrian Booth (Victor Cycle Club)
DNF Marcus Hayman (Canberra Cycling Club)
DNF Stephen Blair (Canberra Cycling Club)
DNF Leigh Mitchell (Central Coast CC)
DNF David Hiley (Bicisport)
DNF Craig Pitt (New Zealand Cycling Federation)
DNF Stephen Elden (New Zealand Cycling Federation)
DNF Adam Gosney (New Zealand Cycling Federation)
DNF Iain Russell (Lifecycle Cycling Club)
DNF Gareth Coco (Cycleogical)
DNF Grant Gaston (Ffast Cycle Club)
DNF Stuart Hill (St Kilda Cycling Club Inc)
DNF Christopher Race (Midland CC)
DNF Glenn Baumann (C.A.T.S.)
DNF Paul Gough (New Zealand Cycling Federation)
DNF Brett Aitken (Adelaide CC)
DNF Campbell Kerr (Sutherland Shire CC)
DNF Chris Carsen (Copper Citty CC)
DNF Oliver Feldhagen (Victor Cycle Club)
DNS Oliver Feldhagen (Victor Cycle Club)
DNS Peter Milostic (Penrith Panthers CC)
DNS Geoffrey Cook (Sutherland Shire CC)
DNS Steve Fitzpatrick (St George CC)
DNS Aaron Strorng (New Zealand Cycling Federation)
DNS Anthony Lane (Gold Coast Goldstars CC)
DNS Craig Cahill (Gold Coast Goldstars CC)
DNS Gary Parkin (C.A.T.S.)
DNS Matthew Wolstencroft (Sunshine Coast Cycle Club)
DNS Simon Price (Hobart Wheelers)
DNS Anthony Comino (St Kilda Cycling Club Inc)
DNS Adam Pyke (Mornington Cycling Club)
DNS Lee Bolden (Southern Districts CC)
DNS Ben Vanderkamp (Victor Cycle Club)
DNS Daniel Van Martin (Broncos)
 
Elite Women
 
1 Helen Kelly (Carnegie Caulfield CC)                  33.01
2 Lorian Graham (Astra Cycling Club)
3 Elizabeth Williams (Carnegie Caulfield CC)
4 Jenny MacPherson (Carnegie Caulfield CC)
5 Leonie Aisbett (Parramatta CC)
6 Natalie Bates (Parramatta CC)
7 Liz Young (Lifecycle Cycling Club)
8 Anna Jones-Perrin (Hamilton Pine River Wheelers)
9 Jessica Ridder (Bathurst CC)
DNF Dale Tye (New Zealand Cycling Federation)
DNF Jade Gilbertson (New Zealand Cycling Federation)
DNF Nadene Boyle (New Zealand Cycling Federation)
DNF Vickie Burr (New Zealand Cycling Federation)
DNF Zoe Southwell (Parramatta CC)
DNF Wendy Walker (Penrith Panthers CC)
DNF Christine Riakos (St George CC)
DNF Natasha Harrigan (St George CC)
DNF Tara Fryc (Darwin Cycling Club)
DNF Alexis Rhodes (Norwood CC.)
DNF Gemma Kenessy (Brunswick Cycling Club Inc)
DNF Vanessa Crawford (Carnegie Caulfield CC)
DNF Loretta Mabin (Leongatha Cycling Club Inc)
DNF Katrina Bolden (Southern Districts CC)
DNF Wendy Habermann (Lifecycle Cycling Club)
DNF Linda Cappello (Canberra Cycling Club)
DNS Toni Bradshaw (New Zealand Cycling Federation)
DNS Rebecca Locke (Central Coast CC)
DNS Laura Bortolozzi (St George CC)
DNS Kate MacCulloch (Lifecycle Cycling Club)
DNS Liz lawson (Lifecycle Cycling Club)
DNS Rebecca Preston (Sunshine Coast Cycle Club)
DNS Amy Safe (Norwood CC.)
DNS Claire Baxter (Hawthorn Citizens Youth Club)
DNS Marina Duvnjak (New Zealand Cycling Federation)