Pick'n Pay 94.7 Cycle Challenge - NE
South Africa, November 16, 2003
Ian McLeod crowns HSBC's domination
By Jean-Francois Quenet in Johannesburg
A delighted Ian McLeod
Photo ©: J-F Quenet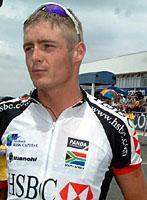 HSBC has claimed its fourth win a row in seven editions of the Pick'n Pay 94.7 Cycle Challenge with a royal 1-2 from Ian McLeod and Neil McDonald, and a brave and smart team captain Nic White coming 5th not far behind. "We haven't had our best season this year but the last month has showed the real depth there is in this team", a delighted McLeod commented after the finish.
For years South African professional cyclists have requested longer distances. Most of the races are around 100 kilometres long, which is a handicap for the locals, such as Rabobank's Robert Hunter, when they go overseas with the dream of entering the big world of pro cycling. The 94.7 extended its route to 180km, which now appeared to be too long so late in the season. Indeed, in between the first and last 45 km, the break being made for good by 42 riders away, it was a nice Sunday ride without much action and mostly on the small ring.
Team Barloworld was the most represented outfit with six men: Jacques Fullard, Eric Berthou, Jaco De Witt, Sean Sullivan, Jacque Le Roux and James Perry. But HSBC wasn't far behind with five representatives: Jock Green, Darren Lill, White, McLeod and McDonald. And HSBC was absolutely dominating when the front group split under the action of White, who went for a solo move with 45km to go. He eventually got caught but among the 10 men away for good, three were from HSBC and only one from Barloworld: Frenchman Berthou, who suffered cramps at the end and couldn't contest the win to his rivals when McDonald attacked, later joined by McLeod.
Tarmo Raudsepp from Estonia
Photo ©: J-F Quenet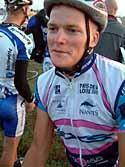 The surprise came from Estonian visitor Tarmo Raudsepp, who eventually ran 4th after coming across to the lead group by himself. He's only 21 years of age and usually races in France for Nantes 44 Cyclisme, finishing 10th in the European Championship this year. He's been deeply affected by the death of Lauri Aus, whose first coach was Raudsepp's father, but he's determined to make a cycling career and Jaan Kirsipuu ranks him as the next pro to be coming from Estonia, a small country (1.3 million inhabitants) with a great dedication to cycling.
However, there was nothing to do against HSBC here. "The winner could have been anyone of us," McLeod commented. "When Nic (White) attacked, it was a bit far to go but he had a super form. As for myself, I suppose it's my biggest win ever." McDonald also intends to shine on the European cycling scene. HSBC had a try in the Tour de l'Avenir this year and they hope for a second chance in 2004 because their goal is to bring South African young talents to the highest level possible.
There are actually a lot of cycling talents in this country, and also a fabulous and modern concept of racing that brings thousands of fun riders to ride the same route as the professionals. But there is also a lot to learn from the traditional organizations. As long as South Africa asks the riders to line up at 5:00 am for racing, finish their race in the middle of unexperienced cyclo-tourists and wait for 5 hours for their prize money before being told that it'll be transferred on their account later, it'll be difficult to attract champions from overseas. But the potential for the sport in this part of the world is phenomenal.
Photography
Images by Jean-Francois Quenet
Results - 180 km
1 Ian McLeod (RSA) HSBC               4.31.45
2 Neil McDonald (RSA) HSBC
3 Rupert Rheeder (RSA) Omega
4 Tarmo Raudsepp (Est) Nantes 44 Cyclisme
5 Nicholas White (RSA) HSBC
6 Eric Berthou (Fra) Team Barloworld
7 Malcolm Lange (RSA) Microsoft
8 Simon Kessler (RSA) Microsoft
9 Jeff Howes (RSA) HSBC
10 Reinhardt Du Plessis (RSA) Minolta
11 Morne Bester (RSA) Microsoft
12 Alex Galvin (RSA) Minolta
13 JP Du Randt (RSA) Panda
14 Jacques Fullard (RSA) Team Barloworld
15 Christopher Esch (RSA) CVT/CSC