7th Noosa International Criterium - NE
Australia, November 1, 2003
2002 Results Results Past winners
Davis beats international field in Noosa
Allan Davis (O.N.C.E.-Eroski)
Photo ©: Supersport Images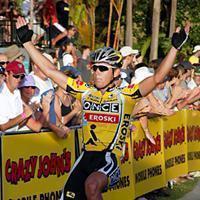 Bundaberg's Allan Davis today beat an international field to win the Crazy John's Noosa Criterium in front of a massive crowd which was treated to the most exciting race seen at Noosa.
Right from the start an attack came from Adrian Booth and Brad Payne, but was short lived, falling off on the first lap. As the field reeled them back in it was then the turn of Rabobank professional Matt Hayman to go off the front, only to suffer a puncture, returning to the race after his lap out.
Robbie McEwen was prominent at the head of the race trying to close down all the breaks and keep the pack together for a sprint. Unfortunately his efforts were in vain as four riders attacked the bunch on lap ten, including Matt White, and US riders Michael Sayers, Scott Moninger and Alex Candelario.
The start
Photo ©: Supersport Images

White was soon joined by Davis then David Betts, the Australian boys then squared up the battle for the line with three US professional riders. Meanwhile, McEwen and Bernard Sulzberger then headed off in pursuit of the six but it didn't eventuate.
Moninger was doing most of the work to drive the break and it soon blew out to a 20sec gap to the main bunch. Mark Roland attacked out of the bunch in an attempt to bridge the gap, but was swallowed up a few laps later.
The action
Photo ©: Supersport Images

The leaders continued to extend their lead and in the closing stages they had 30sec over the main bunch. It was then that the riders started to jockey for positions and one attack after the other split the group with first Moninger and then Sayers taking the lead for a lap each until Davis and White closed down the break. In the melee that eventuated, Betts was dropped from the front group leaving five riders to sprint for the finish.
Davis carried his fantastic form the World Championships where he finished 12th to outsprint the bunch in a fantastic victory and courageous battle to claim his first win here at Noosa.
Davis will next start in the Grand Prix Cycling Series at South Bank on 7/8 December then Surfers Paradise on 13/14 December.
Photography
Images by www.supersportimages.com
Results
1 Allan Davis (Aus) O.N.C.E.-Eroski
2 Mike Sayers (USA) Health Net Cycling Team
3 Alex Candelario (USA) Prime Alliance Cycling Team
4 Scott Moninger (USA)
5 Matthew White (Aus) US Postal presented by Berry Floor
6 David Betts (Aus)
7 Aaron Kemps (Aus)
8 Jeremy Betts (Aus)
9 Ashley Hutchinson (Aus)
10 Mark Roland (Aus) Giant Asia Racing Team


Past winners
2002 Matt White (Aus) US Postal
2001 Robbie McEwen (Aus) Domo-Farm Frites
2000 Scott Sunderland (Aus) Palmans
1999 Marcel Wüst (Ger)
1998 Stuart O'Grady (Aus)
1997 Robbie McEwen (Aus)

Past winners by Mario Stiehl, www.world-of-cycling.com