Tartu Tänavasõit - 1.3
Estonia, May 24, 2003
2002 Results Results Past winners
Estonian revenge, Kirsipuu stays on top
By Jean-François Quénet in Tartu
Jaan Kirsipuu again
Photo: © Jean-Francois Quenet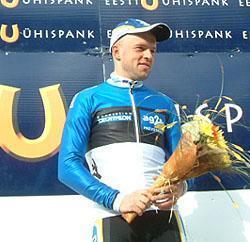 In whatever category the Ühispanga Tartu Tänavasõit is classified by the UCI, as a local criterium in 2001, a 1.5 race in 2002 or a 1.3 race as it is now, the winner remains Ag2r's Jaan Kirsipuu, and for the third time in a row the runner up is Janek Tombak from Cofidis. In third place was Kazimierz Stafiej (Mroz), who took the position occupied last year by Oleg Grishkine and two years ago by Jacky Durand. Durand was again in the breakaway today, and took eighth place after suffering from cramps for the first time in his long career.
The eight men, definitely the eight best riders taking part in the Estonian Cycling Weekend, went away after one third of the race. Four couples were up there: Kirsipuu and Erki Pütsep (Ag2r), Tombak and Philippe Gaumont (Cofidis), Stafiej and Zbigniew Piatek (Mroz), Durand and Arvis Piziks from the mixed team but respectively wearing the colours of Fdjeux.com and CSC.
A trio tried to go across: Frédéric Bessy (Cofidis), Kjell Carlstrom (Finland National team) and Stéphane Barthe (Oktos-MBK), but they couldn't bridge the gap. The smaller teams quickly realised it was game over against the top class riders who had races like Four Days of Dunkirk and the Tour of Picardy in their legs. Everyone in the front group was highly motivated and there was a strong battle for who would be the best Estonian today, after losing to Frenchmen Arnaud Coyot and Médéric Clain yesterday.
No one gave any easy time to Kirsipuu, obviously the man to watch. He wasn't happy after his defeat the day before in Tallinn. "I didn't have the legs", he said prior to the start in his home town of Tartu. Tombak is also from Tartu. His house is even located 300 metres away from the finishing line. He attacked with two laps to go but couldn't drop his older rival, only his teammate Pütsep together with 'Dudu'.
Tombak and the Polish riders attacked a few times at the end, so Kirsipuu did it as well with 2.5km to go. Then it was clear for the others that they wouldn't drop him before the finish. His move destroyed some legs, so he was able to sprint as he wanted to, but Tombak finished very close. "Three wins in a row for Kirsipuu here is enough," the Cofidis rider said. "Next year I'll be the winner."
"It was quite difficult for me at the beginning of the race because I was still not feeling good like yesterday," Kirsipuu commented. "At the end, I was okay. It was hard to control the race when I was alone and they kept attacking me. I'm so happy to win in front my public from home."
It's Kirsipuu's eighth win this year and probably not the easiest one. The weather conditions were quite difficult to handle at the beginning of the race. It was so fast that only 26 riders were able to finish.
Kirsipuu has one more reason to be delighted: he can be very proud of his compatriots to organise international races so well. Estonia will be a part of the European Union next year and there's no doubt that on the cycling map, this country doesn't only exist for sending good riders to western European teams, like the other nations from the former Soviet Union. Here there are also fantastic crowds, passionate media, good sponsors, everything that the sport needs at the time when some races are cancelled.
"Tombak asked us at the beginning of the year if we could bring a team," Cofidis' directeur sportif Alain Deloeil explained. "It was possible with the cancellation of the Midi Libre. And we're very happy we did it. Coming back to France with a win - Coyot in Tallinn - and 169 UCI points is very good for us."
For sure other big pro teams will get used to flying to Estonia for racing in the near future. On Sunday, the city of Tartu will welcome between 3,000 and 4,000 fun riders, including the professionals who took part in the two 1.3 races.
Photography
Images by Jean-Francois Quenet
Results - 187 km
1 Jaan Kirsipuu (Est) Ag2R-Prevoyance                      4.29.46 (41.70 km/h)
2 Janek Tombak (Est) Cofidis, Le Crédit par Téléphone
3 Kazimierz Stafiej (Pol) Mroz
4 Zbigniew Piatek (Pol) Mroz
5 Arvis Piziks (Lat) Mixed Team
6 Philippe Gaumont (Fra) Cofidis, Le Crédit par Téléphone     0.06
7 Erki Pütsep (Est) Ag2R-Prevoyance                           2.27
8 Jacky Durand (Fra) Mixed Team                               2.33
9 Frederic Bessy (Fra) Cofidis, Le Crédit par Téléphone       8.24
10 Soren Pedersen (Den) Glud & Marstrand Horsens              8.27
11 Jacek Walczak (Pol) Legia
12 Mederic Clain (Fra) Cofidis, Le Crédit par Téléphone       9.15
13 Daniel Okrucinski (Pol) Bonda
14 Krzysztof Krzywy (Pol) Mroz                                9.23
15 Johan Svensson (Swe) Team Mälarenergi                     10.49
16 Piotr Mazur (Pol) Bonda                                   10.50
17 Oskari Kargu (Est) Estonian National Team
18 Pawel Szaniawski (Pol) Legia
19 Jonathan Dayus (GBr) Team Ringerike
20 Anatoli Chaburka (Blr) Belarus National Team
21 Mikko Autio (Fin) Finland National Team 1
22 Adam Wadecki (Pol) Mroz
23 Sebastian Jezierski (Pol) Legia                           16.13
24 Andrei Laptsenkov (Est) Estonian U23 Team 2               18.19
25 Kay Kermer (Ger) Marco Polo Cycling Team
26 Olegs Melehs (Lat) Lativan National Team

Sprints

Sprint 1

1 Jacek Walczak (Pol) Legia
2 Andris Nauduzs (Lat) Mixed Team
3 Kazimierz Stafiej (Pol) Mroz

Sprint 2

1 Jacky Durand (Fra) Mixed Team
2 Zbigniew Piatek (Pol) Mroz
3 Janek Tombak (Est) Cofidis, Le Crédit par Téléphone

Sprint 3

1 Jacky Durand (Fra) Mixed Team
2 Kazimierz Stafiej (Pol) Mroz
3 Janek Tombak (Est) Cofidis, Le Crédit par Téléphone


Past winners
2002  Jaan Kirsipuu (Est) Estonia 1