Recently on Cyclingnews.com
60th Tour of Somerville - NE
Somerville, New Jersey, USA, May 26, 2003
2002 Results Results Past winners
Uhl-righty then!
Photo © Zui Hanafusa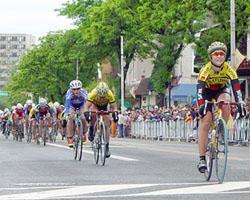 Photos
Images by Zui Hanafusa/www.miyashojicycling.org
A delighted Jonas Carney (Prime Alliance) takes out the 60th Tour of Somerville from Jeff Hopkins (Jittery Joe's). Unfortunately for Australian Hopkins, he was beaten into second place twice in as many days.
Reversal of fortune - after being beaten into second by teammate Laura Van Gilder (Saturn) the previous day, Sarah Uhl (Saturn) gets one back in the Mildred Kugler Women's Open.
Cat 2 winner David Wiswell from Easten, CT, was a convincing winner over Jared Babik and Michael Friedman.
Results
Pro/1 - Kugler-Anderson Memorial Tour of Somerville
 
1 Jonas Carney, Winter Park, CO
2 Jeff Hopkins, Athens, GA
3 Sebastian Alexandre, Linden, NJ
4 Joe Papp, Glen Spey, NY
5 Victor Rapinski, Leicester, MA
6 Marty Nothstein, Orefield, PA
7 Oscar Pineda, Ft Lee, NJ
8 Juan Jose Haedo, Linden, NJ
9 Daniel Schmatz, Longmont, CO
10 Jon Wirsing, Glen Allen, VA
11 Alejandro Acton, Charlotte, NC
12 Emelito Heredia, Ft Lee, NJ
13 Jesse Lawler, Athens, GA
14 Russell Hemby, Hoboken, NJ
15 Jackson Stewart, Los Gotas, CA
16 Eric Saunders, Palms, CA
17 Nic Brown, Yorktown Heights, NY
18 Chris Pic, Dahlonega, GA
19 Andres Rolando, Queens, NY
20 Steve Speaks, Millville, PA
21 Jasen Snow, Tallahassee, FL
22 Mark Light, Millersville, PA
23 Dean LeBerge, Napa, CA
24 Frank Travieso, Davie, FL
25 Jonathan Page, Cambridge, MN
26 Gregory Wolf, Weston, CT
27 Steve Mlujeak, Somerville, NJ
28 Kevin Monahan, Northhampton, MA
29 Alvaro Tardaguila, Glen Spey, NY
30 Peter Sanowar, Sudbury, ON
31 Roberto Gaggioli, Santa Rosa, CA
32 Gustavo Artacho, Linden, NJ
33 Chad Gibson, Greensboro, NC
34 Jason Schreider, Wantagh, NY
35 Ken Dille, Belmont, MA
36 JD Durso, Morris Plains, NJ
37 Ian Dille, Alexandria, VA
38 Kent Wheeler, Somerville, NJ
39 Cameron Holland, Newport News, VA
40 Ward Solar, Glen Spey, NY
 
Mildred Kugler Women's Open
 
1 Sarah Uhl, Perkasie, PA
2 Laura Van Gilder, Cresco, PA
3 Tina Mayolo-Pic, Longmont, CO
4 Julia Oh, Cambridge, MA
5 Charmian Breon, Williamsport, PA
6 Lynn Gaggioli, Santa Rosa, CA
7 Allie Worfel, Oxford, PA
8 Melissa Holt, 
9 Christina Underwood, Charlotte, NC
10 Emma Rickards, Melbourne, Australia
11 Brooke O'Connor, Billerica, MA
12 Veronica Martinez, Trexlertown, PA
13 Sheba Farrin, Washington, DC
14 Catherine Powers, NY, NY
15 Kathleen Billington, Utica, NY
16 Diana Gillani, Cornwall, NY
17 Rebecca McClintock, Gainsville, FL
18 Tina Kunstbeck, Altoona, PA
19 Marianne Stover, Portland, Me
20 Alison Fischer, Harleysville, PA
21 Kristy Scheffenacker, Baltimore, MD
22 Lauren Frances, Trexlertown, PA
23 Alicia Genest, Providence, RI
24 Graciela Martinez, Trexlertown, PA
25 Larssyn Staley, Beavertoen, OR
26 Alexis Brown, Marietta, GA
27 Kim Rowe, Scotch Plains, NJ
28 Katherine Sherwin, Chevy Chase, MD
29 Melissa Sanborn, Eugene, OR
30 Candice Blickem, Winston Salem, NC
31 Tracy Sproule, Charlotte, NC
32 Nanci Modica, NY, NY
33 Yvonne Ilton, Cambridge, MA
34 Lisa Jellett, Springfield, NJ
35 Jackie Paull, Hackettstown, NJ
36 Lisa Maxwell, Windham, ME
37 Sandy Espeseth, Trexlertown, PA
38 Julie Mongle, New Haven, CT
39 Alisha Little, Boone, NC
40 Kari Kelly, Longmont, CO
 
Masters ­ Category 3/4, 35+
 
1 Scott Butler, Nazareth, PA
2 Ulises Ventura, NY, NY
3 Aubrey Gordon, Reading, PA
4 Dimitri Buben, Taney town, MD
5 Darco Lalevic, Philadelphia, PA
6 Gil Hatton, Alburtis, PA
7 Thomas Cromie, Mt Kisco, NY
8 Bill Gros, Lessburg, VA
9 Michael King, Woodbridge, VA
10 Paul Marchese, W Cosackie, NY
11 Harold Francis, Baldwin, NY
12 John Donnelly, Clermont, FL
13 Kevin Gallo, Alexandria, VA
14 Patrick Gellineau, Brookly, NY
15 Juan Pimentel, Bronx, NY
16 Tim Huneck, Norwalk, CT
17 Mark Krajci, Danielsville, PA
18 Eric Schlauch, Califon, NJ
19 Richard Gonzalez, Bayonne, NJ
20 Art McHugh, Breiniesville, PA
 
Category 2
 
1 David Wiswell, Easten, CT
2 Jared Babik, Gibsonia, PA
3 Michael Friedman, Allentown, PA
4 Jura DeAlmeida, Trenton, NJ
5 Jeremy Miller, Bethlehem, PA
6 Larry Detris, Breiningsville, PA
7 Dan Underwood, Franklin, TN
8 Anthony Alessio, New Haven, CT
9 Adam Pantastico, N Plainfield, NJ
10 Charlton Hoag, Scotch Plains, NJ
11 Jeffrey Craddock, Dennisport, MA
12 Jason Skalski, Orchard Park, NV
13 Zachery Soucy, Keene, NH
14 Stephen Badger, Woodbury, CT
15 Michael Price, Lake Ridge, VA
16 Ramon Benitez, Silver Spring, MD
17 Inson Wood, NY, NY
18 Colman O'Connor, Cambridge, MA
19 Waclaw Godycki, NY, NY
20 Jason Meidhof, Arlington, VA
 
Juniors
 
1 Matt Crane, Old Greenwich, CT
2 Zach Taylor
3 Tim Carpenter, Roselle Park, NJ
4 Devin Flaherty
5 Ben Barczewski, Schneckville, PA
6 Elliot Gaunt, Lock Haven, PA
7 Brad Viera, Lancaster, PA
8 Michael Chauner, West Chester, PA
9 Cameron Hurst, Morristown, NJ
10 Paul Ward, Virginia Beach, VA
11 Taylor Brown
12 Alden Towler, Bethesda, MD
13 Kirk Carlsen, Sandown, NH
14 Pete Carolan, Morristown, NJ
15 Gavriel Epstein, Englewood, NJ
16 Chad Young, Lancaster, PA
17 Tom Coupe, Tilton, NH
18 Geoffrey Johnson, Cumberland, ME
19 Nate Buyon, Manasquan, NJ
20 Matt Reale, Wainscott, NY


Past winners
2002 Jonas Carney (USA)
2001 Eric Wohlberg (Can) 
2000 Jonas Carney (USA)
1999 Eric Wohlberg (Can)
1998 Jonas Carney (USA)
1997 Brett Aitken (Aus)
1996 Julian Dean (NZl)
1995 Jason Snow (USA)
1994 Jame Carney (USA)
1993 Gary Anderson (NZl)
1992 Jonas Carney (USA)
Past winners by Mario Stiehl, Berlin