Captech Classic - NE
USA, May 30, 2003
Gaggioli and Dionne win sprint finales at inaugural Captech Classic
By Ray Easterling
Dionne delights the nightime crowd
Photo © Ray Easterling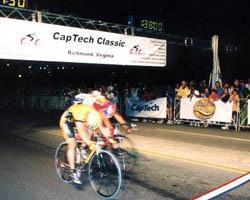 Charles Dionne (Saturn) and Lynn Gaggioli (Velo Bella/Four Winds Trading) came away as the big winners at the inaugural CapTech Classic held in Richmond, Va. Friday evening.
With many teams treating CapTech and Sunday's Clarendon Cup as warm-ups for next week's Wachovia series, the high-quality fields made for attacking racing - and the $12,500 purse in the men's race didn't hurt either.
A month of gray skies opened up to sunny, bright blue skies for the start of the women's event. The race saw a series of unsuccessful attacks on the hilly course before a breakaway stuck. With 12 laps to go, Lynn Gaggioli followed Ina Teutenberg's move off the front of the field, along with one other rider. With nine laps to go, the break was down to just Gaggioli and Teutenberg, but the pair worked together to stay away to the finish, where Gaggioli won the sprint. Nine seconds later, Tina Mayolo-Pic (Diet Rite) won the bunch sprint to pick up third place.
"I knew it was Ina's race so I just watched her," Gaggioli said of the German sprinter. "We got a gap and we just worked hard to make it as big a gap as possible."
Chase group
Photo © Ray Easterling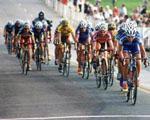 "It was pretty hard," Teutenberg said of her efforts. "Lynn Gaggioli was pulling hard and she was doing a lot of work and she was just way stronger than I am today."
"I think most of the time when women get in a break with Ina, we all accept that Ina is going to take first and then we all take whatever place we get after that." Gaggioli said. "I was thinking to myself that I'm just going to go as hard as I can, get some good training and [if] I get second place [that's] fine to me... I guess I beat her."
"I lost the sprint," said Teutenberg, who is only a few days removed from 10 strenuous days of racing in France. "It's a bad thing for a sprinter."
Winding it up early on
Photo © Ray Easterling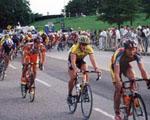 While several attempts were made throughout the first half of the men's race, the winning breakaway did not come until 15 men gapped the field with 21 laps remaining in the 50-lap, 45-mile race, quickly building a 50 second margin thanks to the fierce pacesetting of Phil Zajicek (Saturn). A group sprint for a prime would bring the rest of the 124-man field to within 36 seconds but they would get no closer.
For all but the last lap, Zajicek had Saturn teammates Mark McCormack and Charles Dionne in tow, along with Ben Brooks and Mariano Frederick of Jelly Belly and Prime Alliance's Alex Candelario and Danny Pate. Saturn's pairing of Dionne and McCormack was to be decisive. With the remainder of the Saturn team maintaining control at the head of the field, the 15 stayed away till the finale. Led out by McCormack through the final turn, Dionne edged out Brooks and Candelario on the line.
"I know whoever had that last corner first wins," said Brooks of the final turn onto the straightaway when asked what tactical moves he'd reconsider.
"My teammates did a super job," Dionne said following his second win of the season. "I just had to do a couple strokes on the pedals and that was it. Today just turned out well. We had a strategy and it worked just perfectly for today."
Photos
Images by Ray Easterling
Women
Men
Results

Men
 
1 Charles Dionne (Can) Saturn                         21.23.26
2 Ben Brooks (Aus) Jelly Belly
3 Alex Candalario (USA) Prime Alliance
4 Danny Pate (USA) Prime Alliance                         0.01
5 Robert Gaggioli (Ita) 3 Sports
6 Troy White (USA) Sierra Nevada
7 Mariano Friedrick (USA) Jelly Belly
8 Jacob Erker (USA) Schroeder Iron                        0.02
9 Jon Wirsing (USA) Snow Valley
10 Tim Larkin (USA) Ofoto-Lombardi
11 Nic Brown (Aus) Lemond Fitness
12 Scottie Wells (USA) West Virginia-Christianburg
13 Mark McCormack (USA) Saturn                            0.03
14 Peter Knudsen (USA) Schroeder Iron                     0.10
15 Phil Zajicek (USA) Saturn                              0.17
16 Dean Rittenhouse (USA) Team Lite Bites                 0.21
17 Jeff Hopkins (Aus) Jittery Joes                        0.33
18 Robbie Ventura (USA) US Postal
19 Jackson Stewart (USA) Ofoto-Lombardi                   0.34
20 Cameron Holland (USA) Snow Valley-Newport News
 
Women
 
1 Lynn Gaggioli (USA) Velo-Bella                      19.36.45
2 Ina Teutenberg (Ger) Saturn
3 Tina Mayolo Pic (USA) Diet Rite                         0.54
4 Joanne Kiesanowski (USA) Diet Rite
5 Laura Van Gilder (USA) Saturn
6 Sarah Uhl (USA) Saturn                                  0.55
7 Emma Rickards (Aus) worldiff.comm
8 Julie Oh (USA) Wheelworks
9 Joan Wilson (USA) TDS Telecom
10 Megan Elliott (USA) Saturn                             0.56
11 Emily Gloeckner (USA) TDS Telecom                      0.57
12 Kristy Scheffenacker (USA) Snow Valley                 0.58
13 Rebecca McClintock (USA) Colavita Bolla                1.00
14 Kori Kelly (USA) Diet Rite
15 Ashley Kimmet (USA) Colavita Bolla
16 Lee Manderson (Aus) Freddie Fu                         1.02
17 Cybil DiGuistini (USA) Diet Rite
18 Christie Kelley (USA) Snow Valley                      1.04
19 Susan Hefler (USA) LSV/Trek/VW                         1.05
20 Lenora Felker (USA) Freddie Fu                         1.10