Italian National Championships - CN
Saltara, Italy, June 24-29, 2003
Main Page Results Previous Day
Day 6 - June 29: Elite Men's Road Race, 241.4 km
Outnumbered Bettini powers to Italian title
By Tim Maloney, European Editor
Bettini's back
Photo: © Sirotti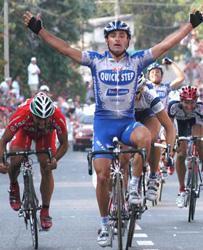 At the end of a tough, combative race for the Italian Pro Road Title in Saltara, Paolo Bettini (Quick.Step-Davitamon) showed he was the toughest, most combative Italian of all, winning a dramatic sprint victory over Filippo Pozzato (Fassa Bortolo) and last year's Italian pro champ Salvatore (Toto) Commesso (Saeco). Just like his Milano-San Remo win three months ago, Bettini's Quick.Step-Davitamon teammate Luca Paolini gave the 29 year old Tuscan from La California a perfect lead-out on the difficult uphill finish.
"Today was a special day, because (Quick.Step-Davitamon) only had four riders at the start...so it was a difficult race to contain," said Bettini post-race. "We found ourselves behind the action a lot of times, but I felt good all day and thanks to my teammates, it all worked out. As for Luca (Paolini...what can I say? We make a great team!"
Quick.Step-Davitamon's Bramati and Paolini had to pull back a last kilometre move by Lampre's Manuel Quinziato, who attacked but couldn't hold off the final charge. "After I flopped in the TT championship, I was attacking all day but nothing stuck. I told myself I really had to try at the end and I got close...," said the disappointed Lampre man.
More disappointed were the zebra striped Domina Vacanze-Elitron boys, who rode well all day in search of a second Italian pro title after Mondini took the TT crown earlier in the week. Paolo Valoti, who only joined DV-E in April was active all day but came up short in the final.
"I am really disappointed", an emotional Valoti told RAI-TV. "I was going really well all day, especially the last few laps, but when we had a good break on the final lap, Basso stopped working and we got caught."
How it unfolded
Big work from a small team
Photo: © Sirotti

On a hot, sunny day in the Marche region of central Italy, the 51st edition of the Coppa Valle del Metauro were raced as the Italian Pro Championships. The percorso was over 241.4km, 17 laps of a relatively easy 14.2km circuit among the hills of the Metauro Valley, starting and finishing in Saltara. 170 riders took the start and a break of three, including Formaggio Pinzolo Fiave' riders Di Biase and Baliani took an early lead of almost 9'00, but by the halfway point, they were pulled back under the impulsion of Saeco and Fassa Bortolo.
The Italian championships always offer non-stop action and this year's edition was no exception but with the easy circuit, it was difficult to make a selection. The main action started with 3 laps to go, when Selle Italia rider De Angeli got a 30" solo lead, but he was reeled with 30km to go as the penultimate lap approached. Carrera (Colpack) attacked and led through the start/finish with two to go, with youngster Andrea Masciarelli (Vini Caldirola) and two others hot on his heels.
Oldster Gianni Faresin (Gerolsteiner) powered up from behind with Missaglia (Lampre) active as well, while Bettini rode cleverly to follow each key move but not show himself too much. Michele Bartoli (Fassa Bortolo) was also active, but the aging Warrior seemed to be lacking the punch of his former protege' Bettini today. With 18km to go, Paolo Valoti (Domina Vacanze-Elitron) made a strong solo move. Valoti was the winner of the Coppa Bernocchi last season, but the punchy rider from Bergamo was left without a team when Index-Alexia folded until DV-E picked him up in April.
Valoti was a real danger man and thus the inexhaustible Faresin chased him down, but this move blew the chasing group to pieces. As soon as Valoti was caught near the summit of the 3km climb to the finish in Saltara to start the final lap, Tenax youngster Pietropoli made a strong counter move to go clear. He was quickly joined by Bertagnolli, who went past into the lead. Fassa danger man Ivan Basso came up to Bertagnolli with 12km to go and when Valoti and his rapid DV-E teammate Giunti joined them, this looked like the key move of the day.
Alas for Domina Vacanze-Elitron's aspirations, Basso got orders to stop working from Fassa DS Ferretti. His Fassa teammate Roberto Petito's massive pulls were bringing the group with Michele Bartoli back to the front of the race. At the base of the descent with 5km to go, there was still a break out front, but with Saeco joining Fassa in the pursuit, soon it was "gruppo compatto" of 30 riders after six hours of hot, hard racing.
Quinziato made a daring bid for freedom with 1200 meters to go, but it was all Quick.Step-Davitamon and a resurgent Bettini who grabbed the win ahead of Pozzato and Commesso to add the "Maglia Tricolore" to his collection.
Next stop for the diminutive puncher and his new Italian championship jersey: The Tour De France, where Bettini hopes to add at least a stage win to his prestigious palmares.
Photography
Images by Fotoreporter Sirotti
Results
1 Paolo Bettini (Quick.Step-Davitamon)                6.06.05 (39.56 km/h)
2 Filippo Pozzato (Fassa Bortolo)
3 Salvatore Commesso (Saeco)
4 Matteo Carrara (De Nardi-Colpak)
5 Franco Pellizotti (Alessio)
6 Davide Rebellin (Gerolsteiner)
7 Mirko Celestino (Saeco)
8 Luca Paolini (Quick.Step-Davitamon)
9 Giuliano Figueras (Ceramiche Panaria-Fiordo)
10 Massimo Codol (Mercatone Uno-Scanavino)
11 Andrea Masciarelli (Vini Caldirola-So.Di)
12 Gabriele Missaglia (Lampre)
13 Daniele Nardello (Team Telekom)
14 Manuel Quinziato (Lampre)
15 Renzo Mazzoleni (Team Macandina-Kewa Rad-Vc Gippingen)
16 Filippo Simeoni (Domina Vacanze-Elitron)
17 Michele Bartoli (Fassa Bortolo)
18 Ivan Fanelli (Amore & Vita Beretta)                   0.30
19 Marco Velo (Fassa Bortolo)
20 Ivan Basso (Fassa Bortolo)                            0.36
21 Giovanni Lombardi (Domina Vacanze-Elitron)
22 Ivan Ravaioli (Mercatone Uno-Scanavino)
23 Gianni Gianni Faresin (Gerolsteiner)
24 Paolo Bossoni (Vini Caldirola-So.Di)
25 Alessandro Spezialetti (Saeco)
26 Claudio Astolfi (Domina Vacanze-Elitron)
27 Marco Serpellini (Lampre)
28 Nicola Loda (Fassa Bortolo)
29 Marco Gili (Vini Caldirola-So.Di)                     1.05
30 Oscar Pozzi (Tenax)
31 Michele Scarponi (Domina Vacanze-Elitron)
32 Ruggero Marzoli (Alessio)                             1.23
33 Angelo Lopeboselli (Cofidis, Le Credit Par Telepho    1.27
34 Fabio Sacchi (Saeco)
35 Andrea Rossi (De Nardi-Colpak)
36 Pietro Caucchioli (Alessio)
37 Cristian Pepoli (Saeco)
38 Rinaldo Nocentini (Formaggi Pinzolo Fiave-Ciarr. Immob)
39 Leonardo Bertagnolli (Saeco)
40 Massimo Apollonio (Vini Caldirola-So.Di)
41 Alessio Galletti (Saeco)
42 Massimo Giunti (Domina Vacanze-Elitron)               1.40
43 Gian Matteo Fagnini (Team Telekom)                    1.47
44 Davide Bramati (Quick.Step-Davitamon)                 1.49
45 Ellis Rastelli (Gerolsteiner)                         2.13
46 Andrea Moletta (Mercatone Uno-Scanavino)              2.25
47 Paolo Valoti (Domina Vacanze-Elitron)
48 Gianpaolo Mondini (Domina Vacanze-Elitron)
49 Roberto Petito (Fassa Bortolo)                        2.40
50 Daniele Pietropolli (Tenax)
51 Mauro Gerosa (Vini Caldirola-So.Di)                   4.40
52 Nicola Gavazzi (Saeco)
53 Salvatore Scamardella (Landbouwkrediet-Colnago)
54 Gianluca Sironi (Vini Caldirola-So.Di)
55 Corrado Serina (Team Endurasport.Com-Principia)
56 Luca De Angeli (Colombia-Selle Italia)
57 Cristiano Frattini (Tenax)
58 Massimiliano Gentili (Domina Vacanze-Elitron)
59 Daniele Bennati (Domina Vacanze-Elitron)
60 Fabio Testi (Mercatone Uno-Scanavino)
61 Michele Colleoni (De Nardi-Colpak)
62 Eddy Serri (Mercatone Uno-Scanavino)
63 Leonardo Zanotti (De Nardi-Colpak)
64 Giacomo Battistel (Amore & Vita Beretta)              7.25

Starters: 133
Classified: 64