French National Championships - CN
Plumelec, France, June 26-29, 2003
Main Page Results Previous Day
Day 3 - June 29: Elite Men's Road Race, 222.4 km
Rous pays tribute to his departed teammate
By Jean-François Quénet in Plumelec
Rous honours Salanson
Photo: © AFP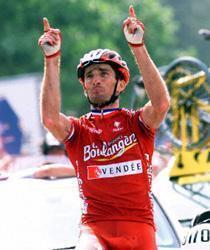 Didier Rous (Brioches la Boulangère) has won the French national championship for the second time, just two years after the first one. He achieved it at the end of a 75 kilometre solo breakaway and crossed the line, with 33 seconds to spare on his former Festina teammate Richard Virenque, pointing to the sky with fingers raised. Like Lance Armstrong in the 1995 Tour de France in memory of his recently deceased colleague Fabio Casartelli, Rous paid tribute to Fabrice Salanson, who died three weeks ago in his hotel room in Germany.
"Fafa, I've won it for you", were Rous' first words after the race. Then he broke down in tears. There was a lot of emotion at the end of the French championship. Salanson's parents were there in Plumelec, just like on May 31st when they supported him the day he finished fourth in A travers le Morbihan, exactly at the same place.
"Today I can safely say I finished wiped out," Rous commented to French television. "But, I succeeded in winning... For the team, and for Fabrice most of all."
"What a special day, we have thought about him all day, it's the same as if we had lost a son," directeur sportif Jean-René Bernaudeau commented. Brioches La Boulangère couldn't remember their beloved rider in a better way. It is actually very much a team victory, even though Rous stayed away by himself for so long. When 14 riders gathered in the front with six laps of 13.9km to go, six of them were from La Boulangère: Rous, Jérôme Pineau, Franck Renier, Walter Bénéteau, Thomas Voeckler and Anthony Geslin. They clearly outnumbered Laurent Lefèvre and Patrice Halgand (Jean Delatour), also the lone Richard Virenque (Quickstep) who was away since the fourth lap, Christophe Moreau (Crédit Agricole), Benoît Salmon (Phonak), Sandy Casar (Fdjeux.com), Andy Flickinger (Ag2r) and Nicolas Jalabert (CSC).
Perfect teamwork
Photo: © AFP

Rous didn't wait for an attack. There was still 75km to go but he's not afraid of long raids. Already in 1997 he launched his attack from afar to win the stage to Montbéliard in the Tour de France. He also claimed the 2001 Tour de Vendée after staying alone for 115km. "Every time we did anything, there were La Boulangère riders everywhere," Virenque commented. "The situation was ideal for Rous. Basically we rode for second place."
Virenque was quite a happy runner-up. "It's encouraging. In ten or fifteen days I should be OK," he added.
Christophe Moreau regretted that "it was a shit race. It's unbelievable that we didn't manage to collaborate when the Brioches were dropped from our chasing group."
Moreau was the most active in front of the chasing group, so he kept the gap to Rous just around two minutes, but when he attacked with Salmon with four laps to go, the Phonak rider didn't get any help from him. We can hardly see former Festina-affair riders riding strongly against each other. It didn't happen today and Rous and Virenque made an interesting 1-2. Third man Halgand is also a former Festina rider, but he and Lefevre, both leaders of Jean Delatour, couldn't get any help from an individual. But there wasn't any team effort that could have worked against La Boulangère.
Photography
Images by AFP Photo
Results
1 Didier Rous (Brioches La Boulangère)            5.31.16 (40.28 km/h)
2 Richard Virenque (Quick Step-Davitamon)            0.33
3 Patrice Halgand (Jean Delatour)                    0.58
4 Benoît Salmon (Phonak)                             1.00
5 Andy Flickinger (Ag2r-Prevoyance)                  1.04
6 Jérôme Pineau (Brioches La Boulangère)             1.08
7 Christophe Moreau (Crédit Agricole)                1.18
8 Sandy Casar (FDJeux.com)                           5.21
9 Nicolas Jalabert (CSC)
10 Laurent Lefevre (Jean Delatour)                   5.23
11 Anthony Geslin (Brioches La Boulangère)           5.50
12 Thomas Voeckler (Brioches La Boulangère)
13 Franck Renier (Brioches La Boulangère)
14 Walter Beneteau (Brioches La Boulangère)
15 Philippe Gaumont (Cofidis)                       11.06
16 Franck Pencole (MBK-Oktos)                       11.08
17 Samuel Dumoulin (Jean Delatour)                  11.44
18 Frédéric Bessy (Cofidis)                         11.47
19 Vincent Cali (Flanders-IteamNova)                11.51
20 Sébastien Hinault (Crédit Agricole)              12.03

Courtesy of velomania.net