GP Luneray - NE - 1.12.1
France, June 9, 2003
2002 Results Results Past winners
An Estonian wins... again!
By Jean Francois Quenet
Tarmo Raudsepp - the next Jaan Kirsipuu?
Photo: © Jean Francois Quenet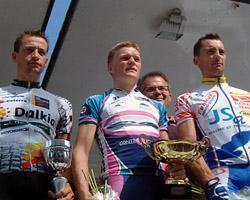 The GP Luneray is one of the most prestigious one day race on the French national calendar. It's usually a leg of the division 1 series, but not this year. The winner, Tarmo Raudsepp of Nantes 44 Cyclisme, comes from Estonia, and imitated his compatriot Erki Pütsep now with Ag2r and previously with EC St-Etienne.
This year's GP Luneray was an international race with two Belgian squads and the US national team taking part in the event. The local riders from Normandy were highly motivated, especially VC Rouen who had three men out of ten in the main breakaway of the day. A counter attack of five riders came accross with 13km to go. One of them was Raudsepp who went on his own 3km before the finish. In a magnificent effort he resisted to the return of Camille Bouquet of VC Roubaix, who is one of the most experienced amateur French riders.
It's not often that an Under 23 wins an elite race in this country. It's the second time for Raudsepp after the Tour du canton de Gémozac on May 18. In an interview with French monthly Cyclisme International to be published this week, Jaan Kirsipuu believes Raudsepp is the next Estonian to turn professional.
Photos
Images by Jean Francois Quenet
Tarmo Raudsepp (Nantes 44 Cyclisme) becomes the second Estonian in a row to win the GP Luneray after Ag2r's Erki Putsep.
The podium - (from L to R) Camille Bouquet (VC Roubaix), Tarmo Raudsepp (Nantes 44 Cyclisme) and Romain Mary (French police).
Results, 139km

1 Tarmo Raudsepp (Est) Nantes 44 Cyclisme           3.05.03
2 Camille Bouquet (Fra) VC Roubaix                     0.09
3 Romain Mary (Fra) French police                      0.29
4 Tony Cavet (Fra) VC Evreux
5 Franck Charrier (Fra) CC Nogent-sur-Oise             0.35
6 John Gadret (Fra) VC Roubaix                         0.53
7 Anthony Testa (Fra) CC Nogent-sur-Oise               0.59
8 Damien Pommereau (Fra) VC Beauvais
9 Christophe Guillome (Fra) VC Roubaix                 1:05
10 Samuel Bonnet (Fra) CC Nogent-sur-Oise
11 Mickael Leveau (Fra) VC Rouen
12 Pascal Lievens (Bel) VZW Team Pollentier
13 Franck Perque (Fra) CC Nogent-sur-Oise
14 Laurent Chotard (Fra) VC Beauvais
15 Benoît Legrix (Fra) DIVPA
16 Pascal Carlot (Fra) CC Nogent-sur-Oise
17 Cédric Jourdan (Fra) CG Orléans
18 Yves Delarue (Fra) CM Aubervilliers
19 Frédéric Simon (Fra) US Créteil
20 Cédric Loue (Fra) VC Rouen
21 Riadh Baatout (Tun) VC Rouen
22 William Bonnet (Fra) CC Nogent-sur-Oise
23 Sébastien Turgot (Fra) Nantes 44 Cyclisme
24 Yannick Rebouilleau (Fra) Nantes 44 Cyclisme
25 Nicolas Paris (Fra) CC Nogent-sur-Oise
26 Mickael Malle (Fra) Panorimmo.com
27 Kevin Bouchard-Hall (USA) US National team
28 Kristof Dereeper (Bel) VZW Team Pollentier
29 Vincent Soquin (Fra) USSA Pavilly-Barentin
30 Mikhail Andreyev (Kaz) Panorimmo.com 
Past winners
2002 Erki Putsep (Est) EC St-Etienne-Loire