14th Giro d'Italia Femminile - 2.9.1
Italy, July 4-13, 2003
Main Page Results Previous Stage Next Stage
Stage 6 - July 10: Jesi (AN) - Jesi (AN), 89 km
Hat-trick for Schleicher; Pucinskaite safe in yellow
By Kristy Scrymgeour
Schleicher yet again!
Photo: © Ianuale Photo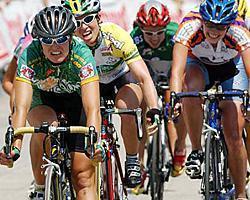 Regina Schleicher (Chirio Forno D'asolo) won the bunch sprint again today making this her third win in a row, successfully completing the hat trick. Schleicher's teammate Stahurskaia was again instrumental in bringing her to the line in good position, only this time they doubled taking first and second place in front of Australian Olivia Gollan.
The 89km stage was not a flat sprinters' stage like the previous day and once again the race was aggressive from the gun. After only 7km Fabiana Luperini (Team 2002 Aurora Rsm) and Jennifer Manefield (Australian National Team) made their move for the first break of the day. They were soon caught and counter attacks followed with Luperini and the Australian team being the primary aggressors. The second lap of three was where the real damage occurred and the leading bunch was whittled down to 60 riders due to the constant attacks.
Eventually a group of seven escaped the field to form the most convincing break of the day. In the group were Emma James (Australian National Team), Silvia Parietti Prato (Marathon Bike), Giorgia Bronzini (Acca Due O Pasta Zara), Natalya Kachalka (Team 2002 Aurora Rsm), Dotsie Cowden (T-Mobile), Alessandra Cappellotto (Team Conero) and Luperini. This group stayed away for 30km but was eventually brought back as teams worked hard to bring it back for a bunch sprint.
With 2km to go Mari Holden (T-Mobile) put in one final attack and got a convincing gap on the field only to be reeled in with a few hundred meters remaining in the race as the sprint began. Schleicher, mirroring the success of Alessandro Petacchi (Fassa Bortolo) in the men's tour de France, powered to the line to take yet another stage win.
With 57 riders finishing together in the bunch today, the general classification remains unchanged and Edita Pucinskaite (Michela Fanini Record Box) wears the yellow jersey going into tomorrow's double stage day, only 5 seconds in front of Nicole Braendli (Prato Marathon Bike-Aki).
Cyclingnews spoke with Director of the Australian team, James Victor after the race who was happy with Gollan's podium position today. "We try every day and today we were in all the moves along with Luperini who was very aggressive. None of the moves eventuated, but it was great to get on the podium in the end. We are going to keep being aggressive every day as the girls are all feeling good."
The podium
Photo: © Ianuale Photo

Tomorrow riders face a double day of racing with a 47km race along the coast in the morning followed by 45km circuit race in the after noon. Both stages are flat and will be another opportunity for the sprinters in the field to try and get past Schleicher, or maybe for Schleicher to win again.
Photography
Images by Ianuale Photo
Results
1 Regina Schleicher (Ger) Chirio Forno D:asolo                     2.11.26
2 Zinaida Stahurskaia (Blr) Chirio Forno D:asolo                          
3 Olivia Gollan (Aus) Australian National Team                            
4 Andrea Bosman (Ned) Ondernemers Van Nature - Mx3                        
5 Edita Pucinskaite (Ltu) Michela Fanini Record Box                       
6 Katia Longhin (Ita) Acca Due O Pasta Zara-Mx2                           
7 Joulia Martissova (Rus) Prato Marathon Bike - CP2                       
8 Jolanta Polikieviciute (Ltu) Team 2002 Aurora Rsm                       
9 Tania Belvederesi (Ita) Team Conero - CP3                               
10 Joana Sommariba Arrola (Spa) Bizkaia Spiuk Sabeco                      
11 Hayley Rutheford (Aus) Road Runner Guerciotti Rrg                      
12 Giorgia Bronzini (Ita) Acca Due O Pasta Zara-Mx2                       
13 Oenone Wood (Aus) Australian National Team                             
14 Nicole Braendli (Swi) Prato Marathon Bike-Aki Mx1                      
15 Luisa Tamanini (Ita) Team 2002 Aurora Rsm                              
16 Barbara Lancioni (Ita) Road Runner Guerciotti Rrg                      
17 Edita Kubelskiene (Ltu) Team Fanini Systemdata-CP4                     
18 Loes Gunnewijk (Ned) Ondernemers Van Nature - Mx3                      
19 Modesta Vzesniauskaite (Ltu) Acca Due O Pasta Zara-Mx2                 
20 Noemi Cantele (Ita) Acca Due O Pasta Zara-Mx2                          
21 Kristin Armstrong (USA) Team T Mobile                                  
22 Giovanna Troldi (Ita) Cicli Fatato - CP1                               
23 Doris Ruano Sanchon (Spa) Spanish National Team                        
24 Kimberly Bruckner (USA) Team T Mobile                                  
25 Eneritz Iturriaga (Spa) Team 2002 Aurora Rsm                           
26 Sigrid Corneo (Ita) Road Runner Guerciotti Rrg                         
27 Alessandra D:ettore (Ita) Cicli Fatato - CP1                           
28 Maribel Moreno Allue (Spa) Spanish National Team                       
29 Ghita Beltman (Ned) Acca Due O Pasta Zara-Mx2                          
30 Rasa Polikieviciute (Ltu) Team 2002 Aurora Rsm                         
31 Alessandra Cappellotto (Ita) Team Conero - CP3                         
32 Fabiana Luperini (Ita) Team 2002 Aurora Rsm                            
33 Lisabeth Simper (Den) Michela Fanini Record Box                        
34 Valeria Pintos (Arg) Chirio Forno D:asolo                              
35 Sandrine Marcuz (Fra) Michela Fanini Record Box                        
36 Zita Urbonaite (Ltu) Acca Due O Pasta Zara-Mx2                         
37 Barbara Cazzaniga (Ita) Road Runner Guerciotti Rrg                     
38 Montserrat Alonso Bernal (Spa) Team Catalunya Aliverti Kookai          
39 Lorian Graham (Aus) Australian National Team                           
40 Dotsie Cowden (USA) Team T Mobile                                      
41 Marianna Lorenzoni (Ita) Team Catalunya Aliverti Kookai                
42 Chantal Beltman (Ned) Acca Due O Pasta Zara-Mx2                        
43 Rosa Maria Membrives Jimenez (Spa) Spanish National Team               
44 Stacey Peters (USA) Team T Mobile                                      
45 Kim Shirley (Aus) Road Runner Guerciotti Rrg                           
46 Nataliya Kachalka (Ukr) Team 2002 Aurora Rsm                           
47 Letizia Giardinelli (Ita) Michela Fanini Record Box                    
48 Mette Fischer Andreasen (Den) Team Sats                                
49 Baukje Doedee (Ned) Team Catalunya Aliverti Kookai                     
50 Sharon Van Essen (Ned) Ondernemers Van Nature - Mx3                    
51 Irene Zuccioni (Ita) Prato Marathon Bike-Aki Mx1                       
52 Silvia Parietti (Ita) Prato Marathon Bike-Aki Mx1                      
53 Mercedes Cagigas Amedo (Spa) Spanish National Team                     
54 Kim Anderson (USA) Team T Mobile                                       
55 Amy Safe (Aus) Australian National Team                                
56 Emanuela Brigati (Ita) Road Runner Guerciotti-CP2                      
57 Amber Neben (USA) Team T Mobile                                        
58 Anna Gusmini (Ita) Road Runner Guerciotti Rrg                      0.18
59 Maria Bravo Soba Rosa (Spa) Spanish National Team                  0.27
60 Mari Holden (USA) Team T Mobile                                    0.33
61 Arantzazu Azpiroz Azpiroz (Spa) Bizkaia Spiuk Sabeco               0.35
62 Natalie Bates (Aus) Australian National Team                       6.53
63 Emma James (Aus) Australian National Team                          6.55
64 Lyn Gaggioli (USA) Velo Bella Four - CP1                           7.19
65 Rhonda Quick (USA) Women First - CP4                                   
66 Felicia Greer (Can) Team Sats                                          
67 Tina Mayolo Pic (USA) Team Sats                                    7.28
68 Helen Kelly (Aus) Team Sats                                            
69 Francesca Castrucci (Ita) Prato Marathon Bike-Aki Mx1                  
70 Ketty Manfrin (Ita) Team 2002 Aurora Rsm                               
71 Alessandra Fatato (Ita) Cicli Fatato - CP1                         8.38
72 Costanza Martinelli (Ita) Cicli Fatato - CP1                       8.41
73 Lisa Bacchiavini (Ita) Gauss Team - CP3                            8.50
74 Soledad Fernandez (Spa) Team Conero - CP3                              
75 Vanessa Saccomani (Ita) Team Conero - CP3                              
76 Gloria Chirio (Ita) Chirio Forno D:asolo                               
77 Silvia Valsecchi (Ita) Road Runner Guerciotti Rrg                      
78 Emanuela Citracca (Ita) Cicli Fatato - CP1                             
79 Trine Hansen (Den) Team Sats                                           
80 Marina Khodtchenkova (Rus) Chirio Forno D:asolo                        
81 Meredith Rener Miller (USA) Team Sats                                  
82 Vania Rossi (Ita) Team Scrigno - CP3                                   
83 Janildes Silva Fernandes (Bra) Prato Marathon Bike-Aki Mx1             
84 Jennifer Manefield (Aus) Australian National Team                      
85 Sandra Santanyes (Spa) Team Catalunya Aliverti Kookai                  
86 Sabrina Emmasi (Ita) Prato Marathon Bike-Aki Mx1                       
87 Valentina Alessio (Ita) Team Catalunya Aliverti Kookai                 
88 Corrien Van Haastert (Ned) Ondernemers Van Nature - Mx3                
89 Martina Corazza (Ita) Team 2002 Aurora Rsm                             
90 Veronica Leal Balderas (Mex) SCF Cycling Team Pratomagno-CP2           
91 Maribel Diaz Esquivel (Mex) SCF Cycling Team Pratomagno-CP2            
92 Ana Ramirez Bauxell (Spa) Spanish National Team                        
93 Agurtzane Elorriaga Derteano (Spa) Bizkaia Spiuk Sabeco                
94 Maitane Telletxea Lopez (Spa) Bizkaia Spiuk Sabeco                     
95 Naiara Telletxea Lopez (Spa) Bizkaia Spiuk Sabeco                      
96 Fatima Blazquez Lozano (Spa) Spanish National Team                     
97 Alexandra Noles (Ger) Team Conero - CP3                                
98 Ilenia Lazzaro (Ita) Chirio Forno D:asolo                         10.30
99 Alessandra Borchi (Ita) Michela Fanini Record Box                      
100 Rochelle Gilmore (Aus) Acca Due O Pasta Zara-Mx2                      
101 Lisa Gatto (Ita) Postumia 73 - CP4                                    
102 Katie Brown (Aus) Team Catalunya Aliverti Kookai                      
103 Lidia Arcangeli (Ita) Road Runner Guerciotti Rrg                      
104 Bertine Spijkerman (Ned) Ondernemers Van Nature - Mx3                 
105 Azucena Benito Sanchez (Spa) Team Catalunya Aliverti Kookai           
106 Josune Murillo Elkano (Spa) Bizkaia Spiuk Sabeco                      
107 Maria Ellinikaki (Gre) Team Catalunya Aliverti Kookai                 
108 Emanuela Azzini (Ita) Road Runner Guerciotti-CP2                      
109 Heidgen Shawn (USA) TDS Peloton - CP4                                 
110 Minke Van Dongen (Ned) Ondernemers Van Nature - Mx3                   
111 Cristina Alcade Huertanos (Spa) Bizkaia Spiuk Sabeco                  
112 Sonia Rocca (Ita) Team Conero - CP3                                   
113 Monica Ceccon (Ita) Michela Fanini Record Box                         
TC Alicia Palop Rubio (Spa) Spanish National Team                         
TC Charmian Breon (USA) Team Sats                                         
DNF Naomi Williams (Aus) Australian National Team                         
DNF Alessia Quarta (Ita) Team Fanini - CP4                                
DNS Kristy Miggels (Ned) Ondernemers Van Nature - Mx3                     
DNS Svetlana Boubnenkova (Rus) Chirio Forno D:asolo                       
 
General classification after stage 6
 
1 Edita Pucinskaite (Ltu) Michela Fanini Record Box               16.09.35
2 Nicole Braendli (Swi) Prato Marathon Bike-Aki Mx1                   0.05
3 Joana Sommariba Arrola (Spa) Bizkaia Spiuk Sabeco                   3.25
4 Jolanta Polikieviciute (Ltu) Team 2002 Aurora Rsm                   4.15
5 Rasa Polikieviciute (Ltu) Team 2002 Aurora Rsm                      4.46
6 Zinaida Stahurskaia (Blr) Chirio Forno D:asolo                      5.22
7 Modesta Vzesniauskaite (Ltu) Acca Due O Pasta Zara-Mx2              5.48
8 Olivia Gollan (Aus) Australian National Team                        5.49
9 Amber Neben (USA) Team T Mobile                                     5.55
10 Doris Ruano Sanchon (Spa) Spanish National Team                    6.06
11 Eneritz Iturriaga (Spa) Team 2002 Aurora Rsm                       6.11
12 Kimberly Bruckner (USA) Team T Mobile                              6.21
13 Fabiana Luperini (Ita) Team 2002 Aurora Rsm                        6.22
14 Oenone Wood (Aus) Australian National Team                        10.15
15 Maribel Moreno Allue (Spa) Spanish National Team                  10.35
16 Tania Belvederesi (Ita) Team Conero - CP3                         10.46
17 Katia Longhin (Ita) Acca Due O Pasta Zara-Mx2                     10.48
18 Sandrine Marcuz (Fra) Michela Fanini Record Box                   10.49
19 Lisabeth Simper (Den) Michela Fanini Record Box                   10.52
20 Luisa Tamanini (Ita) Team 2002 Aurora Rsm                         10.56
21 Marianna Lorenzoni (Ita) Team Catalunya Aliverti Kookai           11.02
22 Alessandra Cappellotto (Ita) Team Conero - CP3                    11.03
23 Dotsie Cowden (USA) Team T Mobile                                 11.06
24 Barbara Lancioni (Ita) Road Runner Guerciotti Rrg                 11.08
25 Kristin Armstrong (USA) Team T Mobile                             11.16
26 Zita Urbonaite (Ltu) Acca Due O Pasta Zara-Mx2                    11.25
27 Andrea Bosman (Ned) Ondernemers Van Nature - Mx3                  11.30
28 Hayley Rutheford (Aus) Road Runner Guerciotti Rrg                 11.40
29 Sigrid Corneo (Ita) Road Runner Guerciotti Rrg                    12.05
30 Kim Anderson (USA) Team T Mobile                                  12.18
31 Mari Holden (USA) Team T Mobile                                   12.22
32 Silvia Parietti (Ita) Prato Marathon Bike-Aki Mx1                 13.11
33 Joulia Martissova (Rus) Prato Marathon Bike - CP2                 13.36
34 Lorian Graham (Aus) Australian National Team                      13.54
35 Giovanna Troldi (Ita) Cicli Fatato - CP1                          16.51
36 Nataliya Kachalka (Ukr) Team 2002 Aurora Rsm                      17.48
37 Kim Shirley (Aus) Road Runner Guerciotti Rrg                      18.02
38 Barbara Cazzaniga (Ita) Road Runner Guerciotti Rrg                18.56
39 Lyn Gaggioli (USA) Velo Bella Four - CP1                          21.41
40 Ghita Beltman (Ned) Acca Due O Pasta Zara-Mx2                     22.04
41 Mercedes Cagigas Amedo (Spa) Spanish National Team                22.08
42 Amy Safe (Aus) Australian National Team                           22.35
43 Tina Mayolo Pic (USA) Team Sats                                   22.37
44 Natalie Bates (Aus) Australian National Team                      23.09
45 Stacey Peters (USA) Team T Mobile                                 24.07
46 Edita Kubelskiene (Ltu) Team Fanini Systemdata-CP4                25.27
47 Rosa Maria Membrives Jimenez (Spa) Spanish National Team          27.10
48 Felicia Greer (Can) Team Sats                                     27.27
49 Noemi Cantele (Ita) Acca Due O Pasta Zara-Mx2                     27.59
50 Chantal Beltman (Ned) Acca Due O Pasta Zara-Mx2                   28.58
51 Mette Fischer Andreasen (Den) Team Sats                           29.52
52 Irene Zuccioni (Ita) Prato Marathon Bike-Aki Mx1                  32.36
53 Maria Bravo Soba Rosa (Spa) Spanish National Team                 32.44
54 Emma James (Aus) Australian National Team                         34.13
55 Giorgia Bronzini (Ita) Acca Due O Pasta Zara-Mx2                  35.08
56 Regina Schleicher (Ger) Chirio Forno D:asolo                      35.25
57 Alessandra D:ettore (Ita) Cicli Fatato - CP1                      36.21
58 Letizia Giardinelli (Ita) Michela Fanini Record Box               37.22
59 Sharon Van Essen (Ned) Ondernemers Van Nature - Mx3               37.53
60 Loes Gunnewijk (Ned) Ondernemers Van Nature - Mx3                 39.26
61 Montserrat Alonso Bernal (Spa) Team Catalunya Aliverti Kookai     46.12
62 Lisa Bacchiavini (Ita) Gauss Team - CP3                           47.19
63 Meredith Rener Miller (USA) Team Sats                             49.22
64 Francesca Castrucci (Ita) Prato Marathon Bike-Aki Mx1             49.34
65 Emanuela Citracca (Ita) Cicli Fatato - CP1                        50.21
66 Fatima Blazquez Lozano (Spa) Spanish National Team                50.37
67 Valeria Pintos (Arg) Chirio Forno D:asolo                         50.54
68 Helen Kelly (Aus) Team Sats                                       54.05
69 Ana Ramirez Bauxell (Spa) Spanish National Team                   55.02
70 Rhonda Quick (USA) Women First - CP4                              57.56
71 Gloria Chirio (Ita) Chirio Forno D:asolo                          58.22
72 Silvia Valsecchi (Ita) Road Runner Guerciotti Rrg                 58.41
73 Soledad Fernandez (Spa) Team Conero - CP3                         58.46
74 Alessandra Fatato (Ita) Cicli Fatato - CP1                      1.00.31
75 Janildes Silva Fernandes (Bra) Prato Marathon Bike-Aki Mx1      1.00.34
76 Rochelle Gilmore (Aus) Acca Due O Pasta Zara-Mx2                1.00.53
77 Azucena Benito Sanchez (Spa) Team Catalunya Aliverti Kookai     1.02.39
78 Sandra Santanyes (Spa) Team Catalunya Aliverti Kookai           1.03.32
79 Anna Gusmini (Ita) Road Runner Guerciotti Rrg                   1.04.50
80 Sabrina Emmasi (Ita) Prato Marathon Bike-Aki Mx1                1.06.30
81 Alexandra Noles (Ger) Team Conero - CP3                         1.06.50
82 Martina Corazza (Ita) Team 2002 Aurora Rsm                      1.07.43
83 Emanuela Brigati (Ita) Road Runner Guerciotti-CP2               1.10.38
84 Ketty Manfrin (Ita) Team 2002 Aurora Rsm                        1.11.11
85 Veronica Leal Balderas (Mex) SCF Cycling Team Pratomagno-CP2    1.11.23
86 Marina Khodtchenkova (Rus) Chirio Forno D:asolo                 1.11.25
87 Vania Rossi (Ita) Team Scrigno - CP3                            1.14.15
88 Costanza Martinelli (Ita) Cicli Fatato - CP1                    1.16.23
89 Sonia Rocca (Ita) Team Conero - CP3                             1.16.42
90 Trine Hansen (Den) Team Sats                                    1.17.23
91 Bertine Spijkerman (Ned) Ondernemers Van Nature - Mx3           1.19.36
92 Josune Murillo Elkano (Spa) Bizkaia Spiuk Sabeco                1.20.45
93 Baukje Doedee (Ned) Team Catalunya Aliverti Kookai              1.22.21
94 Lidia Arcangeli (Ita) Road Runner Guerciotti Rrg                1.22.26
95 Emanuela Azzini (Ita) Road Runner Guerciotti-CP2                1.23.22
96 Jennifer Manefield (Aus) Australian National Team               1.23.48
97 Naiara Telletxea Lopez (Spa) Bizkaia Spiuk Sabeco               1.26.04
98 Vanessa Saccomani (Ita) Team Conero - CP3                       1.26.51
99 Valentina Alessio (Ita) Team Catalunya Aliverti Kookai          1.27.59
100 Minke Van Dongen (Ned) Ondernemers Van Nature - Mx3            1.28.22
101 Heidgen Shawn (USA) TDS Peloton - CP4                          1.29.51
102 Corrien Van Haastert (Ned) Ondernemers Van Nature - Mx3        1.32.53
103 Lisa Gatto (Ita) Postumia 73 - CP4                             1.35.17
104 Arantzazu Azpiroz Azpiroz (Spa) Bizkaia Spiuk Sabeco           1.36.03
105 Agurtzane Elorriaga Derteano (Spa) Bizkaia Spiuk Sabeco        1.39.13
106 Cristina Alcade Huertanos (Spa) Bizkaia Spiuk Sabeco           1.39.32
107 Maitane Telletxea Lopez (Spa) Bizkaia Spiuk Sabeco             1.41.04
108 Alessandra Borchi (Ita) Michela Fanini Record Box              1.41.11
109 Maribel Diaz Esquivel (Mex) SCF Cycling Team Pratomagno-CP2    1.42.06
110 Monica Ceccon (Ita) Michela Fanini Record Box                  1.48.39
111 Ilenia Lazzaro (Ita) Chirio Forno D:asolo                      1.50.34
112 Maria Ellinikaki (Gre) Team Catalunya Aliverti Kookai          1.56.20
113 Katie Brown (Aus) Team Catalunya Aliverti Kookai               2.02.09
 
Points classification
 
1 Zinaida Stahurskaia (Blr) Chirio Forno D:asolo                        48 pts
2 Regina Schleicher (Ger) Chirio Forno D:asolo                          45
3 Edita Pucinskaite (Ltu) Michela Fanini Record Box                     40
4 Jolanta Polikieviciute (Ltu) Team 2002 Aurora Rsm                     29
5 Nicole Braendli (Swi) Prato Marathon Bike-Aki Mx1                     28
6 Bertine Spijkerman (Ned) Ondernemers Van Nature - Mx3                 27
7 Joana Sommariba Arrola (Spa) Bizkaia Spiuk Sabeco                     25
8 Rasa Polikieviciute (Ltu) Team 2002 Aurora Rsm                        18
9 Andrea Bosman (Ned) Ondernemers Van Nature - Mx3                      18
10 Olivia Gollan (Aus) Australian National Team                         15
11 Oenone Wood (Aus) Australian National Team                           15
12 Katia Longhin (Ita) Acca Due O Pasta Zara-Mx2                        15
13 Modesta Vzesniauskaite (Ltu) Acca Due O Pasta Zara-Mx2               14
14 Amber Neben (USA) Team T Mobile                                      14
15 Tina Mayolo Pic (USA) Team Sats                                      12
16 Tania Belvederesi (Ita) Team Conero - CP3                            10
17 Mari Holden (USA) Team T Mobile                                      10
18 Francesca Castrucci (Ita) Prato Marathon Bike-Aki Mx1                 8
19 Zita Urbonaite (Ltu) Acca Due O Pasta Zara-Mx2                        6
20 Loes Gunnewijk (Ned) Ondernemers Van Nature - Mx3                     6
21 Valentina Alessio (Ita) Team Catalunya Aliverti Kookai                6
22 Luisa Tamanini (Ita) Team 2002 Aurora Rsm                             5
23 Amy Safe (Aus) Australian National Team                               5
24 Rochelle Gilmore (Aus) Acca Due O Pasta Zara-Mx2                      5
25 Joulia Martissova (Rus) Prato Marathon Bike - CP2                     4
26 Maria Bravo Soba Rosa (Spa) Spanish National Team                     4
27 Giorgia Bronzini (Ita) Acca Due O Pasta Zara-Mx2                      4
28 Letizia Giardinelli (Ita) Michela Fanini Record Box                   4
29 Kristin Armstrong (USA) Team T Mobile                                 3
30 Edita Kubelskiene (Ltu) Team Fanini Systemdata-CP4                    3
31 Soledad Fernandez (Spa) Team Conero - CP3                             3
32 Doris Ruano Sanchon (Spa) Spanish National Team                       2
33 Maribel Moreno Allue (Spa) Spanish National Team                      2
34 Giovanna Troldi (Ita) Cicli Fatato - CP1                              2
35 Ana Ramirez Bauxell (Spa) Spanish National Team                       2
36 Eneritz Iturriaga (Spa) Team 2002 Aurora Rsm                          1
37 Kimberly Bruckner (USA) Team T Mobile                                 1
38 Fabiana Luperini (Ita) Team 2002 Aurora Rsm                           1
39 Alessandra D:ettore (Ita) Cicli Fatato - CP1                          1
40 Anna Gusmini (Ita) Road Runner Guerciotti Rrg                         1
 
Mountains classification
 
1 Jolanta Polikieviciute (Ltu) Team 2002 Aurora Rsm                     65 pts
2 Edita Pucinskaite (Ltu) Michela Fanini Record Box                     52
3 Zinaida Stahurskaia (Blr) Chirio Forno D:asolo                        51
4 Nicole Braendli (Swi) Prato Marathon Bike-Aki Mx1                     48
5 Joana Sommariba Arrola (Spa) Bizkaia Spiuk Sabeco                     34
6 Rasa Polikieviciute (Ltu) Team 2002 Aurora Rsm                        26
7 Oenone Wood (Aus) Australian National Team                            16
8 Regina Schleicher (Ger) Chirio Forno D:asolo                           9
9 Fabiana Luperini (Ita) Team 2002 Aurora Rsm                            7
10 Eneritz Iturriaga (Spa) Team 2002 Aurora Rsm                          7
11 Tina Mayolo Pic (USA) Team Sats                                       7
12 Marianna Lorenzoni (Ita) Team Catalunya Aliverti Kookai               6
13 Mari Holden (USA) Team T Mobile                                       5
14 Andrea Bosman (Ned) Ondernemers Van Nature - Mx3                      5
15 Maribel Moreno Allue (Spa) Spanish National Team                      4
16 Amber Neben (USA) Team T Mobile                                       4
17 Hayley Rutheford (Aus) Road Runner Guerciotti Rrg                     4
18 Giorgia Bronzini (Ita) Acca Due O Pasta Zara-Mx2                      4
19 Francesca Castrucci (Ita) Prato Marathon Bike-Aki Mx1                 3
20 Dotsie Cowden (USA) Team T Mobile                                     3
21 Silvia Parietti (Ita) Prato Marathon Bike-Aki Mx1                     2
22 Zita Urbonaite (Ltu) Acca Due O Pasta Zara-Mx2                        1
23 Sandrine Marcuz (Fra) Michela Fanini Record Box                       1
24 Nataliya Kachalka (Ukr) Team 2002 Aurora Rsm                          1