14th Giro d'Italia Femminile - 2.9.1
Italy, July 4-13, 2003
Main Page Results Kimberly Bruckner diary Previous Stage Next Stage
Stage 4 - July 8: Frosolone (IS) - San Vito Chietino (CH), 141 km
Schleicher Sprints to win the fourth stage
By Kristy Scrymgeour
Regina Schleicher
Photo: © Ianuale Photo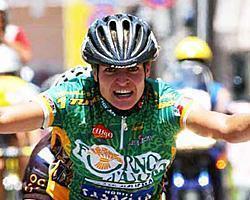 Regina Schleicher (U.S.Chirio Forno d'Asolo) won the 4th stage of the Giro d'Italia Femminile today when sprinted out of a small group of six to take the win over American sprinter Tina Mayolo-Pic (Team S.A.T.S.). The German rider has been riding in Italy for four years now and has become one of the top sprinters in the women's peloton with many wins in the big tours and classics to her name.
Today's 141km stage from Frosolone to San Vito Chietino saw the race come down from the mountains heading for flatter terrain along the Adriatic coast of Italy. Although the parcours looks predominantly downhill on paper, riders still had a few difficult climbs to contend with and a crosswind coming in from the sea. The relief for most riders was the change in weather conditions. After yesterday's stage where a thunderstorm hit midway through the race causing extremely slippery descents resulting in at least 40 crashes during the stage, a dry day was more than welcome.
The stage was aggressive from the start with many non-GC contenders taking their chances for a stage win. A number of breaks formed throughout the day, however it was with 60km to go that the decisive break formed as young Australian rider Amy Safe counterattacked a move forming a small break of six which was eventually bridged to by another six riders forming a lead group of 12 riders who kept their lead until the finish.
The riders in the break worked well together until the final kilometers of the race when Safe continued her aggressive riding and tried to get away. Her attacks split the group a little and coming into the final sprint only six riders were in contention. With 200m to go Schleicher made her move and came around Safe to take the win. Mayolo-Pic took second place in front of Andrea Bosman(Ondernemers Van Nature - Powerplate/Bik) in a very impressive result for her first attempt of the Giro d'Italia. Australian Safe managed to finish in sixth place in an excellent display of aggressive riding.
The podium
Photo: © Ianuale Photo

With the main peloton finishing one minute down on the 12 break away riders the general classification remains the same going into the 5th stage tomorrow. The stage travels a further 101km up the coast from Lanciano to Alba Adriatica and will be undulating to flat, facing more of the same crosswinds from the ocean.
Photography
Images by Ianuale Photo
Results
1 Regina Schleicher (Ger) Chirio Forno D'asolo                     3.31.32
2 Tina Mayolo Pic (USA) Team Sats                                         
3 Andrea Bosman (Ned) Ondernemers Van Nature - Mx3                    0.02
4 Francesca Castrucci (Ita) Prato Marathon Bike-Aki Mx1               0.03
5 Zita Urbonaite (Ltu) Acca Due O Pasta Zara-Mx2                      0.05
6 Amy Safe (Aus) Australian National Team                             0.09
7 Letizia Giardinelli (Ita) Michela Fanini Record Box                 0.16
8 Soledad Fernandez (Spa) Team Conero - CP3                           0.38
9 Ana Ramirez Bauxell (Spa) Spanish National Team                     0.40
10 Anna Gusmini (Ita) Road Runner Guerciotti Rrg                          
11 Azucena Benito Sanchez (Spa) Team Catalunya Aliverti Kookai        0.49
12 Martina Corazza (Ita) Team 2002 Aurora Rsm                         1.06
13 Oenone Wood (Aus) Australian National Team                         1.20
14 Tania Belvederesi (Ita) Team Conero - CP3                              
15 Olivia Gollan (Aus) Australian National Team                           
16 Zinaida Stahurskaia (Blr) Chirio Forno D'asolo                         
17 Jolanta Polikieviciute (Ltu) Team 2002 Aurora Rsm                      
18 Edita Pucinskaite (Ltu) Michela Fanini Record Box                      
19 Modesta Vzesniauskaite (Ltu) Acca Due O Pasta Zara-Mx2                 
20 Fabiana Luperini (Ita) Team 2002 Aurora Rsm                            
21 Joulia Martissova (Rus) Prato Marathon Bike - CP2                      
22 Rasa Polikieviciute (Ltu) Team 2002 Aurora Rsm                         
23 Joana Sommariba Arrola (Spa) Bizkaia Spiuk Sabeco                      
24 Amber Neben (USA) Team T Mobile                                        
25 Nicole Braendli (Swi) Prato Marathon Bike-Aki Mx1                      
26 Eneritz Iturriaga (Spa) Team 2002 Aurora Rsm                           
27 Doris Ruano Sanchon (Spa) Spanish National Team                        
28 Dotsie Cowden (USA) Team T Mobile                                      
29 Katia Longhin (Ita) Acca Due O Pasta Zara-Mx2                          
30 Mette Fischer Andreasen (Den) Team Sats                                
31 Sigrid Corneo (Ita) Road Runner Guerciotti Rrg                         
32 Charmian Breon (USA) Team Sats                                         
33 Maribel Moreno Allue (Spa) Spanish National Team                       
34 Alessandra Cappellotto (Ita) Team Conero - CP3                         
35 Kimberly Bruckner (USA) Team T Mobile                                  
36 Mari Holden (USA) Team T Mobile                                        
37 Rochelle Gilmore (Aus) Acca Due O Pasta Zara-Mx2                       
38 Lisabeth Simper (Den) Michela Fanini Record Box                        
39 Marianna Lorenzoni (Ita) Team Catalunya Aliverti Kookai                
40 Rosa Maria Membrives Jimenez (Spa) Spanish National Team               
41 Luisa Tamanini (Ita) Team 2002 Aurora Rsm                              
42 Montserrat Alonso Bernal (Spa) Team Catalunya Aliverti Kookai          
43 Edita Kubelskiene (Ltu) Team Fanini Systemdata-CP4                     
44 Giorgia Bronzini (Ita) Acca Due O Pasta Zara-Mx2                       
45 Mercedes Cagigas Amedo (Spa) Spanish National Team                     
46 Rhonda Quick (USA) Women First - CP4                                   
47 Kristin Armstrong (USA) Team T Mobile                                  
48 Lorian Graham (Aus) Australian National Team                           
49 Hayley Rutheford (Aus) Road Runner Guerciotti Rrg                      
50 Barbara Lancioni (Ita) Road Runner Guerciotti Rrg                      
51 Helen Kelly (Aus) Team Sats                                            
52 Maria Bravo Soba Rosa (Spa) Spanish National Team                      
53 Lisa Bacchiavini (Ita) Gauss Team - CP3                                
54 Barbara Cazzaniga (Ita) Road Runner Guerciotti Rrg                     
55 Kim Shirley (Aus) Road Runner Guerciotti Rrg                           
56 Sandrine Marcuz (Fra) Michela Fanini Record Box                        
57 Sharon Van Essen (Ned) Ondernemers Van Nature - Mx3                    
58 Svetlana Boubnenkova (Rus) Chirio Forno D'asolo                        
59 Felicia Greer (Can) Team Sats                                          
60 Meredith Rener Miller (USA) Team Sats                                  
61 Kim Anderson (USA) Team T Mobile                                       
62 Lyn Gaggioli (USA) Velo Bella Four - CP1                               
63 Silvia Valsecchi (Ita) Road Runner Guerciotti Rrg                  1.30
64 Noemi Cantele (Ita) Acca Due O Pasta Zara-Mx2                          
65 Stacey Peters (USA) Team T Mobile                                      
66 Emanuela Citracca (Ita) Cicli Fatato - CP1                         1.35
67 Loes Gunnewijk (Ned) Ondernemers Van Nature - Mx3                      
68 Silvia Parietti (Ita) Prato Marathon Bike-Aki Mx1                      
69 Emma James (Aus) Australian National Team                              
70 Nataliya Kachalka (Ukr) Team 2002 Aurora Rsm                           
71 Bertine Spijkerman (Ned) Ondernemers Van Nature - Mx3              1.46
72 Natalie Bates (Aus) Australian National Team                           
73 Alexandra Noles (Ger) Team Conero - CP3                                
74 Gloria Chirio (Ita) Chirio Forno D'asolo                               
75 Alessandra D'ettore (Ita) Cicli Fatato - CP1                           
76 Valeria Pintos (Arg) Chirio Forno D'asolo                              
77 Ghita Beltman (Ned) Acca Due O Pasta Zara-Mx2                          
78 Fatima Blazquez Lozano (Spa) Spanish National Team                 1.49
79 Giovanna Troldi (Ita) Cicli Fatato - CP1                               
80 Chantal Beltman (Ned) Acca Due O Pasta Zara-Mx2                    1.58
81 Ketty Manfrin (Ita) Team 2002 Aurora Rsm                               
82 Alessia Quarta (Ita) Team Fanini - CP4                             2.02
83 Vania Rossi (Ita) Team Scrigno - CP3                               2.12
84 Alessandra Fatato (Ita) Cicli Fatato - CP1                             
85 Emanuela Brigati (Ita) Road Runner Guerciotti-CP2                  2.23
86 Josune Murillo Elkano (Spa) Bizkaia Spiuk Sabeco                       
87 Emanuela Azzini (Ita) Road Runner Guerciotti-CP2                   2.34
88 Lidia Arcangeli (Ita) Road Runner Guerciotti Rrg                   2.38
89 Sandra Santanyes (Spa) Team Catalunya Aliverti Kookai              2.49
90 Sonia Rocca (Ita) Team Conero - CP3                                2.51
91 Minke Van Dongen (Ned) Ondernemers Van Nature - Mx3                2.58
92 Irene Zuccioni (Ita) Prato Marathon Bike-Aki Mx1                   4.02
93 Sabrina Emmasi (Ita) Prato Marathon Bike-Aki Mx1                   4.04
94 Janildes Silva Fernandes (Bra) Prato Marathon Bike-Aki Mx1             
95 Corrien Van Haastert (Ned) Ondernemers Van Nature - Mx3            4.12
96 Trine Hansen (Den) Team Sats                                      13.38
97 Jennifer Manefield (Aus) Australian National Team                      
98 Vanessa Saccomani (Ita) Team Conero - CP3                         13.53
99 Veronica Leal Balderas (Mex) SCF Cycling Team Pratomagno-CP2      13.56
100 Alessandra Borchi (Ita) Michela Fanini Record Box                14.02
101 Heidgen Shawn (USA) TDS Peloton - CP4                                 
102 Valentina Alessio (Ita) Team Catalunya Aliverti Kookai                
103 Marina Khodtchenkova (Rus) Chirio Forno D'asolo                       
104 Lisa Gatto (Ita) Postumia 73 - CP4                                    
105 Costanza Martinelli (Ita) Cicli Fatato - CP1                     21.41
106 Yevgeniya Taransenko (Uzb) SCF Cycling Team Pratomagno-CP2            
107 Maribel Diaz Esquivel (Mex) SCF Cycling Team Pratomagno-CP2           
108 Arantzazu Azpiroz Azpiroz (Spa) Bizkaia Spiuk Sabeco             21.46
109 Alicia Palop Rubio (Spa) Spanish National Team                        
110 Maitane Telletxea Lopez (Spa) Bizkaia Spiuk Sabeco                    
111 Miluse Flaskova Glave (Cze) SCF Cycling Team Pratomagno-CP2           
112 Cristina Alcade Huertanos (Spa) Bizkaia Spiuk Sabeco                  
113 Naiara Telletxea Lopez (Spa) Bizkaia Spiuk Sabeco                     
114 Naomi Williams (Aus) Australian National Team                         
115 Agurtzane Elorriaga Derteano (Spa) Bizkaia Spiuk Sabeco               
116 Vibe Kolding (Den) Michela Fanini Record Box                          
117 Katie Brown (Aus) Team Catalunya Aliverti Kookai                      
118 Baukje Doedee (Ned) Team Catalunya Aliverti Kookai                    
119 Valentina Pinna (Ita) SCF Cycling Team Pratomagno-CP2                 
120 Maria Ellinikaki (Gre) Team Catalunya Aliverti Kookai                 
121 Kristy Miggels (Ned) Ondernemers Van Nature - Mx3                     
122 Roberta Diena (Ita) Cicli Fatato - CP1                                
123 Marica Raina (Ita) Chirio Forno D'asolo                          21.54
124 Ilenia Lazzaro (Ita) Chirio Forno D'asolo                        21.55
125 Monica Ceccon (Ita) Michela Fanini Record Box                         
126 Rebecca Casentini (Ita) Cicli Fatato - CP1                       21.59
 
General classification after stage 3
 
1 Edita Pucinskaite (Ltu) Michela Fanini Record Box               11.36.08
2 Nicole Braendli (Swi) Prato Marathon Bike-Aki Mx1                   0.05
3 Joana Sommariba Arrola (Spa) Bizkaia Spiuk Sabeco                   3.25
4 Jolanta Polikieviciute (Ltu) Team 2002 Aurora Rsm                   4.15
5 Rasa Polikieviciute (Ltu) Team 2002 Aurora Rsm                      4.46
6 Zinaida Stahurskaia (Blr) Chirio Forno D'asolo                      5.28
7 Modesta Vzesniauskaite (Ltu) Acca Due O Pasta Zara-Mx2              5.48
8 Olivia Gollan (Aus) Australian National Team                        5.53
9 Amber Neben (USA) Team T Mobile                                     5.55
10 Doris Ruano Sanchon (Spa) Spanish National Team                    6.06
11 Eneritz Iturriaga (Spa) Team 2002 Aurora Rsm                       6.11
12 Kimberly Bruckner (USA) Team T Mobile                              6.21
13 Fabiana Luperini (Ita) Team 2002 Aurora Rsm                        6.22
14 Oenone Wood (Aus) Australian National Team                        10.15
15 Maribel Moreno Allue (Spa) Spanish National Team                  10.35
16 Tania Belvederesi (Ita) Team Conero - CP3                         10.46
17 Sandrine Marcuz (Fra) Michela Fanini Record Box                   10.49
18 Lisabeth Simper (Den) Michela Fanini Record Box                   10.52
19 Katia Longhin (Ita) Acca Due O Pasta Zara-Mx2                          
20 Luisa Tamanini (Ita) Team 2002 Aurora Rsm                         10.56
21 Marianna Lorenzoni (Ita) Team Catalunya Aliverti Kookai           11.02
22 Alessandra Cappellotto (Ita) Team Conero - CP3                    11.03
23 Dotsie Cowden (USA) Team T Mobile                                 11.06
24 Barbara Lancioni (Ita) Road Runner Guerciotti Rrg                 11.08
25 Kristin Armstrong (USA) Team T Mobile                             11.16
26 Zita Urbonaite (Ltu) Acca Due O Pasta Zara-Mx2                    11.25
27 Andrea Bosman (Ned) Ondernemers Van Nature - Mx3                  11.30
28 Hayley Rutheford (Aus) Road Runner Guerciotti Rrg                 11.40
29 Mari Holden (USA) Team T Mobile                                   11.49
30 Sigrid Corneo (Ita) Road Runner Guerciotti Rrg                    12.05
31 Kim Anderson (USA) Team T Mobile                                  12.18
32 Silvia Parietti (Ita) Prato Marathon Bike-Aki Mx1                 13.11
33 Joulia Martissova (Rus) Prato Marathon Bike - CP2                 13.36
34 Lorian Graham (Aus) Australian National Team                      13.54
35 Lyn Gaggioli (USA) Velo Bella Four - CP1                          14.22
36 Svetlana Boubnenkova (Rus) Chirio Forno D'asolo                   14.40
37 Tina Mayolo Pic (USA) Team Sats                                   15.09
38 Natalie Bates (Aus) Australian National Team                      15.52
39 Giovanna Troldi (Ita) Cicli Fatato - CP1                          16.51
40 Nataliya Kachalka (Ukr) Team 2002 Aurora Rsm                      17.19
41 Kim Shirley (Aus) Road Runner Guerciotti Rrg                      18.02
42 Barbara Cazzaniga (Ita) Road Runner Guerciotti Rrg                18.56
43 Felicia Greer (Can) Team Sats                                     20.08
44 Ghita Beltman (Ned) Acca Due O Pasta Zara-Mx2                     22.04
45 Mercedes Cagigas Amedo (Spa) Spanish National Team                22.08
46 Amy Safe (Aus) Australian National Team                           22.35
47 Stacey Peters (USA) Team T Mobile                                 24.07
48 Edita Kubelskiene (Ltu) Team Fanini Systemdata-CP4                25.27
49 Rosa Maria Membrives Jimenez (Spa) Spanish National Team          27.10
50 Emma James (Aus) Australian National Team                         27.18
51 Noemi Cantele (Ita) Acca Due O Pasta Zara-Mx2                     27.59
52 Chantal Beltman (Ned) Acca Due O Pasta Zara-Mx2                   28.58
53 Mette Fischer Andreasen (Den) Team Sats                           29.52
54 Charmian Breon (USA) Team Sats                                    30.31
55 Maria Bravo Soba Rosa (Spa) Spanish National Team                 32.17
56 Irene Zuccioni (Ita) Prato Marathon Bike-Aki Mx1                  32.36
57 Giorgia Bronzini (Ita) Acca Due O Pasta Zara-Mx2                  35.08
58 Regina Schleicher (Ger) Chirio Forno D'asolo                      35.45
59 Alessandra D'ettore (Ita) Cicli Fatato - CP1                      36.21
60 Letizia Giardinelli (Ita) Michela Fanini Record Box               37.22
61 Sharon Van Essen (Ned) Ondernemers Van Nature - Mx3               37.53
62 Lisa Bacchiavini (Ita) Gauss Team - CP3                           38.29
63 Loes Gunnewijk (Ned) Ondernemers Van Nature - Mx3                 39.26
64 Meredith Rener Miller (USA) Team Sats                             40.32
65 Fatima Blazquez Lozano (Spa) Spanish National Team                40.39
66 Sandra Santanyes (Spa) Team Catalunya Aliverti Kookai             40.56
67 Emanuela Citracca (Ita) Cicli Fatato - CP1                        41.02
68 Francesca Castrucci (Ita) Prato Marathon Bike-Aki Mx1             42.06
69 Montserrat Alonso Bernal (Spa) Team Catalunya Aliverti Kookai     46.12
70 Ana Ramirez Bauxell (Spa) Spanish National Team                        
71 Helen Kelly (Aus) Team Sats                                       46.37
72 Soledad Fernandez (Spa) Team Conero - CP3                         49.27
73 Gloria Chirio (Ita) Chirio Forno D'asolo                          49.32
74 Silvia Valsecchi (Ita) Road Runner Guerciotti Rrg                 49.51
75 Rochelle Gilmore (Aus) Acca Due O Pasta Zara-Mx2                  50.23
76 Rhonda Quick (USA) Women First - CP4                              50.37
77 Valeria Pintos (Arg) Chirio Forno D'asolo                         50.54
78 Alessandra Fatato (Ita) Cicli Fatato - CP1                        51.24
79 Janildes Silva Fernandes (Bra) Prato Marathon Bike-Aki Mx1        51.44
80 Azucena Benito Sanchez (Spa) Team Catalunya Aliverti Kookai       52.09
81 Trine Hansen (Den) Team Sats                                      54.47
82 Vibe Kolding (Den) Michela Fanini Record Box                      54.51
83 Alexandra Noles (Ger) Team Conero - CP3                           56.30
84 Sabrina Emmasi (Ita) Prato Marathon Bike-Aki Mx1                  57.11
85 Martina Corazza (Ita) Team 2002 Aurora Rsm                        58.53
86 Emanuela Azzini (Ita) Road Runner Guerciotti-CP2                  59.06
87 Alessia Quarta (Ita) Team Fanini - CP4                          1.00.06
88 Jennifer Manefield (Aus) Australian National Team               1.01.12
89 Veronica Leal Balderas (Mex) SCF Cycling Team Pratomagno-CP2    1.01.44
90 Marina Khodtchenkova (Rus) Chirio Forno D'asolo                 1.02.35
91 Ketty Manfrin (Ita) Team 2002 Aurora Rsm                        1.03.43
92 Anna Gusmini (Ita) Road Runner Guerciotti Rrg                   1.04.32
93 Sonia Rocca (Ita) Team Conero - CP3                             1.04.42
94 Vania Rossi (Ita) Team Scrigno - CP3                            1.05.25
95 Costanza Martinelli (Ita) Cicli Fatato - CP1                    1.07.13
96 Bertine Spijkerman (Ned) Ondernemers Van Nature - Mx3           1.09.12
97 Josune Murillo Elkano (Spa) Bizkaia Spiuk Sabeco                1.10.15
98 Emanuela Brigati (Ita) Road Runner Guerciotti-CP2               1.10.38
99 Lidia Arcangeli (Ita) Road Runner Guerciotti Rrg                1.11.56
100 Naiara Telletxea Lopez (Spa) Bizkaia Spiuk Sabeco              1.15.51
101 Minke Van Dongen (Ned) Ondernemers Van Nature - Mx3            1.17.52
102 Vanessa Saccomani (Ita) Team Conero - CP3                      1.18.01
103 Heidgen Shawn (USA) TDS Peloton - CP4                          1.18.14
104 Maitane Telletxea Lopez (Spa) Bizkaia Spiuk Sabeco             1.18.28
105 Valentina Alessio (Ita) Team Catalunya Aliverti Kookai         1.19.09
106 Maribel Diaz Esquivel (Mex) SCF Cycling Team Pratomagno-CP2    1.19.30
107 Alicia Palop Rubio (Spa) Spanish National Team                 1.20.52
108 Corrien Van Haastert (Ned) Ondernemers Van Nature - Mx3        1.22.02
109 Baukje Doedee (Ned) Team Catalunya Aliverti Kookai             1.22.21
110 Lisa Gatto (Ita) Postumia 73 - CP4                             1.24.18
111 Naomi Williams (Aus) Australian National Team                  1.25.23
112 Cristina Alcade Huertanos (Spa) Bizkaia Spiuk Sabeco           1.27.59
113 Agurtzane Elorriaga Derteano (Spa) Bizkaia Spiuk Sabeco        1.29.54
114 Alessandra Borchi (Ita) Michela Fanini Record Box              1.30.41
115 Marica Raina (Ita) Chirio Forno D'asolo                        1.31.52
116 Maria Ellinikaki (Gre) Team Catalunya Aliverti Kookai          1.32.04
117 Yevgeniya Taransenko (Uzb) SCF Cycling Team Pratomagno-CP2     1.35.14
118 Arantzazu Azpiroz Azpiroz (Spa) Bizkaia Spiuk Sabeco           1.35.28
119 Ilenia Lazzaro (Ita) Chirio Forno D'asolo                      1.37.34
120 Katie Brown (Aus) Team Catalunya Aliverti Kookai               1.37.53
121 Monica Ceccon (Ita) Michela Fanini Record Box                  1.38.09
122 Rebecca Casentini (Ita) Cicli Fatato - CP1                     1.38.23
123 Miluse Flaskova Glave (Cze) SCF Cycling Team Pratomagno-CP2    1.43.27
124 Valentina Pinna (Ita) SCF Cycling Team Pratomagno-CP2          1.44.07
125 Kristy Miggels (Ned) Ondernemers Van Nature - Mx3              1.44.31
126 Roberta Diena (Ita) Cicli Fatato - CP1                         1.44.46
 
Points classification
 
1 Zinaida Stahurskaia (Blr) Chirio Forno D'asolo                        36 pts
2 Edita Pucinskaite (Ltu) Michela Fanini Record Box                     34
3 Nicole Braendli (Swi) Prato Marathon Bike-Aki Mx1                     28
4 Jolanta Polikieviciute (Ltu) Team 2002 Aurora Rsm                     26
5 Joana Sommariba Arrola (Spa) Bizkaia Spiuk Sabeco                     24
6 Rasa Polikieviciute (Ltu) Team 2002 Aurora Rsm                        18
7 Regina Schleicher (Ger) Chirio Forno D'asolo                          15
8 Bertine Spijkerman (Ned) Ondernemers Van Nature - Mx3                 15
9 Oenone Wood (Aus) Australian National Team                            15
10 Amber Neben (USA) Team T Mobile                                      14
11 Modesta Vzesniauskaite (Ltu) Acca Due O Pasta Zara-Mx2               12
12 Tina Mayolo Pic (USA) Team Sats                                      12
13 Andrea Bosman (Ned) Ondernemers Van Nature - Mx3                     10
14 Mari Holden (USA) Team T Mobile                                      10
15 Francesca Castrucci (Ita) Prato Marathon Bike-Aki Mx1                 8
16 Zita Urbonaite (Ltu) Acca Due O Pasta Zara-Mx2                        6
17 Loes Gunnewijk (Ned) Ondernemers Van Nature - Mx3                     6
18 Olivia Gollan (Aus) Australian National Team                          5
19 Luisa Tamanini (Ita) Team 2002 Aurora Rsm                             5
20 Amy Safe (Aus) Australian National Team                               5
21 Giorgia Bronzini (Ita) Acca Due O Pasta Zara-Mx2                      4
22 Letizia Giardinelli (Ita) Michela Fanini Record Box                   4
23 Kristin Armstrong (USA) Team T Mobile                                 3
24 Soledad Fernandez (Spa) Team Conero - CP3                             3
25 Doris Ruano Sanchon (Spa) Spanish National Team                       2
26 Maribel Moreno Allue (Spa) Spanish National Team                      2
27 Giovanna Troldi (Ita) Cicli Fatato - CP1                              2
28 Ana Ramirez Bauxell (Spa) Spanish National Team                       2
29 Eneritz Iturriaga (Spa) Team 2002 Aurora Rsm                          1
30 Kimberly Bruckner (USA) Team T Mobile                                 1
31 Fabiana Luperini (Ita) Team 2002 Aurora Rsm                           1
32 Anna Gusmini (Ita) Road Runner Guerciotti Rrg                         1
 
Mountains classification
 
1 Jolanta Polikieviciute (Ltu) Team 2002 Aurora Rsm                     60 pts
2 Zinaida Stahurskaia (Blr) Chirio Forno D'asolo                        51
3 Edita Pucinskaite (Ltu) Michela Fanini Record Box                     48
4 Nicole Braendli (Swi) Prato Marathon Bike-Aki Mx1                     44
5 Joana Sommariba Arrola (Spa) Bizkaia Spiuk Sabeco                     31
6 Rasa Polikieviciute (Ltu) Team 2002 Aurora Rsm                        22
7 Oenone Wood (Aus) Australian National Team                            16
8 Regina Schleicher (Ger) Chirio Forno D'asolo                           9
9 Eneritz Iturriaga (Spa) Team 2002 Aurora Rsm                           7
10 Tina Mayolo Pic (USA) Team Sats                                       7
11 Marianna Lorenzoni (Ita) Team Catalunya Aliverti Kookai               6
12 Andrea Bosman (Ned) Ondernemers Van Nature - Mx3                      5
13 Maribel Moreno Allue (Spa) Spanish National Team                      4
14 Amber Neben (USA) Team T Mobile                                       4
15 Francesca Castrucci (Ita) Prato Marathon Bike-Aki Mx1                 3
16 Fabiana Luperini (Ita) Team 2002 Aurora Rsm                           2
17 Zita Urbonaite (Ltu) Acca Due O Pasta Zara-Mx2                        1