Recently on Cyclingnews.com
Murrysville Cycling Classic - NE
Murrysville, Pennsylvania, July 20, 2003
Dulin, Breon defend U.S. honor
By John Alsedek
The remaining five escapees
Photo: © James Moro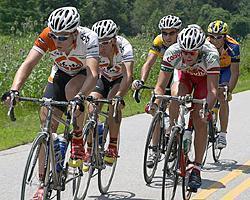 Seven years' worth of foreign dominance in the western Pennsylvania town of Murrysville came to an end today, as Americans Thad Dulin (Colavita/Bolla Elite) and Charm Breon (Freddie Fu Cycling) emerged victorious in the 2003 Murrysville Cycling Classic.
Men
While Dulin and Breon both won in solo efforts, they arrived at their respective results in very different ways. The Pro/Elite Men's race saw a highly tactical battle on the narrow, technical, undulating country roads just northeast of Pittsburgh. From the first of six ten-mile circuits, a six-man breakaway group was in charge, gaining over one minute on the field within a lap and eventually leaving its remnants 3:25 in arrears. On the fourth time over the course's best-known feature, the set of back-to-back-to-back climbs called the 'Triple Banger', Nic Brown (LeMond Fitness/Captain Cra-Z-Soap) soloed off the front of the break and looked to have enough of a lead to hold on.
Dulin comes in for a solo win
Photo: © James Moro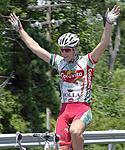 But the remaining five escapees never panicked: instead, after pegging him back at 30 seconds, they started reeling Brown in over the last 15 miles, with Peter Lopinto - one of two ofoto.com/Lombardi Sports riders in the break - contributing a little extra in hopes of setting up the team's fast-finishing Jackson Stewart. Thad Dulin, however, had other plans, jumping clear in the closing miles and holding off his pursuers, as the rest of the lead group blew apart on the final time over the 'Triple Banger'. Stewart outsprinted Hugh Moran (Construction Zone Racing) for second, 0:32 back, while the courageous Brown came in five seconds later; Ryan Dewald (Sportsbook.com) was fifth at 1:20. Afterwards, Dulin was just a little bit in shock: "This is my first National Racing Calendar win, so it'll take some time to sink in! But I really liked the course- very hard, very selective."
Women
Likewise, there was a definite selection made in the 40-mile Women's race, as western Pennsylvania's own Charm Breon (Freddie Fu Cycling) soloed away to an impressive solo victory. The 40-strong Women's field, which included the likes of defending champion Pam Moalli-Rytell (ESSM/GPOA), perennial favorite Tania Duff-Miller (Diet Rite Cola), and a strong contingent from the Victory Brewing/Amoroso's pro squad, was shattered early on by a newcomer to U.S. racing, New Zealander Johanna Buick (worlddiff.com). Yet it was Breon, fresh from racing the Women's Tour of Italy, who showed her veteran smarts by slipping away nearly unnoticed on the first QOM climb and building up a 30-second lead in short order.
Behind, another selection took place, as a five-woman chase emerged, containing Buick, Moalli-Rytell, Sandy Espeseth (Victory Brewing/Amoroso's), Melissa Holt (RONA), and pre-race favorite Laura Van Gilder (Saturn Cycling). They kept Breon within a manageable distance for a time, but the group itself disintegrated over the last two laps. In the end, it was Breon taking a comfortable two minute-plus victory, with Van Gilder outsprinting Espeseth for second; Moalli- Rytell was fourth, while Buick took fifth place. While not many were shocked that Breon had the ability and tenacity to take such a win, Breon herself was: "It was a total surprise, actually! Things broke apart on the first QOM, and I suddenly found myself all alone. So I decided to put the hammer down and just go."
Images by James Moro
Results

Pro/Elite Men

1 Thad Dulin (USA) Colavita/Bolla Elite
2 Jackson Stewart (USA) ofoto.com/Lombardi Sports
3 Hugh Moran (USA) Construction Zone Racing
4 Nic Brown (Aus) LeMond Fitness/Captain Cra-Z-Soap
5 Ryan Dewald (USA) Sportsbook.com
6 Peter Lopinto (USA) ofoto.com/Lombardi Sports
7 Todd Rogers (USA) Team Richmond
8 Stig Somme (Can) Jet Fuel Coffee
9 Jonathan Erdelyi (USA) ofoto.com/Lombardi Sports
10 Paul Martin (USA) West Virginia Elite
 
Pro/Elite Women
 
1 Charm Breon (USA) Freddie Fu Cycling
2 Laura Van Gilder (USA) Saturn Cycling
3 Sandy Espeseth (Can) Victory Brewing/Amoroso's
4 Pam Moalli-Rytell (USA) ESSM/GPOA
5 Johanna Buick (NZl) worlddiff.com
6 Melissa Holt (NZl) RONA
7 Emma Rickards (Aus) worlddiff.com
8 Tania Duff-Miller (NZl) Diet Rite Cola
9 Gina Grain (Can) Victory Brewing/Amoroso's
10 Lauren Franges (USA) Victory Brewing/Amoroso's