Recently on Cyclingnews.com
65th Volta a Portugal - 2.2
Portugal, August 6-17, 2003
Main Page Results Previous Stage Next Stage
Stage 2 - August 7: Loule-Beja, 148.7 km
Benito wins stage and takes lead
Benito triumphs in Beja again
Photo: © AFP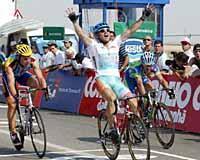 Alberto Benito (Antarte-Rota dos Móveis) moved into the overall lead of the Volta a Portugal after winning the second stage from Loule to Beja in a bunch sprint. Benito, who finished second yesterday, beat Angel Edo (Milaneza) and David Garcia (Cantanhede), and with his time bonus is now six seconds clear of Edo on GC.
The 148 km stage was again marked by searing temperatures, with the heatwave that has engulfed Europe for the past week showing no signs of abating. At the start in Loule, the peloton saw the inauguration of a statue dedicated to cycling, before the stage started in earnest. Krassimir Vassilev (Porta da Ravessa) opened the hostilities after 1.3 kilometres, getting a maximum gap of 40 seconds before he was caught.
After the day's climb, won by Christian Climent (Barbot Torrie), the next riders to attack were Hugo Lúcio (Barbot), Oscar Serrano (Vila do Conde), Jose Vasquez (Relax), Helder Miranda (Porta da Ravessa) and Carlos Golbano (Paternina). At the meta volante sprint in Almodovar, the quintet had 1'12 lead over the peloton, which split into two groups chasing them.
A group of 22 riders managed to close the gap to the leading five, before the rest of the peloton followed suit. Stéphane Barthe (MBK-Oktos) won the next sprint alone at Castro Verde (km 84) before being caught by Vidal Fitas (Porta da Ravessa), Oscar Diaz (Barbot), Fernando Sousa (Antarte), Quintino Rodrigues (Vila do Conde), Luís Sarreira (Cantanhede), Heiko Szonn (Flanders), Didac Cuadros (Paternina), David Fernandez and Hector Guerra (both Fuenlabrada).
These riders stayed away until 9 km from the end, when the peloton came together driven by Lampre and LA Pecol. The ensuing sprint was won by Alberto Benito, two took his second ever victory as a pro - the first coming in 2001 in the Volta a Alentejo also in Beja.
Photography
Images by AFP
Results
1 Alberto Benito (Spa) Antarte-Rota Moveis         3.29.08
2 Angel Edo (Spa) Milaneza-MSS                            
3 David Garcia (Spa) Cantanhede-M-Marialva                
4 Nuno Marta (Por) Barbot-Torrie                          
5 Pedro Costa (Por) Cantanhede-M-Marialva                 
6 Alexis Rodriguez (Spa) Kelme-Costa Blanca               
7 Milan Kadlec (Cze) Lampre                               
8 Pedro Hermida (Spa) Beppi-Pepolim                       
9 Candido Barbosa (Por) L.A. Pecol                        
10 Pedro Soeiro (Por) Carvalhelhos-Boavista               
11 David Blanco (Spa) P.Ravessa-Bom Petisco               
12 Gustavo M. Toledo (Arg) Paternina-Costa de Almeria     
13 Luis Pasamontes (Spa) Colchon Relax-Fuenlabrada        
14 Juan Manuel Garate (Spa) Lampre                        
15 Ruben Galvan (Spa) Asc-Vila Do Conde                   
16 Staf Scheirlinckx (Bel) Flanders-Iteamnova             
17 Nelson Vitorino (Por) P.Ravessa-Bom Petisco            
18 Gustavo Lemos (Spa) Carvalhelhos-Boavista              
19 Cesar Quiterio (Por) Antarte-Rota Moveis               
20 Paulo Ferreira (Por) Cantanhede-M-Marialva             
21 Fabian Jeker (Swi) Milaneza-MSS                        
22 Marco Morais (Por) Asc-Vila Do Conde                   
23 Adrian Palomares (Spa) Carvalhelhos-Boavista           
24 Bruno Castanheira (Por) L.A. Pecol                     
25 Virgilio Santos (Por) Antarte-Rota Moveis              
26 Hugo Sabido (Por) Barbot-Torrie                        
27 Nuno Ribeiro (Por) L.A. Pecol                          
28 Eduardo Gonzalez (Spa) Barbot-Torrie                   
29 Pedro Arreitunandia (Spa) Carvalhelhos-Boavista        
30 Christian Climent (Spa) Barbot-Torrie                  
31 Vicent Cali (Fra) Flanders-Iteamnova                   
32 Carlos Golbano (Spa) Paternina-Costa de Almeria        
33 Luis Sarreira (Por) Cantanhede-M-Marialva              
34 Orlando Rodrigues (Por) L.A. Pecol                     
35 Joaquim Andrade (Por) P.Ravessa-Bom Petisco            
36 Victoriano Fernandez (Spa) Asc-Vila Do Conde           
37 Claus Michael Moller (Den) Milaneza-MSS                
38 Rui Lavarinhas (Por) Milaneza-MSS                      
39 Xavier Tondo (Spa) Paternina-Costa de Almeria          
40 Pedro Cardoso (Por) Milaneza-MSS                       
41 Claudio Faria (Por) Asc-Vila Do Conde                  
42 Unai Yus (Spa) Cantanhede-M-Marialva                   
43 Victor Gamito (Por) Cantanhede-M-Marialva              
44 Jose Rodrigues (Por) Carvalhelhos-Boavista             
45 Pedro Lopes (Por) L.A. Pecol                           
46 Nuno Alves (Por) Barbot-Torrie                         
47 Helder Miranda (Por) P.Ravessa-Bom Petisco             
48 Rafael Mila (Spa) Asc-Vila Do Conde                    
49 Isarael Nuñez (Spa) Asc-Vila Do Conde                  
50 Andrei Zintchenko (Rus) L.A. Pecol                     
51 Christophe Rinero (Fra) MBK-Oktos                      
52 Alexandre Pinho (Por) Beppi-Pepolim                    
53 Danail Petrov (Bul) Carvalhelhos-Boavista              
54 Hugo Lucio (Por) Barbot-Torrie                         
55 Joan Horrach (Spa) Milaneza-MSS                        
56 Gonçalo Amorim (Por) Milaneza-MSS                      
57 Gustavo Veloso (Spa) Carvalhelhos-Boavista         0.11
58 Oscar Romero (Spa) Beppi-Pepolim                   0.19
59 Celio Sousa (Por) Carvalhelhos-Boavista                
60 Xavier Delatorre (Spa) Beppi-Pepolim                   
61 Segis Delatorre (Spa) Beppi-Pepolim                    
62 Dario Gadeo (Spa) Paternina-Costa de Almeria       0.23
63 Joseluis Martinez (Spa) Paternina-Costa de Almeria     
64 Hugo Vitor (Por) Cantanhede-M-Marialva             0.27
65 Sergio Perez (Spa) Colchon Relax-Fuenlabrada           
66 Nikita Eskov (Rus) Lokomotiv                           
67 Renato Silva (Por) Milaneza-MSS                        
68 Pavel Brutt (Rus) Lokomotiv                            
69 Bert Scheirlinckx (Bel) Flanders-Iteamnova             
70 Helder Lopes (Por) P.Ravessa-Bom Petisco               
71 Jose Miguel Elias (Spa) Colchon Relax-Fuenlabrada      
72 Jacek Morajko (Pol) Antarte-Rota Moveis                
73 Gerardo Fernandez (Arg) Antarte-Rota Moveis            
74 Rui Pinto (Por) Barbot-Torrie                          
75 Helder Silva (Por) Cantanhede-M-Marialva               
76 Hector Guerra (Spa) Colchon Relax-Fuenlabrada          
77 Alessandro Cortinovis (Ita) Lampre                     
78 Josemanuel Vazquez (Spa) Colchon Relax-Fuenlabrada     
79 Ricardo Felgueiras (Por) Antarte-Rota Moveis           
80 Ricardo Costa (Por) P.Ravessa-Bom Petisco              
81 Joao Silva (Por) Antarte-Rota Moveis                   
82 Juan Olmo (Spa) Barbot-Torrie                          
83 Andrey Mizourov (Kaz) MBK-Oktos                        
84 Jose Oliveira (Por) Beppi-Pepolim                      
85 Jose Guillen (Spa) Beppi-Pepolim                       
86 Sergio Paulinho (Por) Asc-Vila Do Conde                
87 Franck Pencole (Fra) MBK-Oktos                         
88 Krassimir Vassiliev (Bul) P.Ravessa-Bom Petisco        
89 Mariano Piccoli (Ita) Lampre                       0.53
90 Vicente Reynes (Spa) L.A. Pecol                    0.58
91 Fernando Sousa (Por) Antarte-Rota Moveis               
92 Yon Bru (Spa) L.A. Pecol                               
93 Frederic Gabriel (Fra) MBK-Oktos                       
94 David Fernandez (Spa) Colchon Relax-Fuenlabrada        
95 Rubens Bertogliati (Swi) Lampre                        
96 German Nieto (Spa) Colchon Relax-Fuenlabrada           
97 Luciano Pagliarini (Bra) Lampre                        
98 Heiko Szonn (Ger) Flanders-Iteamnova                   
99 Juanmiguel Cuenca (Spa) Kelme-Costa Blanca             
100 Dermot Nally (Irl) Paternina-Costa de Almeria         
101 Oscar Serrano (Spa) Asc-Vila Do Conde                 
102 Ivailo Gabrovski (Bul) MBK-Oktos                      
103 Atanas Petrov (Bul) Carvalhelhos-Boavista             
104 Ricardo Valdez (Spa) Paternina-Costa de Almeria       
105 Lorenzo Didilvestro (Ita) MBK-Oktos                   
106 Quintino Rodrigues (Por) Asc-Vila Do Conde            
107 Pedro Andrade (Por) L.A. Pecol                    1.16
108 Luis Bartolomeu (Por) P.Ravessa-Bom Petisco           
109 Vidal Fitas (Por) P.Ravessa-Bom Petisco               
110 Paulo Barroso (Por) Milaneza-MSS                  1.23
111 Pedro Magalhaes (Por) Beppi-Pepolim                   
112 Serguei Klimov (Rus) Lokomotiv                        
113 Oscar Diaz (Spa) Barbot-Torrie                        
114 Alexander Serov (Rus) Lokomotiv                       
115 Maximilian Sciandri (Gbr) Lampre                      
116 Lenaic Olivier (Fra) MBK-Oktos                        
117 Alexei Markov (Rus) Lokomotiv                         
118 Jurgen Landrie (Bel) Flanders-Iteamnova           1.37
119 Francisto Garcia (Spa) Antarte-Rota Moveis        2.14
120 Stephane Barthe (Fra) MBK-Oktos                   2.41
121 Jan Svorada (Cze) Lampre                              
122 Daniele Righi (Ita) Lampre                            
123 Ezequiel Mosquera (Spa) Cantanhede-M-Marialva         
124 Leonid Kovtun (Rus) Lokomotiv                         
125 Didac Cuadros (Spa) Paternina-Costa de Almeria        
126 Jeremy Hunt (Gbr) MBK-Oktos                       3.24
127 Bjorn Cornelissen (Ned) Flanders-Iteamnova       12.19
 
Points
 
1 Alberto Benito (Spa) Antarte-Rota Moveis              25 pts
2 Angel Edo (Spa) Milaneza-MSS                          20
3 David Garcia (Spa) Cantanhede-M-Marialva              16
4 Nuno Marta (Por) Barbot-Torrie                        13
5 Pedro Costa (Por) Cantanhede-M-Marialva               10
6 Alexis Rodriguez (Spa) Kelme-Costa Blanca              8
7 Milan Kadlec (Cze) Lampre                              6
8 Pedro Hermida (Spa) Beppi-Pepolim                      4
9 Candido Barbosa (Por) L.A. Pecol                       2
10 Pedro Soeiro (Por) Carvalhelhos-Boavista              1
 
Mountains
 
Barranco Do Velho - Cat. 3, km 18,40                      
1 Christian Climent (Spa) Barbot-Torrie                  5 pts
2 Alberto Benito (Spa) Antarte-Rota Moveis               3
3 Gustavo M. Toledo (Arg) Paternina-Costa de Almeria     1
 
Metas Volantes
 
Almodovar, km 63,20                                       
1 Carlos Golbano (Spa) Paternina-Costa de Almeria        5 pts
2 Oscar Serrano (Spa) Asc-Vila Do Conde                  3
3 Hugo Lucio (Por) Barbot-Torrie                         1
 
Castro Verde, km 84,20                                    
1 Stephane Barthe (Fra) MBK-Oktos                        5 pts
2 Quintino Rodrigues (Por) Asc-Vila Do Conde             3
3 Heiko Szonn (Ger) Flanders-Iteamnova                   1
 
Aljustrel, km 106,50                                      
1 Luis Sarreira (Por) Cantanhede-M-Marialva              5 pts
2 Stephane Barthe (Fra) MBK-Oktos                        3
3 David Fernandez (Spa) Colchon Relax-Fuenlabrada        1
 
Teams
 
1 Cantanhede-M-Marialva                           10.27.24
2 Antarte Rota Moveis                       
3 Carvalhelhos-Boavista                                   
4 Barbot-Torrie                                           
5 Milaneza-MSS                                            
6 L.A. Pecol                                              
7 P.Ravessa-Bom Petisco                                   
8 Asc-Vila Do Conde                                       
9 Paternina-Costa de Almeria                              
10 Beppi-Pepolim                                      0.19
11 Lampre                                             0.27
12 Flanders-Iteamnova                                     
13 Colchon Relax-Fuenlabrada                          0.54
14 MBK-Oktos                                              
15 Lokomotiv                                          2.17
 
General classification after stage 2
 
1 Alberto Benito (Spa) Antarte-Rota Moveis         8.05.52
2 Angel Edo (Spa) Milaneza-MSS                        0.06
3 Candido Barbosa (Por) L.A. Pecol                        
4 Carlos Golbano (Spa) Paternina-Costa de Almeria     0.13
5 Luis Sarreira (Por) Cantanhede-M-Marialva               
6 Nelson Vitorino (Por) P.Ravessa-Bom Petisco         0.15
7 Nuno Marta (Por) Barbot-Torrie                      0.16
8 Pedro Soeiro (Por) Carvalhelhos-Boavista                
9 David Blanco (Spa) P.Ravessa-Bom Petisco                
10 Luis Pasamontes (Spa) Colchon Relax-Fuenlabrada        
11 Cesar Quiterio (Por) Antarte-Rota Moveis               
12 Ruben Galvan (Spa) Asc-Vila Do Conde                   
13 David Garcia (Spa) Cantanhede-M-Marialva               
14 Pedro Lopes (Por) L.A. Pecol                           
15 Paulo Ferreira (Por) Cantanhede-M-Marialva         0.17
16 Isarael Nuñez (Spa) Asc-Vila Do Conde              0.18
17 Hugo Lucio (Por) Barbot-Torrie                     0.19
18 Gustavo Lemos (Spa) Carvalhelhos-Boavista          0.20
19 Staf Scheirlinckx (Bel) Flanders-Iteamnova             
20 Fabian Jeker (Swi) Milaneza-MSS                        
21 Eduardo Gonzalez (Spa) Barbot-Torrie                   
22 Pedro Costa (Por) Cantanhede-M-Marialva                
23 Nuno Ribeiro (Por) L.A. Pecol                          
24 Victor Gamito (Por) Cantanhede-M-Marialva              
25 Victoriano Fernandez (Spa) Asc-Vila Do Conde           
26 Alexis Rodriguez (Spa) Kelme-Costa Blanca              
27 Marco Morais (Por) Asc-Vila Do Conde                   
28 Pedro Arreitunandia (Spa) Carvalhelhos-Boavista        
29 Claudio Faria (Por) Asc-Vila Do Conde                  
30 Virgilio Santos (Por) Antarte-Rota Moveis              
31 Claus Michael Moller (Den) Milaneza-MSS                
32 Xavier Tondo (Spa) Paternina-Costa de Almeria          
33 Pedro Hermida (Spa) Beppi-Pepolim                      
34 Jose Rodrigues (Por) Carvalhelhos-Boavista             
35 Rafael Mila (Spa) Asc-Vila Do Conde                    
36 Orlando Rodrigues (Por) L.A. Pecol                     
37 Christophe Rinero (Fra) MBK-Oktos                      
38 Juan Manuel Garate (Spa) Lampre                        
39 Nuno Alves (Por) Barbot-Torrie                         
40 Vicent Cali (Fra) Flanders-Iteamnova                   
41 Adrian Palomares (Spa) Carvalhelhos-Boavista           
42 Hugo Sabido (Por) Barbot-Torrie                        
43 Helder Miranda (Por) P.Ravessa-Bom Petisco             
44 Milan Kadlec (Cze) Lampre                              
45 Andrei Zintchenko (Rus) L.A. Pecol                     
46 Joan Horrach (Spa) Milaneza-MSS                        
47 Rui Lavarinhas (Por) Milaneza-MSS                      
48 Pedro Cardoso (Por) Milaneza-MSS                       
49 Unai Yus (Spa) Cantanhede-M-Marialva                   
50 Bruno Castanheira (Por) L.A. Pecol                     
51 Joaquim Andrade (Por) P.Ravessa-Bom Petisco            
52 Gustavo M. Toledo (Arg) Paternina-Costa de Almeria     
53 Gonçalo Amorim (Por) Milaneza-MSS                      
54 Alexandre Pinho (Por) Beppi-Pepolim                    
55 Christian Climent (Spa) Barbot-Torrie                  
56 Danail Petrov (Bul) Carvalhelhos-Boavista              
57 Gustavo Veloso (Spa) Carvalhelhos-Boavista         0.31
58 Oscar Romero (Spa) Beppi-Pepolim                   0.39
59 Celio Sousa (Por) Carvalhelhos-Boavista                
60 Segis Delatorre (Spa) Beppi-Pepolim                    
61 Xavier Delatorre (Spa) Beppi-Pepolim                   
62 Gerardo Fernandez (Arg) Antarte-Rota Moveis        0.42
63 Franck Pencole (Fra) MBK-Oktos                     0.43
64 Dario Gadeo (Spa) Paternina-Costa de Almeria           
65 Joseluis Martinez (Spa) Paternina-Costa de Almeria     
66 Krassimir Vassiliev (Bul) P.Ravessa-Bom Petisco    0.45
67 Ricardo Costa (Por) P.Ravessa-Bom Petisco          0.47
68 Jacek Morajko (Pol) Antarte-Rota Moveis                
69 Jose Miguel Elias (Spa) Colchon Relax-Fuenlabrada      
70 Pavel Brutt (Rus) Lokomotiv                            
71 Jose Guillen (Spa) Beppi-Pepolim                       
72 Helder Lopes (Por) P.Ravessa-Bom Petisco               
73 Sergio Perez (Spa) Colchon Relax-Fuenlabrada           
74 Juan Olmo (Spa) Barbot-Torrie                          
75 Bert Scheirlinckx (Bel) Flanders-Iteamnova             
76 Nikita Eskov (Rus) Lokomotiv                           
77 Renato Silva (Por) Milaneza-MSS                        
78 Ricardo Felgueiras (Por) Antarte-Rota Moveis           
79 Josemanuel Vazquez (Spa) Colchon Relax-Fuenlabrada     
80 Hugo Vitor (Por) Cantanhede-M-Marialva                 
81 Alessandro Cortinovis (Ita) Lampre                     
82 Joao Silva (Por) Antarte-Rota Moveis                   
83 Rui Pinto (Por) Barbot-Torrie                          
84 Helder Silva (Por) Cantanhede-M-Marialva               
85 Andrey Mizourov (Kaz) MBK-Oktos                        
86 Hector Guerra (Spa) Colchon Relax-Fuenlabrada          
87 Sergio Paulinho (Por) Asc-Vila Do Conde                
88 Jose Oliveira (Por) Beppi-Pepolim                      
89 Mariano Piccoli (Ita) Lampre                       1.09
90 David Fernandez (Spa) Colchon Relax-Fuenlabrada    1.13
91 Luciano Pagliarini (Bra) Lampre                    1.14
92 Quintino Rodrigues (Por) Asc-Vila Do Conde         1.16
93 Oscar Serrano (Spa) Asc-Vila Do Conde                  
94 Frederic Gabriel (Fra) MBK-Oktos                   1.17
95 Heiko Szonn (Ger) Flanders-Iteamnova                   
96 German Nieto (Spa) Colchon Relax-Fuenlabrada       1.18
97 Fernando Sousa (Por) Antarte-Rota Moveis               
98 Vicente Reynes (Spa) L.A. Pecol                        
99 Lorenzo Didilvestro (Ita) MBK-Oktos                    
100 Ivailo Gabrovski (Bul) MBK-Oktos                      
101 Yon Bru (Spa) L.A. Pecol                              
102 Dermot Nally (Irl) Paternina-Costa de Almeria         
103 Juanmiguel Cuenca (Spa) Kelme-Costa Blanca            
104 Atanas Petrov (Bul) Carvalhelhos-Boavista             
105 Rubens Bertogliati (Swi) Lampre                       
106 Ricardo Valdez (Spa) Paternina-Costa de Almeria       
107 Pedro Andrade (Por) L.A. Pecol                    1.36
108 Luis Bartolomeu (Por) P.Ravessa-Bom Petisco           
109 Vidal Fitas (Por) P.Ravessa-Bom Petisco               
110 Oscar Diaz (Spa) Barbot-Torrie                    1.43
111 Lenaic Olivier (Fra) MBK-Oktos                        
112 Paulo Barroso (Por) Milaneza-MSS                      
113 Serguei Klimov (Rus) Lokomotiv                        
114 Alexander Serov (Rus) Lokomotiv                       
115 Pedro Magalhaes (Por) Beppi-Pepolim                   
116 Alexei Markov (Rus) Lokomotiv                         
117 Maximilian Sciandri (Gbr) Lampre                      
118 Jurgen Landrie (Bel) Flanders-Iteamnova           1.57
119 Francisto Garcia (Spa) Antarte-Rota Moveis        2.34
120 Stephane Barthe (Fra) MBK-Oktos                   2.56
121 Jan Svorada (Cze) Lampre                          2.57
122 Leonid Kovtun (Rus) Lokomotiv                     3.01
123 Didac Cuadros (Spa) Paternina-Costa de Almeria        
124 Ezequiel Mosquera (Spa) Cantanhede-M-Marialva         
125 Daniele Righi (Ita) Lampre                            
126 Jeremy Hunt (Gbr) MBK-Oktos                       3.44
127 Bjorn Cornelissen (Ned) Flanders-Iteamnova       20.36
 
Points classification
 
1 Alberto Benito (Spa) Antarte-Rota Moveis              45 pts
2 Angel Edo (Spa) Milaneza-MSS                          36
3 Candido Barbosa (Por) L.A. Pecol                      27
4 Nuno Marta (Por) Barbot-Torrie                        21
5 David Garcia (Spa) Cantanhede-M-Marialva              16
6 Luciano Pagliarini (Bra) Lampre                       13
7 Pedro Costa (Por) Cantanhede-M-Marialva               10
8 Jan Svorada (Cze) Lampre                              10
9 Nelson Vitorino (Por) P.Ravessa-Bom Petisco            8
10 Gerardo Fernandez (Arg) Antarte-Rota Moveis           8
11 Stephane Barthe (Fra) MBK-Oktos                       8
12 Alexis Rodriguez (Spa) Kelme-Costa Blanca             8
13 Carlos Golbano (Spa) Paternina-Costa de Almeria       6
14 Cesar Quiterio (Por) Antarte-Rota Moveis              6
15 Milan Kadlec (Cze) Lampre                             6
16 Luis Sarreira (Por) Cantanhede-M-Marialva             5
17 Pedro Soeiro (Por) Carvalhelhos-Boavista              5
18 Paulo Ferreira (Por) Cantanhede-M-Marialva            5
19 Pedro Hermida (Spa) Beppi-Pepolim                     4
20 Krassimir Vassiliev (Bul) P.Ravessa-Bom Petisco       3
21 Quintino Rodrigues (Por) Asc-Vila Do Conde            3
22 Oscar Serrano (Spa) Asc-Vila Do Conde                 3
23 David Fernandez (Spa) Colchon Relax-Fuenlabrada       3
24 Isarael Nuñez (Spa) Asc-Vila Do Conde                 2
25 Hugo Lucio (Por) Barbot-Torrie                        1
 
Mountains classification
 
1 Gustavo M. Toledo (Arg) Paternina-Costa de Almeria     6 pts
2 Christian Climent (Spa) Barbot-Torrie                  6
3 Alberto Benito (Spa) Antarte-Rota Moveis               3
4 Gerardo Fernandez (Arg) Antarte-Rota Moveis            3
 
Young rider classification
 
1 Luis Pasamontes (Spa) Colchon Relax-Fuenlabrada         
2 Isarael Nuñez (Spa) Asc-Vila Do Conde                   
3 Hugo Lucio (Por) Barbot-Torrie                          
4 Gustavo Lemos (Spa) Carvalhelhos-Boavista               
5 Staf Scheirlinckx (Bel) Flanders-Iteamnova              
 
Teams classification
 
1 Antarte Rota Moveis                             24.18.28
2 L.A. Pecol                                              
3 Cantanhede-M-Marialva                               0.04
4 Carvalhelhos-Boavista                                   
5 Barbot-Torrie                                           
6 Milaneza-MSS                                            
7 P.Ravessa-Bom Petisco                                   
8 Asc-Vila Do Conde                                       
9 Paternina-Costa de Almeria                              
10 Lampre                                             0.23
11 Beppi-Pepolim                                      0.27
12 Flanders-Iteamnova                                 0.35
13 Colchon Relax-Fuenlabrada                          0.54
14 MBK-Oktos                                          0.58
15 Lokomotiv                                          2.25