Recently on Cyclingnews.com
65th Volta a Portugal - 2.2
Portugal, August 6-17, 2003
Main Page Results Previous Stage Next Stage
Stage 10 - August 16: Mondim De Basto - Favaios, 130 km
Edo at last
Edo with ease
Photo: © AFP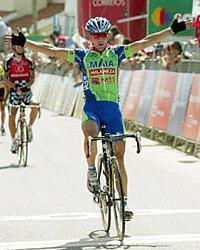 Angel Edo (Milanza-MSS) has finally won a stage of the Volta a Portugal, beating Daniel Petrov (Carvalhelhos) and race leader Nuno Ribeiro (L.A. Pecol) at the end of a tough finish in Favaios. The Cat. 3 climb situated at 3 km to go did not shake Edo, who is better known for his abilities on the flat, but it did put paid to many of the other sprinters' hopes.
With just tomorrow's 36.7 km time trial to come, today's 130 km stage between Mondim De Basto and Favaios was short and sharp, with the Cat. 2 climb of Alto De Velao featuring in the first 25 km of the stage, followed by two more Cat. 3 climbs. The attacks started almost from the beginning, with a group of 14 riders getting clear containing three Milaneza riders, Jeker and Horrach both being present. This group was joined by another five riders, but a concerted chase by L.A. Pecol brought the move back after 43 km.
Unai Yus (Cantanhede) was the only rider to stay clear, and he was joined by Paulo Barroso (Milaneza) and then Juan Olmo (Barbot). At the sprint in Santa Marta De Penaguiao (km 57), the trio had 0'55 lead to Ricardo Costa (Porta da Ravessa) and 1'30 to the peloton. Costa was reabsorbed, but Gonšalo Amorim (Milaneza) and Adrian Palomares (Carvalhelhos Boavista) managed to bridge up to the front at the 105 km mark, to form a group of five.
L.A. Pecol continued its chase and caught the group at the foot of the final climb, where Krassimir Vassiliev was first to the top followed by Fabian Jeker and Orlando Rodrigues. But in the uphill run to the finish line, it was Angel Edo (Milaneza) who had the necessary strength to hold off Petrov and Ribeiro for his first stage win in this tour.
Results
1 Angel Edo (Spa) Milaneza-MSS                         3.19.13
2 Danail Petrov (Bul) Carvalhelhos-Boavista               0.01
3 Nuno Ribeiro (Por) L.A. Pecol                               
4 Claus Michael Moller (Den) Milaneza-MSS                 0.04
5 Pedro Arreitunandia (Spa) Carvalhelhos-Boavista         0.06
6 David Blanco (Spa) P.Ravessa-Bom Petisco                0.07
7 Rui Lavarinhas (Por) Milaneza-MSS                       0.08
8 Nelson Vitorino (Por) P.Ravessa-Bom Petisco             0.12
9 Juan Manuel Garate (Spa) Lampre                         0.13
10 Hugo Vitor (Por) Cantanhede-M-Marialva                 0.14
11 Christophe Rinero (Fra) MBK-Oktos                      0.15
12 Virgilio Santos (Por) Antarte-Rota Moveis                  
13 Rui Pinto (Por) Barbot-Torrie                              
14 Alberto Benito (Spa) Antarte-Rota Moveis               0.22
15 Sergio Paulinho (Por) Asc-Vila Do Conde                    
16 Joaquim Andrade (Por) P.Ravessa-Bom Petisco                
17 Luis Pasamontes (Spa) Colchon Relax-Fuenlabrada        0.26
18 Victor Gamito (Por) Cantanhede-M-Marialva              0.27
19 Krassimir Vassiliev (Bul) P.Ravessa-Bom Petisco        0.30
20 Gustavo Lemos (Spa) Carvalhelhos-Boavista              0.32
21 Jose Rodrigues (Por) Carvalhelhos-Boavista             0.33
22 Marco Morais (Por) Asc-Vila Do Conde                       
23 Andrey Mizourov (Kaz) MBK-Oktos                            
24 Oscar Romero (Spa) Beppi-Pepolim                           
25 Candido Barbosa (Por) L.A. Pecol                       0.39
26 Xavier Tondo (Spa) Paternina-Costa de Almeria          0.41
27 Helder Miranda (Por) P.Ravessa-Bom Petisco             0.45
28 Ezequiel Mosquera (Spa) Cantanhede-M-Marialva          0.49
29 Fabian Jeker (Swi) Milaneza-MSS                        0.52
30 Joan Horrach (Spa) Milaneza-MSS                        0.55
31 Joseluis Martinez (Spa) Paternina-Costa de Almeria         
32 Pedro Cardoso (Por) Milaneza-MSS                           
33 Orlando Rodrigues (Por) L.A. Pecol                         
34 Carlos Golbano (Spa) Paternina-Costa de Almeria        1.28
35 Renato Silva (Por) Milaneza-MSS                            
36 Frederic Gabriel (Fra) MBK-Oktos                           
37 Sergio Perez (Spa) Colchon Relax-Fuenlabrada               
38 Andrei Zintchenko (Rus) L.A. Pecol                         
39 Pedro Soeiro (Por) Carvalhelhos-Boavista                   
40 Victoriano Fernandez (Spa) Asc-Vila Do Conde           1.37
41 Staf Scheirlinckx (Bel) Flanders-Iteamnova             1.51
42 Cesar Quiterio (Por) Antarte-Rota Moveis                   
43 Hugo Sabido (Por) Barbot-Torrie                        2.18
44 Jacek Morajko (Pol) Antarte-Rota Moveis                    
45 Fernando Sousa (Por) Antarte-Rota Moveis                   
46 Pedro Hermida (Spa) Beppi-Pepolim                          
47 Joao Silva (Por) Antarte-Rota Moveis                       
48 Alessandro Cortinovis (Ita) Lampre                         
49 Gerardo Fernandez (Arg) Antarte-Rota Moveis                
50 Nuno Alves (Por) Barbot-Torrie                             
51 Isarael Nu˝ez (Spa) Asc-Vila Do Conde                      
52 Segis Delatorre (Spa) Beppi-Pepolim                        
53 Claudio Faria (Por) Asc-Vila Do Conde                      
54 Helder Lopes (Por) P.Ravessa-Bom Petisco                   
55 Pedro Costa (Por) Cantanhede-M-Marialva                    
56 Pedro Lopes (Por) L.A. Pecol                               
57 Celio Sousa (Por) Carvalhelhos-Boavista                    
58 Gustavo M. Toledo (Arg) Paternina-Costa de Almeria     2.25
59 Bruno Castanheira (Por) L.A. Pecol                     2.30
60 Atanas Petrov (Bul) Carvalhelhos-Boavista              2.46
61 Vidal Fitas (Por) P.Ravessa-Bom Petisco                2.51
62 Yon Bru (Spa) L.A. Pecol                               3.15
63 Hugo Lucio (Por) Barbot-Torrie                         3.40
64 Bert Scheirlinckx (Bel) Flanders-Iteamnova             4.03
65 Rubens Bertogliati (Swi) Lampre                        4.57
66 Quintino Rodrigues (Por) Asc-Vila Do Conde             5.16
67 Oscar Serrano (Spa) Asc-Vila Do Conde                      
68 Jose Miguel Elias (Spa) Colchon Relax-Fuenlabrada          
69 Gonšalo Amorim (Por) Milaneza-MSS                      5.24
70 Paulo Barroso (Por) Milaneza-MSS                           
71 Xavier Delatorre (Spa) Beppi-Pepolim                   5.41
72 Pedro Andrade (Por) L.A. Pecol                         6.47
73 Vicente Reynes (Spa) L.A. Pecol                            
74 Luis Sarreira (Por) Cantanhede-M-Marialva                  
75 Ricardo Felgueiras (Por) Antarte-Rota Moveis           7.07
76 Mariano Piccoli (Ita) Lampre                               
77 Didac Cuadros (Spa) Paternina-Costa de Almeria         8.19
78 Adrian Palomares (Spa) Carvalhelhos-Boavista               
79 Gustavo Veloso (Spa) Carvalhelhos-Boavista                 
80 Juan Olmo (Spa) Barbot-Torrie                              
81 Maximilian Sciandri (Gbr) Lampre                           
82 Unai Yus (Spa) Cantanhede-M-Marialva                       
83 Ruben Galvan (Spa) Asc-Vila Do Conde                       
84 Daniele Righi (Ita) Lampre                                 
85 Dario Gadeo (Spa) Paternina-Costa de Almeria           9.10
86 Ivailo Gabrovski (Bul) MBK-Oktos                       9.12
87 Nuno Marta (Por) Barbot-Torrie                        11.33
88 Ricardo Costa (Por) P.Ravessa-Bom Petisco                  
89 Heiko Szonn (Ger) Flanders-Iteamnova                       
90 Francisto Garcia (Spa) Antarte-Rota Moveis            13.15
91 Serguei Klimov (Rus) Lokomotiv                             
92 Pedro Magalhaes (Por) Beppi-Pepolim                        
93 Oscar Diaz (Spa) Barbot-Torrie                             
94 Eduardo Gonzalez (Spa) Barbot-Torrie                       
95 Alexei Markov (Rus) Lokomotiv                              
96 German Nieto (Spa) Colchon Relax-Fuenlabrada               
97 Pavel Brutt (Rus) Lokomotiv                                
98 Alexandre Pinho (Por) Beppi-Pepolim                        
99 Jose Oliveira (Por) Beppi-Pepolim                          
100 Nikita Eskov (Rus) Lokomotiv                              
101 Alexander Serov (Rus) Lokomotiv                           
102 Rafael Mila (Spa) Asc-Vila Do Conde                       
103 Helder Silva (Por) Cantanhede-M-Marialva             18.44
104 Luis Bartolomeu (Por) P.Ravessa-Bom Petisco               
105 Paulo Ferreira (Por) Cantanhede-M-Marialva                
106 Jose Guillen (Spa) Beppi-Pepolim                     26.02
 
Points
 
1 Angel Edo (Spa) Milaneza-MSS                              25 pts
2 Danail Petrov (Bul) Carvalhelhos-Boavista                 20
3 Nuno Ribeiro (Por) L.A. Pecol                             16
4 Claus Michael Moller (Den) Milaneza-MSS                   13
5 Pedro Arreitunandia (Spa) Carvalhelhos-Boavista           10
6 David Blanco (Spa) P.Ravessa-Bom Petisco                   8
7 Rui Lavarinhas (Por) Milaneza-MSS                          6
8 Nelson Vitorino (Por) P.Ravessa-Bom Petisco                4
9 Juan Manuel Garate (Spa) Lampre                            2
10 Hugo Vitor (Por) Cantanhede-M-Marialva                    1
 
Mountains
 
Alto De Velao - Cat. 2, km 25,20                              
1 Segis Delatorre (Spa) Beppi-Pepolim                        9 pts
2 Fabian Jeker (Swi) Milaneza-MSS                            7
3 Dario Gadeo (Spa) Paternina-Costa de Almeria               5
4 Victoriano Fernandez (Spa) Asc-Vila Do Conde               3
5 Joan Horrach (Spa) Milaneza-MSS                            1
 
Climb - Cat. 3, km 80,50                                      
1 Unai Yus (Spa) Cantanhede-M-Marialva                       5 pts
2 Juan Olmo (Spa) Barbot-Torrie                              3
3 Paulo Barroso (Por) Milaneza-MSS                           1
 
Climb - Cat. 3, km 127,00                                     
1 Krassimir Vassiliev (Bul) P.Ravessa-Bom Petisco            5 pts
2 Fabian Jeker (Swi) Milaneza-MSS                            3
3 Orlando Rodrigues (Por) L.A. Pecol                         1
 
Metas Volantes Na Etapa
 
Chao Grande, km 33,00                                         
1 Renato Silva (Por) Milaneza-MSS                            5 pts
2 Victoriano Fernandez (Spa) Asc-Vila Do Conde               3
3 Christophe Rinero (Fra) MBK-Oktos                          1
 
Santa Marta De Penaguiao, km 57,10                             
1 Paulo Barroso (Por) Milaneza-MSS                           5 pts
2 Unai Yus (Spa) Cantanhede-M-Marialva                       3
3 Juan Olmo (Spa) Barbot-Torrie                              1
 
Sprint, km 85,40                                              
1 Juan Olmo (Spa) Barbot-Torrie                              5 pts
2 Unai Yus (Spa) Cantanhede-M-Marialva                       3
3 Paulo Barroso (Por) Milaneza-MSS                           1
 
Teams
 
1 Milaneza-MSS                                         9.57.51
2 Carvalhelhos-Boavista                                   0.27
3 P.Ravessa-Bom Petisco                                   0.29
4 Cantanhede-M-Marialva                                   1.18
5 L.A. Pecol                                              1.23
6 MBK-Oktos                                               2.04
7 Antarte-Rota Moveis                                     2.16
8 Asc-Vila Do Conde                                       2.20
9 Paternina-Costa de Almeria                              2.52
10 Barbot-Torrie                                          4.39
11 Beppi-Pepolim                                          4.57
12 Colchon Relax-Fuenlabrada                              6.58
13 Lampre                                                 7.16
14 Flanders-Iteamnova                                    17.15
15 Lokomotiv                                             39.33
 
General classification after stage 10
 
1 Nuno Ribeiro (Por) L.A. Pecol                       40.40.47
2 Rui Lavarinhas (Por) Milaneza-MSS                       1.35
3 Claus Michael Moller (Den) Milaneza-MSS                 2.17
4 David Blanco (Spa) P.Ravessa-Bom Petisco                3.53
5 Nelson Vitorino (Por) P.Ravessa-Bom Petisco             3.56
6 Rui Pinto (Por) Barbot-Torrie                           5.25
7 Victor Gamito (Por) Cantanhede-M-Marialva               6.43
8 Virgilio Santos (Por) Antarte-Rota Moveis               7.35
9 Joan Horrach (Spa) Milaneza-MSS                         9.30
10 Christophe Rinero (Fra) MBK-Oktos                      9.34
11 Sergio Paulinho (Por) Asc-Vila Do Conde                9.45
12 Danail Petrov (Bul) Carvalhelhos-Boavista             10.26
13 Juan Manuel Garate (Spa) Lampre                       11.10
14 Hugo Vitor (Por) Cantanhede-M-Marialva                11.52
15 Fabian Jeker (Swi) Milaneza-MSS                       15.03
16 Orlando Rodrigues (Por) L.A. Pecol                         
17 Krassimir Vassiliev (Bul) P.Ravessa-Bom Petisco       15.45
18 Candido Barbosa (Por) L.A. Pecol                      16.27
19 Bruno Castanheira (Por) L.A. Pecol                    17.40
20 Joaquim Andrade (Por) P.Ravessa-Bom Petisco           18.46
21 Pedro Arreitunandia (Spa) Carvalhelhos-Boavista       19.05
22 Pedro Andrade (Por) L.A. Pecol                        22.15
23 Frederic Gabriel (Fra) MBK-Oktos                      23.18
24 Carlos Golbano (Spa) Paternina-Costa de Almeria       24.07
25 Jose Rodrigues (Por) Carvalhelhos-Boavista            25.03
26 Pedro Lopes (Por) L.A. Pecol                          26.42
27 Marco Morais (Por) Asc-Vila Do Conde                  26.52
28 Gustavo Lemos (Spa) Carvalhelhos-Boavista             28.09
29 Nuno Alves (Por) Barbot-Torrie                             
30 Claudio Faria (Por) Asc-Vila Do Conde                 28.24
31 Ezequiel Mosquera (Spa) Cantanhede-M-Marialva         29.41
32 Jose Miguel Elias (Spa) Colchon Relax-Fuenlabrada     34.12
33 Sergio Perez (Spa) Colchon Relax-Fuenlabrada          34.35
34 Andrei Zintchenko (Rus) L.A. Pecol                    35.05
35 Gonšalo Amorim (Por) Milaneza-MSS                     35.40
36 Pedro Cardoso (Por) Milaneza-MSS                      36.09
37 Joseluis Martinez (Spa) Paternina-Costa de Almeria    39.49
38 Xavier Tondo (Spa) Paternina-Costa de Almeria         40.44
39 Joao Silva (Por) Antarte-Rota Moveis                  41.30
40 Renato Silva (Por) Milaneza-MSS                       42.49
41 Luis Pasamontes (Spa) Colchon Relax-Fuenlabrada       43.53
42 Hugo Sabido (Por) Barbot-Torrie                       44.14
43 Pedro Soeiro (Por) Carvalhelhos-Boavista              47.47
44 Pedro Hermida (Spa) Beppi-Pepolim                     48.14
45 Andrey Mizourov (Kaz) MBK-Oktos                       48.41
46 Oscar Romero (Spa) Beppi-Pepolim                      50.16
47 Hugo Lucio (Por) Barbot-Torrie                        50.21
48 Helder Lopes (Por) P.Ravessa-Bom Petisco              52.15
49 Luis Sarreira (Por) Cantanhede-M-Marialva             52.39
50 Gustavo M. Toledo (Arg) Paternina-Costa de Almeria    53.43
51 Staf Scheirlinckx (Bel) Flanders-Iteamnova            54.18
52 Celio Sousa (Por) Carvalhelhos-Boavista               54.24
53 Juan Olmo (Spa) Barbot-Torrie                         55.24
54 Pedro Costa (Por) Cantanhede-M-Marialva               56.13
55 Helder Miranda (Por) P.Ravessa-Bom Petisco            56.19
56 Gerardo Fernandez (Arg) Antarte-Rota Moveis           57.20
57 Victoriano Fernandez (Spa) Asc-Vila Do Conde          57.41
58 Fernando Sousa (Por) Antarte-Rota Moveis              57.44
59 Yon Bru (Spa) L.A. Pecol                              57.52
60 Isarael Nu˝ez (Spa) Asc-Vila Do Conde                 58.06
61 Alberto Benito (Spa) Antarte-Rota Moveis              58.40
62 Unai Yus (Spa) Cantanhede-M-Marialva                  59.56
63 Quintino Rodrigues (Por) Asc-Vila Do Conde          1.00.00
64 Vicente Reynes (Spa) L.A. Pecol                     1.00.32
65 Segis Delatorre (Spa) Beppi-Pepolim                 1.00.45
66 Daniele Righi (Ita) Lampre                          1.03.06
67 Ricardo Costa (Por) P.Ravessa-Bom Petisco           1.03.45
68 Heiko Szonn (Ger) Flanders-Iteamnova                1.04.27
69 Angel Edo (Spa) Milaneza-MSS                        1.04.35
70 Alessandro Cortinovis (Ita) Lampre                  1.05.16
71 Ricardo Felgueiras (Por) Antarte-Rota Moveis        1.06.12
72 Gustavo Veloso (Spa) Carvalhelhos-Boavista          1.06.43
73 Jose Oliveira (Por) Beppi-Pepolim                          
74 Bert Scheirlinckx (Bel) Flanders-Iteamnova          1.07.55
75 Xavier Delatorre (Spa) Beppi-Pepolim                1.08.14
76 Vidal Fitas (Por) P.Ravessa-Bom Petisco             1.08.41
77 Jacek Morajko (Pol) Antarte-Rota Moveis             1.09.24
78 Adrian Palomares (Spa) Carvalhelhos-Boavista        1.10.13
79 Pavel Brutt (Rus) Lokomotiv                         1.11.20
80 Nuno Marta (Por) Barbot-Torrie                      1.11.24
81 Paulo Barroso (Por) Milaneza-MSS                    1.11.47
82 Dario Gadeo (Spa) Paternina-Costa de Almeria        1.12.13
83 Cesar Quiterio (Por) Antarte-Rota Moveis            1.12.35
84 Maximilian Sciandri (Gbr) Lampre                    1.13.12
85 Nikita Eskov (Rus) Lokomotiv                        1.13.33
86 Mariano Piccoli (Ita) Lampre                        1.13.59
87 Ruben Galvan (Spa) Asc-Vila Do Conde                1.16.53
88 Ivailo Gabrovski (Bul) MBK-Oktos                    1.16.54
89 Serguei Klimov (Rus) Lokomotiv                      1.17.35
90 Atanas Petrov (Bul) Carvalhelhos-Boavista           1.19.32
91 Rubens Bertogliati (Swi) Lampre                     1.21.52
92 German Nieto (Spa) Colchon Relax-Fuenlabrada        1.23.46
93 Paulo Ferreira (Por) Cantanhede-M-Marialva          1.24.39
94 Alexandre Pinho (Por) Beppi-Pepolim                 1.25.38
95 Francisto Garcia (Spa) Antarte-Rota Moveis          1.26.01
96 Didac Cuadros (Spa) Paternina-Costa de Almeria      1.26.26
97 Oscar Serrano (Spa) Asc-Vila Do Conde               1.26.38
98 Alexander Serov (Rus) Lokomotiv                     1.28.29
99 Eduardo Gonzalez (Spa) Barbot-Torrie                1.28.53
100 Oscar Diaz (Spa) Barbot-Torrie                     1.29.32
101 Alexei Markov (Rus) Lokomotiv                      1.37.05
102 Helder Silva (Por) Cantanhede-M-Marialva           1.39.19
103 Pedro Magalhaes (Por) Beppi-Pepolim                1.41.10
104 Jose Guillen (Spa) Beppi-Pepolim                   1.46.22
105 Luis Bartolomeu (Por) P.Ravessa-Bom Petisco        1.48.43
106 Rafael Mila (Spa) Asc-Vila Do Conde                1.59.12
 
Points classification
 
1 Candido Barbosa (Por) L.A. Pecol                         125 pts
2 Angel Edo (Spa) Milaneza-MSS                             123
3 Alberto Benito (Spa) Antarte-Rota Moveis                 101
4 Nuno Ribeiro (Por) L.A. Pecol                             73
5 Victoriano Fernandez (Spa) Asc-Vila Do Conde              52
6 Claus Michael Moller (Den) Milaneza-MSS                   52
7 Rui Lavarinhas (Por) Milaneza-MSS                         51
8 Pedro Soeiro (Por) Carvalhelhos-Boavista                  46
9 Pedro Arreitunandia (Spa) Carvalhelhos-Boavista           36
10 David Blanco (Spa) P.Ravessa-Bom Petisco                 36
11 Nelson Vitorino (Por) P.Ravessa-Bom Petisco              35
12 Victor Gamito (Por) Cantanhede-M-Marialva                30
13 Nuno Marta (Por) Barbot-Torrie                           29
14 Danail Petrov (Bul) Carvalhelhos-Boavista                28
15 Carlos Golbano (Spa) Paternina-Costa de Almeria          22
16 Joan Horrach (Spa) Milaneza-MSS                          21
17 Pedro Costa (Por) Cantanhede-M-Marialva                  20
18 Mariano Piccoli (Ita) Lampre                             20
19 Rui Pinto (Por) Barbot-Torrie                            18
20 Ezequiel Mosquera (Spa) Cantanhede-M-Marialva            16
21 Helder Miranda (Por) P.Ravessa-Bom Petisco               15
22 Hugo Vitor (Por) Cantanhede-M-Marialva                   14
23 Oscar Romero (Spa) Beppi-Pepolim                         13
24 Luis Pasamontes (Spa) Colchon Relax-Fuenlabrada          13
25 Sergio Paulinho (Por) Asc-Vila Do Conde                  12
 
Mountains classification
 
1 Rui Lavarinhas (Por) Milaneza-MSS                         81 pts
2 Fabian Jeker (Swi) Milaneza-MSS                           61
3 Nuno Ribeiro (Por) L.A. Pecol                             58
4 Nelson Vitorino (Por) P.Ravessa-Bom Petisco               49
5 Claus Michael Moller (Den) Milaneza-MSS                   47
6 Victor Gamito (Por) Cantanhede-M-Marialva                 30
7 Pedro Arreitunandia (Spa) Carvalhelhos-Boavista           24
8 Hugo Vitor (Por) Cantanhede-M-Marialva                    22
9 David Blanco (Spa) P.Ravessa-Bom Petisco                  20
10 Ezequiel Mosquera (Spa) Cantanhede-M-Marialva            18
11 Rui Pinto (Por) Barbot-Torrie                            17
 
Young rider classification
 
1 Rui Pinto (Por) Barbot-Torrie                               
2 Sergio Paulinho (Por) Asc-Vila Do Conde                     
3 Danail Petrov (Bul) Carvalhelhos-Boavista                   
4 Jose Rodrigues (Por) Carvalhelhos-Boavista                  
5 Gustavo Lemos (Spa) Carvalhelhos-Boavista                   
 
Teams classification
 
1 Milaneza-MSS                                       122.13.54
2 P.Ravessa-Bom Petisco                                   8.52
3 L.A. Pecol                                             15.18
4 Cantanhede-M-Marialva                                  20.41
5 Carvalhelhos-Boavista                                  26.10
6 Barbot-Torrie                                          51.51
7 Asc-Vila Do Conde                                      51.53
8 MBK-Oktos                                            1.09.29
9 Antarte-Rota Moveis                                  1.18.38
10 Paternina-Costa de Almeria                          1.23.02
11 Lampre                                              1.39.05
12 Colchon Relax-Fuenlabrada                           1.40.21
13 Beppi-Pepolim                                       2.05.35
14 Flanders-Iteamnova                                  2.35.17
15 Lokomotiv                                           3.28.10