Mi-Août Bretonne #3 - 1.5
Guilliers, France, August 8, 2003
Japanese attack on Breton soil
By Jean-François Quénet in Guilliers
Tashiro and Buffaz
Photo: © JF Quenet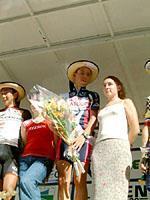 On the same circuit where both Baden Cooke and Yuriy Krivtsov claimed their first pro win in Europe, an unexpected Japanese rider managed to imitate the Australian and the Ukrainian who are now Tour de France stars. Yasutaka Tashiro finished on his own in Guilliers after breaking clear with 5km to go from a 10 man group.
The Barloworld South Africans did really well again. After Jacques Fullard finishing 2nd in Plougasnou and David George running 5th in Perros-Guirec, it was the turn of former French amateur champion Freddy Bichot to finish close to the win. He attacked many times and was away on his own during the last lap but couldn't find the perfect timing as Tashiro did. "It's a pity to miss a win after so many efforts and I'm still chasing my first pro win," Bichot said. "But it's encouraging to see the form coming back."
Akira Asada
Photo: © JF Quenet

Very few riders who were ahead the day before could do it again. Russian Alexei Sivakov was the main one, finishing second and third two days in a row. Race leader Ben Johnson had to let the best riders of the day go without him. "This my sixth race in seven days and I'm afraid it's a bit too much, my legs were hurting so much today," the Queenslander said. He held on though and fought for 21st place with the hope of getting some more points for GC. From his group he attacked with 2km to go but couldn't make it. Johnson is only 20, he has a lot of time to become stronger.
Tashiro is 29. He rode for VC La Pomme-Marseille last year and won the GP of Esperaza one year after Irishman Mark Scanlon. Two years ago he was the Japanese national champion. "This win is exceptional for us," team manager Akira Asada explained. "Never before we were able to get a success in a category 5 race. Considering the high level of the Mi-Août bretonne, it's a fabulous result."
Photography
Images by Jean-Francois Quenet
Results - 158.9 km
1 Yasutaka Tashiro (Jpn) Bridgestone Anchor  3.54.50
2 Mickael Buffaz (Fra) Jean Delatour            0.09
3 Alexei Sivakov (Rus) BigMat
4 Mikhail Teteriuk (Kaz) Nippo Hodo
5 Freddy Bichot (Fra) Team Barloworld
6 Gabriel Rasch (Nor) Team Ringerike
7 Ryan Cox (RSA) Team Barloworld                0.12
8 Samuel Gicquel (Fra) Jean Floc'h              0.15
9 Franck Bigaud (Fra) UC Châteauroux            0.37
10 Sébastien Fournier (Fra) UC Châteauroux
11 Luca Bompadre (Ita) Nippo Hodo               1.15
12 Sébastien Duret (Fra) Jean Floc'h            2.12
13 Francesco Cipoletta (Ita) Nippo Hodo
14 Freddy Ravaleu (Fra) VC Loudun
15 Sylvain Calzati (Fra) Team Barloworld        2.23
16 Frédéric Guesdon (Fra) Fdjeux.com            3.25