Mi-Août Bretonne #1 - 1.5
France, August 6, 2003
Former South African champion close to beating French pro
By Jean-François Quénet in Plougasnou
Mickael Buffaz
Photo: © JF Quenet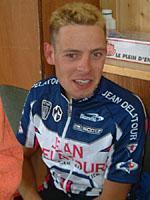 There's no more traditional cycling in France than the Mi-Août bretonne. One village, one circuit, a finish line, and that's it... far away from the marketing and the business plans, but the battle is always fabulous. It's a series of one day races- four this year- that have suited in the past the likes of Laurent Fignon, Steve Bauer, Luc Leblanc, just to name a few. Three years ago, recently crowned green jersey Baden Cooke took his first pro win in Europe ahead of Sylvain Chavanel in a Mi-Août bretonne race. Last year, Ukrainian Yuriy Krivtsov who came 3rd in the last mountain stage of the Tour de France in Bayonne also claimed his first pro win in a Mi-Août bretonne race.
This is what happened to Mickael Buffaz, 24, first year pro with Jean Delatour. He succeeded to his team-mate Frédéric Finot on the circuit of Plougasnou, showing that he could be as fast as a pro as he was as an amateur last year with Delatour's reserve VC Vaulx-en-Velin.
For 100 kilometres, there was a breakaway of 14 men, including Tour de France riders Lilian Jégou and Benoît Poilvet from Crédit Agricole, Jean Delatour's Eddy Seigneur and Bruno Thibout, BigMat's Guillaume Auger, also Freddy Bichot, Sylvain Calzati and Hilton Clarke from Barloworld who was the only team with 3 riders in the front. They got a maximum lead of 1'35'', were about to be caught and went away again, eventually Bichot tried to avoid the return of the bunch and Auger followed him. With 25km to go, it was all together again.
Straight away another group of 13 was formed with three riders from Team Barlworld again: South African champion David George, Jacques Fullard and Eric Berthou. Fullard was instructed to sit up as he has a reputation of being a sprinter in his country but isn't known in France anymore. He has raced in this country as an amateur though but it was in 1996 with Angers Cyclisme and 1997 with VC Evreux. Since he returned to South Africa he has improved a lot on his sprinting skills and became the national champion in 2001. He recently won the Jock Tour before heading back to Europe.
"I thought I was going to win but I sprinted on a too big gear and the Jean Delatour rider passed me at the end", runner up Fullard said with mixed feelings. He was happy to be able to ride for the win in a 1.5 UCI race in Europe but disappointed to finish so close to the win. For Buffaz it was a relief as he's one of these riders from Jean Delatour who have an uncertain future as long as their team isn't sure to continue next year.
Fullard will be the race leader on the start line of race 2 in the Mi-Août bretonne in Pontrieux prior to reach the beautiful town of Perros-Guirec on the north coast of Brittany. Alike the challenge of Mallorca in February in Spain, the overall classification is on points, not on time and Buffaz will not contest it. "I'm going to take a rest before the Clasica San Sebastian and the Tour de l'Ain in my region next week", he said.
It's a flying start for Team Barloworld in these series. The South African outfit isn't afraid of the big French pro teams anymore.
Photography
Images by Jean-Francois Quenet
Results
1 Mickael Buffaz (Fra) Jean Delatour              3.46.03 (45.255 km/h)
2 Jacques Fullard (RSA) Team Barloworld
3 Yann Pivois (Fra) UC Châteauroux                   0.04
4 Olivier Nari (Fra) Jean Floc'h                     0.09
5 Ben Johnson (Aus) SCO Dijon
6 Lloyd Mondory (Fra) Jean Floc'h
7 Lionel Beret (Fra) Brittany
8 Joachim Bøhler (Nor) Team Ringerike
9 Hilton Clarke (Aus) Team Barloworld
10 Sébastien Guérard (Fra) SCO Dijon
11 Francisco Cipoletta (Ita) Nippon Hodo
12 Lilian Jégou (Fra) Crédit Agricole
13 Jean-François Jégou (Fra) Panorimmocom
14 Sylvain Lemarchand (Fra) Brittany
15 Freddy Ravaleu (Fra) VC Loudun
16 Jérémie Derangère (Fra) SCO Dijon
17 Shinishi Fukushima (Jap) Bridgestone Anchor
18 Pierre-Bernard Vaillant (Fra) Jean Floc'h
19 Marc Feipeler (Fra) Panorimmocom
20 Bruno Thibout (Fra) Jean Delatour
21 Said Haddou (Fra) CM Aubervilliers
22 Sébastien Duret (Fra) Jean Floc'h
23 Vladimir Karpatchev (Rus) Moscow Nordmet
24 Guillaume Auger (Fra) BigMat
25 Yoann Le Boulanger (Fra) Oktos
26 Sébastien Fouchet (Fra) CM Aubervilliers
27 Alexandre Grux (Fra) SCO Dijon
28 Franck Faugeroux (Fra) UC Châteauroux
29 Jaco De Witt (RSA) Team Barloworld
30 Freddy Bichot (Fra) Team Barloworld
...
46 Gabriel Rasch (Nor) Team Ringerike
47 Tiaan Kannemeyer (RSA) Team Barloworld
...
56 Jacque Le Roux (RSA) Team Barloworld
...
60 Sylvain Calzati (Fra) Team Barloworld
61 Simon Gerrans (Aus) Team Ringerike

70 David George (RSA) Team Barloworld
71 Sean Sullivan (Aus) Team Barloworld

79 Eric Berthou (Fra) Team Barloworld                0.45