Recently on Cyclingnews.com
Irish National Under 23 Championships - CN
Dunlavin, August 31, 2003
Lynch, Lucey take national titles in Dunlavin
By Shane Stokes
Driving the break through downtown Dunlavin
Photo ©: Shane Stokes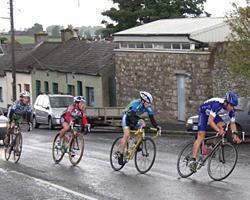 French-based rider Denis Lynch went one better than the silver medal he took last year with a storming ride in the national under 23 road race championships in Dunlavin Sunday. The VC La Pomme cyclist recovered from an untimely puncture to rejoin a breakaway group of four others on the third of eight laps, and then pressed ahead with team-mate Paidi O'Brien and Conor Murphy of the Crannog Ireland club with two to go. Shortly afterwards he made his move and rode strongly from there to the finish, crossing the line a minute and a half clear of O'Brien and Murphy.
The six lap junior race resulted in a surprise win for Killarney's Michael Lucey, who outwitted the race favourites when he attacked a small breakaway group with just two miles remaining. Paul Brady (McQuaid Tyres Emyvale) took silver while Northern CC rider Frazer Duncan netted bronze.
The day's action began with an early break by Daniel Lynch, O'Brien, Murphy and Phoenix's Matthew Ward, who had opened up a minute's lead by the end of lap two. Denis Lynch had missed the move but jumped clear of the small bunch and set about bridging the gap, pedalling smoothly and strongly as he closed down to the four up front. He made contact on the third lap but punctured shortly afterwards, necessitating a wheel change and another chase to get back on terms.
Once there Lynch joined with the other riders to roll through, comfortably extending their lead over a depleted, demoralised bunch. Only 19 riders had started the 88 mile race and some of these pulled out once it was clear that the move had gone for the day, meaning that barring a mass pile-up or similar catastrophe up front, three of the five would go home with medals.
The identities of these three started to become obvious at the end of the sixth lap when Marseilles based team-mates Lynch and O'Brien went clear with Murphy. On paper these had been the strongest in the quintet and so it proved, with first Ward and then Daniel Lynch slipping back rapidly. The two VC La Pomme riders had both the numerical advantage and also the benefit of a season-full of racing on the continent, and when Lynch made his move shortly afterwards Murphy was unable to prevent the Corkman racing further and further ahead.
At the bell Lynch had 40 seconds over Murphy and a comfortable O'Brien, who was entitled to sit on, and by the time he wheeled across the line to take the gold medal, his lead had doubled. O'Brien comfortably outsprinted Murphy to ensure a VC La Pomme one-two, with the Crannog Ireland rider taking bronze three seconds later. Daniel Lynch finished seven minutes down on his twin brother, with his team-mate Michael Dennehy fifth at ten minutes eighteen seconds, one second ahead of Killorglin's Micheal Concannon. That capped off an impressive showing for the Kanturk Credit Union club, as Denis Lynch and Paidi O'Brien came up through the ranks with the Cork squad; in short, of the first five today, four either are, or were, members of the team.
Due perhaps to the bigger field, the junior race was a more competitive, eventful affair. On the first of six eleven-mile laps Eoin Concannon (Killorglin Credit Union) and McNally Swords rider Keith Daly went clear and were then joined by Mark Nestor (Shannonside). Bray Wheelers' Paul McMahon and Michael Lucey (Killarney CC) then succeeded in bridging the gap, with Paul Brady (McQuaid Tyres Emyvale), Mark Cassidy (Cycleways Lee Strand), Theo Hardwick (Killorglin Credit Union) Frazer Duncan (Northern CC) and Lucey's team-mate Richard Maes eventually getting across and making it ten up front.
Duncan lost contact on several occasions on the course's tough drags, but was able to regain contact each time. His determination was tested once more when he punctured on the fifth lap, leading to a character-testing chase which eventually saw him return to the leaders with just two miles remaining, and then net a well-earned bronze medal. But before then a number of riders tried to claim gold, with Eoin Concannon opening a lead on lap five, Cassidy overhauling him on the race's steep hill one lap later and Hardwick trying to go clear in pursuit of the Cycleways Lee Strand rider. But it was a Lucey who surprised the favourites with his audacious move inside the final three miles, getting a gap and maintaining it all the way to the line despite the individual efforts of those behind to jump across. Brady took silver, 26 seconds later, with Duncan's dogged persistence earning him bronze. Maes, Nester, Concannon, Hardwick and Cassidy were next home, all within forty seconds of the winner.
Photos
Images by Shane Stokes
Juniors
Under 23s
Results, 88 miles
1 Denis Lynch (VC La Pomme)               3.45.55
2 P. O'Brien (VC La Pomme)                   1.27
3 C. Murphy (Crannog Ireland)                1.30
4 D. Lynch (Kanturk Credit Union)            6.59
5 M. Dennehy (Kanturk Credit Union)         10.18
6 M. Concannon (Killorglin Credit Union)    10.19
7 M. Quigley (Mayo Wheelers)                10.31
8 D. O'Sullivan (PSVA Aarcher)              11.51
9 D. Brennan (Castlebar)
10 M. Ward (Phoenix)                        11.54
 
Juniors, 66 miles 
 
1 Michael Lucey (Killarney CC)            2.52.44
2 P. Brady (McQuaid Tyres Emyvale)           0.26
3 F. Duncan (Northern CC)                    0.27
4 R. Maes (Killarney CC)                     0.29
5 M. Nestor (Shannonside)                    0.31
6 E. Concannon (Killorglin Credit Union)     0.36
7 T. Hardwick (Killorglin Credit Union)
8 M. Cassidy (Cycleways Lee Strand)          0.38