Recently on Cyclingnews.com
Green Mountain Stage Race - NE
Vermont, USA, August 29-September 1, 2003
Prologue - August 29: Egan's Big World Prologue, 8.1 miles
McCormack, Jeanson take wet and wild prologue
By Alan Atwood
Justin Spinelli makes the top 5
Photo ©: GMSR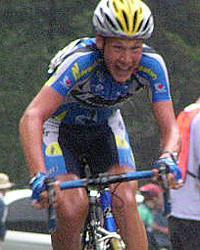 Mark McCormack (North Easton, MA; Saturn) and Genevieve Jeanson (Lachine, PQ; Rona/Esker) were victorious in the pouring rain in the opening prologue stage of the Mad River Valley Green Mountain Stage Race.
Jeanson led a barrage of Rona/Esker riders up the final climb in the 13km hill climb stage. Sporting her brand new national championship jersey, she escaped from the field just after the beginning neutral zone and won the stage easily over teammates Johanna Buick and Shani Block. The Rona squad not only swept the podium, but placed riders in the top 4 places, and 5 out of the top 10. The American contingent was led by rising star Kerry Litka (Sanborntan, NH; Independent Fabrication/Wheelworks); earning the best finish of her young career by placing 5th. Sara Schreib of Williston was the leading Vermont rider, finishing 42nd, and Winooski's Marielle Aunave was 48th.
While Jeanson had to deal with an occasional shower on her way to the top of the hill, the men started when the skies opened up, making race conditions very difficult with the rain and fog. The men were cautious, and were still grouped together at the final climb, when McCormack attacked in the final kilometer and soloed to the win just ahead of Cameron Hughes (Yorktown Heights, NY; Lemond Fitness/Cra-Z Soap) and teammate Tim Johnson (Knowlton, PQ; Saturn).
Andrew Knight (S. Burlington; Louis Garneau) continued his hot streak of late by placing 10th to be the first Vermonter to cross the finish line, with Shelburne's Kevin Bouchard-Hall (Hawley-ATA) right behind him in 11th. Other Vermont riders to finish were David Young of Rutland (54th), Jason Baer of Burlington (61st), Ben Silverfarb of Norwich (67th), Benjamin Peters of Shelburne (74th), Bret Williamson of Rutland (75th), Bobby Bailey of Williston (77th), Ben Kubas (83rd), Will Letendre of Norwich (86th), Chris Hrenko of Montpelier (87th), and David Sachs of Burlington (89th).
Tomorrow's Stage 1 is the Moretown Circuit Race, a 29km loop that the men will do 4 times and the women 3. Mark McCormack is the favorite for the men tomorrow, as he has won the first 2 editions of this stage. Genevieve Jeanson has never lost in the GMSR and with her teammates help should be able to maintain her overall lead after tomorrow's racing.
Photos
Images by GMSR
Results

Men Pro/1/2
 
1 Mark Mccormack (Saturn)                                   28:16.9    41 pts
2 Cameron Hughes (LeMond Fitness/Captain Cra-Z Soap)         0:03.5    37
3 Tim Johnson (Saturn)                                       0:04.8    37
4 Jon Hamblen (Fiordifrutta/Wheelworks)                      0:10.5    31
5 Justin Spinelli (Navigators Cycling Team)                  0:24.8    29
6 Ciaran Power (Navigators)                                  0:33.6    27
7 Philip Wong (Essex County Velo)                            0:34.2    27
8 Mike Dietrich (Fiordifrutta/Wheelworks)                    0:35.3    27
9 Robbie King (GS CIAO)                                      0:36.2    27
10 Andrew Knight (Louis Garneau Racing)                      0:38.2    21
11 Kevin Bouchard-Hall (Hawley ATA-Cycles)                   0:40.1    21
12 Lawrence Perera (Sportsbook.com allstars)                 0:42.0    21
13 Peter Hult (Giant-ProCycles)                              0:49.0    18
14 Ian Beilby (Louis Garneau Racing)                         0:52.0    17
15 Jean-Francois Laroche (trek volkswagen)                   0:53.5    17
16 Alexandre Nadeau (AD OPT Cycling Team)                    0:54.5    17
17 Chris Peck (Fiordifrutta/Wheelworks)                      0:55.9    17
18 Stig Somme (Jet Fuel Coffee)                              0:57.0    17
19 Alex Lavallee (Volkswagen-Trek)                           1:02.9    12
20 Jonathan Bruno (Essex County Velo)                        1:05.3    11
21 Lee Rosenthal (Soho Capital)                              1:06.9    11
22 Mike Wilk (ACA / Jamba Juice)                             1:08.8    11
23 Christian Meier (Canadian National development)           1:11.6     8
24 Bill Innes (LeMond Fitness/Captain Cra-Z Soap)            1:13.2     8
25 Jean-luc Pilote (Club Espoirs de Laval)                   1:14.6     8
26 Patrick Sullivan (GS Ciao)                                1:21.6     5
27 Mark Walters (Navigators Cycling Team)                    1:23.2     5
28 Rob Hult (ProCycles-Giant)                                1:23.8     5
29 Greg Roth (Unattached)                                    1:25.1     5
30 Imanol Ayestaran (Unattached)                             1:26.1     5
31 Jesse Anthony (Hot Tubes Cycling Team)                    1:27.7     5
32 Dan Maggiacomo (GearsRacing.Com)                          1:28.7     5
33 Matt White (NCC / BikeReg.com)                            1:32.4
34 Jay Gump (Unattached)                                     1:34.0
35 Chris Hardee (LSV/Trek/VW)                                1:43.0
36 Eneas Freyre (LeMond Fitness/Captain Cra-Z Soap)          1:44.4
37 Johannes Huseby (FiordiFrutta/Wheelworks)                 1:45.5
38 Jon Tarkington (Vitamin Cottage)                          1:50.2
39 Bruno Langlois (volkswagentrek)                           1:51.3
40 Martin St-Laurent (Team Volkswagen Trek)                  1:52.1
41 Andy Guptill (Unattached)                                 1:55.4
42 Brandon Crichton (Canadian National development)          1:59.3
43 Seth Hosmer (NHCC/Team NH)                                2:01.0
44 Chad Butts (Maxxis-SpokePost.com Cycling)                 2:02.3
45 Xavier Melendez (NEXT-CRCA)                               2:03.1
46 Marc Collard (Davis Bike Club)                            2:04.5
47 Mike Jones (West Virginia Pro Biking Team)                2:05.5
48 Martin Lazarski (Gearsracing.com)                         2:06.7
49 Jon Page (Prime Alliance)                                 2:07.7
50 Dan Cassidy (Louis Garneau Racing)                        2:13.3
51 Yann Deville (Club Gervaix Rioux/Medico-Sportif)          2:18.1
52 Chris Gruber (Metro Sanchez)                              2:19.1
53 Alec Donahue (NCC / BikeReg.com)                          2:23.6
54 David Young (NCC / BikeReg.com)                           2:24.6
55 Timothy Unkert (Capital Velo Club)                        2:25.5
56 Nathaniel Deibler (SC Velo)                               2:26.3
57 Mathieu Roy (Espoirs Laval)                               2:28.3
58 Matthew Svatek (Sportsbook.com Professional Cycling Team) 2:29.5
59 Pascal Choquette (trek-volkwagen)                         2:34.0
60 Chris Harnish (Corner Cycle-Champion Sports)              2:38.5
61 Jason Baer (Hawley-ATA Cycles)                            2:42.1
62 Antoine Stundner (Espoirs de Laval)                       2:47.2
63 Eric Sheagley (Essex County Velo)                         2:48.3
64 Conor Hurley (West Virginia)                              2:54.4
65 Teddy King (Louis Garneau Racing)                         2:58.0
66 Matt Patterson (Gearsracing.com)                          3:03.7
67 Ben Silberfarb (Essex County Velo (ECV))                  3:06.0
68 Raphaël Tremblay (Canadian National development)          3:07.6
69 Daniel Staffo (Preferred care)                            3:12.4
70 Michael Lesmerises (Knox Velo)                            3:12.8
71 Curt Davis (Fiordifrutta/Wheelworks)                      3:14.8
72 Steve Roszko (NCC / BikeReg.com)                          3:15.9
73 Kevin Lacombe (Canadian National development)             3:18.6
74 Benjamin Peters (Essex County Velo (ECV))                 3:27.3
75 Bret Williamson (Hawley/ata Cycles)                       3:31.5
76 Warren Tilbrook (GearsRacing.Com)                         3:58.8
77 Bobby Bailey (Hawley-atabike.com)                         4:05.7
78 Kevin Noiles (Unattached)                                 4:13.9
79 Donny Mills (Fuir Di Fruita/Wheelworks)                   4:20.1
80 Shawn Mccormack (Sago Tea Cafe / Bicycle Alley)           4:20.9
81 Greg Montello (Essex County Velo)                         4:35.0
82 Michael Scherer (VS Quimer)                               4:38.5
83 Ben Kubas (Hawley ATA-Cycles)                             4:55.0
84 Matt Morrell (Hawley ATA-Cycles)                          5:00.7
85 Leigh Palmer (LeMond Fitness/Captain Cra-Z Soap)          5:07.0
86 Will Letendre (Essex County Velo)                         5:09.3
87 Chris Hrenko (onion river sports)                         5:13.6
88 Peter Stewart (Red Lantern Cycling)                       5:15.0
89 David Sachs (UVM)                                         5:34.9
90 Nat Faulkner (Trek/VW/Goodale's)                          5:37.5
91 Kurt Hackler (FiordiFrutta / Ridgefield Bank)             5:52.8
92 Marc Bertucco (Athletes By Design)                        6:14.9
93 Jean Paul Desrosiers Jr. (HAWLEY-ATABIKE.COM)             7:08.3
94 Christopher Benoit (Essex County Velo)                    7:27.7
 
Women 1/2
 
1 Geneviève Jeanson (Rona-Esker)                            31:44.0    41 pts
2 Johanna Buick (Rona-Esker)                                 2:22.5    37
3 Shani Block (Rona-Eskar)                                   2:42.0    34
4 Kristen Lasasso (Rona-Esker)                               3:06.0    31
5 Kerry Litka (Dansko/Wheelworks)                            3:08.7    29
6 Sara Bresnick (Dansko-Wheelworks)                          3:12.5    27
7 Aimee Vasse (IF/Wheelworks)                                3:17.4    25
8 Stéphanie Bourbeau (Équipe du Québec)                      3:23.1    23
9 Katheryn Curi (Rona-Eskar)                                 3:31.0    22
10 Suz Weldon (Ashmead College / King 5 TV)                  3:31.4    22
11 Émilie Roy (Canadian Cycling)                             3:35.0    20
12 Anna Milkowski (Gearworks-Spin Arts)                      3:35.7    20
13 Danelle Kabush (Team Ontario)                             3:41.6    18
14 Brenda Bahnson (IF/Wheelworks)                            3:58.8    17
15 Katherine Lambden (CRCA/Gotham)                           3:59.1    17
16 Martha Meyer (Vitamin Cottage)                            4:00.6    17
17 Brooke Ourada (Rona-Eskar)                                4:02.1    17
18 Heather Peck (IF/Wheelworks)                              4:03.3    17
19 Ann marie Miller (Verizon Wireless Cervelo)               4:11.3    12
20 Hiroko Shimada (Unattached)                               4:24.4    11
21 Audrey Lemieux (Quebec Team)                              4:31.3    10
22 Katrina Davis (Richard Sachs Women's Team)                4:33.0    10
23 Sinead Fitzgibbon (hampton velo club)                     4:34.2    10
24 Jennifer Stephenson (Team Ontario)                        4:35.5    10
25 Tara Mulder (Team Ontario)                                4:39.1     6
26 Zoe Owers (New Hampshire Cycling Club)                    4:41.6     5
27 Amy Moore (Team Ontario)                                  4:44.3     4
28 Julie Hutsebaut (Équipe du Québec)                        4:56.7     3
29 Julie Belanger ()                                         4:58.7     2
30 Frances Harrison (CRCA/Sanchez Metro)                     4:59.6     2
31 Becky Koh (CRCA/Radical Media)                            5:04.7
32 Sarah Chubb Sauvayre (CRCA/Sanchez-Metro)                 5:06.0
33 Anna Garnett (Team Ontario)                               5:23.1
34 Midori Nakamura (CRCA/Sanchez-Metro)                      5:30.6
35 Penny Buchar (Hudson Valley Velo Club)                    5:32.9
36 Reem Jishi (CRCA/Conrad's)                                5:33.4
37 Alicia Mayer (Orbea)                                      5:40.3
38 Magalie Boulay (Équipe du Québec)                         5:44.7
39 Rosanne Lent (Unattached)                                 5:49.5
40 Emily Sandwith (Canadian National development)            5:52.1
41 Leah Toffolon (Richard Sachs/CYBC)                        6:02.5
42 Sarah Schreib (Unattached)                                6:03.0
43 Geneviève Leblanc (Équipe du Québec)                      6:23.7
44 Elizabeth Renaud (CRCA/Sanchez Metro)                     6:40.9
45 Marie-Pier Bédard (Canadian National development)         6:48.7
46 Caryl Gale (EAS/FITNESS-CRCA)                             6:57.3
47 Mary Kneeland (ICO)                                       6:57.9
48 Marielle Aunave (Unattached)                              6:59.2
49 Geneviève Gagnon (Équipe du Québec)                       7:08.4
50 Lisa Maxwell (IF/Wheelworks)                              7:38.3
51 Anna Tratnyek (Canadian National development)             7:39.9
52 Laura Summers (Hudson Valley Velo Club)                   7:46.6
53 Amanda Tucker (Verizon Wireless-Cervelo)                  8:03.8
54 Cheryl Olson (Unattached)                                 8:20.3
55 Mackenzie Dickey (Team Bicycle Alley)                     8:49.7
56 Michele Smith (IF/Wheelworks)                            13:02.0
DNF Mylène Laliberté (Quebec Team)