Recently on Cyclingnews.com
Grand Prix Tell - 2.7.1
Switzerland, August 27-31, 2003
Stage 1 - August 27: Niedererlinsbach - Niedererlinsbach criterium, 80.0 km
First leader from Kazakhstan
By Andreas Oppliger
Assan Bazayev mellow in yellow
Photo ©: Tony Stutz and Daniel Erismann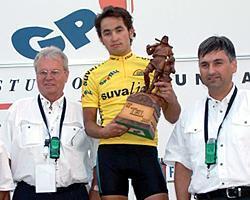 On Wednesday evening the U23 World Cup race GP Tell 2003 started in Niedererlinsbach (near Aarau), with 99 riders out of 17 teams. One team, the prestigious Italian U23 squad, was not admitted to the race, for not getting the requested licence to start abroad by the Italian Cycling federation in time. It was a shock for the race organisers as some other national teams (France, Sweden, Ireland and Ukraine) had also renounced their participation in Switzerland, some even at the last moment.
Nevertheless this was a big chance for the other riders to gain points for the U23 World Cup classification, although the profile of the first stage was difficult. It consisted in 10 laps of an 8 kilometre circuit with one very steep (12%) but short climb. From the beginning the speed in the race was very high, and eventually Assan Bazayev of the Kazakhstan national team won the stage.
One of the most active riders in the peloton was Daniel Gysling (Swiss national team). He was at the front of the race after 40 kilometres together with the Slovenian rider Janez Braikovic and the man from Latvia, Oleg Melehs. The trio never succeeded in building up a lead of over 30 seconds, so five other riders managed to catch them, including another Swiss rider, Florian Stalder. Although the two Swiss guys were extremely active in this group, they didn't succeed in getting away from the other riders. The Kazakh Assan Bazayev joined the leading group only five kilometres before the finish line. He was the strongest member out of the leading group and won the final sprint.
Bazayev is taking part in the GP Tell for the second time, after having finished 28th on GC last year. It was the fourth win for the 22 year old rider in this season. After his win he denied having any ambitions on GC, "The cat. 1 climbs... they really are too steep for a guy like me!"
Photos
Images by Tony Stutz and Daniel Erismann
Results
1 Assan Bazayev (Kaz) Kazakhstan National Team              1.58.10
2 Vladimir Gusev (Rus) Russian National Team                       
3 Sebastian Schwager (Ger) German National Team                    
4 Daniel Gysling (Swi) Swiss Cycling                               
5 Walker Ferguson (USA) USA National Team                          
6 Tomaz Nose (Slo) Slovenian National Team                         
7 Florian Stalder (Swi) Swiss Cycling                              
8 Matej Mugerli (Slo) Slovenian National Team                      
9 Stef Clement (Ned) Dutch National Team                           
10 Oleg Melehs (Lat) Rietumu Bank Cycling Team                     
11 Janez Brajkovic (Slo) Slovenian National Team                   
12 Michael Creed (USA) USA National Team                           
13 Kenny Van Hummel (Ned) Dutch National Team                  1.13
14 Peter Mohlmann (Ned) Dutch National Team                        
15 Peter Oeschger (Swi) Hörmann Betoncoupe                         
16 Daniel Musiol (Ger) German National Team                        
17 Alberto Tiberio (Swi) Mixed 2 - Tessin-Luzern                   
18 Alexandr Dymovskikh (Kaz) Kazakhstan National Team              
19 Kurt Hovelynck (Bel) Palmans-Collstrop                          
20 Jonas Meng (Swi) GS Rufalex Nordwest                            
21 Andreas Dietziker (Swi) Swiss Cycling                           
22 Felix Gniot (Ger) German National Team                          
23 Arian Buchwalder (Swi) Hörmann Betoncoupe                       
24 Steve Grossenbacher (Swi) Hadimec                               
25 Bart Oegema (Ned) Dutch National Team                           
26 Marco Giani (Ita) Mixed 2 - Tessin-Luzern                       
27 Maxim Iglinskiy (Kaz) Kazakhstan National Team                  
28 Markus Schmidig (Swi) GS Rufalex Nordwest                       
29 Michael Müller (Swi) Team Mixed Zollinger                       
30 Jimmy Tapparel (Swi) Hadimec                                    
31 Jos Harms (Ned) Dutch National Team                             
32 Matic Strgar (Slo) Slovenian National Team                      
33 Marcel Schilliger (Swi) Hadimec                                 
34 Andrey Medyannikov (Kaz) Kazakhstan National Team               
35 Jure Kocjan (Slo) Slovenian National Team                       
36 Peter Magyarosi (Ger) Hofbräu Radler Stuttgart                  
37 Marco Von Känel (Swi) Hörmann Betoncoupe                        
38 Ivan Santaromita (Ita) Mixed 2 - Tessin-Luzern                  
39 Viktor Shestakuv (Kaz) Kazakhstan National Team                 
40 Sergey Lazarev (Rus) Angelin Travel RO St Petersburg            
41 Pablo Pico (Swi) Mixed 2 - Tessin-Luzern                        
42 Bruno Büetiger (Swi) Hörmann Betoncoupe                         
43 Jochen Uhrig (Ger) German National Team                         
44 Marco Jimenez (Swi) GS Rufalex Nordwest                         
45 Serge Pauwels (Bel) Palmans-Collstrop                           
46 Erich Kunz (Swi) Hadimec                                        
47 Dane Jankowiak (USA) USA National Team                          
48 Michael Muck (Ger) Hofbräu Radler Stuttgart                     
49 Laurent Arn (Swi) Hadimec                                       
50 Norbert Poels (Ned) Dutch National Team                         
51 Johann Tschopp (Swi) GS Rufalex Nordwest                        
52 Matthias Russ (Ger) Hofbräu Radler Stuttgart                    
53 Morten Knudsen (Den) Danish National Team                       
54 Sergey Firsanov (Rus) Angelin Travel RO St Petersburg           
55 Wren Tyler (USA) USA National Team                              
56 Alexander Arekeev (Rus) Russian National Team                   
57 Ivan Chtchegolev (Rus) Russian National Team                    
58 Timmy Duggan (USA) USA National Team                            
59 Dmitri Kozontchuk (Rus) Angelin Travel RO St Petersburg         
60 Alexandr Dyachenko (Kaz) Kazakhstan National Team               
61 Brian Vandborg (Den) Danish National Team                       
62 Glenn Poleunis (Bel) Palmans-Collstrop                          
63 Darby Thomas (USA) USA National Team                            
64 Jochen Rochau (Ger) Hofbräu Radler Stuttgart                    
65 Braulio Juanes (Spa) Hadimec                                    
66 Roman Gugger (Swi) Swiss Cycling                                
67 Simon Schärer (Swi) Team Mixed Zollinger                        
68 Hubert Schwab (Swi) Swiss Cycling                               
69 Alexander Bespalov (Rus) Russian National Team              1.21
70 Jonas Leib (Swi) Swiss Cycling                              1.34
71 Michael Kristensen (Den) Danish National Team               1.37
72 Larsen Klostergaard Kasper (Den) Danish National Team           
73 Sandro Germann (Swi) Mixed 2 - Tessin-Luzern                2.12
74 Alexander Bazhenov (Rus) Angelin Travel RO St Petersburg    4.55
75 Kristof De Zutter (Bel) Palmans-Collstrop                   6.44
76 Christian Rocha (Swi) Team Mixed Zollinger                  6.58
77 Steffen Greger (Ger) Hofbräu Radler Stuttgart                   
78 Remo Spirgi (Swi) GS Rufalex Nordwest                           
79 Stefan Widmer (Swi) GS Rufalex Nordwest                         
80 Aleksejs Saramotins (Lat) Rietumu Bank Cycling Team             
81 Christian Frommelt (Lie) Team Mixed Zollinger                   
82 Lasse Böchman (Den) Danish National Team                        
83 Stanislav Belov (Rus) Angelin Travel RO St Petersburg      10.04
84 Aldis Abolins (Lat) Rietumu Bank Cycling Team              11.49
85 Pirmin Lang (Swi) Mixed 2 - Tessin-Luzern                       
86 Tobias Baumgartner (Swi) Team Mixed Zollinger                   
87 Kalvis Eisaks (Lat) Rietumu Bank Cycling Team                   
88 Janusch Laule (Ger) Team Mixed Zollinger                        
89 Peter Jörgensen (Den) Danish National Team                      
90 Boris Shpilevski (Rus) Angelin Travel RO St Petersburg     11.53
91 Thorsten Struch (Ger) German National Team                      
92 Christian Grob (Swi) Hörmann Betoncoupe                    15.37
93 Mario Wernli (Swi) Hörmann Betoncoupe                           
94 Kurt Dierckx (Bel) Palmans-Collstrop                       16.22
95 Leo Karstens (Ger) German National Team                    17.45
96 Gregory De Munster (Bel) Palmans-Collstrop                      
97 Ronny Hartz (Ger) Hofbräu Radler Stuttgart                      
DNF Martins Polakovs (Lat) Rietumu Bank Cycling Team               
DNF Kristaps Celms (Lat) Rietumu Bank Cycling Team                 
 
Points
 
1 Assan Bazayev (Kaz) Kazakhstan National Team                   25 pts
2 Vladimir Gusev (Rus) Russian National Team                     20
3 Sebastian Schwager (Ger) German National Team                  16
4 Daniel Gysling (Swi) Swiss Cycling                             13
5 Walker Ferguson (USA) USA National Team                        11
6 Tomaz Nose (Slo) Slovenian National Team                       10
7 Florian Stalder (Swi) Swiss Cycling                             9
8 Matej Mugerli (Slo) Slovenian National Team                     8
9 Stef Clement (Ned) Dutch National Team                          7
10 Oleg Melehs (Lat) Rietumu Bank Cycling Team                    6
11 Janez Brajkovic (Slo) Slovenian National Team                  5
12 Michael Creed (USA) USA National Team                          4
13 Kenny Van Hummel (Ned) Dutch National Team                     3
14 Peter Mohlmann (Ned) Dutch National Team                       2
15 Peter Oeschger (Swi) Hörmann Betoncoupe                        1
 
Mountains
 
Lostorferstrasse - Cat. 3, 23.8 km
1 Maxim Iglinskiy (Kaz) Kazakhstan National Team                  3 pts
2 Ivan Chtchegolev (Rus) Russian National Team                    2
3 Serge Pauwels (Bel) Palmans-Collstrop                           1
 
Lostorferstrasse - Cat. 3, 43.8 km
1 Daniel Gysling (Swi) Swiss Cycling                              3 pts
2 Janez Brajkovic (Slo) Slovenian National Team                   2
3 Oleg Melehs (Lat) Rietumu Bank Cycling Team                     1
 
Lostorferstrasse - Cat. 3, 63.8 km
1 Daniel Gysling (Swi) Swiss Cycling                              3 pts
2 Stef Clement (Ned) Dutch National Team                          2
3 Walker Ferguson (USA) USA National Team                         1
 
Sprints
 
Erlinsbach - 20.0 km                                               
1 Janez Brajkovic (Slo) Slovenian National Team                   3 pts
2 Kenny Van Hummel (Ned) Dutch National Team                      2
3 Daniel Musiol (Ger) German National Team                        1
 
Erlinsbach - 40.0 km                                               
1 Daniel Gysling (Swi) Swiss Cycling                              3 pts
2 Oleg Melehs (Lat) Rietumu Bank Cycling Team                     2
3 Janez Brajkovic (Slo) Slovenian National Team                   1
 
Erlinsbach - 60.0 km                                               
1 Daniel Gysling (Swi) Swiss Cycling                              3 pts
2 Sebastian Schwager (Ger) German National Team                   2
3 Stef Clement (Ned) Dutch National Team                          1
 
Teams
 
1 Slovenian National Team                                   5.54.30
2 Swiss Cycling                                                1.13
3 USA National Team                                                
4 Kazakhstan National Team                                     2.16
5 Russian National Team                                        2.20
6 German National Team                                         2.22
7 Dutch National Team                                          2.26
8 Hörmann Betoncoupe                                           3.39
9 Mixed 2 - Tessin-Luzern                                          
10 Hadimec                                                         
11 GS Rufalex Nordwest                                             
12 Palmans-Collstrop                                               
13 Hofbräu Radler Stuttgart                                        
14 Angelin Travel RO St Petersburg                                 
15 Danish National Team                                        4.03
16 Team Mixed Zollinger                                        9.24
17 Rietumu Bank Cycling Team                                  18.47
 
General classification after stage 1
 
1 Assan Bazayev (Kaz) Kazakhstan National Team              1.58.00
2 Vladimir Gusev (Rus) Russian National Team                   0.04
3 Sebastian Schwager (Ger) German National Team                0.06
4 Daniel Gysling (Swi) Swiss Cycling                           0.10
5 Walker Ferguson (USA) USA National Team                          
6 Tomaz Nose (Slo) Slovenian National Team                         
7 Florian Stalder (Swi) Swiss Cycling                              
8 Matej Mugerli (Slo) Slovenian National Team                      
9 Stef Clement (Ned) Dutch National Team                           
10 Oleg Melehs (Lat) Rietumu Bank Cycling Team                     
11 Janez Brajkovic (Slo) Slovenian National Team                   
12 Michael Creed (USA) USA National Team                           
13 Kenny Van Hummel (Ned) Dutch National Team                  1.23
14 Peter Mohlmann (Ned) Dutch National Team                        
15 Peter Oeschger (Swi) Hörmann Betoncoupe                         
16 Daniel Musiol (Ger) German National Team                        
17 Alberto Tiberio (Swi) Mixed 2 - Tessin-Luzern                   
18 Alexandr Dymovskikh (Kaz) Kazakhstan National Team              
19 Kurt Hovelynck (Bel) Palmans-Collstrop                          
20 Jonas Meng (Swi) GS Rufalex Nordwest                            
21 Andreas Dietziker (Swi) Swiss Cycling                           
22 Felix Gniot (Ger) German National Team                          
23 Arian Buchwalder (Swi) Hörmann Betoncoupe                       
24 Steve Grossenbacher (Swi) Hadimec                               
25 Bart Oegema (Ned) Dutch National Team                           
26 Marco Giani (Ita) Mixed 2 - Tessin-Luzern                       
27 Maxim Iglinskiy (Kaz) Kazakhstan National Team                  
28 Markus Schmidig (Swi) GS Rufalex Nordwest                       
29 Michael Müller (Swi) Team Mixed Zollinger                       
30 Jimmy Tapparel (Swi) Hadimec                                    
31 Jos Harms (Ned) Dutch National Team                             
32 Matic Strgar (Slo) Slovenian National Team                      
33 Marcel Schilliger (Swi) Hadimec                                 
34 Andrey Medyannikov (Kaz) Kazakhstan National Team               
35 Jure Kocjan (Slo) Slovenian National Team                       
36 Peter Magyarosi (Ger) Hofbräu Radler Stuttgart                  
37 Marco Von Känel (Swi) Hörmann Betoncoupe                        
38 Ivan Santaromita (Ita) Mixed 2 - Tessin-Luzern                  
39 Viktor Shestakuv (Kaz) Kazakhstan National Team                 
40 Sergey Lazarev (Rus) Angelin Travel RO St Petersburg            
41 Pablo Pico (Swi) Mixed 2 - Tessin-Luzern                        
42 Bruno Büetiger (Swi) Hörmann Betoncoupe                         
43 Jochen Uhrig (Ger) German National Team                         
44 Marco Jimenez (Swi) GS Rufalex Nordwest                         
45 Serge Pauwels (Bel) Palmans-Collstrop                           
46 Erich Kunz (Swi) Hadimec                                        
47 Dane Jankowiak (USA) USA National Team                          
48 Michael Muck (Ger) Hofbräu Radler Stuttgart                     
49 Laurent Arn (Swi) Hadimec                                       
50 Norbert Poels (Ned) Dutch National Team                         
51 Johann Tschopp (Swi) GS Rufalex Nordwest                        
52 Matthias Russ (Ger) Hofbräu Radler Stuttgart                    
53 Morten Knudsen (Den) Danish National Team                       
54 Sergey Firsanov (Rus) Angelin Travel RO St Petersburg           
55 Wren Tyler (USA) USA National Team                              
56 Alexander Arekeev (Rus) Russian National Team                   
57 Ivan Chtchegolev (Rus) Russian National Team                    
58 Timmy Duggan (USA) USA National Team                            
59 Dmitri Kozontchuk (Rus) Angelin Travel RO St Petersburg         
60 Alexandr Dyachenko (Kaz) Kazakhstan National Team               
61 Brian Vandborg (Den) Danish National Team                       
62 Glenn Poleunis (Bel) Palmans-Collstrop                          
63 Darby Thomas (USA) USA National Team                            
64 Jochen Rochau (Ger) Hofbräu Radler Stuttgart                    
65 Braulio Juanes (Spa) Hadimec                                    
66 Roman Gugger (Swi) Swiss Cycling                                
67 Simon Schärer (Swi) Team Mixed Zollinger                        
68 Hubert Schwab (Swi) Swiss Cycling                               
69 Alexander Bespalov (Rus) Russian National Team              1.31
70 Jonas Leib (Swi) Swiss Cycling                              1.44
71 Michael Kristensen (Den) Danish National Team               1.47
72 Larsen Klostergaard Kasper (Den) Danish National Team           
73 Sandro Germann (Swi) Mixed 2 - Tessin-Luzern                2.22
74 Alexander Bazhenov (Rus) Angelin Travel RO St Petersburg    5.05
75 Kristof De Zutter (Bel) Palmans-Collstrop                   6.54
76 Christian Rocha (Swi) Team Mixed Zollinger                  7.08
77 Steffen Greger (Ger) Hofbräu Radler Stuttgart                   
78 Remo Spirgi (Swi) GS Rufalex Nordwest                           
79 Stefan Widmer (Swi) GS Rufalex Nordwest                         
80 Aleksejs Saramotins (Lat) Rietumu Bank Cycling Team             
81 Christian Frommelt (Lie) Team Mixed Zollinger                   
82 Lasse Böchman (Den) Danish National Team                        
83 Stanislav Belov (Rus) Angelin Travel RO St Petersburg      10.14
84 Aldis Abolins (Lat) Rietumu Bank Cycling Team              11.59
85 Pirmin Lang (Swi) Mixed 2 - Tessin-Luzern                       
86 Tobias Baumgartner (Swi) Team Mixed Zollinger                   
87 Kalvis Eisaks (Lat) Rietumu Bank Cycling Team                   
88 Janusch Laule (Ger) Team Mixed Zollinger                        
89 Peter Jörgensen (Den) Danish National Team                      
90 Boris Shpilevski (Rus) Angelin Travel RO St Petersburg     12.03
91 Thorsten Struch (Ger) German National Team                      
92 Christian Grob (Swi) Hörmann Betoncoupe                    15.47
93 Mario Wernli (Swi) Hörmann Betoncoupe                           
94 Kurt Dierckx (Bel) Palmans-Collstrop                       16.32
95 Leo Karstens (Ger) German National Team                    17.55
96 Gregory De Munster (Bel) Palmans-Collstrop                      
97 Ronny Hartz (Ger) Hofbräu Radler Stuttgart                      
 
Points classification
 
1 Assan Bazayev (Kaz) Kazakhstan National Team                   25 pts
2 Vladimir Gusev (Rus) Russian National Team                     20
3 Sebastian Schwager (Ger) German National Team                  16
4 Daniel Gysling (Swi) Swiss Cycling                             13
5 Walker Ferguson (USA) USA National Team                        11
6 Tomaz Nose (Slo) Slovenian National Team                       10
7 Florian Stalder (Swi) Swiss Cycling                             9
8 Matej Mugerli (Slo) Slovenian National Team                     8
9 Stef Clement (Ned) Dutch National Team                          7
10 Oleg Melehs (Lat) Rietumu Bank Cycling Team                    6
11 Janez Brajkovic (Slo) Slovenian National Team                  5
12 Michael Creed (USA) USA National Team                          4
13 Kenny Van Hummel (Ned) Dutch National Team                     3
14 Peter Mohlmann (Ned) Dutch National Team                       2
15 Peter Oeschger (Swi) Hörmann Betoncoupe                        1
 
Mountains classification
 
1 Daniel Gysling (Swi) Swiss Cycling                              6 pts
2 Maxim Iglinskiy (Kaz) Kazakhstan National Team                  3
3 Stef Clement (Ned) Dutch National Team                          2
4 Janez Brajkovic (Slo) Slovenian National Team                   2
5 Ivan Chtchegolev (Rus) Russian National Team                    2
6 Walker Ferguson (USA) USA National Team                         1
7 Oleg Melehs (Lat) Rietumu Bank Cycling Team                     1
8 Serge Pauwels (Bel) Palmans-Collstrop                           1
 
Sprints classification
 
1 Daniel Gysling (Swi) Swiss Cycling                              6 pts
2 Janez Brajkovic (Slo) Slovenian National Team                   4
3 Sebastian Schwager (Ger) German National Team                   2
4 Oleg Melehs (Lat) Rietumu Bank Cycling Team                     2
5 Kenny Van Hummel (Ned) Dutch National Team                      2
6 Stef Clement (Ned) Dutch National Team                          1
7 Daniel Musiol (Ger) German National Team                        1
 
Teams classification
 
1 Slovenian National Team                                   5.54.30
2 Swiss Cycling                                                1.13
3 USA National Team                                                
4 Kazakhstan National Team                                     2.16
5 Russian National Team                                        2.20
6 German National Team                                         2.22
7 Dutch National Team                                          2.26
8 Hörmann Betoncoupe                                           3.39
9 Mixed 2 - Tessin-Luzern                                          
10 Hadimec                                                         
11 GS Rufalex Nordwest                                             
12 Palmans-Collstrop                                               
13 Hofbräu Radler Stuttgart                                        
14 Angelin Travel RO St Petersburg                                 
15 Danish National Team                                        4.03
16 Team Mixed Zollinger                                        9.24
17 Rietumu Bank Cycling Team                                  18.47