55th Classique Montréal - Québec Louis Garneau - 1.5
Canada, August 10, 2003
2002 Results Results Past winners
Johnson drives into the rain and headwinds
Nadeu, Johnson and Garneau
Photo: © Pascal Fortin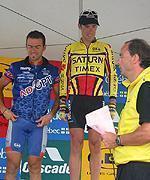 Saturn's Tim Johnson won the 237.4 kilometre race from Montreal to Quebec City after a late attack from a group of three riders. The race began in wind-driven rain and with a steady headwind facing the peloton. This year the race took almost six hours for the 237.4 kilometres with the winner's average speed under 40km/h, mainly due to the prevailing headwind. The parcours is relatively flat except for a climb at the finish and is usually completed in five hours.
Johnson's move came in the final kilometers of the event on the only climb when he attacked out of a break of three. The break of three evolved out of an initial break of 18 riders. From 18 the break was gradually thinned down to a group of ten. Eventually the break became three with Ciaran Power (Navigators) and Canadian amateur (AD OPT) Alexandre Nadeau making the final selection.
Johnson was able to shed his breakaway companions on the final climb to the finish, soloing in for an impressive win in front of an enthusiastic crowd. Nadeau was second over Power in the sprint for the line, while Johnson's teammate Phil Zajicek attacked the remaining seven coming home for a strong fourth place finish.
Photography
Images by Pascal Fortin
Results, 237.4km
1 Tim Johnson (USA) Saturn Cycling Team                  5.58.38 (37.7 km/h)
2 Alexandre Nadeau (Can) AD OPT                             0.52
3 Ciaran Power (Irl) Navigators Cycling Team                2.02
4 Phil Zajicek (USA) Saturn Cycling Team                    2.21
5 Jeff Louder (USA) Navigators Cycling Team                 2.37
6 Siro Camponogara (Ita) Navigators Cycling Team            3.13
7 Kevin Miller (Can) Jet Fuel Coffee/Healthnet
8 Adam Garlapow (USA) Shickluna                             3.58
9 David Degrandpré (Can) AD OPT                             3.58
10 Ariel De (Can) Premier Tech                              4.20
11 Oleg Grichkine (RUS) Navigators Cycling Team             8.40
12 Gordon Fraser (Can) Jet Fuel Coffee/Healthnet
13 Charles Dionne (Can) Saturn Cycling Team
14 Mark Mc (USA) Saturn Cycling Team                        8.42
15 Richard Strasser (USA) Shickluna
16 Mathias Letendre (Can) Ste-Foy (Qué métro)
17 Maxime Vives (Can) Espoirs de Laval
18 Stig Somme (Nor) Jet Fuel Coffee/Healthnet
19 Andrew Randell (Can) Jet Fuel Coffee/Healthnet
20 Greg Boileau (Can) Velocity Racing
21 Claude Samson (Can) Ste-Foy (Qué métro)
22 Stéphane Déry (Can) Dynamiks de Contrecoeur              8.49
23 Mathieu Roy (Can) Espoirs de Laval
24 Bruce Ketchum (Can) Midweek Elite/Thornhill SAAB
25 Tom Danielson (USA) Saturn Cycling Team
26 Paul Migner (Can) Bernard Hinault
27 Don Zuck (Can) Pavan Cycling Team
28 Jean-Pierre Doré (Can) Velocity Racing
29 Alexi Richer (Can) Premier Tech
30 Giovanni Traina (Can) Opus/Élio Pizzeria
31 Manuel Jean (Can) Premier Tech
32 Kirk O'Bee (USA) Navigators Cycling Team
33 Mario Piccoli (Can) Opus/Élio Pizzeria
34 Patrick Béland (Can) Ste-Foy (Qué métro)
35 Jean-François Racine (Can) Espoirs de Laval
36 Mark Walters (Can) Navigators Cycling Team
37 Jérome Coté (Can) Ste-Foy (Qué métro)
38 Will Frishkorn (USA) Saturn Cycling Team
39 Yves Lefebvre (Can) Dynamiks de Contrecoeur              9.03
40 Mark Comaniuk (Can) AD OPT                               9.17
41 Stacy Wall (Can) Pavan Cycling Team
42 Patrick Shea (Can) Atlas Cold/Italpasta
43 Harold Duguay (Can) Dynamiks de Contrecoeur
44 Robin Bolduc (Can) Velocity Racing                       9.21
45 John Roden (USA) Shickluna
46 Jean-François Gagné (Can) AD OPT
47 Carl Desrochers (Can) Espoirs de Laval
48 Carl Dessureault (Can) Colnago-Carrera
49 Stéphane Tremblay (Can) Nestea-Périgny
50 David Fry (Can) Midweek Elite/Thornhill SAAB
51 Chris Atkins (Can) Midweek Elite/Thornhill SAAB
52 Collin Burn (Can) Jet Fuel Coffee/Healthnet
53 David Moustakif (Can) Premier Tech
54 François Doyon (Can) Colnago-Carrera
55 Sébastien Pilotte (Can) Colnago-Carrera
56 Rino Lapiccirella (Can) Pavan Cycling Team
57 Kevin Lemman (Can) Midweek Elite/Thornhill SAAB
58 Chris Garlapow (USA) Shickluna                           9.31
59 Yves St-Louis (Can) Ste-Foy (Qué métro)
60 Bruce Krip (Can) Midweek Elite/Thornhill SAAB            9.45
61 Anthony Byrne (USA) Shickluna
62 Gervais Bernier (Can) Bernard Hinault                    9.49
63 Alain Gosselin (Can) Dynamiks de Contrecoeur
64 Joel Coté (Can) Espoirs de Laval                         9.52
65 Gérald Chen (Can) Velocity Racing
66 Robert Brisson (Can) Bernard Hinault                     9.54
67 Christian Ouellet (Can) AD OPT                           9.56
68 Éric Desjardins (Can) Nestea-Périgny                    10.01
69 Anthony Prior (Can) Velocity Racing
70 Karl-Harol Mercier (Can) Bernard Hinault
71 Antoine Studner (Can) Espoirs de Laval                  10.04
72 Greg Janssen (USA) Shickluna                            10.07
73 Pierre Boilard (Can) Ste-Foy (Qué métro)                10.09
74 Sébastien Deschones (Can) Premier Tech                  10.17
75 Yvan Dion (Can) Bernard Hinault                         10.20
76 Bernard Vives (Can) Espoirs de Laval                    10.26
77 Nicolas Ferland (Can) Opus/Élio Pizzeria
78 Louis-François Guimont (Can) Premier Tech
79 Luc Dionne (Can) Dynamiks de Contrecoeur
80 Yohann Deshaies (Can) Premier Tech
81 Alexandre Odulinski (Can) Nestea-Périgny
82 Andrew Mcdonald (Can) Pavan Cycling Team
83 Ryan Roth (Can) Jet Fuel Coffee/Healthnet               10.37
84 Carl Grenier (Can) Colnago-Carrera                      10.40
85 Greg Wells (Can) Pavan Cycling Team                     10.48
86 Joel Pelletier (Can) Premier Tech                       10.52
87 Sébastien Rousseau (Can) Premier Tech
88 Charlie Gorman (Can) Velocity Racing                    13.05
89 Mike Ruthledge (Can) Pavan Cycling Team                 13.40
90 Roy Zuchetto (Can) Pavan Cycling Team                   14.43
91 Jean-Sébastien Béland (Can) Colnago-Carrera             15.06
92 Andrew Pinfold (Can) Atlas Cold/Italpasta
DNF Howard Berridge (Can) Opus/Élio Pizzeria
DNF Alexandre Morin (Can) Nestea-Périgny
DNF Daniel Boilard (Can) AD OPT
DNF Sylvestre Champagne (Can) AD OPT
DNF Malcom Monro (Can) Midweek Elite/Thornhill SAAB
DNF Christopher Bolton (Can) Midweek Elite/Thornhill SAAB
DNF Chris Shwabe (USA) Shickluna
DNF Frédéric Millette (Can) Espoirs de Laval
DNF Éric Ménard (Can) Espoirs de Laval
DNF Matthew Hansen (Can) Atlas Cold/Italpasta
DNF Andrews Lees (Can) Velocity Racing
DNF Sylvain Bourque (Can) Dynamiks de Contrecoeur
DNF Jean-Sébastien Maheu (Can) Opus/Élio Pizzeria
DQ Thorben Weiditz (Can) Midweek Elite/Thornhill SAAB
DQ François Parisien (Can) Espoirs de Laval
DQ Peter Morse (Can) Midweek Elite/Thornhill SAAB
DQ Sébastien Moquin (Can) Colnago-Carrera
DQ Czeslaw Lukaszewickz (Can) Opus/Élio Pizzeria
DQ Steve Rover (Can) Opus/Élio Pizzeria
 
Courtesy www.canadiancyclist.com

Past Winners
2002 Peter Mazur (Pol) Mapei