Mary McConneloug & Mike Broderick
Photo ©: Mary McConneloug & Mike Broderick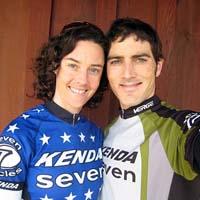 Team Kenda-Seven-NoTubes: The Mary McConneloug & Mike Broderick diary 2009
MTB "super-couple", US National cross country champion Mary McConneloug and Mike Broderick live together, train together, travel together and race together. They also share this diary on Cyclingnews.
Follow their adventures as they race the World Cup cross country circuit throughout 2009. Enjoy the unique, professional racing style of these two accomplished racers and world travelers.
Poland and Austria, May 30, 2009
A break from the World Cup
Training with Mary and Maja
Photo ©: Mary McConneloug & Mike Broderick

The two-week break between World Cups in Europe opened up the doors for some incredible travel and racing opportunities. With the UCI schedule as our calendar and a cryptic German atlas as our guide, Mary and I made the trip to contest the Maja Wlosozcowska national race in Jelenia Gora. It was our first trip to Poland. The drive from Houffalize, Belgium, was long, but having the option of pulling over to train, cook dinner and sleep where we chose made the trip smooth and part of the fun experience.
Nothing more than quiet or abandoned borders physically separate most European Union (EU) countries, although most still retain their significantly different cultures, languages, and lifestyles. This makes for some diverse travel experiences while being as easy and convenient as a drive from state to state in the US. With our RV-style of travel and cross country racing focus, we can't take advantage of every aspect or experience that would be possible, but what we do is still enough to give us an exciting look around.
Finding some big climbs
Photo ©: Mary McConneloug & Mike Broderick

After putting in a few days of training in the Belgian Ardennes, riding through tight shady valleys that hide a wealth of technical terrain and significant climbs, we packed up camp and headed east towards Poland. The German Autobahn made me think twice about our choice of vehicle as many passed by at easily double our speed while we were hanging tight to the right lane, our only excuse for breaking the strict German code of slow vehicles staying to the right was passing up the hoards of slower moving trucks. Even with the incredible speed, the respect and expertise of the Autobahn driving is admirable and something that many of the world's drivers would be better off taking note of.
In Poland something like 90 percent of the energy is produced from coal, you can still smoke in the restaurants, and the drink of choice is said to be vodka. It's a wild country in some ways, far from lawless, but things here seem a bit more rough and tumble. The positive side easily balances the picture as Poland is a land of great natural beauty, wide open natural spaces, a rich history and many friendly, forward-thinking people. The mountain bike community in Poland is rad. The town of Jelenia Gora (where the race was held) sponsored the event and is working with the athletes to create a mountain biking infastructure that is capable of helping to drive the economy by attracting bike tourism and professional bike racing alike.
Mike's new kit
Photo ©: Mary McConneloug & Mike Broderick
After two consecutinve weeks of World Cups, it was a pleasure for both Mary and I to race in a national level event with a smaller group of athletes. Unfortunately I ended up being involved in a sprint speed crash on the start loop and launched over the bars faster than I could take my hands off them. Although I damaged my bike a bit, I somehow came out mostly unscathed and was at least able to spend the race chasing back to a semi-respectable 10th place.
Earlier in the day, I watched Mary have a great ride battling it out for second place with Maja W. (Team CSC) and the other top Polish riders. Mary was looking great and heavily taxing her opponents on the short steep climbs. By the final lap, Mary had a significant gap, and I was thinking that she would take the silver medal, but a minor last lap soil sampling was all it took to allow the hard-charging Polish women to come by and relegate Mary to a close fourth.
Mary's new kit.
Photo ©: Mary McConneloug & Mike Broderick

Not knowing where you are (I hesitate to say getting lost) when you are training can be as good a thing as it can be bad. Riding in Poland the day after the race, I found roads that were used in stages of the Tour of Poland, trails suited for 4 x 4 mudding competitions, lots of tiny villages where few people were speaking English and signs pointing in directions of towns that made me wish I had commited the name of the town where we were parked to memory.
By the time I found my way home five hours later, I was pretty knackered but at the same time, the experience made for one of the best rides in recent memory. There is a point where this type of training becomes stupid or worse, but it is a blurry line between that and where the best rides happen. Strange, but certainly there is something extra rewarding about being right on the edge of curling up for the night under a blanket of leaves and dirt before successfully bringing yourself back to comfort and safety.
On a mine tour with Maja
Photo ©: Mary McConneloug & Mike Broderick

Over the next few days, Mary and I enjoyed training with our gracious hostess Maja W. and we rediscovered that having local insight from another cyclist can be the best way to enjoy an unfamiliar town. A little help is a great way to keep you on schedule for the type of ride you want, or even keep you from get completely lost. Ask around and don't be surprised when your fellow cyclists are more than happy to show you their favorite loop.
Mary and I reluctantly loaded up the RV to pull out of Poland, but not before we had a last minute meeting with Maja and her mom Ewa at their bike clothing business, Quest. Within the space of an hour, we were able to finalize our product request for the season that was at this point way overdue as the season is more than begun. In short, these ladies were awesome, they were able to fill a rather complex completely custom clothing order without any issues. We ended up with super high quality kits, exactly the clothing types that we wanted and with a timeline that was faster than we could have imagined in our wildest hopes - completely impressive! A HUGE thank you to our friend and designer Todd Christy of Martha's Vineyard and the entire staff at Quest! You guys rock!
Off to Austria
The skyline in Austria.
Photo ©: Mary McConneloug & Mike Broderick

We arrived at the Oetzaler Bike Festival late on Saturday evening and were greeted by the noise of a rowdy kids at their race awards ceremony as we pulled out the bikes and got ready to check out the course. The trails here take advantage of the short steep hills and swoop through the type of well pruned pine forest that are so pervelant in central europe. We found it hard to pull ourselves off the track both because it was just plain fun and also required more than a few rounds to get some semblance of the best lines.
Race day in Oetz was quite hot for 2,500 feet altitude in the Tirol Austrian Alps. It was as beautiful as any race venue we have seen anywhere with clear blue skies obscured by snow capped peaks and surrounded by the green bloom of full summer. Mary and I raced at the same time, so she asked around to set up our bottle feeds as I spent the morning fine tuning our bikes. We ended up connecting with the promoters son - the 14-year-old under 17 category champion from Saturday's race. Fabian was eager to help and did a fantastic job as our feed technician.
Americans in Ötztaler, Austria.
Photo ©: Mary McConneloug & Mike Broderick

The race: for me the ripping course became a bit less fun with the effort, trying to sustain that somewhat unreasonable race pace. Mary had a slightly different impression as at the front things always seem a bit more fun. She pulled away from the women's field, motivated at the prospect of catching as many of the elite and under 23 men that started a few minutes before and happy to claim her first victory of the season in a category one race. I battled it out for a tenth place finish, pacing myself to minimize the losses on the climbs and taking advantage of the technical sections of the course to make time.
All and all a great day and an awesome experience. The fact that we were the only American racers in attendence was again something that made this day really special for us. We felt like the spectators were extra stoked to see us race since we were something of a different flavour, and the other competitors were happy to have Americans to battle with, and the promoters were ecstatic to have such an international field of riders including the American National Champion.
In the middle of the hard Climb in Oetz.
Photo ©: Mary McConneloug & Mike Broderick

After the race, we made it an hour and a half down the road which was good enough to cross the border into Italy over the Brenner Pass and drop below the snow line before we pulled off in a little town, drove up into the surrounding foothills and found a random quiet place without a private parking sign to spend the night.
All the best to you,
Mike and Mary
Team Kenda/Seven/NoTubes
Photography
For a thumbnail gallery of these images, click here
Images by Mary McConneloug & Mike Broderick