Recently on Cyclingnews.com
Mr. Congeniality: The Geoff Kabush diary 2009
Geoff Kabush (Team Maxxis - Rocky Mountain)
Photo ©: Geoff Kabush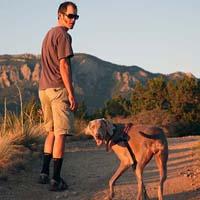 A born and bred Canadian, Geoff Kabush, is known for racing his bike fast and having fun. He races mountain bikes, cyclo-cross, sometimes road and is flying the Team Maxxis-Rocky Mountain banner in 2009. After playing every sport in high school, Kabush decided to take racing seriously after attending his first Mountain Bike World Championship as a junior in 1995. Attending the University of Victoria and studying engineering he slowly moved through the ranks until a breakthrough in 2000 saw him representing Canada at the Sydney Olympics. After consistently being on the podium for several years, it wasn't until 2004 and a switch to Team Maxxis that the wins started piling up.
Kabush is currently tied with Ned Overend with four US national cross country series wins, and as of winning the first race of the year, is tied with John Tomac for most cross country wins ever with 14. Last year saw him podium on three continents and finish fourth overall in the World Cup. Kabush plans to keep racing until the fun stops.
When not riding his bike, Kabush enjoys hanging with wife Keri and the animals, espresso nerding, consuming good food, Belgian beer, specialty cheeses and fresh bread, relaxing, watching hockey, skiing, listening to music, learning and reading.
Reflections on the spring campaign
Geoff Kabush got his official World Cup accreditation
Photo ©: Geoff Kabush

The first stretch of World Cup racing mayhem is in the books. I have travelled far and wide and my body is still asking me what the hell am I doing. After the smashing the first US ProXCT race in Fontana, I headed to South Africa, Belgium, Germany, Belgium, back to US, weekend in Madrid, and now I am just got back from a weekend in Alabama.
Going to South Africa was a strange experience. It was a weird combination of other places I have visited; a bit of Cuba, Mexico, and Australia all rolled into one. I set a personal best for longest single flight with a 16-hr pull Dulles-Johannessburg on the way there; I wasn't too thrilled about that. Another new experience was at our B&B where I had a crazy monkey trying to scratch through my ceiling while I slept. I also got to go out on a game reserve after the race and saw some giraffes, rhinos, hippos, etc. I did not, however, go very fast in the race which made the long trip seem like a bit of a blow-out. It does sound like I might get to go back again next year for another World Cup. Maybe I will try for an upgrade on the flight over.
Locals check out the downhill finish.
Photo ©: Geoff Kabush

I was very glad to have a weekend off before Germany, and I went to hang out with my good friend Gab to recuperate in Gent, Belgium. He cheered me up on arrival with a most elusive and highly rated Westvleteren beer. During my stay in Gent I finally got a win on the weekend Schelde Canal "training" ride, did one of two sweet rides out in the Flemish Ardennes, and also had some awesome traditional beer stew made by Gab's girlfriend Sylvie...mmmm beer and stew. A poor showing at the Irish Pub trivia night couldn't even dampen my spirits after a fun week hanging out.
My most memorable event in Gent however happened during a training ride on the canal. I was cruising down the canal, minding my own business, when I passed a "fruit booter" in full spandex going the opposite direction. As I was thinking about the big wheels he had on his "fruit boots" I heard the unmistakable "whoosh, whoosh" and the said "fruit booter" was jumping on my draft. He didn't say anything; just thought I would be a good candidate to motor-pace him. So mildly annoyed I had a "fruit booter" on my wheel, I sped up and tried to put him in the gutter...subtly. This however didn't work and even worse, as people stared, he decided to come out of my draft every once in a while to do an effort. He decided I was his buddy and after a painful 10km of silence with the "fruit booter" he decided his work was done. Glad I could be of service.
The elusive Westvleteren
Photo ©: Geoff Kabush
Anyway, after a week in Belgium I drove down to Offenburg to meet back up with the team. It is an awesome venue and course. Theoretically I should do well on the track and it was good for my moral to finally bang out a top ten there. Two of my highlights in Germany, however, came courtesy of the internet. The first was an email from my favourite photog Gibby. He alerted me to the fact that Dean and Terry have secured funding for a FUBAR sequel; I can't wait to see the boys back in action. The second highlight was discovering the origin of the term "cougar". Apparently it originated in the dressing room of my favourite hockey team, the Vancouver Canucks, in the late 80's. They coined the phrase to describe the older single ladies prowling outside of the dressing room; go Canucks.
Recycling a variety of beers in Belgium
Photo ©: Geoff Kabush

The final leg of the first Euro trip was back up in Belgium where we really stepped up the beer tasting. I think by the end of the week we were up to about 30 different varieties. Besides the beer, our new Japanese mechanic, Bass Man, was great entertainment and a good addition to the Maxxis family. He is now the "Team Beer Captain", does a mean disco dance, is the "#1 Fan" in the tech zones, and makes us all laugh. One favourite moment was learning "Ooh, Onara Shita", translated as "Ooh, I need to fart"; a handy phrase for the tight subway in Japan. The race in Houffalize wasn't great as I wrecked a wheel in the first ten minutes, stopped in the tech zone, and then had to fight for some rhythm back in the pack.
Fighting in Germany for ninth.
Photo ©: Geoff Kabush

After Houffalize I got to come home and regroup for a couple weeks in North America before the last spring Euro World Cup in Madrid. I didn't have the pace again in Madrid which was a little frustrating; still a few watts away from running with the lead pack. I did finally accomplish a trip to downtown Madrid after five years of staying outside the city. It was nice to walk around, grab some food, check out a bar full of stuffed bull heads, see some flamenco dancers, and pick up a little painting for Miss Pink.
It was a complete 180 going from Madrid to Alabama for the ProXCT race this past weekend. It was refreshing to be back racing domestically. We have a great group of people in North America, and it was fun to mix it up with everyone on some cool trails. I gave it a go, but I am still searching for that fresh feeling and couldn't run with the front group which was a pisser. I am glad I have some time off to do some homework and find my legs again. Wicks released his "Second Super Sweet Mix Tape" to some critical reviews in Alabama so I need to start working on a response tape now.
Until I write again. Cheers,
Geoff
Team Maxxis-Rocky Mountain
http://twitter.com/GeoffKabush
Photography
For a thumbnail gallery of these images, click here
Images by Geoff Kabush