Recently on Cyclingnews.com
Christoph Sauser diary 2009: Seeing rainbows
Christoph Sauser (Team Specialized Factory Racing)
Photo ©: Team Specialized Factory Racing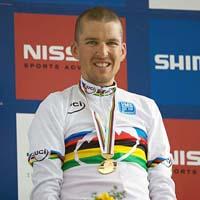 Last summer, Christoph Sauser fulfilled a long-time dream when he became the mountain bike cross country World Champion. The 33-year-old Swiss rider of Team Specialized Factory Racing is racing this season in the rainbow stripes as he works toward a goal of defending his championship title in Canberra, Australia.
Going into the 2009 season, Sauser counted 14 UCI World Cup wins on his resume, and he has twice been the World Cup overall champion - in 2004 & 2005. He can go fast over long distances, too. Sauser won the mountain bike marathon World Championships in 2007 and finished as the runner-up in 2008.
Follow Sauser's adventures around the globe as he races the World Cup cross country circuit and some marathon and stage races throughout 2009.
Switzerland, May 23, 2009
Home for two weeks
Swiss cows
Photo ©: Christoph Sauser

To date, I have been following several Cyclingnews riders' diaries from my chair. Now it is my first time on the writing side, which takes a little bit more time.

It is the second week that I am at home, after a two-and-a-half-month long road trip. When I left for South Africa at the end of February, there was still a lot of snow around the house, and now the lawn is in desperate need of mowing for the first time. But how can I start mowing when the lawn mower is still at my brother's for service? I guess it will have to wait until after the Madrid round of the World Cup or in the meantime, maybe I can break down the fence and give my uncle's cows a new, heavenly and very green spot to eat?

Beer in a big bible
Photo ©: Christoph Sauser

And yes, all the Swiss cows are wearing bells. Do they wear them in case they disappear and need to be found or are they just a tourist attraction? This was the number one question from visitors all last week, during a Specialized press launch here in my home town Sigriswil, Switzerland. I was pretty busy eating, drinking and riding with journalists, Specialized engineers and marketing people from all around the world.

It was good fun, but my butt needed to get kicked on Thursday when it was time to do a few five minute low RPM strength intervals on the road bike. The day after the launch, I met Ned Overend on a big mountain in the rain and fog. Sure Ned was at the launch, too. He looked like he was getting bored taking the gondola for the downhill runs the whole day and instead opted for some cross country fun!

Specialized Product Manager Brandon and Christoph Sauser.
Photo ©: Christoph Sauser

I am definitely not happy with how the last two World Cups turned out for me. The two races in Offenburg (Germany) and Houffalize (Belgium) are on my list of favorites, and at both races I could hear the podium announcer for my race from far away, while I was at our team booth, already changed. Fortunately, (teammate) Burry (Stander) brought the champagne home for us, but it did not taste the same as winning it personally.

In Offenburg, I crashed out while in second position and snapped both brakes off the handlebar. Hurrying to the tech zone was my immediate reaction, but then I came to my senses, and realized that this just made no sense, even with having one of the world's best mechanics in Benno for tech support.

More photos were taken
Photo ©: Christoph Sauser

The week after in Houffalize, I had the flu and the fire was burning in my lungs instead of in my legs. Breathing hurt, and I felt like a very old diesel engine. It was still much better to race rather than being in the position of my teammate Todd Wells, who was completely sick and had to watch the race via Freecaster TV from his hotel room.

I hope this weekend at the next world cup in Madrid that we are all fit and healthy again so we can mix things up at the front. Madrid is a very fast and tactical course. It is good when we also have to think in races and not only pedal as hard as possible without thinking.

Madrid is the one classic that I have never won. In 2006, I was very close when I sprinted for the win against (Julien) Absalon, but being close is not winning...!

Thanks for reading!
Christoph
Photography
For a thumbnail gallery of these images, click here
Images by Christoph Sauser