Italy's Ivan Basso
Photo ©: Roberto Bettini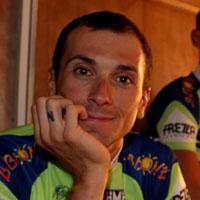 Brighter days ahead: The Ivan Basso Diary
Ivan Basso is back to racing after a forced rest of two years due to his involvement in Operación Puerto. The Italian, winner of the 2006 Giro d'Italia, looks to set the records straight and prove himself stronger than before while giving Cyclingnews' readers an inside look at his training and racing.
Back from a 16-month suspension, Basso ended his ban at the Japan Cup, October 26. He finished third in a close finish behind Damiano Cunego and Giovanni Visconti. The result was promising and Basso hopes there will be even brighter days ahead in 2009. Stay tuned as he recounts his journey back to the top of the sport.
February 18, 2009
The Golden State?
Ciao!
Liquigas' Ivan Basso rides in stage two
Photo ©: Jon Devich
I am here in the 'Golden State' of California but the weather has been glumly since day one. It is just the same as the weather I left at home in Varese, Italy but rainy as well.
The good side of it all is that I am going well and I think that my condition is already at a good level. I am right there with the others on the climbs. Overall the most important thing is that I am very happy with how I am doing.
We are working on getting near the goal: the Giro d'Italia. Every race it is a step up, with Argentina and now California. You know that there are many riders who are on form for the spring, but I can say that I feel good amongst them and can hang with them in the climbs.
The race is really at the same level as a race in Europe, because you can find a lot of the strong European riders here in California.
The big difference has come in the form of jet lag. The nine-hour difference in time from here to Italy was hard. It is a lot for a European to come here and to adjust. Remember I was already in Argentina - a long trip - but only four hours of time difference and it was 40 degrees Celsius there.
I returned home after what was a good first race for 2009. I raced the GP Etruschi and now I am back over this way. This time there was only three days before the race's start to adjust, and I can say that it took me all of those days to get used to the time difference.
"We are here to race and not on vacation."
- Basso on San Francisco's Golden Gate bridge
Fans pack the stage starts and finishes. I think that if someone comes to a race, he can see that there is a lot of affection towards me. Those that continue to attack me for the past have nothing better to do. Remember we are only 80 days away from the start of the Giro d'Italia on the lido of Venice and so it is not the time to joke around.
Italian Ivan Basso, 31, on the podium after a cold stage one of the Tour of California.
Photo ©: Roberto Bettini

Of course you would have noted the monster escape by Francisco Mancebo on Sunday, the first road stage. It looked like a miserable day with the rain, but don't forget these are my first races in two years, so all the race experiences are new.
It was the first time under heavy rain in some time, the fact that I can be out there and be at the front makes me happy. I am getting used to all the sensations of a cyclist: the rhythm, racing in the rain, all the things that you can't find in training.
It was really very beautiful to pass over the Golden Gate bridge on Monday in stage two. Seriously though, we had some 200 kilometres ahead of us and it was raining very hard so it was not as though you have time to look at the Golden Gate Bridge. We are here to race and not on vacation. However I know that it is very special, even if there was not a time to take it in.
I know at the end of the day I was up there next to Lance Armstrong on the Boony Doon climb, but I race my own race. It is not as though I need to show myself in every race, that I need to ride better than this rider or that rider. Every one of us has their own objectives and level of progression.
Ivan Basso enjoys the atmosphere
Photo ©: Roberto Bettini

Sure, I do look over at him and see how he is going. I can tell you in the Liquigas team there is not pressure to be any better than someone else at this point.
So today's stage three is another rainy affair. The team is looking at the next stages day by day and we will search for a result, if possible. Like I noted, there are a lot of strong riders and the quality is high.
Vincenzo Nibali has a chance for the classification and we will protect him. He is building to be on form for the Tour de France. If all goes well here in California, he can arrive on the podium.
Thanks for reading and following me in California. I will go to the wind tunnel at the end of the race, before heading back home to my family. I will be sure to update everyone with the second half of the Tour of California and the wind tunnel test.
Ciao,
Ivan
Photography
For a thumbnail gallery of these images, click here
Images by Jonathan Devich/

Images by Roberto Bettini/www.bettiniphoto.net