Recently on Cyclingnews.com
An interview with Julian Sanz, June 4, 2008
Long distance exhalation
Spain's Julian Sanz is not in any Pro Tour team. Neither in a continental team. He is an ultra cycling rider. One of the few brave men who will dare to ride the unbelievably tough Race Across America. Cyclingnews' Hernan Alvarez took a closer look at the preparation of Sanz, who will hope to be one of those surviving the long race from Lake Henshaw, California, to Annapolis, Maryland, starting on USA's West Coast on June 8 and ending on the East Coast nine to 12 days later.
Sanz uses the weekends for long rides
Photo ©: Julian Sanz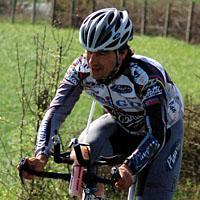 The Race Across America is fast approaching. In less than one week's time, Sanz will have to be ready for one of the biggest challenges in ultra distance cycling. His training is based on past experience with the Le Tour Ultime, a 4,000-kilometre race in France. Sanz has won the event, which is considered the world championship for long distance riders.
"The preparation [for RAAM] is very similar to the one I did for le Tour [Ultime] in 2006. I work with intensity. When I prepared le Tour 2007 it was based on volume, much volume. And the feeling I had was not as good as in 2006. That's why we work with more intensity and decreased the training volume a bit," explained Sanz. The intensity is needed as the average speeds aren't particularly slow. "The first three days at le Tour I averaged 30 km/h, for the first 1,000 kilometres. Later on, the average goes down. One can average 25, 26 kilometres per hour," the Spaniard revealed.
Sanz trains an average of 700 kilometres per week for these special events. "What I normally do is to concentrate 70 percent of the training week on Saturdays and Sundays," he said. "On weekdays, I do more intensive training sessions and on weekends I focus on volume. That is to say, I ride 14 to 20 hours. That's how I distribute the whole training."
The Spanish cyclist prefers the ultra long competitions. Asked why, he replied: "Because the gap to improve is much bigger [than in other disciplines]. When I did triathlon or athletic races, I trained and my limit was right there. It is a purely physical limit. Your stride is what it is; your pace is what it is and to better one minute is very complicated. However, improvement has many factors at long distance races. It is exciting to learn your limit."
In Sanz's opinion an ultra cycling rider should not have a special bio type. "I think the physical part has very little importance compared with the psychological part," he said. "You can see a strong rider, even overweight. However, when he gets on the bike he starts riding and he gets over pains, bad moments and he keeps on and on. Maybe his pace is not high but the fact of getting over all those things makes his pace at a very long race the right one. When you look at a long distance rider you should not watch his legs, you should watch his head."
"On weekends I focus on volume. That is to say, I ride 14 to 20 hours."
-Sanz emphasises the dedication it takes in the Ultra disciplines.
There is a lot of suffering and pain on the road when you ride much more than 200 kilometres. "There is a lot of tension in the legs, there is tension in the neck because of the position. There is also general tiredness, fatigue, dehydration. It is a curious thing how the mind is able to erase that pain even though another one turns up, but you prevail over them because you don't stop. If you were at a training session, you would have stopped and gone to the masseur, but in these races it is curious to see how the body itself is getting repaired," Sanz commented.
At ultra long distances, the body actually notices it and bad consequences appear. "The liver suffers a lot. The liver is working 24 hours a day; it doesn't have the eight sleeping hours to rest. So the liver is doing an extra effort," he said. "It is the same extra effort as for someone who drinks a lot of alcohol. The liver has to work more than average to filter all this. When you go under analysis after a race your liver looks like the one of an alcoholic. You also lack iron, you have anaemia because of dehydration. Physically, what you notice the most are the nervous completions of the fingers and the toes. They end up getting numb because of being laid out in the same position all the time. It lasts around one month to fully recover from it."
Sanz at the arrival in Santiago
Photo ©: Julian Sanz

Sanz really wants to know what his last reachable limit is. He explained how the mind is vital for this discipline. "When you do a 200-kilometre race for the first time and you end it, if in that moment someone tells you to do another 200 you would say it is something impossible. You would say: 'I can't, I can't. I've already done 200.' However, if you leave home thinking you are going to ride 400, you do the 400. And if in that moment someone tells you to do another 400 you would say 'no', that it is impossible. You would say 'I can't'. But if you leave home saying you would do 800, you do the 800. And it keeps going at the same range. So, in the end doing double 800 kilometres is not a double physical effort, it is a psychological effort." The cyclist added: "The question is to look for the limit, is to see how far you can maintain a high pace at a long distance. As I said before, the improvement gap is big and it is a motivation to keep on trying."
Sanz doesn't need a big, organised event to get his kicks. He also excels on solo projects. In April, he did the famous Camino de Santiago, which starts in the Pyrenees and continuos on to Santiago de Compostela in western Spain, in 27 hours.
It was his second Camino and a great experience for him. "It went very well for me. The average speed was very high, very good in the first 500 kilometres, which are pretty flat. I did 34 km/h. From kilometre 500 to 750, which is where the event ends, it is very mountainous. Arriving in Galicia, the average goes down a lot. Considering the time I did and the pace I was able to perform in the mountain parts I was very happy." When he advertised the event he called it "Camino de Santiago in 24 hours," so the Spanish media thought it was a failure. "I should have instead called it 'Camino de Santiago at the best possible time', which is what the event was actually about," Sanz smiled. "The press in Spain stated that I didn't reach my goal. There was some confusion there. I did it in 27 hours, at an avergae speed of 29 km/h. I was very happy as I did it one hour faster than last year," he added on the event that he now wants to make an annual habit.
When Sanz trains chances are the sun may set
Photo ©: Julian Sanz

Sometimes, doing an event by himself doesn't work out well, though. He tried to break the 24-hour distance world record but couldn't ride because of organisational problems. Italy's Orlando Borini owns the current record, 870 kilometres, which he rode on June 23, 2007. "We had a problem with the local police," said Sanz. "They didn't understand very well what the event was about. In the city of Vitoria [Spain], we had everything set up and coordinated with the local police. It had been helping with everything and there was no problem. But the police in charge of the national roads thought it was a standard cycling race, involving a big peloton, so they denied the event. We made them understand it eventually. It was me and a van behind. All this is too novel and unknown here. You have to fight a lot with the authorities to get the permissions. After explaining to them that it wasn't a race where a single road wopuld need to be closed to traffic, they had already denied it and we didn't have time to rectify." That meant a postponement to October.
Organisational problems not withstanding, other obstacles in the life of an ultra distance cyclist is the feeding part. "At first, there is nothing special because one eats a larger amount but I think of the race as if it is an ordinary day. Instead of having five meals, I have 20 meals but the usual ones. Carbohydrates, but drinkable. Drinkable foods are better assimilated, you don't have to chew so much. You give it to the stomach almost digested and that's important. In a race I eat much crushed food – crushed meat, crushed pasta or very stew rice and then crushed. I also eat yoghurts," he explained.
Surprisingly, with all the hard events in his schedule, Sanz doesn't take a rest throughout the year. "What I do in some periods is to lower the volume but I don't stop. I don't like that. I like to ride a lot. I like climbing a mountain or enjoying a nice vista, so there is no reason to give up," he commented.
And of course the more he rides, the better the chances are to add more anecdotes to his repertoire, such as during le Tour Ultime. "One time we stopped to sleep for a while in a little entrance that was a private zone. We truly got in a place where we shouldn't have been. While we were getting ready to sleep, a light came on and the owner showed up with a shotgun and blasted a couple of shots into the air. We had to pack our things quickly and leave immediately, "the Spaniard laughed.
Photography
For a thumbnail gallery of these images, click here
Images by Julian Sanz