Team TORQ diary
The TORQ team
Photo ©: Evan Jeffery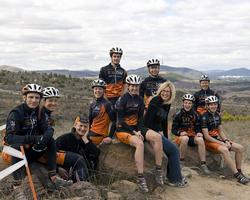 The UCI-registered Australian TORQ/VIS mountain bike team team, features some of Australia's top racers and future stars, including VIS scholarship recipients like Tory Thomas, Robbie Hucker, and Cal Britton.
For 2008-2009, TORQ racers are targeting the Australian MTB National Series, National Championships and Oceania Continental Championships. The team's top priority is racing Olympic distance cross country events, but it is also mixing things up with some short track, marathon and endurance events - and maybe even some road races. Some members will head abroad for the World Cups – an important part of Australian national team selection process for the 2009 World Championships to be held in Canberra, Australia.
Dan McConnell, who represented Australia at the 2008 Olympic Games in Beijing, China, is perhaps the team's most well-known member. James Maebus, Katherine O'Shea, Joanna Wall, Luke Fetch, Steele von Hoff, Paul Weymouth are also on the roster. Members will take turns writing diary entries.
November 16, 2008
Brand shining new
By Tory Thomas
Jo Wall shows her stuff on a fast descent
Photo ©: Tony Fetch

I wasn't sure what to expect when I signed with the newly formed Australian Torq/VIS mountain bike team. Like most Australian mountain bikers, I've always trained and raced as an individual, therefore the idea of racing as part of a team was - and is - quite a foreign concept!
So far, being part of a team has been an incredible experience. This is my fourth season racing cross country in Australia, and for me being part of a team has given me fresh perspective and enthusiasm for racing. The team oozes enthusiasm and motivation to race, and from my perspective this seems a really positive environment in which to grow and develop athletes.
Our first race
Torq goes 1,2,3
Photo ©: Tony Fetch

The Torq/VIS team isn't a registered Trade team until 2009, however the team is up and running and racing, and debuted last weekend in Adelaide at the first round of the Australian National XC mountain bike series. This was our first race as a team, with only a few riders missing - namely, Olympian Dan McConnell, who's enjoying some well-earned rest after a hectic season, and injured U23 rider Cal Britton. Aside from a few punctures and crashes amongst the team, it was a brilliant start to the season, with lots of the riders achieving podium results, and all of the riders relishing the opportunity to race in brand new sleek skinsuits!
The vibe in the team van before the race was pretty special. It was a novelty to warm-up on the stationary trainer with team mates Jo and Katherine, and reassuring to have so much support before the race. The racing itself was great - Eagle Park mountain bike part proved to be a brilliant venue, boasting fine weather and fun flowing singletrack.
Apart from eating delicious pancakes and wearing a snazzy skinsuit, the highlight of the race for me was the wildlife- the trees were full of snoozing koalas, which I thought was pretty special!
Busy times ahead
Camera-shy Torq team manager
Photo ©: Torq

From here, it's full steam ahead for the Torq/VIS team. As a team, in the next few months we are focusing on the National Cross Country Series, National and Oceania Champs, a few road races, and a handful for marathon races. Slightly bigger picture, the team's focus is to prepare riders for World Cup competition during 2009, and for riders to earn selection for the 2009 World XC Championships.
In the much shorter term, this Friday we are swapping skinsuits for dresses and suits at our Team Launch, and I'm hoping I get an opportunity to buy shoes to match my dress! (mountain bike shoes won't do my flowery dress justice!) On Saturday it's back to lycra, when we'll be test riding the proposed course for the National XC Series #3 at the You Yangs, which is being held on the second weekend of December. And on Sunday we are participating in the Scody Teams Plus road ride event at the Mornington Peninsula. It's a really hilly course and we need to stay together in teams of four, so it should be an interesting experience!
The photos below will help introduce the team, which I wanted to do in this first diary entry.
On behalf of the Torq Team, we are grateful for the opportunity to share our adventures with you during the season - thanks for reading!
Photography
For a thumbnail gallery of these images, click here
Images by Tony Fetch
Images by Tim Row
Images by Jo Wall
Images by Torq
Images by DC