Photo ©: Mike Broderick & Mary McConneloug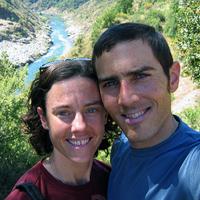 Seventh heaven: The Mary McConneloug & Mike Broderick diary 2008
MTB 'super-couple', Mary McConneloug and Mike Broderick live together, train together, travel together and race together. They also share this diary on Cyclingnews. Follow the adventures of the two US Olympic Long Team members as they race the World Cup circuit throughout 2008 and try to earn spots on the final US Olympic team, too. Enjoy the unique professional racing style of these two accomplished Team Kenda / Seven Cycles racers and world travellers.
Massachusetts, November 10, 2008
Home for a change
Fall in New England
Photo ©: Mary McConneloug & Mike Broderick

Greetings from the East Coast! Mike and I made it back to our Massachusetts home base after another exciting, challenging and successful year of racing. Although we have become familiar with the travel routine of international mountain bike competition, this season felt a little more extensive, a bit more exotic and certainly contained the most airline miles we have logged: South American trips to Chile and Venezuela, eight countries in western Europe by RV, driving the East Coast of the USA and Canada in our van and back into the air to Asia for our first visits to South Korea and China. Australia was next before stopping through Taiwan on our way back. Then followed California, then Las Vegas and we are now just now returning to what we consider our home in Massachusetts. Somehow we still don't have enough miles to get into any of the upper crust admirals' clubs
I can hardly believe how much we are on the move, where we have been, and how accustomed we have become to this nomadic lifestyle. Currently, the more mundane or domestic activites like me cooking up heaps of healthy foods in a real kitchen or mike spending time in the shop testing and selecting the components and build combinations for our race bikes seem sweet and grounding. We are both appreciating this time of living in a stationary place for awhile, where thoughts of getting back to the travel and racing will naturally become alluring once again.
Skill building
Photo ©: Mary McConneloug & Mike Broderick

Mike and I have been keeping busy here sorting out our team program and preparing all that is neccessary for having things in line to run smoothly for next year. In between, we have been appreciating some long dual suspension rides on the rugged little trails that morph and change with the leaf drop from the night before.
We have been taking the time to lend a hand at Mike's family's house where there is some serious yard (re)construction taking place. Sadly we have had to cut down many of the big oak trees left standing but dead by the winter moth that has decimated the area's trees for several years. Still we have been happy to add splitting and hauling wood to the training regimine as well as putting the wood to good use in the woodstove as the temperatures slide into winter here.
At this time of the year, we are still on the bikes five to six days a week, but are putting much more emphasis on effort to balance and strengthen our cycling specific bodies before we head into the heavier hours of base training. As important as it seems to get in solid daily workout at this point, it feels even more important that training is not structured but diverse and enjoyable.
What can't you do on a bike?
Photo ©: Mary McConneloug & Mike Broderick

Mike and I are both excited for the 2009 race season and beyond. At this point we are just figuring out next year's calendar, which is still in development but we are planing to continue to focus on the World Cups and international racing as well as be sure to contest the US nationals and as much domestic cross country racing that our schedule will allow.
Mike and I wanted to thank every one who takes the time to read about our adventures, it really keeps us motivated to know that people who are involved with the bike on so many different levels are keeping up with what we are doing.
Whether this current worldide economic downurn is a short term issue or a full on trend that will be with us for a long time, it could really be an important opportunity to take a step back and evaluate what you have going. Perhaps it is a chance to dedicate a bit more time to your personal health and development and to try and figure out what you actually need (at a minimum) to be happy and healthy in your life.
Big baggage
Photo ©: Mary McConneloug & Mike Broderick

One thing is for sure–this is no time for a downturn in the bike industry or of any aspect of cycling . This is the time to capitalize on the advantages of the perfect human powered tool for transportation and recreation. What better way to gain some fitness and improve positive physical and mental health while preserving your cash for feeding yourself and your family rather than your car.
Perhaps it is the time for those of us who are involved with the bike to step forward, teach, and show by example that this is a great time for the bike and that the bike can help to make this a great time for us all.
Yours truly,
Michael Broderick and Mary McConneloug
Team Kenda/Seven Cycles
Photography
For a thumbnail gallery of these images, click here
Images by Mary McConneloug & Mike Broderick