Follow Glen Chadwick through the 2008 season
Photo ©: Glen Chadwick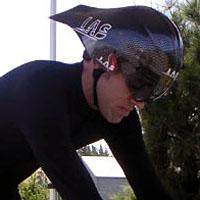 A new beginning: The Glen Chadwick diary 2008
Native New Zealander Glen Chadwick, a former Team Cyclingnews racer, found a new team with Team Type 1, after the Navigators folded at the end of 2007.
With his new team, 'Chady' was already criss-crossing the planet in the early spring. Follow his adventures during the 2008 season.
September 17, 2008
Bringing it to you fresh like a Burrito from Mexico
Dangerous days in Mexico
Stage 3: León - Guadalajara, 228.6km
Well the longest stage was upon us, and it played out like a good action thriller. The plan was to let something small get away - hopefully including a Team Type 1 rider in it - but if not, no worries. After racing the first 50km in just over an hour the bunch finally eased up as one rider went clear. That was pretty much it for the next 100km. The field was happy to cruise along and let him roll out on his own.
With 100km to go and the solo rider clear by almost nine minutes, the boys started riding the front with a couple of Tecos riders to slowly reel him in. We managed to stay clear of most of the rain for the stage and at one point we hit a section of road that had just been drenched and also happened to be a road past a heap of chicken and pig farming communities! Needless to say you had to keep your mouth closed tight.
The real action of the day came in the closing kilometres. With around 12km to go the heavens opened and down the rain came! Once again we veered off a nice highway into the city and some rough roads. You couldn't see much and when you came across a massive puddle you just had to hang on tight, grit your teeth and hope there wasn't a crater lurking somewhere in the puddles. The best way to describe the closing kilometres in the rain would be 'Like a battalion of soldiers running into battle with a sniper picking them off one by one.'
Guys were just dropping themselves without any cause, there was at least one massive pile up that Jonesy got tangled up in, but other than that it was single spills, and plenty of them. Guys hit posts, signs and various other road obstacles! The final 5km were basically a 5km TT for me - I rode most of it out in the wind just to keep out of trouble. We all made it in though and were all relieved to see one another in one piece.
Stage 4 - Circuito Guadalajara, 80km
Another interesting day, It was a 4.4km circuit which covered a small section of the finish from the day before. So yes, another rough and bumpy ride. The pace was fast and furious for the first 30km before the rain came down once again and guys started dropping like flies. The field decided to stop racing as it was pretty dangerous. If you looked at a crack in the road or some yellow paint the wrong way you were on the deck.
Eventually the officials decided that the race would do five more laps but you had the choice whether to do it or not. You couldn't lose any time on GC and the finish only counted for prize money. About 40 of the 140 rider field rode the final laps to contest the sprint. Fabio decided to give it a shot but he said it was still dangerous and called it quits. Smart move, mate! So a bit of a rest day I guess, which is appreciated. The next few stages are where the tour really starts, so I guess it's gonna be game on.
Chady