Follow Glen Chadwick through the 2008 season
Photo ©: Glen Chadwick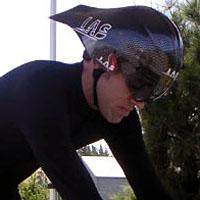 A new beginning: The Glen Chadwick diary 2008
Native New Zealander Glen Chadwick, a former Team Cyclingnews racer, found a new team with Team Type 1, after the Navigators folded at the end of 2007.
With his new team, 'Chady' was already criss-crossing the planet in the early spring. Follow his adventures during the 2008 season.
April 23, 2008
Back up to speed
Some new faces of Team Cyclingnews
Photo ©: Glen Chadwick

My health is finally back up to speed after a long, tough couple of months. Getting back into training was tough to begin with - I was tiring very easily but kept on battling, and finally the engine started recovering a lot quicker just in time for my last two weeks in Belgium.
Cam Jennings flew across from the Land of the Leprechauns and hung out at our pad. Training with the Worm really helped and got me almost back up to speed. Thanks mate. I also got a chance to catch up with Sven de Weerdt and a couple of fresh faces in the Cyclingnews.com team.
So three days ago I had to say goodbye to my little wife and littler daughter and flew across the pond to Jersey. Only a couple of days there and then off to Savannah for the start of the Tour de Georgia. I'm looking forward to getting into the racing scene again and catching up with the new and old team-mates.
The new Orbea Opal
Photo ©: Glen Chadwick

The good thing about coming to the States was finally getting all my goodies. I had a big bundle of new kit, a couple of pairs of Northwaves, a few pairs of Rudy Projects and my New Orbea Opal training bike - cha-ching! A bit like Christmas really.
Once I got to Ed's [directeur sportif Ed Beamon] I started to built up the steed and Ed mentioned he was going to do a training race in the evening. So I thought, why not? I was a bit tired but no worries. We rode 30km to the race which was only an hour long, but long enough for this black duck, and 30km home.
It cost 20 bucks to line up so I needed to get that back, and ended up in a four-man break by the halfway point. I was feeling a bit shabby indeed, the new bike didn't feel so bad but the tiredness was wearing me down. I tried to save a bit for the end and hit out on a small rise about 700m from the finish. I ran out of steam with about 200m to go but luckily had enough to creep home.
The view from my hotel room
Photo ©: Glen Chadwick

It was good to spend a couple of days training and getting in some rays before heading off to Savannah for the start of the tour, and to pull up for a brew at my local Starbucks, which has been turned into a Smart World Coffee Shop? Yeah, I ain't heard of that one before either. Nevertheless, they punch out a pretty mean Vanilla Latte which would give Belle n Jules a bit of rattle back in Belgium. I was also able to grab a Burrito from my local Mexicali Restaurant. Mmmmm!
I'm sure this Tour de Georgia is going to be a bit of a shock to the system, but I'm ready and keen to get back amongst it. The line up for the race will be myself, Fabs, Moises, Matty, Ian, Kobza, Emile and Chris. All these guys are going really well at the moment and I'm sure we'll leave our mark on Georgia. They have a team time trial this week on Stage 4 - no aero equipment allowed, which should suit us better. It takes me back to racing in Australia.
This week will also be a catch up week with all my old buddies from various teams whom I haven't seen since last season, with plenty of stories to share I'm sure!
Off to bed now, but we are lucky enough to have a live band playing out on the pier near our hotel. Currently playing Johnny Cash's Folsom Prison Blues! Could be worse hey? Waiting for Credence or a bit of Skynard.
Later...
Photography
For a thumbnail gallery of these images, click here
Images by Glen Chadwick