Italy's Ivan Basso
Photo ©: Roberto Bettini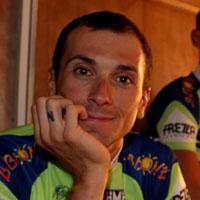 Brighter days ahead: The Ivan Basso Diary
Ivan Basso is back to racing after a forced rest of two years due to his involvement in Operación Puerto. The Italian, winner of the 2006 Giro d'Italia, looks to set the records straight and prove himself stronger than before while giving Cyclingnews' readers an inside look.
Basso first rose to prominence with his Under 23 World Championships win in 1998. The greater cycling public took notice of him when he won the stage to La Mongie ahead of Lance Armstrong on the way to a third overall in the 2004 Tour de France. He placed second the following year and won his home tour in 2006; however, his last major competition was the Castilla y León in 2007.
The Italian cycling federation (FCI) served him a 16-month suspension in June 2007. He came back to racing two days after his ban ended at the Japan Cup, October 26. He finished third in a close finish behind Damiano Cunego and Giovanni Visconti. The result was promising and Basso hopes there will be even brighter days ahead in 2009. Stay tuned as he recounts the journey.
December 18, 2008
The 2009 Giro
Italy's Ivan Basso happy to be at the presentation of the 2009 Giro d'Italia in Venice's Teatro Fenice
Photo ©: Roberto Bettini

Ciao,
I'm writing this from our latest team training camp in Benicŕsim, Spain. We are here for our first official full-on camp and we're all enjoying it. For me it's a strange experience though, as it has been two years since my last camp. We had the one at Bibione at the beginning of this month, but it was more of a meet and greet with little to no training. In Benicŕsim we are riding, having massages, starting on our special diets – it is all pretty hard core and in many ways it feels like the season has already started.
Giro d'Italia presentation and reaction
It all got underway on Friday, in Milan, with the presentation of the 2009 jersey. The race's director, Angelo Zomegnan, is working really hard for this Giro and is pulling out all the stops for the centenary anniversary. When two famous stylists, like Dolce and Gabbana, do something for cycling it is important because it helps to broaden the cycling audience. People who were previously not interested in the sport will now be talking about the new jersey. That has to be a good move.
"When you think about the Giro you can't decide which the most difficult stage is. They are all battles within a great war."
- Basso on racing the Giro
Anyway, I arrived in Venice on the Saturday. It is a very, very beautiful city that has the sights to take your breath away. To be honest though, I didn't really have a chance to appreciate it. My mind was focussed on one thing, and one thing only, the 2009 route.
I saw the course unveiled at the Teatro Fenice that evening. It will be a very interesting race next year. When you only have two or three mountains above 2000 metres it becomes a very difficult race. You have to win day after day, searching to gain time stage after stage.
Those first mountain stages, in the Dolomites [four and five], prove that you have to arrive at the Giro with excellent condition. You cannot lose ground in these days, and try to gain time if possible. They are 'light' Dolomite stages and are not the big ones we usually see.
Ivan Basso with famous Italian designers Dolce & Gabbana
Photo ©: Roberto Bettini

After those stages, there are a lot mountain and medium-mountain stages still to come. Everyday there is difficulty.
The Coppi stage [stage 10] is perhaps the most difficult when you look at the overall profile. There are some famous climbs to cover in that stage – Maddalena, Vars, Maddalena, Vars, Monginevro and Sestričre, Monginevro and Sestriere. The finish is on a descent, 40 kilometres, and that changes things significantly. If the arrival was at Sestričre, on the mountaintop, it would be different. It is a day to lose the Giro, but not win it.
I am not only a time trialist and not only a climber, I have a good balance. I can go well in both terrains. Whoever wins this Giro will be the rider who is attentive and up front every day. That long time trial [stage 12] is very, very difficult with the two climbs and the tight roads though Cinque Terre.
There are only two stages in this whole Giro where you can bank on a sprint finish, where the classification men can remain calm. The other 19 stages can all present difficulties. There is always the chance of wind, bad weather or a crash. When you think of the Giro you can't think which is the most difficult stage, they are all battles within a great war.
Basso arrives at Venice's Teatro Fenice before the start of the 2009 Giro d'Italia
Photo ©: Roberto Bettini
The finale is in Rome, a beautiful city like Venice. Unfortunately, we will not be able to take in the sites because it is a time trial that could decide the Giro. However, Zomegnan really created a special 100-year anniversary Giro, which includes the finish through the historic city of Rome.
Twitter
Some of you may have seen me on Twitter. The guys at Cannondale told me about Twitter when I was visiting them at Salk Lake City earlier in the year. Not to sound like an advert but you can easily and quickly make updates via cell phone. Cannondale's Rory Mason really pushed and convinced me to sign up.
I know that Lance Armstrong is on it and he has lots of readers. In Italy we don't really use as people Stateside but I want to miss out. By the beginning of the year I will start to update it more, the last few entries have just been tests.
I am not always connected to the internet and it is difficult for an athlete to find a connection when he is travelling. I think, with this, it will be simple to make an update right after a race, maybe why I am in the team car on the way to the hotel.
Bye, Ivan
Photography
For a thumbnail gallery of these images, click here
Images by Roberto Bettini/www.bettiniphoto.net