Italy's Ivan Basso
Photo ©: Roberto Bettini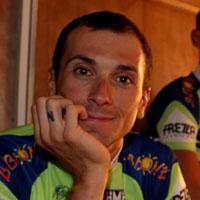 Brighter days ahead: The Ivan Basso Diary
Ivan Basso is back to racing after a forced rest of two years due to his involvement in Operación Puerto. The Italian, winner of the 2006 Giro d'Italia, looks to set the records straight and prove himself stronger than before while giving Cyclingnews' readers an inside look.
Basso first rose to prominence with his Under 23 World Championships win in 1998. The greater cycling public took notice of him when he won the stage to La Mongie ahead of Lance Armstrong on the way to a third overall in the 2004 Tour de France. He placed second the following year and won his home tour in 2006; however, his last major competition was the Castilla y León in 2007.
The Italian cycling federation (FCI) served him a 16-month suspension in June 2007. He came back to racing two days after his ban ended at the Japan Cup, October 26. He finished third in a close finish behind Damiano Cunego and Giovanni Visconti. The result was promising and Basso hopes there will be even brighter days ahead in 2009. Stay tuned as he recounts the journey.
November 10, 2008
Behind the controversy
Ivan Basso (Liquigas) got a warm reception.
Photo ©: Hitoshi Omae (Jpn) / PhotoSport International

Ciao!
I am really excited to start my diary with Cyclingnews.com. You may have already seen the Mapei Sport link on my site, IvanBasso.it. It explains how I train and it provides all of my values. However, it is great to give my fans a more personal and approachable side to my return.
Throughout the coming year I'll aim to explain how I am feeling and how I am living on a monthly basis – through the good and the bad times.
The battles
I have faith for next year. Even in last month's Japan Cup there was a large turnout and support for me. This gave me hope for the future because at the start of my suspension people were very disappointed with me. I hope that they are able to see the work and effort I have put in during the last two years and that they are able to respect these aspects.
Of course it has been tough, but I thought the best thing to do during my suspension was to pass the time in silence and work hard. I am trying to return with something new and I'll let my results do the talking.
"Those who still have something against me are beyond the point of righteousness."
The world of cycling saw how Operación Puerto was managed and it's subsequent fallout. Everyone came away from it their own ideas about the facts. I think that those who still have something against me are beyond the point of righteousness – I can't do anything to change their beliefs. I can only do my work with transparency and those who are against me will see the battles waged in the races.
If someone looks at the facts of Operación Puerto – who was investigated, who served time – I think that they will agree that those who have been banned should be able to return. Some people are disappointed and can't accept that some people immediately come to shake my hand and welcome me back, but I want to show the nay-sayers what I can do in 2009. They can see how I will race, as well as my training, and they can get an idea of what is behind my victories. I think that this is the response that people want, they don't want a lot of words – they want facts. I have a chance to show this with this diary and with the numbers on the Mapei site.
Dreaming of the Giro
During the last two years and my training it was not a question of being physically strong; we will see this at the races. I already saw some response at the Japan Cup. That brought up a great emotion within me – to return to racing and the work I love. At the same time, I understood that throughout my personal growth and the time away from the sport that I did not lose the know-how of being at the front of the race and being the protagonist against riders who were going strongly. This was a positive thing.
"I want to make the race and not follow."
I said to the team and the director sportif that I want to make the race and not follow. I ordered the team to the front and they helped make the selection.
Right now there is a lot of desire to start the next season, but I have to stay calm and relaxed. There are still fundamental steps to take and with every race next year I want to learn something so I arrive at the Giro d'Italia with my best form.
This month is all about relaxing, but I still go out on my bike two or three times a week for two or three hours. It is always at a tranquillo pace though. Today was a day of rest, but yesterday I did three hours. Besides the week of vacation I take this month with my family, the other time is filled with training and interviews. Even with the bad weather we have been having recently in Varese, Italy I was able to find patches of time in the day when I could head out on my bike without rain.
Family fortunes
Ivan Basso in his first race back
Photo ©: Roberto Bettini

My family was always at my side during my time away from the sport and allowed me to do my work and feel like a racer. They celebrated the return to racing with me and are my number one fans. Both of my babies [Santiago, two and a half and Domitilla, five and a half years old - ed.] are able to see my return. My older child said, "Daddy, Daddy, your sanction is done or not? I see a lot of journalists in the house. What is going on?" She understood that something is changing.
She understood it all from the beginning and this was one of my biggest disappointments. I could not permit myself to do harm to a little baby. However, she was able to see how dad faced up to his problems. She saw me every morning getting on my bike and going out training. She understood and learnt of her father's characteristics.
My wife was able to draw security from how I managed myself in the last two years. It was not only the problems of Operación Puerto, there are many other problems in life. When one is able to pass a difficult period with grit then they are able to confront other problems with the same fight.
Next week, I will enjoy a week of vacation in Zanzibar with them. In the last two years we were never able to enjoy a time away and this will be a true moment of pulling away from it all. It will allow me to truly relax for 2009. The first team camp will be at the end of November and then 2009 will be underway.
The Liquigas team is taking shape and we are growing closer. It is not at the level were I want it to be yet because we have only done five days together as a team, in Japan. I talk with Roberto Amadio and Stefano Zanatta two or three times a week. There are about 10 riders that I hear from regularly, the others less, but after the camp at the end of this month it will really start to grow.
Thanks for your time,
Ivan