An interview with Adam Hansen, February 14, 2007
Adam Hansen, T-Mobile's "techno geek"
T-Mobile's Adam Hansen came to professional cycling through a most unusual route. Once a database software developer, this Crocodile Trophy winner is now poised to take on the European road season on a top ProTour team. How did he manage that? Cyclingnews' Susan Westemeyer caught up with the self-confessed "techno geek" at his European home in the Czech Republic, between the T-Mobile training camp and his magenta debut in the Tour of California.
Adam Hansen at the T-Mobile team presentation
Photo ©: Shane Stokes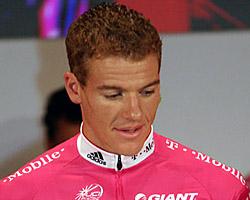 Adam Hansen is cycling's "Crocodile Man" - a two-time winner of the Crocodile Trophy, a race he describes as "a race you can't explain." One would expect this Cairns, Australia, native to therefore be a rough, tough, hard-edged and hard-speaking man, who rides on guts and instincts alone and makes his way along in the Outback with only a few rough tools. Instead, he is a soft-spoken man who worked as a database software developer for three years before becoming a pro cyclist.
When T-Mobile announced that they signed Adam Hansen, the name may not have been familiar to most of those who follow the European racing circuit, but it was certainly well-known to Lothar Heinrich, the team's doctor. "I have a lot of respect for this man. He is my coach, but I call him doctor because of my respect for him," Hansen said. "He says 'jump' and I say 'how high?'. That's how my training is with him."
How did all this come about? Crocodile Trophy organizer Gerhard Schönbacher became Hansen's manager and sent him to Europe to take his chances with road cycling. "I was between contracts with work (software developer) and I though, why not?" He went to Austria in 2001 and turned pro two years later, riding for a series of small Austrian teams.
In 2004, Schönbacher arranged for him to go to the University Clinic in Freiburg, Germany, for performance tests. "That's how I first came in contact with Dr. Heinrich. He was involved in testing the riders," Hansen noted. His test results impressed Heinrich, but there was no space for him on the T-Mobile squad at the time. However, the German doctor stayed in touch with the Australian rider and it finally led to a contract with this year's rebuilt T-Mobile team.
The reason that T-Mobile rebuilt itself, making massive changes from team management on down to riders, is also the biggest issue in cycling now -- doping. What are Hansen's feelings on doping? "I'm against it, of course. You can see that I try to do as much as I can in training to improve myself. I have an altitude room, which I swear by. I don't spend 35 hours a week in this room for fun. Being clean is the hard way."
"I believe in all the other training aspects to help myself (nutrition, core exercises, bike setup, position, bike tuning, improving the bike weight, many different altitude training techniques, mental aspects .... the list goes on."
Adam Hansen in 2004
Photo ©: Mark Watson

"But why should I dope?" he asks. "I still see huge improvements in myself without doping. I might do as much as I can with the current resources, but I can still see many other things that I can do to improve my performance. I don't have personal assistants, personal chefs, helpers, personal soigneurs, etc., but when I can afford those extra benefits, I will have them for sure. They will give me more time to relax, to recover better, to have less work around the house, and more time for sleeping (which is my weakest point)."
"I'm sure if I can improve my amount of sleeping I would see an improvement. As you can see, the list is very large. Over the years I will try and improve these aspects to improve myself so that way I can sleep well at night knowing that I've done it the correct way."
"What can be done to fight it? This I don't know. I try my best not to think about doping, when you think about it and don't dope, it only brings you down mentally and it does hit me hard," he admitted. "As soon as I think that the others dope, my performance drops by five percent at least. It's something I deal with in a very hard way and the only way I can race at my best is to forget about it. I don't want in the back of my mind that others have an advantage."
"What I do know is that I'm doing the right thing. T-Mobile is giving me the best tools to practice the right thing. I will continue the best way I can and if that's not good enough, so be it."
Hansen is extremely enthusiastic about the team's training procedures, which have become even more detailed. Heinrich "knows his stuff and I must take full advantage of him. In the past he had guided me with my training, giving me ideas and learning about me. Now it's much more specific. I like his methods and I see a huge improvement in myself with them."
He gives an example of exactly how specific things have become. "Cycling has come to a level where the smallest things count. A blood test which was performed at the Mallorca training camp showed that my Ck and GOT (both muscle enzymes) were a little high (muscle damage from training). This result extended the amount of rest days I had after the camp. Not many coaches can get that specific with training plans."
The team's advice extended even to what -- and how much -- appears on Hansen's dinner plate. Again, it is very specific, and again, he is very enthusiastic. "The nutrition program (Trainingpeaks.com) is an online solution that can add up your calories and compare them to the amount you burn during training," he explained. "While it's not easy to do it, you only need to use it for about three or four weeks and you will learn enough to know how much you should consume, depending on what kind of training day you have, for example, rest, long ride, medium, intense, etc."
"It can make you lose weight while enjoying the foods you like," he continued, sounding like a diet advertisement. "For example, if you have two different foods you like with the same rating, the computer will tell you that one choice might be 400 calories less than the other. So you can enjoy eating foods while losing weight!"
Adam Hansen, easily recognisable
Photo ©: Shane Stokes

Not surprisingly, his enthusiasm extends to his new bike and the corresponding technology. "The Giant is a totally cool bike. It's very slick looking. I think it's the best-looking frame on the market. The paint job is very, very nice." But he likes it for more than its looks. "I love the ISP (integrated seat post) which is very stiff while riding uphill seated and it still fits in the back of my 'Smart Car'. So it's great!"
"Plus I'm a HUGE fan of the SRM and we are forced to ride them in races and training, so how lucky I am!" Hansen enthused. "I've been on teams before where they didn't want me to use an SRM -- all they do is improve your riding!! The Giant has the SRM cable integrated into the frame, which is a very very nice touch."
He even has his own altitude room in his European home. "Very powerful, can go from from 20.9% oxygen to 14% in less than an hour and have a max of 10.5% oxygen level, which is very very high when compared to meters above sea level." And what does he do in there? It varies. "I like the technique of spending a few hours in the morning and a few in the afternoon at a higher level, then to sleep in it at a more moderate oxygen level. This way I get full recovery from training while sleeping in normal oxygen levels, but also get the benefit of altitude training."
"Sometimes I do sleep inside also at high altitude when I have an easier training load and I don't need a full recovery from the training the day before," the 25-year-old concedes. "So it really all depends. Altitude training is like normal training, no way is really wrong but there are some ways that are much better than others."
There is a reason for all of this attention to detail -- to be perfectly prepared for the coming season, whatever it may bring. The performance tests showed that he was physically more suited to one-day races than to stage races. "This comes due to the VLaMax (Glycolytic Flux Rate) which was one of our tests we did on Mallorca. My result here shows that I'm still a young rider and haven't fully developed as a stage race rider. This normally takes years to develop, I've been told."
But wasn't the Crocodile Trophy a stage race? And he claims to prefer smaller stage races. How does he reconcile that with being told he is a one-day racer? "I do like one-day races. All of my good results from last year are from one-day races," he protested. "I do well in stage races, like the Croc Trophy, because I'm very consistent and an all-round rider. But I really do much better in the single-day races. I'd just rather do better in the stage races. I want to eat my cake and have it too, as they say!"
Adam Hansen riding with Briton Roger Hammond
Photo ©: Shane Stokes

Hansen started out as a triathlete, but changed over to cycling because it was more exciting. "A triathlon is more of a time trial where you only have to concentrate on yourself and be focused on yourself. Cycling is a race where your thoughts are more active, you can not only be concentrated on yourself but on others. A tactical move by another rider can change all of your tactics in a single second, which creates an unknown factor and more excitement in a race. In cycling, every rider has the chance to win."
He has a full calendar this year to look for his chance. "I've got a pretty open mind to this season in terms of racing highlights. It's all new to me. I'd like to go well in the Criterium du Dauphine Libere. That's a highlight. Tour de Georgia, also, so I've got a few stage races in there. I'd like to improve in my stage races. As for single days, I've got GP di Lugano and De Brabantse Pijl lined up after ToC."
Those races will be Hansen's chance to show whether he can translate that power from testing to power on the road. "On paper I have some very good test results. Now, putting that on the road is very different, but it shows that I have the ability," he noted. "This will be my biggest challenge of the year -- putting those numbers on paper on to the asphalt."
Directeur Sportif Alan Pieper said on www.t-mobile-team.com that Hansen is sort of an unknown factor, that "we're not sure how he will cope in term of tactics and positioning." Hansen knows that this will be a further challenge to him this season.
"At the level I raced before, I don't think my tactics and positioning were bad. However, I've been told that ProTour racing is very hard and very different. So nobody knows how I will go with the positioning in the bunch. In terms of tactics, I will just do what I'm told. We won't see until the season starts. It's all a learning curve and I'm willing to learn."