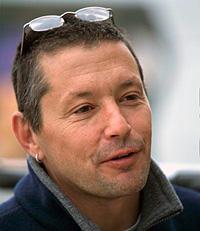 Photo ©: Chipps
Test to destruction: The Keith Bontrager diary 2007
Keith Bontrager is best known as the bike and component design guru behind his eponymous road and mountain bike components, but behind the scenes, the man universally known as KB is an enthusiastic and well-respected endurance mountain bike racer.
KB has taken part in a over 50 24-hour races in the last few years, and in his diary takes us inside the mental, physical, and technical challenges of long-distance mountain bike racing while juggling the demands of an active interest in the successful international business he began all those years ago.
June 6, 2007
The penultimate day
Special Stage Time Trial #4 and Linking Stage 6
Keith Bontrager
Photo ©: TransScotland

This entry is a bit wordier because I am writing it from the New Inn in Appletreewick after the race is over. Yorkshire is a fine place to recover before the long drive back down south.
The sixth stage was fairly long with three big climbs. Finishing in the afternoon with a short, fast time trial in the woods later that night meant the plan would be to ride the stage at a balanced pace, one that would get it over within a reasonable time, under the time limit to avoid a penalty, but not so hard that recovery was too difficult to wick it up later.
I was going to ride the stage with a friend, Julie Dinsdale, who was leading the veteran women's category. We've raced together in South Africa and we agreed to set a pace that would work out for us in the time trial that night and stick to it. I could make sure she didn't have a mechanical that would mess up her GC result and keep her nose out of the wind a bit too (she's a climber and, as is often the case with climbers, tends to be blown backward in the wind).
What we didn't know at this point, on this or any stage actually, was what to expect out on the course in the way of terrain or trail conditions. It could be fast pavement or an unrideable bog, and these were the things we needed to know in order to estimate our pace correctly. So far I had been working that out on the fly, making adjustments at the food stops and half-way point. The stages had all been faster on the second half than the first, so getting to the half way point in half the time or less was working out well. It was always smart to leave a little cushion in if a mechanical came up, and I had been shooting for 30 minutes or so on that, too.
The time limit for this stage was six hours which was generous given the pace of the previous stages. But these things are often not simple, and this route was a classic example. We were off our bikes a lot on the first climb so the initial pace was slow. The same thing happened on the second climb. We were routed through some deep bogs and grassy paths that were too steep and too rocky to ride, and when you were on your bike you were still going fairly slow. Grass covered rocks are not a type of terrain I have mastered. There is no flow.
One of many scenic descents
Photo ©: TransScotland

At the halfway point we stopped only long enough to refill with water and grab a quick bite to eat. We got over the last climb in decent shape, but we had a huge push to the top of a mountain - wonderful views but it was too slow! It looked like it was going to be close with 20 km to go so we upped the pace. I knew Julie's competitors were behind her at that point, so if she got a time penalty they would get a larger one, but she wanted to get there in time anyway. I had no idea who was in front of me or behind me so I had to gas it. The standings were close in the vets category. It was going to be down to the wire. The last 10 km was at full throttle for me.
In the end, I got there just after the cut-off time, and took a four second penalty. That didn't cost me anything in the GC, so the work was worth it. Julie followed a bit later beating her closest competitor to the line by almost 30 minutes. She gained 30 seconds after the penalties were assessed. There were only 50 racers (out of hundreds) in front of us at the end - it was a hard day for everyone and we had done well. The only problem was that I'd pinned it for a while at the end to get in on time and the effort could be something that cost me a bit in the TT. There was nothing to do about that now though.
The finish was at the Glentress Forest Trail Centre and I had been here before. There was a café with some good food, so refueling was the first thing to do. Lentil soup and a roasted veg pannini never tasted so good. Then it was back to the usual routine; set up the tent, take a shower, do some bike maintenance, install the lights on my bike (not part of the usual routine but necessary for the TT at night), a light dinner, and a rest before the race.
The recovery plan I followed that afternoon was not very different from the one I use to recover between laps at a 24 hour race. I've done a few of these so I knew more or less what to do and what to expect in the race. I re-hydrated well, then drank some Boost in order to get some carbs into my system ASAP. (Boost does not come from Dr Fuentes. It's a meal replacement sold as "Ensure" to the elderly but is labeled "Boost" to those of elderly racers who are put off by the stodgy sound of Ensure). Then I took some home brewed gel about 30 minutes before I was scheduled to race. I stretched a little and rested. That would be all I could do.
The night time trial
Guided by a single point of light
Photo ©: TransScotland
This was a short lap (8.5 km) with a fair amount of climbing. The intensity would be high from the start so a good warm up was critical. The start was up the mountain from the Trail Centre so a good spin up to the starting area along with a few efforts along the way to open everything up would be enough to warm up well. I timed it to get there 10 minutes before my start time so I wouldn't get cold while I waited, and was off.
Racing at night is fun. It is more fun when you know the course though. As good as my lights are I am still guessing sometimes, and pre-riding minimizes that. Familiarity is automatic in a 24 hour race sine you have in a few laps before you go out at night. I had hoped to get in a lap before we rode here too, but there was no time for it.
The course was supposed to be a mix of fast singletrack climbs and technical descents. Climbs like that are simple enough. Just go as hard as you can. It helps to know when they are coming to plan the effort a little, and courses always get shorter after you know them. No matter though. The descents were where I was hoping to gain some time back.
I got up the first big climb in decent shape. My legs were fine, and the new grips solved the problems I had in the previous stage. The first technical section came up quick with a hard turn off a fireroad and a descent into the dark woods. It was fairly short, but very tight in the trees with plenty of wet roots to deal with. I got down that section fine and was catching the riders in front of me in the process. There is no secret about your location on the course in a night race due to your lights. Cool.
The second climb was longer and harder, and I lost back a little time on that, which is the way things go for me. But it wasn't bad and I could still see the lights in front of me. Now for the long final descent…
Friends and I used to enjoy a movie called Little Fauss and Big Halsey back when I raced motocross in the 70s. It was about an itinerant racer and mechanic, and a girl of course. Robert Redford and Michael J. Pollard starred in it but I've forgotten who played the female role. Mr. Redford would remember I am sure. The flick is probably one they would all prefer to forget. We liked it though.
There is a line from that movie we used to quote often when we described a race we had done to friends. The line was delivered by M. J. Pollard to Redford:
"I was going faster than I ever went in my whole life, then I fell off."
That's what happened to me on the last descent. The course turned down on a fairly straight, fast line in sloppy mud with roots and ruts here and there. I let go of the brakes as much as I could manage and that was working well enough, in a hectic, not quite under control, reacting and getting lucky sort of way. Then I stuck the front wheel in a rut and went over the bars. There was no chance to react, I never saw the rut and had no chance to save it. I landed hard, broke the light off my bike, twisted the shifters around the bars, dropped the chain, scooped up plenty of mud in the skid, and generally made a mess of it.
Matt Carr starts the night time trial
Photo ©: TransScotland

Shite.
I regrouped as quickly as I could. The dangling light got unplugged and went into my jersey pocket. I bashed the brake levers into position (I hate riding with skewed brake levers), slipped the chain back on, re-aimed my helmet light more or less, scraped some mud off, and hopped back on the bike. The trail immediately improved - I'd stacked it within 30 meters of the end of the technical section.
In spite of all that fuss, no one came around me, and the rest of the lap went smoothly enough.
I joined the clump of riders around the back of the timing van to see how far I was going to get bumped back in the GC. The organizers had a computer timing system and the results were updated and displayed in real time. It added to the drama to know how things were turning out. The start times for the TT were based on standings in the overall GC at that point, fastest riders starting first, so you could know if you caught anyone in front of you or if a rider behind you got around you right away. I was 10th again, and 9th in the GC - just where I'd been all along. The risks I took on the descent would have been worth it if I'd stayed on the bike. There were a handful of riders in front of me all within a minute. In the end, taking the chance was worth it anyway. I gave it my best shot and it always feels good to do that. Now I have large colorful bruises all down one side of me - my consolation prize.
The scene at the end of the stage was very cool. Riders who had finished their lap loosened up a little and cheered for the riders still finishing. The Trail Centre had a BBQ fired up and beer appeared from somewhere. Steaming riders standing around in the forest at midnight, laughing, cheering, telling tales, sipping beers and munching on burgers after riding all over Scotland for a week - I am not sure how you could improve on that. (Well, maybe not falling off would have made it a bit better. But not much).
One long day to go.
KB