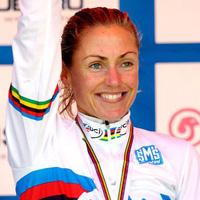 Photo ©: Rob Jones
On top of the world: The Gunn-Rita Dahle FlesjŚ diary 2007
Norwegian cross-country mountain bike racer Gunn-Rita Dahle FlesjŚ is probably the best female rider this relatively young branch of the sport has ever seen. World champion in 2002, 2004, 2005, and last year as well, plus Olympic champion in 2004, and rarely beaten in her reign as World Cup champion from 2003 - 2006, she has a breathtaking palmares.
Dahle says her success is due to an unrelenting focus - she describes herself as a '24-hour athlete' - and the constant support of her husband and coach Kenneth FlesjŚ. Follow her exploits on Cyclingnews as she continues her bid to stay number one in 2007. Or, for more Gunn-Rita, see her personal website: www.gunnrita.com
May 25, 2007
Relaxing days at Heubach
Rest and proper recovery between races is very important, both physically and mentally speaking. Weeks of demanding races and a lot of exercise represent a good investment in the long term, but only if one allows one's body to recover totally after such a period.
We're still at Heubach, an hour outside of Stuttgart, where we have very nice accommodations and good conditions for exercising on both tarmac and off-road. We're staying in a spacious apartment with a good kitchen and facilities for washing clothes. For the past few years, we've lived in this apartment at this time of the year. It had a good location in relation to races here in Germany, but also for races in the north of Italy and Switzerland.
Last weekend we took part in the Bundesliga race here in Heubach, which had about 11.000 spectators. The course is renowned for being very demanding, both ascending and descending, but it clearly hadn't scared off the cycling elite, and a very strong group of cyclists lined up at the start, both among the men and the women.
I knew beforehand that I was going to have a tough day on my bike. When we set up the schedule for this period in December, I knew it was going to be extremely demanding. With the Gunn-Rita Marathon from the previous weekend still in evidence in my legs, the Italian Cup in Nalles two days after that, and then a Bundesliga race in Heubach the very same week, I wasn't exactly expecting to have that good old feeling of power in my legs. I ended up with a third place though, and was well satisfied with both my efforts and my results.
Lots of Rest
I've been sleeping and resting a lot since the race here in Heubach. I chose to have a weekend free of races this time, so as to be sure that my body is in fine fighting form for the upcoming period. This coming weekend we'll once again be lined up at the start of another Bundesliga race, in the town of Albstadt this time (Gunn-Rita did not start this May 20th race due to illness. -ed.). I've heard tales of more really tough climbs in this race too, so it's going to be important to have a little extra power in my legs. Then we're racing in the World Cup in Offenburg, and I'm looking forward to that.
The days pass incredibly quickly even though our days largely consist of exercise, rest, preparing meals, stretching exercises, massage, a bit of paperwork, and some phone-calls. We relax by reading books and watching movies, plus a little time spent watching the Giro d'Italia. Since I enjoy cooking so much, we're not going out to eat as much as usual, living as comfortably as we do here.
This evening we've been invited over to one of our mechanics' houses, that of Ralf, and his wife Susi, and it's guaranteed to be a really enjoyable evening with good food and a little wine. We've been out on a three hour long-distance ride today in the sun together with Ralf. It's great cycling in this area, with bike tracks and small roads criss-crossing the countryside, so we avoid most of the heavy traffic.
On Friday morning, we're driving by car to Albstadt, and will get to ride on the race track on Saturday. After the race on Sunday, we're leaving directly for Offenburg and recharging our batteries for a new and exciting World Cup race with the whole of the world elite lined up at the start.
And now I'm going to lie down on the bench for a good massage of my legs. They're looking forward to it, and so am I. You'll be hearing from us again after the weekend. Have a great day with healthy food and good exercise!
Cyclist's greetings from Gunn-Rita and Kenneth
Multivan Merida Biking Team
www.gunnrita.com
Translation by Crispen T.P. de Lange