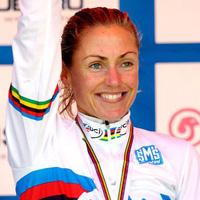 Photo ©: Rob Jones
On top of the world: The Gunn-Rita Dahle FlesjŚ diary 2007
Norwegian cross-country mountain bike racer Gunn-Rita Dahle FlesjŚ is probably the best female rider this relatively young branch of the sport has ever seen. World champion in 2002, 2004, 2005, and last year as well, plus Olympic champion in 2004, and rarely beaten in her reign as World Cup champion from 2003 - 2006, she has a breathtaking palmares.
Dahle says her success is due to an unrelenting focus - she describes herself as a '24-hour athlete' - and the constant support of her husband and coach Kenneth FlesjŚ. Follow her exploits on Cyclingnews as she continues her bid to stay number one in 2007. Or, for more Gunn-Rita, see her personal website: www.gunnrita.com
May 4, 2007
World Cups & marathons
Sprinting to finish the Houffalize World Cup
Gunn-Rita Dahle-Flesjaa at the opening World Cup
Photo ©: Rob Jones

The intense duelling and struggle during the first World Cup race of the season at Houffalize (Belgium) is still very much present in my memory. And that's in spite of many exciting activities and great experiences during the following three days. Competitions and cycling races are literally lining up in front of me in the coming weekends, leading up to the next World Cup race in less than five weeks from now.
It's strange to think that it's only three days since we competed in the first World Cup race of the season at Houffalize in Belgium. We've had three busy days since then. All the drama and tough competition on Sunday ended up with a second place for me. It's awful losing a race by only one second, even though second place is a great result for me. Our goal was to come in amongst the top three, and we did manage that.
On Monday evening, after the ceremony, we warmed down, spent a few hours by the Merida stand, and packed, Kenneth and I were driven to the town of Verviers, an hour by car from Brussels. Verviers will be hosing this year's World Championships in marathon cycling in the middle of August.
Previewing the World Championship marathon course
Since we already were close to this area, we made space in our schedule last winter to stay behind afterwards and test out the World Championship Marathon cycling course. We did the first 45 kilometres on Monday, and then did the remaining 55 kilometres on Tuesday. Understandably, my legs felt rather tired and rotten after the race on Sunday, but we kept a low tempo in order to save our legs and body as much as possible.
The squeeze up the climb at start of the Houffalize World Cup.
Photo ©: Rob Jones

We received invaluable help from Leo from the organisation, one of the people responsible for choosing the track, together with Christophe Meurice from the bike magazine O2 Bikers. So we had two fantastic days on our mountain bikes in beautiful nature under blue skies and with a good 20 degrees.
The first 40 kilometres are most demanding with technical challenges like very steep climbs and many bends. The remaining 60 kilometres also contain varied terrain, singletrack, gravel roads and some stretches of asphalt. But here its possible to maintain a rhythm, both on the flats and up hills.
This year's World Championship track for marathon is totally different from last year's track in France. Last year it was much more extreme, with mountain passes to be traversed and very steep descents. But this year's track is demanding too, with close to 4,000 metres to be climbed in all. But I think that this kind of track is more accessible to most people, whether one chooses to go the whole distance or only does half, which is also an impressive feat.
So now it's just up to you to include it in the plans for the summer holidays with family and friends! Bring your bike and meet up at the starting line of the race in Verviers in the middle of August. It's guaranteed to be an unforgettable experience no matter what level you're at or what goal you have in mind.
Gunn-Rita Marathon
World Cup #1 Podium: Sabine Spitz, Gunn-Rita Dahle Flesjaa, Ren Chengyuan,
Photo ©: Rob Jones

If you were already underway with the cycling season, you could have still raced in Italy and Treviso to take part in the Gunn-Rita Marathon (this happened April 29. - ed.). We were settled into our hotel in Maser right outside Montebelluna where the start and finish of the race was located. We were looking very much forward to the weekend, both to the festivities surrounding the race, and to the race itself on Sunday morning. I knew there would be at least a few Norwegians taking part in the race, and they would be looking forard to a fantastic weekend in the north of Italy.
I've had rather a long break from writing on my home page, and a whole lot has happened since last time. I won't go into too much detail, but I've been doing a fair bit of road racing with my team Safi Pasta Zara Manhattan. I've been taking part in the Bundesliga races in Germany and have also had a grand total of three days at home in Stavanger, Norway. Those days were, as always, full of activity, washing clothes, packing, eating out in Stavanger together with mother and father, and a very exciting meeting with our sponsor KleppHus.
We even got to visit Sola Junior College where we had a lecture for the sports students there. This was part of an agreement between MOT and our own sponsor, Shell, who also sponsors this youth organisation. Sola Junior College has been a so-called MOT-school since the youth organisation was started, and now the municipality of Sola is also a MOT-commune. The work and activities run by MOT amongst youth is something we are more than happy to support, so it was a nice experience for both Kenneth and me.
More travels
And now we're travelling again. Our suitcases have been packed for three months this time. This period will include training-races, several World Cup races, a stay at high altitude, plus the European Cross Country Championships in Turkey in the middle of July.
You'll be hearing from us again some time after the weekend. I'm sure to have a whole lot to tell about after the bike festival this coming weekend here in Montebelluna and the province of Treviso. The sun is shining, it's warm, and the summer has arrived in the north of Italy. I hope that most of you, no matter where you are in the world, have been able to take some bike-rides and have enjoyed some long distance rides in the woods and nature already, after this long winter.
Cyclist's greetings from Gunn-Rita and Kenneth
Multivan Merida Biking Team
www.gunnrita.com
Translation by Crispen T.P. de Lange