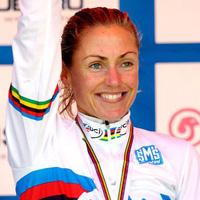 Photo ©: Rob Jones
On top of the world: The Gunn-Rita Dahle FlesjŚ diary 2007
Norwegian cross-country mountain bike racer Gunn-Rita Dahle FlesjŚ is probably the best female rider this relatively young branch of the sport has ever seen. World champion in 2002, 2004, 2005, and last year as well, plus Olympic champion in 2004, and rarely beaten in her reign as World Cup champion from 2003 - 2006, she has a breathtaking palmares.
Dahle says her success is due to an unrelenting focus - she describes herself as a '24-hour athlete' - and the constant support of her husband and coach Kenneth FlesjŚ. Follow her exploits on Cyclingnews as she continues her bid to stay number one in 2007. Or, for more Gunn-Rita, see her personal website: www.gunnrita.com
March 20, 2007
A satisfying start in Sardinia
My first off-road race for this year was a brutal encounter with the terrain here in Italy. A total of two punctures would suggest that I was riding a little harder than necessary over the technical sections today. I finally ended on a second place, which I feel is an acceptable opening for the season.
Italian Annebella Atropparo won the race, seven minutes ahead of me. She rode well and seemed very strong up the climbs. We struggled against each other leaving the start, and rode together through the first round after the opening loop. And then I punctured on the first descent, not even ten minutes into the race! I quickly changed inner tubes, as I was a long distance from the nearest technical assistance, but I was unable to get the gas canister to work, so ended up having to run a fair distance to get a new wheel anyway.
When I finally mounted my bike again, I had countless women ahead of me, plus loads of junior male riders. Kenneth told me we might as well consider this a good training session without lactic acid since the opening had turned out as it did.
One by one I caught up with the other riders, but wasn't even considering a podium finish before I had started the final lap and received word from Kenneth that I was only one minute and 20 seconds behind the rider in second place. I passed her before the top of the final climb and immediately left her behind. I guess I became a little bit too eager on the final descent and once again punctured. Luckily it wasn't that far to the finish line, so I cycled the final kilometre on my rim.
It was fantastic to race off-road again. I'm already looking forward to my next race. Now we're on our way back to the hotel. We're going to relax for the rest of the day. I'm feeling a little unsettled in my stomach, as is usual after a race. A good massage awaits me, plus a delicious dinner.
We'll be doing a bit of packing this evening again. We'll ride for a few hours early tomorrow morning before flying to Venice around 14:00. We'll be living in the area of Montebelluno for three weeks, during which I'll be doing road races in the weekends with the Italian team Safi Pasta Zara Manhattan.
It's such a shame to leave such a beautiful place as Sardinia behind. We will definitely come back some time for a holiday, and it will no doubt be a wonderful experience. Maybe we'll get the chance to visit Sardinia again as early as next spring, if the Italian cup takes place at the same place.
The level of our training these coming weeks will be high. Road racing is going to be excellent training for me during the period. It's still early in the season and we can't slow down on the training too much yet. Next off-road race is the first in the Bundesliga in Münsingen in four weeks, and by then my body and legs will virtually be flashing with energy and power at a completely different level than today.
I wish you all a healthy and active day.
Cyclist's greetings from Gunn-Rita and Kenneth
Multivan Merida Biking Team
PS! We'll post pictures from the race today on our website, either this evening or tomorrow.
www.gunnrita.com
Translation by Crispen T.P. de Lange.