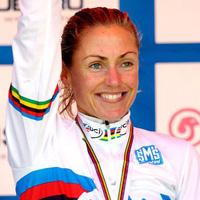 Photo ©: Rob Jones
On top of the world: The Gunn-Rita Dahle FlesjŚ diary 2007
Norwegian cross-country mountain bike racer Gunn-Rita Dahle FlesjŚ is probably the best female rider this relatively young branch of the sport has ever seen. World champion in 2002, 2004, 2005, and last year as well, plus Olympic champion in 2004, and rarely beaten in her reign as World Cup champion from 2003 - 2006, she has a breathtaking palmares.
Dahle says her success is due to an unrelenting focus - she describes herself as a '24-hour athlete' - and the constant support of her husband and coach Kenneth FlesjŚ. Follow her exploits on Cyclingnews as she continues her bid to stay number one in 2007. Or, for more Gunn-Rita, see her personal website: www.gunnrita.com
March 10, 2007
Sunny days on Majorca
We're still on Spanish soil, enjoying fantastic days of exercise and training in the sun. Even though my legs are beginning to get pretty packed with kilometres, we're glad that we postponed our return home. Our last days down here will be utilized to their fullest potential. We'd be happy to stay even longer with conditions as good as these.
We've had unusually good weather for February here on Majorca, meaning that we've been able to do all-important intervals and high intensity loads these last two weeks. My break due to sickness is far behind and we're well under way again. Four days sick in bed were irritating and impractical as always. So in order to complete our planned training for this period in preparation for the upcoming race in a good week from now, we decided to postpone our return a few days.
There are many cyclists at our hotel these days, but our own group has diminished considerably this last week. The final members of Team Merida left on Saturday. Today the mountain-biker Linda and ice-skater Annette left for Norway, so now it's just Lene, Kenneth, and me left here. I know that there are several Norwegian cyclists here on Majorca right now and they're probably also very happy for the fantastic cycling conditions down here.
The days pass very quickly even though we don't do much more than just exercising, resting, eating, and sleeping. We've enjoyed good food here at the hotel, but last night we went out for a meal at a Mexican restaurant for a change. I expect we'll have one more evening at a restaurant for the three of us before we leave for home, and then we'll go for some good Indian cuisine.
I'll have two to three days at home in Stavanger before leaving again. Regarding exercise, I'll have a few slow-paced days so that my body and head can recover sufficiently and start preparing for the start of the cycling season. I'm a little nervous and excited about it, but I'm really looking forward to racing again, at the same time as wondering what happened to the 'long' winter!
At home there'll be a few days with laundry to be done, enjoyment and pampering of the children, Isak and Petruss (our cats), and treatment from the napra-therapist, Elin, and zone-therapist, Aud. We'll also have a very important meeting with our manager, Roar, for an update on various activities at home. Both Kenneth and I ought to have our hair seen to, and will pay a visit to the barbers at Frisørsenteret at Bryne. It's going to be a little daunting for me, as most of my mane will be shorn off again...
Now it's soon time for a massage for Lene and me - a nice luxury for tired legs. Tomorrow we're going for climbing intervals, and I'm looking forward to them. They are tough exercise which really gets the adrenaline pumping.
I expect that next time you hear from me I'll have taken part in the first race of the year, as a roadie in Switzerland. I wish all of you really good days of exercise and training, plus good health.
Cyclist's greetings from Gunn-Rita and Kenneth
Multivan Merida Biking Team
www.gunnrita.com