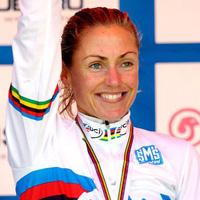 Photo ©: Rob Jones
On top of the world: The Gunn-Rita Dahle FlesjŚ diary 2007
Norwegian cross-country mountain bike racer Gunn-Rita Dahle FlesjŚ is probably the best female rider this relatively young branch of the sport has ever seen. World champion in 2002, 2004, 2005, and last year as well, plus Olympic champion in 2004, and rarely beaten in her reign as World Cup champion from 2003 - 2006, she has a breathtaking palmares.
Dahle says her success is due to an unrelenting focus - she describes herself as a '24-hour athlete' - and the constant support of her husband and coach Kenneth FlesjŚ. Follow her exploits on Cyclingnews as she continues her bid to stay number one in 2007. Or, for more Gunn-Rita, see her personal website: www.gunnrita.com
February 18, 2007
Press camp on Majorca
The interest in our professional team, Multivan Merida Biking Team, caused all of 43 journalists and photographers from 13 different countries to come to Majorca last weekend. We've had action-packed days filled with press conferences, interviews, and a lot of photographs! As always, it was great being able to show off my bike's radical new frame for 2007.
As a matter of fact, I'm spending the great "day of love," Valentine's Day, in bed. I'm sick, as I always am at this time of year. For the past three years, I've caught a cold during the press camp in February, always here on Majorca. My consolation is that Kenneth is also lying in bed with the same symptoms as me. However, three slow-paced days are no catastrophe for us, so I'm trying to see the positive sides of the situation. At least it affords me the opportunity to finish off loads of office-work on my dearly beloved PC.
There are a whole lot of magazines within mountain biking. We've been visited by 30 different bike magazines from various European countries this weekend. Along with the rest of the team and some of the team's sponsors, there's been a gang of 80 people. All of them have been staying at the new hotel of Phillip's Bike Team, Iberostar Suites Hotel Jardin del Sol, situated in the town of Costa de la Calma. The hotel is right down by the shore, only a few minutes' drive from Magalluf, where we've usually stayed on previous trips to Majorca.
We came down here on Thursday evening a week ago and had our first photo shoot early on Friday morning in sleet and strong winds. Since then, we've enjoyed blue skies and close to 20 degrees. That's naturally great for our guests from the media, who prefer sun and summer when countless pictures are to be taken. Also, most of us like to get in a few miles on our bikes when we're finally visiting a cycling paradise like Majorca.
Gunn-Rita Dahle
Photo ©: Rob Jones

As always, it was very nice to meet up with the rest of our pro team again after an autumn and winter apart. The atmosphere was great. We have a wonderful group of cyclists on the team, and the support team and cyclists work together as a huge group of friends. We have a new reinforcement on our team this year, i.e. Robert Gehbauer, a young and promising fellow from Austria. Robert has signed a two-year contract with Merida and will thus have an exciting possibility to learn and develop together with world class cyclists.
Most of the guests left for home on Monday, both from the media and various sponsors who have been here since Friday. The rest of the gang, including the team, will be leaving for home this coming Friday. Kenneth and I will be staying here until March 1. I hope my throat recovers quickly so we get in a couple of good weeks of training before going home.
Here's a short update from our days at home before leaving for Majorca. I first spent a few days in Oslo at meetings and photo-shoots, and doing a bit of sponsor activity. Then I left for Italy for a few days to shoot photos in a studio with my shoe sponsor, NorthWave. The days were exciting and resulted in some snappy pictures, a few of which can be sampled on my home page. Apart from that, it was quite a transition coming from dry, dusty roads, sunshine, and 30 degrees [editor's note: Gunn-rita had been in South Africa], to snow and ice at home in Stavanger.
I almost forgot the most important information for those of you who follow our moves closely. If you're presently laying plans for various cycling activities for the season of 2007, I can warmly recommend travelling with a group of friends to the north of Italy, where we'll be having the first Gunn-Rita Marathon on April 29. It's to be held in the area around the town of Montebelluno.
One can fly to Venice, and continue from there a short hour by car to the area where the race is to be held. You can find more detailed information on my home page, with a link to the website for the race. We'll have both elite and amateur classes - something for everybody. I'll naturally be there on the starting line that day and am looking very much forward (to it). We already have 2,400 signed up, but there's still space for more of you.
I expect you'll hear from me again in a good week from now, and hopefully with some good kilometres on our bikes here on Majorca to tell you about. Have a great week of exercise, and good health to you all!
Cyclist's greetings from Gunn-Rita and Kenneth
Multivan Merida Biking Team
www.gunnrita.com